Forget ball drops and resolutions. With 2019 coming to an end, we're counting down the year's most delicious dishes. From the grittiest street stall to the most star-studded restaurant, in totally random order, we're giving you a 'grammable taste of the best that Bangkok has to offer right now.
Beef entrails in spicy soup at 100 Mahaseth (B240)
Am I really going to eat this? Oh god, what is that thing floating in the broth? These are sound, rational questions to grapple with when trying intestine soup, but move past them, because this herby, soothing dish at 100 Mahaseth is so good you'll feel silly for being squeamish.
100 Mahaset Rd., 02-235-0023. Open Mon-Fri 5-11pm; Sat-Sun 11am-11pm

Spicy wagyu tartare "Laab" at Eat Me (B890)
This is definitely not your typical beef tartare. Made with high quality minced wagyu, chili, red onion and coriander and served with crispy bread, this dish bursts with so many flavors.
1/6 Phiphat Soi 2, Convent Rd., 02-238-0931. Open daily 3pm-1am

Baby back pork ribs at The Smokin' Pug (B595 for half rack; B895 for full rack)

This smokin' delicious rack of ribs is hands down the best you'll find in Bangkok. Smoked for hours using hickory wood imported from the US and coated with their signature Kansas City-style sauce, these fall-off-the bone BBQ ribs—served with onion strings, coleslaw, beans and cornbread—will leave you licking your fingers clean.
105 Lang Suan Rd., 083-029-7598. Open Tue-Sat 5-10pm

Fried chicken at Polo Fried Chicken (B130 half; B260 full)

Served with a generous topping of fried garlic, the signature dish at this cathedral to crispy fried chicken has drawn crowds for five decades, long before it was awarded Bib Gourmand on Thailand's Michelin Guide. The chicken is fragrant, crispy on the outside, yet juicy and tender on the inside—everything you want fried chicken to be.
137/1-3 Soi Polo, Wireless Rd., 02-655-8489. Open daily 7am-9pm

Beef pad kaprao at Phed Mark (B155)

Using white and red Thai basil leaves along with five different types of chilies fried with high quality Thai minced beef, Youtube vlogger Mark Weins makes pad kaprao that will probably have you bursting into tears. From the spiciness or joy of eating it?
You decide.
928 Sukhumvit Rd., 083-893-8989. Open Mon-Sat 11am-5pm

Stir-fried beef on rice with onsen egg at DAG BKK (B280)

The secret to this standout dish is in the signature sauce, the recipe for which chef-owner Chalermpon "Van" Rohitratana changes every month—from sweet fish sauce to spicy southern sauce made from fish guts (trust us, it tastes better than it sounds).
Warehouse 30, Charoenkrung Soi 30, 087-363-2629. Open Tue-Sun 3-9pm
This is authentic Italian spaghetti through and through, leveled up with garlic, pork belly, tiger prawns and a slice of blood pudding ham from chef Lenzi's family farm in Italy. Bravo!
Ruamrudee Soi 2, Wireless Rd., 02-001-0116. Open daily 6-10:45pm

Zander cooked over cedar wood at Suhring (part of 14 course menu; B4,800/person)

You're forgiven if you think the lightly smoked German pike perch cooked over cedar wood, topped with a layer of egg white, is the best thing happening here. In reality, it's the foamy Riesling sauce made with chicken broth, sour cream and the German wine that makes this dish alone worth two Michelin stars.
10 Yen Akat Soi 3, 02-287-1799. Open Mon-Fri 5:30-9pm; Sat-Sun 11:30am-12:30pm, 5:30-9pm

Beef stew at Big Su Beef Noodles (B70)

A favorite of former Thai prime minister Suchinda "Big Su" Kraprayoon, this legendary noodle joint has been serving their signature beef stew, or kao lao, for over 60 years. The soup is rich in flavor, and the braised beef is so tender it literally melts in your mouth. Add a little chili vinegar and eat it on its own, or have it with rice—either way, this one is a winner.
1232 Nakhon Chaisri Rd., 02-241-4192. Open daily 7am-5pm

Raw Phuket lobster chilled at 2°C at Sorn (part of five-course menu; B2,700/person)

This creamy bite-sized piece of rainbow Phuket lobster, kept at a temperature of 2°C, might be Bangkok's bite of the century so far. Topped with a dollop of seafood sauce, it will give any piece of expensive sushi a run for its money.
56 Sukhumvit Soi 26, 099-081-1119. Open Tue-Fri 6-11pm; Sat-Sun 12-2pm, 6-11pm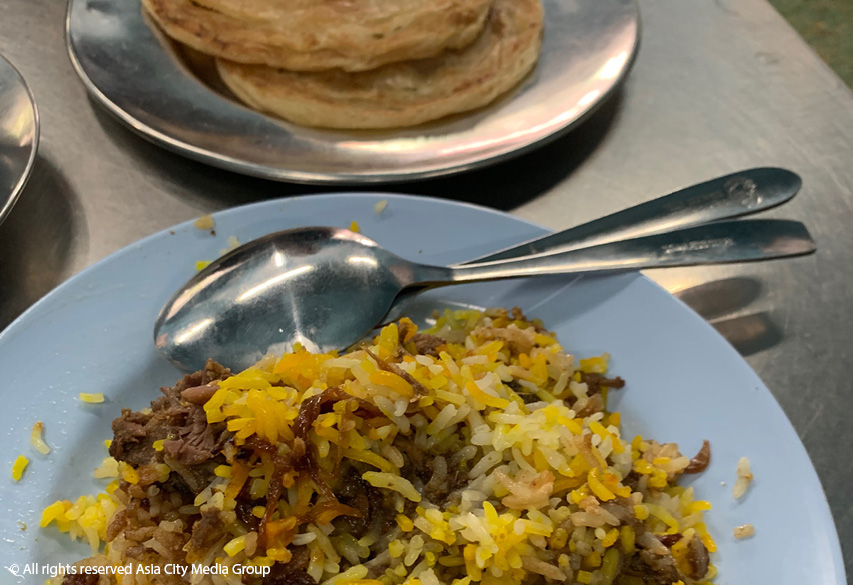 Muttton biryani at Muslim Restaurant (B150)

This historic restaurant has been serving up delicious dishes for over 70 years. But if you want a real treat, go on a Friday when they serve up their special mutton biryani. The tender hunks of meat mixed with spiced rice will make all your troubles temporarily go away.
1354/1356 Charoenkrung Rd., 02-234-1876. Open daily 6:30am-5:30pm

Stir-fried lump crab meat with long beans and yellow chili at Khua Kling Pak Sod (B580)

It isn't new, but this simple-yet-perfect dish keeps us coming back for more. Giant pieces of lump crab meat stir fried with sen mee, long bean and yellow chili make for the perfect lunch.
98/1 Sukhumvit Soi 53, 02-185-3977. Open daily 11-2:30pm, 5:30-9:30pm

Stir-fried crab roe with Himalayan salt at Supanniga Eating Room (B590)

Crab roe isn't everyone's cup of tea, but Supanniga will challenge that notion with their creative stir fry, which leaves the roe crispy, spicy and savory—the perfect companion to a plate of steaming white rice.
10-12 Charoenkrung Soi 38, 02-006-9744. Open daily 11:30am-10:30pm

Dry-aged amberjack with seaweed jelly and celeriac mousse at Gaggan Anand (part of 25-course menu; B8,000/person)

Too many dishes at Gaggan will leave you in awe and get you thinking, but this one incredible bite of amberjack tops them all. It's umami-packed with dollops of salty seaweed gel, while celeriac puree provides an earthy element to round it all out.
68 Sukhumvit Soi 31, 098-883-1022

Pork cheek cannelloni with foie gras sauce and Parmesan cream at Appia (B590)

This new addition to the Appia menu has already entered our list of favorites. The cannelloni comes stuffed with decadent pork cheek, slathered in equally decadent foie gras sauce and sharp Parmesan cream, before being topped with shavings of Umbrian black truffle.
20/4 Sukhumvit Soi 31, 092-646-7403. Open Mon 6-10:30pm; Wed-Sat 6-10:30pm; Sun 11:30am-2:20pm, 6-10:30pm

Crab and rosella salad at Samrub for Thai (part of tasting menu; B3,200-B4,500)

Chef Prin Polsuk is back in action, bringing his expert knowledge of Thai yum (tangy salads) to his latest project, Samrub for Thai. If this gorgeous salad of chunky crab meat, rosella petals, fresh herbs and crispy shallots, all tossed in sweet, sour and spicy dressing, is any indication, then this restaurant should be firmly on your radar in 2020.
100 Mahaseth, 100 Mahaset Rd. Open Wed-Thu 7-11pm; Fri-Sat 7pm-midnight; Sun midday-5pm, 7pm-midnight

Murgh makhanwala at Rang Mahal (B490)

The rich layers of complex spices and lingering strains of heat in Rang Mahal's butter chicken are something else. There are curry leaves, there's a proper punch of chili, there's onion (so much caramelized onion), there's a chord of coriander seed that leaps out and says, "This is how things should be done."
26/F, Rembrandt Hotel, 26 Sukhumvit Soi 18, 02-261-7050. Open daily 5pm-midnight; Sun 11am-2:30pm

Roasted carrot and ricotta salad at Pizzeria Mazzie (B330)

A simple dish, sure, but this appetizer nevertheless takes you on a ride, from its earthy hazelnuts and carrots glistening with apple cider vinaigrette to its rich, salty finish from a generous dollop of ricotta cheese.
Park Lane Ekkamai, 23 Sukhumvit Soi 63, 02-060-8822. Open Tue-Sat 5:30-10:30pm; Sun 5:30-10pm

Yogurt espuma and corn ice cream with corn bouillon at The Peak, The St. Regis Bangkok (part of six-course menu; B3,200/person)

One bite of this high-class hors d'œuvre inspired by chef Andreas Caminada—acclaimed chef-owner of three-Michelin-starred Schloss Schauenstein—is enough to make you think you're dining in a cozy little restaurant in the Swiss Alps. The corn ice cream is delightfully light and fresh, while the warm corn bouillon brings a soothing element to the party.
G/F, The St. Regis Bangkok, 159 Ratchadamri Rd., 02-207-7777
Dry egg noodles with wagyu (Nam Tok Wagyu) at Thong Smith (B329)

Thong Smith raised the bar for mall boat noodle soups. The menu is large and all of it is delicious, but we recommend going for the Nam Tok Wagyu that bursts with tender sliced Australian wagyu, round beef meatballs, braised shank and tendon. Aroi mak.
5/F, Central Embassy, 1031 Phloen Chit Rd., 02-160-5794. Open daily 10am-10pm

Padrino Sandwich at Roast (B360)

Roast recently changed its menu, beefing it up with some soul-stirring dishes. One such dish: the Padrino sandwich—heaps of meaty goodness like Mortadella, prosciutto, salami, provolone cheese and creamy slaw, all contained within their homemade baguette.
3/F, The Commons, 335 Thonglor Soi 17, 02-185-2865. Open Mon-Thu 9am-10pm; Fri-Sat 8am-10pm; Sun 8am-9pm

Flavors of Coconut at 80/20 (part of the monsoon seasonal menu; B3,000/person)

80/20 might still be basking in the glow of their very much deserved Michelin star, but they're still rolling out new stuff, like this clever dessert from pastry chef Saki Hoshino, which uses all parts of the coconut—from the shell to the juice, cream and meat—to create a texturally interesting and extremely tropical finishing touch to the restaurant's latest seasonal menu.
1052-1054 Charoenkrung Soi 26, 02-639-1135. Open Tue-Sun 6-11pm

Stir-fried pork with shrimp paste (moo kapi) at Thong Lee (B90)

This little shop-house hidden down Sukhumvit Soi 20 caters mostly to workers nearby or people in the know, serving old-school Thai dishes at great prices. We always go back for the savory, spicy moo kapi.
64/3 Sukhumvit Soi 20, 02-258-1983. Open daily 9am-7:30pm

Fried chicken sandwich at Clucking Donut (B220)

The people behind Malai chocolate took a hard pivot this year when they started churning out delicious fried chicken. Here, they brine their bird and douse in a secret recipe that contains over 30 different spices. We love it at the "bare naked" level, but if you're feeling frisky, try the "shittin' fire"—it even comes with a warning label.
11/33 Petchaburi Soi 47, 064-871-9002. Open Tue-Sun 11:45am-7pm

Thai beef noodle stew (kuay teow nuea) at Wattana Panich (starting at B80)

This Ekkamai institution gets a lot of hype, but rightfully so. The restaurant has been using the same pot for years and they keep adding stock as they go without ever washing it. Imagine a flavor upon flavor explosion full of melt-in-your-mouth beef.
336-338 Sukhumvit Soi 63, 02-391-7264. Open daily 10am-7:30pm

OcMuffin at Ocken (B260)

Everyone loves a good breakfast sandwich, and Ocken does a killer one. A clear riff on the McMuffin, this brekkie bite shines with its homemade sausage patty, oozing cheese and the perfectly folded chive omelet. Not for sharing.
1/F, Bhiraj Tower, 31 South Sathorn Rd., 082-091-6174. Open Mon-Fri 6pm-midnight; Sat-Sun 10:30am-2pm, 6pm-midnight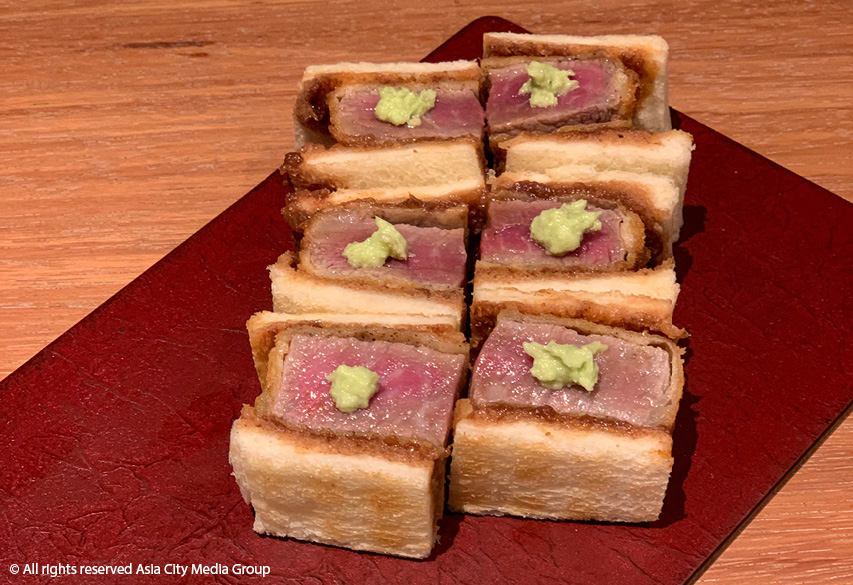 Wagyu katsu sandwich at Sushi Masato (B1,500 for six pieces)

Japan's wagyu sando is like manna from the heavens, and Sushi Masato, gracefully, delivers a pretty divine bite in its own right. The downright butter-like wagyu—served rare—is lightly breaded in panko, fried until crisp, placed between perfectly toasted slices of white bread and topped with freshly grated wasabi.
3/22 Sukhumvit 31 Soi 1 (Sawasdee), 02-040-0015. Open Tue-Sun 5:30-10pm

Rice noodle soup (guay jub nam sai) at Guay Jub Ake Pai Lin (from B50)

Aromatic and peppery, the broth is clearly the star of this dish. We also can't get over the melt-in-your-mouth pork belly, as well as the satisfyingly crunchy pork skin.
396 Sridan Soi 8, Srinakarin Rd., 087-429-3999. Open daily 5-10pm


Forget all those tough, chewy ox tongue dishes you've suffered through before. Mahasan's ox tongue is sous-vide to perfection, resulting in a tender texture that complements the to-die-for sauce and raw egg.
23/1 Soi Chan, 086-960-5858. Open daily 4-10pm

Homemade potato gnocchi at The Penthouse Bar + Grill (part of the three-course menu from BKRW 2019; B1,000/person)

The texture of the gnocchi really stands out here. It's perfectly soft and delicate, which goes well with the slightly salty flavor of the cheese that's sprinkled on top.
34-36/F, Park Hyatt, 88 Wireless Rd., 02-011-7480. Open daily 12-2:30pm, 6pm-midnight

Khao man gai at Khao Man Gai Nai Noi (from B45)

This low-key stall on Convent Road has office workers patiently queuing up every lunch for its succulent sliced chicken served with wonderfully flavorful rice cooked in chicken broth. The chili-infused soy bean sauce and delightfully comforting pickled lettuce soup are the cherry on top.
Convent Rd., 081-403-3527. Open Tue-Sun 9am-1pm, 5-10pm

Khachapuri at Argo (B250)

Tear off a piece of the crust from this canoe-shaped leavened bread, dip it in the mixture of homemade Sulguni cheese and egg yolk resting in the middle of it, and be reminded of why the bread-and-salty cheese combination almost always works.
4/26 Sukhumvit Soi 8, 02-120-4223. Open Tue-Sun 4-11pm

Organic burnt coconut sugar ice cream with pork floss at Gaa (part of tasting menu; B3,200/person)

Take a soft serve-like ice cream, amplified with coffee and chocolate notes, and top it off with sweet-and-salty pork floss for a little textural contrast, and you have the perfect end to a meal at one of Bangkok's best restaurants.
68/3 Soi Langsuan, 091-419-2424. Mon 5-8:30pm; Wed-Sun 5-8:30pm

Grilled chicken at Som Tam Jay So (B19 for wings/B65 for breasts and thighs)

We always go back to this street food gem for the grilled chicken—the beautiful, golden brown skin is perfectly crispy, while the meat inside remains juicy and tender. Dip a piece of the chicken into their homemade sauce and eat it with sticky rice and a zesty som tam, and you have one hell of a meal.
Phipat Soi 2, 085-999-4225. Open Mon-Sat 11am-6pm

Thai wagyu tartare sandwich at Olta (B150)

Succulent local beef tartare is sandwiched between buttery brioche, accompanied on the plate by a spot of salted egg yolk for extra punch. This absolute peach of a bar snack is priced so favorably you'd be a fool not to go back for seconds (or thirds).
101/11 Suanphlu Rd., 094-656-2159. Open Mon-Fri 5pm-midnight; Sat-Sun 11:30am-2pm, 5pm-midnight
Vegan tantanmen at Mensho Tokyo (B350)

Who needs meat? Made with Japanese soy cream, coconut milk and a wealth of nuts, beans and local Thai vegetables, the vegan tantanmen at this all-star ramen chain is without a doubt the most flavorful vegan ramen Bangkok's ever seen.
G/F, RSU Tower, Sukhumvit Soi 31, 091-887-9492. Open Tue-Sun 11am-10pm

The half-kilo of well-aged sirloin served here makes pretty much every other sirloin steak we've had in Bangkok laughable by comparison. The meat is juicy, fatty, iron-rich and treated with a Frenchman's interpretation of the word "rare."
2090/2 Narathiwas Soi 20, 02-678-8340. Open daily 10:30am-9pm

Miang kham ice cream at AdHoc (part of ten-course tasting menu; B2,900/person)

A savory dessert done right. It's basically miang kham served in the form of ice cream made with caramelized coconut, tamarind, betel leaves, bird's eye chili, galangal and—plot twist—fresh shrimp instead of dried. We love how you can taste the miang kham flavor until the last bite.
36/22 Phrom Si Soi 1, 065-143-1111. Open daily 6pm-midnight. Reservation only.

Bak kut teh at Old Street Bak Kut Teh (B156 for small; B208 for large)

Piping hot and packed full of peppery goodness, the clear broth here is as comforting as it gets. Protein comes not only in the form of pork ribs, but also chicken, fish and even frog. The signature dry bak kut teh (B182/B234), served in a clay pot, is also a must-try.
G/F, MBK Center, 444 Phaya Thai Rd., 02-046-0556. Open daily 10am-10pm

BBQ Chiang Mai figs at Quince (B360)

Breaking away from Quince's meaty mains, this wonderfully refreshing salad sees addictively juicy barbecued Chiang Mai figs served on a bed of stracciatella—the light and creamy interior of burrata cheese. A touch of honey adds a subtle sweet note, while crunchy nut brittle gives it some texture and fresh mint creates a hit of flavor.
Siri House, 14/2 Soi Somkid, 094-868-2639. Open daily 6pm-midnight

Truffle risotto at Sensi (B980)

Served with creamy egg yolk on top and sprinkled with a generous amount of truffle, this creamy plate of comfort is the very definition of food porn—it's decadent, satisfying on a primal level and likely to leave you feeling as if you need to shower after eating it.
Narathiwat Ratchanakarin 17 Yaek 5, 02-117-1618. Open Mon-Sat 4:30-11pm

Mom's Soup Memories (squid noodles in chicken broth) at Front Room (part of ten-course menu; B3,200/person)

This star dish was inspired by chef Rungthiwa's mom's three signature Thai soups: cucumber, chicken and squid. The squid is finely sliced into long noodle-like strips—soft and not even remotely chewy—and served in a flavor bomb of a broth. Fond memories indeed.
Waldorf Astoria Bangkok (L/F) 151 Ratchadamri Rd., 02-846-8888. Open Mon-Sat 5:30-10pm

Cheese pizza at Soho Pizza (B120/slice, B600/18-inch)

Made with 48-hour naturally fermented dough, these large, hand-tossed pies come with a thin and crisp crust, yet are soft and pliable enough to be folded in half—the quintessential marker of a NYC slice. What we love about the cheese: stabs of sharp caciocavallo and the oh-so-satisfying salty tang of Parmigiano breaking up a generous bed of gooey mozzarella.
26/3 Sukhumvit Soi 11, 02-821-5113. Open daily 11:30-4am

Stir-fried sataw beans with shrimp at Klangsuan (B180)

The highlight of this dish is not just the sharp tang of good sataw but also the coarse texture of a serious nam prik kapi (fermented shrimp paste)—so pungent, so balanced. The taste is authentic and it's easy to eat, even if you're a sataw rookie.
143 Sukhumvit Soi 22, 061-615-6576. Open Tue-Fri 11am-2pm, 6-10pm; Sat-Sun 11:30am-10pm

Haoma in a Bite (part of 13-course tasting menu; B2,990/person)

Chef Deepanker Khosla, or DK for short, is revolutionizing fine dining by drastically reducing his carbon footprint and cranking out delicious, deeply personal food. For proof, consider this dish, which only uses ingredients available on site—including fish he raises in his backyard garden, as well as crispy kombucha scoby.
231/3 Sukhumvit Soi 31, 02-038-5821. Tue-Sun 5-10:30pm; Sat-Sun 10am-1:30pm, 5-10:30pm

Oak-smoked quail eggs at Shun by Yanagiya (part of 17-course tasting menu; B4,800/person)

The partner branch of two-Michelin-starred, invitation-only Yanagiya blurs the line between fine dining and down-to-earth yakitori. At its best—like these three creamy, Japanese oak-smoked and mentsuyu-cured quail eggs—the result is magical.
3/F, Donki, Thonglor Soi 10, 097-854-2222. Tue-Sun 6-11pm


Stax cheeseburger (B109)

Burgers at this Daniel Thaiger offshoot recall sliders, with perfectly seared beef sandwiched between lightly toasted square buns and topped with grilled onions, dill pickles, mustard, ketchup and cheese. Picture White Castle but without the gastrointestinal pain and shame inherent in a crave case at the American chain.
Saphan 55, 759 Sukhumvit Soi 55, 087-087-7060. Mon-Sat 11am-10pm

Pork belly with sataw at Taan (part of the nine-course tasting menu; B2,100/person)

Taan advertises a "hyper-local" tasting menu. What that means is the food here spans Thailand, homing in on different regional cuisines. This dish, featuring crispy grilled pork belly in a chili-infused curry with stir-fried stink beans, is a shining example of that approach done right.
25/F, Siam @ Siam Design Hotel, 865 Rama 1 Rd., 065-328-7374. Open daily 6-11pm

Sea urchin at Baltic Blunos (B2,900/person six courses; B3,400/person eight courses)

Has anyone ever eaten uni without salivating? This rendition of the rich creamed sea urchin with white chocolate, pickled samphire, sapane consommé and bergamot bubbles by the wonderfully eccentric British celebrity chef Martin Blunos takes it to the next level.
129/9 Sukhumvit Soi 55, 02-117-1255. Open Tue-Sun 6-10pm

Blueberry Balloon at Ici (B235)

Fast-rising pastry chef Arisara "Paper" Chongphanitkul opened one of 2019's most interesting venues in Ici, a dessert-focused restaurant that doles out sweet treats unlike anything Bangkok's seen before. That includes this light yet luscious blend of soft cheesecake, blueberry gelee, lemon cream, biscuit joconde and buttery crumble base.
24 Sukhumvit Soi 27, 02-007-3113. Tue-Sun 9am-5pm
---
How do we stack up?
A 25-course meal plus wine at Gaggan Anand will set you back a cool B12,000 before VAT and service. But how does that compare to other star-powered restaurants across the world?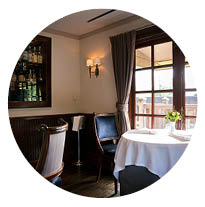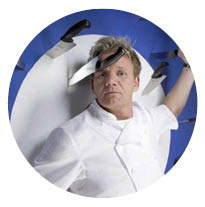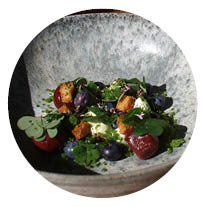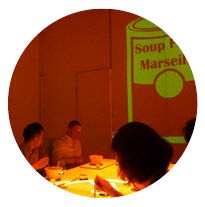 Ultraviolet Shanghai, China RMB4,000 (B17,200) including drinks.
Masa New York, New York USD595 (B18,000) excluding beverages and tax.