BANGKOK RESTAURANT
Penthouse Bar + Grill
This five-star hotel restaurant and bar does drinks at sub-Thonglor cocktail lounge prices.
The multi-story showpiece steakhouse atop the Park Hyatt goes all out. The interior of walnut woods and marble is stunning. The menu of red meat and seafood jumps straight to the premium stuff. The cocktails hit the price-to-quality sweet spot. This is prime date-night material.
The buzz: Bangkok's hottest new hotel opening, the oft-delayed Park Hyatt, plays host to three tiers of restaurants and bars perched high above the city. In all, Penthouse Bar + Grill comprises six venues: The Grill restaurant for chowing down on premium beef and a chef's table that's only accessible through the kitchen on the 34/F; The Cocktail Bar for sipping on craft libations, a whiskey-specializing speakeasy and a VIP mezzanine on the 35/F; and—still to come—a garden-styled rooftop terrace for knocking back alfresco drinks overlooking Phloen Chit.
The decor: All the walnut woods, marble, tufted leathers and cut mirrors paint a very masculine picture, an effect that interior design company AvroKo rams home with glass cabinets displaying vintage racing paraphernalia and light fixtures that repurpose motorcycle parts. Details abound in every darkened corner, whether it's the carved wooden ceilings sourced from Chiang Mai that adorn the intimate window nooks (no bookings) or a neon light-entangled naga that guards the speakeasy. Though the different sections each boast their own character, it all feels of a piece thanks to a layout that flows seemlessly around a central staircase, in keeping with the hotel's own spiraling design.
The food: The marble-clad restaurant does, as you'd expect, a mean line in red meat, from US Prime grass-fed tenderloin (180g, B950) to Australian grain-fed ribeye steak (300g, B1,250) up to Japanese Matsunaga A3 wagyu striploin (180g, B2,650). Seafood, too, covers premium options like Hokkaido scallops (B1,150) and Canadian lobster (B1,750). Heading down the price scale, the peri-peri-style chicken at B550 is a tender and well-spiced ode to Nando's. Have your protein with adept steakhouse sides like the deliciously crisp onion rings or the hi-so mac and cheese of porcini and morel mushrooms (both B160). Add a red salad (B130) for a fresh burst of beetroot, goji berry and pomegranate.
The drinks: Firstly, prices are not as crazy as you might have imagined. At B290 for a South Side (gin, lime, simple syrup and mint), you're looking at sub-Thonglor cocktail lounge prices at a five-star hotel rooftop. In his separate menus for the bar and restaurant, head bartender Simon Brandmayer foregoes Instagram frills for signature drinks (all B360) that are tart and full-flavored. From upstairs, we recommend the 250 CC, a spirit-forward mix of Martin Miller's gin, La Quintinye Rouge vermouth, La Fee Bohemian absinthe, Chartreuse Green, Giffard Lychee syrup and Aztec chocolate bitters that's just slightly sweet and very easy on the palate. Downstairs, the Pisco 34 is an altogether lighter and frothier affair, mixing Deomonio De Los Andes pisco, Poire Williams eau de vie and Peychaud bitters with Earl Grey tea, apple juice, lime juice, egg white and a hefty dose of pandan syrup. The wine list offers a wealth of options at under B1,500/bottle, while the speakeasy boasts 120 whiskey labels from all the big regions.
Why we'd come back: It's been a long time coming, but Penthouse doesn't disappoint on quality or price. The 36th-floor rooftop isn't even open yet (you'll have to wait till the end of rainy season), but this is one of those properly grown-up hotel bars Sukhumvit's been screaming out for. Carl Dixon
The Grill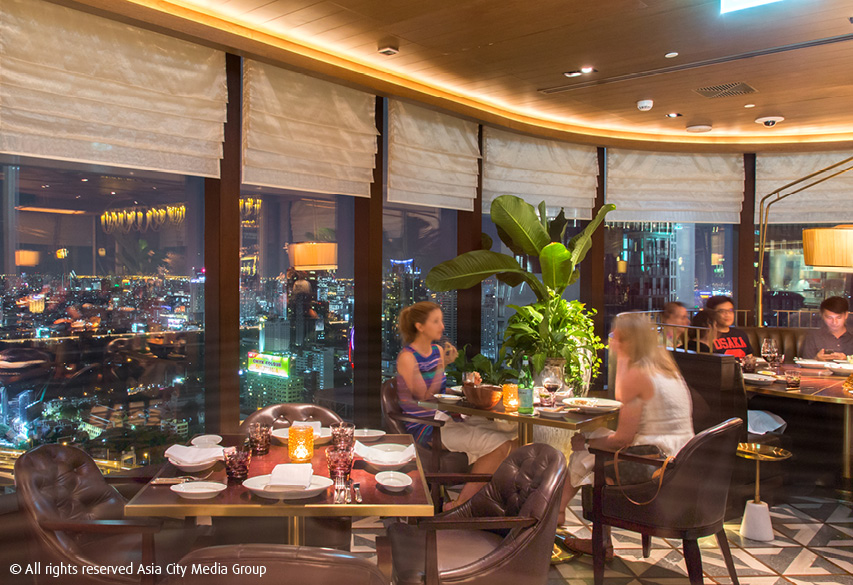 The Grill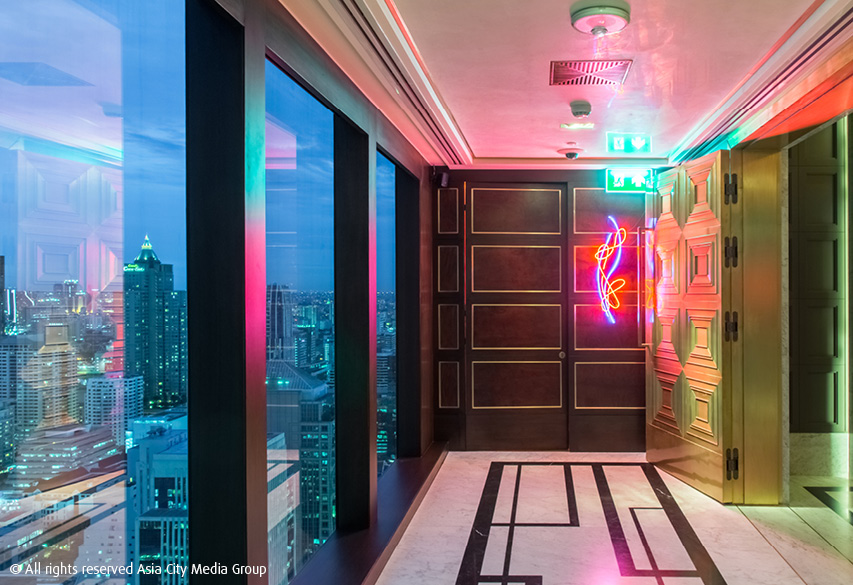 Entrance to The Whiskey Room
Venue Details
Address:
Penthouse Bar + Grill, 34-36/F, Park Hyatt, 88 Wireless Rd., Bangkok, Thailand
Phone:
02-011-7480
Website:
www.facebook.com/PenthouseBarandGrill
Area:
Phloen Chit
Cuisine:
Seafood, Steak
Price Range:
BBB -

BBBB

Open since:
July, 2017
Opening hours:

daily

noon-2:30pm, 6-10:30pm

Parking available
Report a correction