After weathering 2020 and scraping through 2021, this year Bangkok's dining scene made a raucous return. Our 2022 Top Tables returns to a ranking system for our Top 30 Top Tables, and selections for all 100 are made by both our staff at BK Magazine and by a panel of industry experts and insiders who make their decisions anonymously. An award ceremony was held at Peninsula Bangkok last night (Nov 10) to celebrate the winners.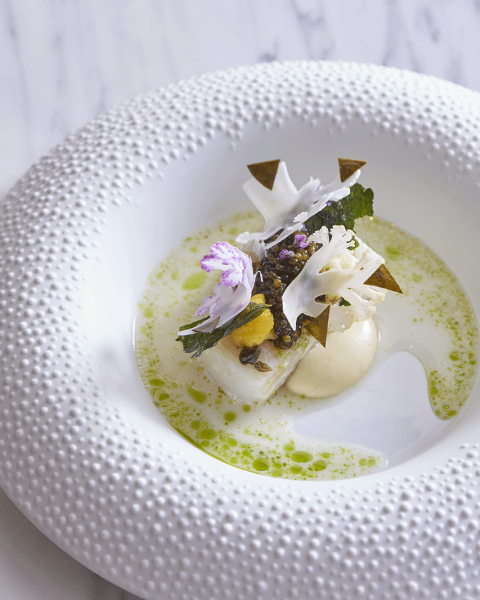 For some foodies, a high-end restaurant means accolades and awards hanging at the door. For others, it's where every dish speaks passionately about the chefs and those behind the counter. At Capella's Côte, you're blessed with both—helmed by none other than Italian-Argentine chef Mauro Colagreco, opened in the second half of 2020 and headed by chef Davide Garavaglia. Their tasting menus start from four all the way to nine courses, and feature a rotating cast of signature dishes based on the quality of ingredients available—meaning repeat visits are rewarded with fresh and interesting ideas on the plate. Set above the hotel lobby, guests lounge in rooms reminiscent of classic European gathering halls laden with dark woods and plush seating. Inside the main dining area the space flips the script with clean white walls, beige, and brown aided by large floor-to-ceiling windows that let in tons of natural light.
BBB-BBBBB, Reservation, Parking, Dresscode.
2/F, Capella Bangkok, 300/2 Charoenkrung Rd., 2-098-3818. Open Wed-Sun noon-2pm, 6-10pm
German twins Thomas and Mathias Sühring redefined Bangkok's fine-dining landscape in 2017 with their meticulously presented German tasting menus of contemporary central European influences, served amid a sophisticated, inviting environment. The years since Suhring's debut have only seen it move from strength to strength as the twins continue to push fine-dining boundaries and rack up accolades. Opt for the "Suhring Erlebnis," a tasting menu of 10 individual courses that play with traditional German comfort food. Whether it's a 10-day aged duck or a blue swimmer crab, you'll get to see why the brothers picked up two Michelin stars, ranked at least top five in Top Tables every year they've been eligible. Strikingly homey yet refined, the setting in a generously portioned mid-century home around the back of Yen Akat Road retains its residential charm.
BBBBB, Reservation, Parking, Dresscode.
10 Yen Akat Soi 3, Yen Akat Rd., 02-107-2777. Open Wed 5:30-8:45pm; Thu-Sun noon-1pm, 5:30-8:45pm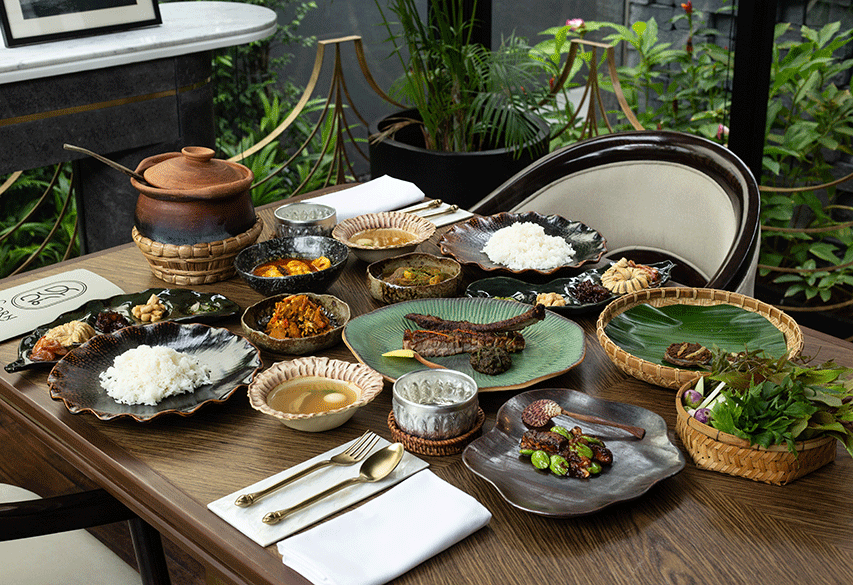 Sorn was the hottest ticket in town in 2018 when Baan Ice founder Supaksorn "Ice" Jongsiri put his decades of experience with southern Thai cuisine through its fine-dining paces without compromising on bold flavors or traditional techniques. It quickly earned a reputation as one of the most difficult tables to book in Bangkok and still is today. The 20-course menu puts an elevated spin on classic southern Thai food that few other restaurants in the world have tried. But don't worry, all of the spicy heat and comfort of old-school southern Thai sharing meals is still here. Found in a renovated 90-year-old townhouse buried in a soi off Phrom Phong, the building's interiors reference Thailand's southern rainforests, with arched-metal works reflective of slender palm blades adorning the windows and wood accents, earthy tones, and lush green plants permeating the art deco-style dining rooms.
BBBBB, Reservation, Parking.
56 Sukhumvit Soi 26, 099-081-1119. Open Tue-Sun 6-11pm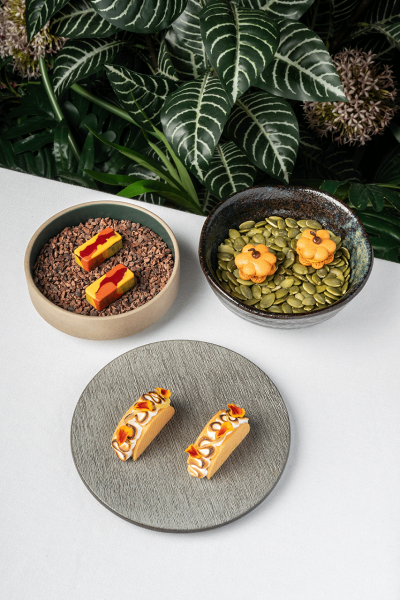 The buzz: A fine-dining sensation that took off in 2019, this elegant restaurant comes from founders Pongcharn "Top" Russell and Michelle Goh, known for their seasonal tasting menus that blend Asian ingredients and European flavors. The European flavors here are bold, inventive, and seasonal. This year, the restaurant introduced their seventh menu since moving away from its old a la carte approach, and the menus continue to get stronger with each cycle. The renovated two-story house features both a glass-encased kitchen and bar space decorated with gilded geometric wallpaper and brass accents on the ground floor. Upstairs is for the influencers; here you can dine in a room plastered with William Morris wallpaper, another in pastels and tropical plants, and yet another in dark blacks and blues.
BBBBB, Reservation, Parking.
30 Attha Kawi 1 Alley, 098-862-9659. Open Tue-Fri 5-9pm, Sat-Sun noon-2pm, 5-9pm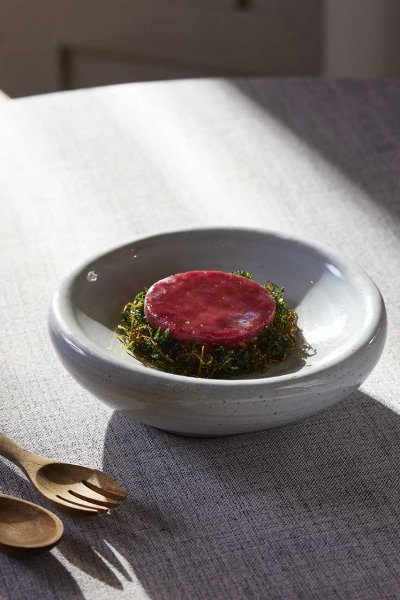 India's first woman to win a Michelin star on her own terms (and in Bangkok to boot), chef Garima Arora is now a legendary figure in the culinary world. While Arora's cuisine hints at her Indian heritage, it's the food cultures of New Nordic kitchens that dictate a totally produce-centric approach. You'll encounter cuisine that leans on the science-y side. But there will be occasions along your food journey where Gaa feels downright rustic. Arora's tasting menu "Rasa" reinvents several classic Indian dishes with her elevated techniques. Following her cuisine's DNA, Gaa's new interior sews tradition and modernity with no visible threads. Instead of completely renovating the house it calls home, Gaa uses urban acupuncture to revive the 60-year-old building on Sukhumvit Soi 53 into a unique baan ruen Thai.
BBBBB, Reservation.
46/1 Sukhumvit Soi 53, 063-987-4747. Open Mon-Fri 5:30pm-11pm; Sat-Sun noon-2:30pm; 8:30pm-11pm.
The Masato experience suddenly became a lot more accessible when the restaurant opened a more casual experience in the same building not too long ago. However, Sushi Masato, the flagship omakase joint, remains as difficult to access as any of Tokyo's veritably clandestine sushi spots—a reputation that keeps the venue booked for months in advance. The twenty-odd courses you get here are never enough. Monkfish liver, perfectly cooked and peeled Petchabun tomato with fleur de sel, and a line-up of nigiri will leave you beguiled by chef and founder Masato Shimizu's deft knife work. Thanks to the walk-in-friendly raw bar on the second floor, you don't have to wait weeks to experience this food, either. From behind a beautiful L-shaped, Hinoki-wood counter, the chef and his sidekicks sculpt meals that are incredibly refined but dispel the idea of omakase as an awkward, drawn-out affair.
BBBBB, Reservation, Parking.
3/22 Sawasdee Soi 1, Sukhumvit Soi 31, 02-040-0015. Open Tue-Sat noon, 5pm, 7:30pm; Sun noon, 5pm
7. Resonance
Resonance shot onto the scene late last year with chef Shunsuke Shimomura earning favor for what he calls "Boundless Cuisine," a style that endeavors to create a modern fine-dining menu without the confines of region-specific techniques or recipes. Formerly a research and development chef with Gaggan Anand, the chef launched Resonance's first tasting menu this year and announced their second at the beginning of October, which will likely keep the venue's red hot momentum going. Borderless it may be, but there is an Asia-centric focus with Japanese flair here—all ending in otherworldly plating. In a hidden alley of Sukhumvit 65, this intimate space, though experimental in both mood and style, still manages to feel rather traditional inside with crisp white table cloths and muted tones.
BBBBB, Reservation, Parking, Dresscode.
108 4 Sukhumvit 65, 094-798-2897. Open Wed-Sat 6-9pm; Sun noon-2:30pm, 6-9pm
Few places in Bangkok take sustainability as seriously as Haoma, and it's not just about plants and site-raised fish. The novelty of Haoma's bold, urban farm and zero-waste dining is accompanied by the neo-Indian cuisine of Deepanker "DK" Khosla. Steeped in traditional flavors with modern twists, Haoma has endured on the Bangkok dining scene as much for its comfort food as its haute cuisine. The 10-course tasting menu includes artfully crafted dished like lobster ghee roast with mangalore chili, curry leaves, and neer dosa crisp as well as a dessert called Melody, a classic dessert for kids but deconstructed and made of peanut nougat, dried mousse, and sea salt ice cream. Every detail is a reference to the green mission of the restaurant, from the faint chime of recycled water coursing into the fish tanks and abundance of natural light to furniture fashioned to emphasize the wood grain and to the earthy brick tones of the outdoor tables amid the kitchen garden.
BBB-BBBBB, Reservation, Parking.
231/3 Sukhumvit Soi 31, 02-038-5821. Open Tue-Fri 5:30-10pm, Sat 11:30am-2:30pm, 5:30-10pm; Sun 11:30am-2:30pm
9. Samlor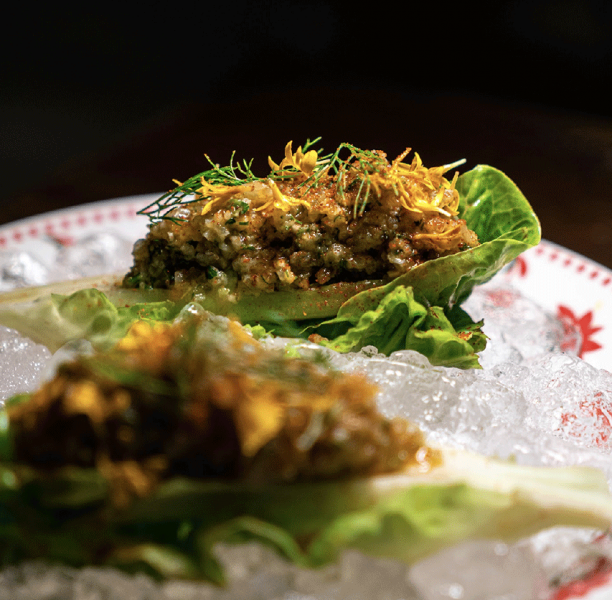 After departing from 80/20, power couple Napol "Joe" Jantraget and Saki Hoshino moved away from the formalities of fine-dining to open the now revered Samlor, dishing out no-frills comfort food and gap glaem (Thai bar snacks). For those who yearn for Joe's elevated take on Thai fine-dining, you can still catch occasional chef collaborations and tasting menus in the early weeks of every month. Samlor proves Thai food can be better without all the foams and bubbles from molecular gastronomy. The post-it menu is pinned to the walls and changes as local ingredients come into season. One of the hallmarks here is the respect for locally caught Thai fish. The space fits right into the scene in Charoenkrung among the old school warehouses and shophouses. Inside, however, is a slightly more plush and comfy vibe that sets a tone more akin to dinner at a friend's house than a stuffy upscale restaurant.
BBB-BBBB, Reservation.
1076 Charoenkrung Rd, 064-210-1520. Open Wed-Mon 6pm-11pm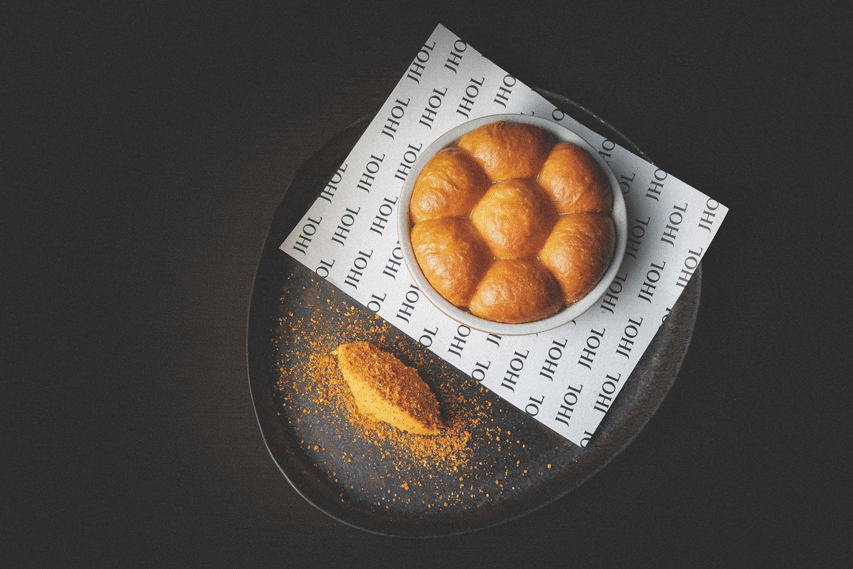 Indian-born, New York-trained chef and international restaurateur Hari Nayak brought his new venture Jhol to Bangkok to create a contemporary southern coastal Indian restaurant in the heart of Sukhumvit. With chef Nayak's upbringing in Udupi, expect a culinary trip down to the coastal region of India where flavors sing in spice with an encore from seafood. The bhel puri (puffed rice and vegetable chaat) served in a wooden som tam khrok and ghee roasted chicken with crispy cone dosa are dishes to behold. Tucked away in Sukhumvit Soi 18, Jhol is notable for its warm, low-key aura that resonates with a contemporary design, from the massive mural showing India's coastal regions to the brown wood furniture blending with gold motifs.
BBB-BBBB, Reservation, Parking.
7/2 Sukhumvit Soi 18, Sukhumvit Rd., 02-004-7174. Open daily noon-2:30pm; 5:30pm-9:30pm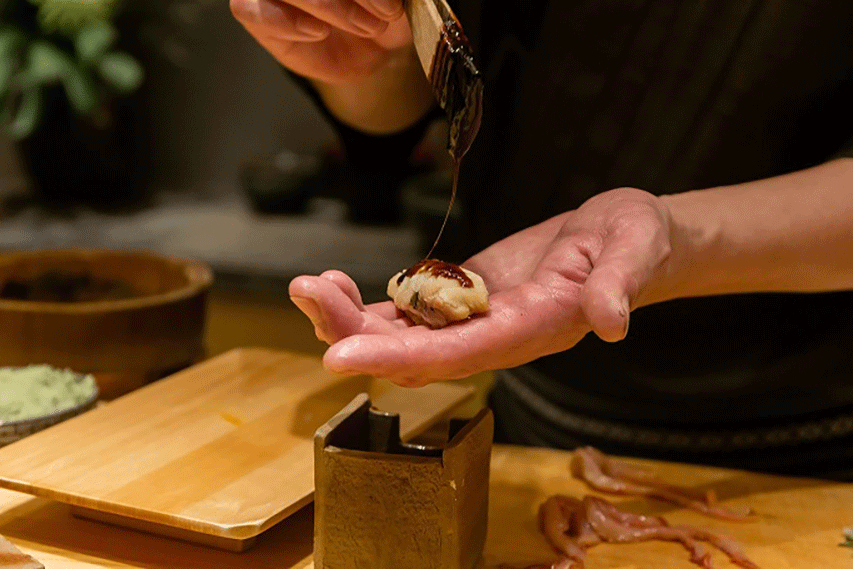 After winning a Michelin star in 2021 to complement the one at its mothership in Tokyo, Ginza Sushi Ichi's authentic omakase-style sushi remains among the city's elite. Artistic, delicious, refined, and subtle, the food (with ingredients flown in daily from Toyosu Market in Japan) competes for attention with the theater of omakase, where chefs in traditional outfits wield elegant knives and scrape fresh wasabi on boards strewn with shagreen. The bites change seasonally according to which ingredients are the highest quality, keeping guests excited and coming back.
BBBBB, Reservation, Parking.
3/F, 999 Gaysorn Center, room 3F-08, 02-250-0014. Open Tue-Sun 11:30am-2:30pm; 5:30-10pm. | BBBBB
12. Brasserie Palmier
If your perception of French food is all heavy creams and rich buttery sauces on meat or seafood, head chef Nicolas Raynal and Brasserie Palmier have something to say about that. The dishes here sidestep the weighty protein and sauces for lighter fare that Nicolas believes better fits Thailand's torrid climate—think delicate pan-seared sole instead of hefty steak frites. The menu goes hand-in-hand with the easy-drinking cocktails designed by BKK Social Club's Philip Bishchoff.
BBB-BBBB
Four Seasons Bangkok, 300/1 Charoenkrung Rd., 02-032-0885. Open Wed-Sun 11:30am-2:30pm; 6-10:30pm.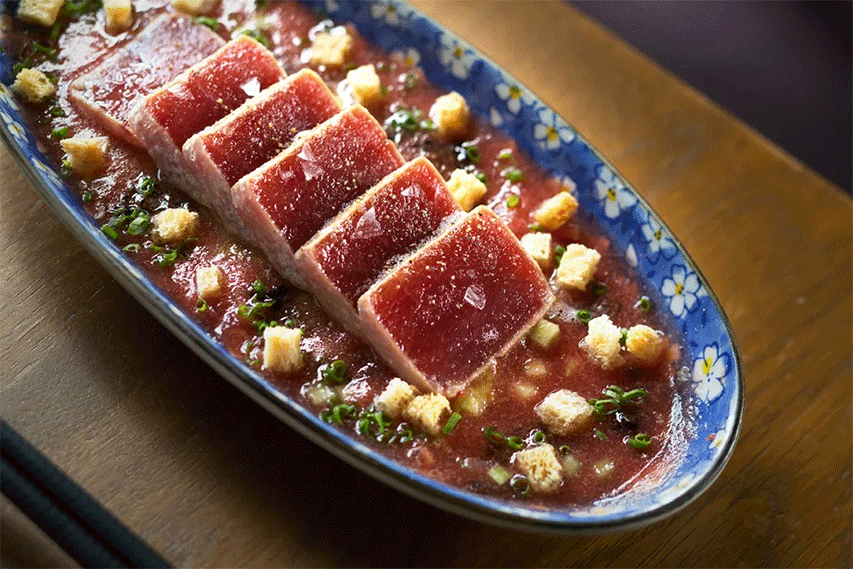 After introducing Shanghai to what he calls "sexy tapas," a concept drawn from his quirky-cool approach and larger-than-life personality, globe-trotting Spanish chef Guillermo "Willy" Trullas Moreno brought that same vibe to his cozy-yet-energetic restaurant in Sukhumvit Soi 51. El Willy sports a moody dining space splashed with pops of color, counter seating and a slightly hidden room—all of which are centered around the open kitchen. Expect an array of full-flavored options, like the smoked salmon massaged with truffle honey layered on a crispy shell with Greek yogurt or his "Barcelona's sandwich" spun up with Iberico ham.
BBB-BBBB
El Willy Spanish Kitchen. 2/F, 27/1, Sukhumvit Soi 51. 087-642-4597. Open Tue-Sat 5pm-10:30pm.
Perched on the fifth floor of Central: The Original Store on Charoenkrung, Aksorn is meant to embrace the building's mid-century bookstore roots. The homey, 40-seat space swims in warm yellow light that shines off the stone-tiled floor, red-orange brick walls, and the granite countertop in the open kitchen. The food here focuses on forgotten, uncelebrated recipes procured from a selection of old cookbooks Thompson pored over during the 2020 lockdown, and the full-course menu rotates periodically depending on seasonal ingredients.
BBBB, Reservation.
5/F, Central: The Original Store, 1266 Charoenkrung Rd., 02-116-8662. Open Tue-Sun 6-10pm.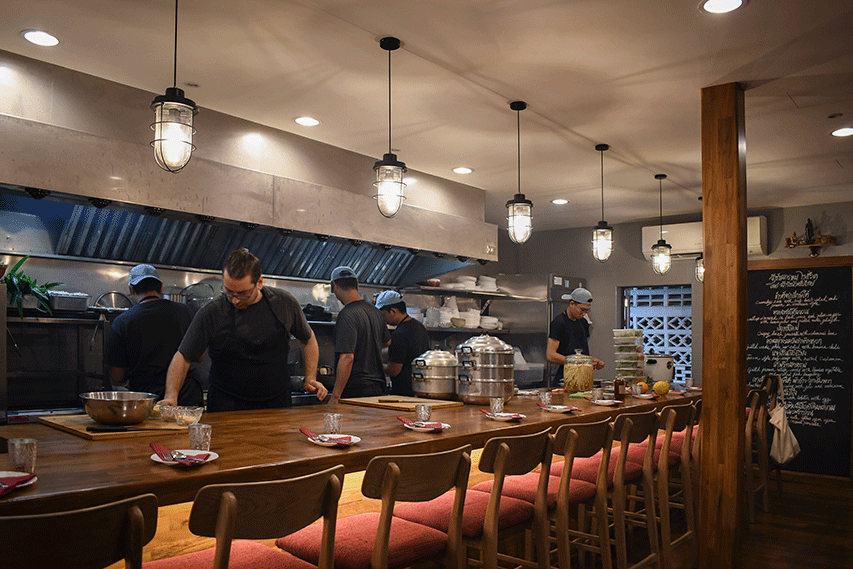 If you're a foodie in Bangkok, the name chef Prin Polsuk is one you will already know. A genius of Thai cuisine, chef Prin started his career at 30 years old with the Mandarin Oriental's Sala Rim Naam before being poached by Nahm. For Samrub Samrub Thai, the team whips up neoclassical Thai dishes with hints of Chinese influence using recipes dating back to the Rama VI period, the dishes are as much food as they are a journey through Thai history. Despite the focus on long-forgotten dishes, the menu still rotates regularly depending on seasonality. The venue opened a new permanent location this year.
BB-BBB, Reservation
39/11 Yommarat Alley, Saladaeng Rd. Open Tue-Sat 5:30-8pm.
Texas-hailing chef Riley Sanders is the brains behind Canvas, serving a 22-course menu with an emphasis on creativity and local, seasonal ingredients—with plating turned inexorably to art. The menu itself can be a bit of a mystery at first glance, with only vague dish names like "rainbow & earth" and pictures of artwork made by Sanders himself to give clues as to what will appear on the plate. The restaurant's shimmering copper bar exudes opulence, and the white-gloved staff are some of the most exceptional in the industry. A rare but growing devotion to Thai produce has been a catalyst for many restaurants in Thailand, and few have been as successful as Canvas in form or scope.
BBBBB, Reservation, Dresscode.
113/9-10 Sukhumvit Soi 55, 099-614-1158. Open Tue-Sun 6pm-8:30pm.
With the departure of chef Sujira "Aom" Pongmorn—now overseeing the Southern Thai-Chinese restaurant Yoong Khao Hom—Suan Phlu's one-Michelin-starred Saawan introduced its new chef de cuisine Sariwat "Earth" Wanvicnhitkun mid-way through 2022. With Earth taking the reins, the restaurant toned down its lavish modern presentation but nevertheless still focuses on the true essence of Thai cuisine—like the use of raw ingredients, fermentation, and stir-frying—all interwoven with the creative flair we've come to expect.
BBBB-BBBBB, Reservation.
39/19 Suan Phlu Rd.,02-679-3775. Open daily 5:30-11:30pm.
Bangkok's gold standard for French fare since the 1950s, Le Normandie is a bona fide fine dining institution. Following the departure of Chef Arnaud Dunand Sauthier late last year, Alain Roux has maintained its two-Michelin-star reputation through rare ingredients, classic presentation, and inventive preparation of French flavors. The Chao Phraya River opens up on your left through floor-to-ceiling windows upon entering this space, and the sophisticated black and gold design effuses exclusivity.
BBBBB, Reservation, Parking, Dresscode.
Mandarin Oriental Bangkok, 48 Oriental Ave., 02-659-9000. Open Tue-Sun noon-2:30pm, 7-10pm.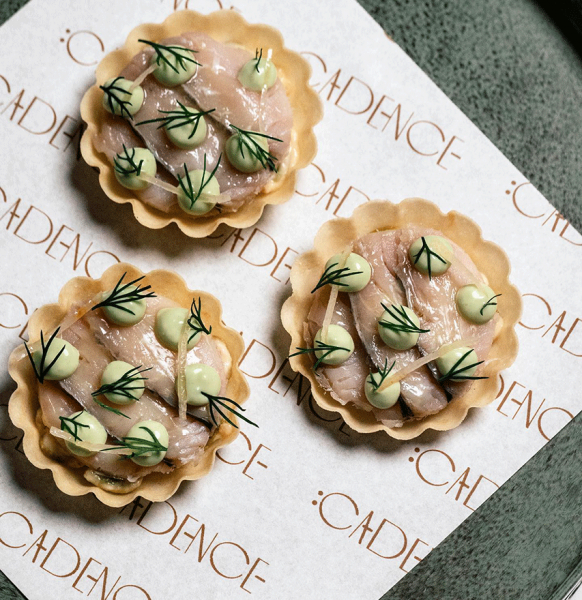 Chef Dan Bark's spacious townhouse restaurant off Sukhumvit Soi 71 is one that turns heads. If you dined at the former Upstairs, you'll be familiar with Bark's progressive American bent. At Cadence, he swapped "progressive" for "personal." Forget semantics, every dish on the 13-course menu gets the attention to detail you would expect from a chef as talented as he is. This is a next-level experience, with serious precision at every turn and a food and drinks program that keeps you feeling excited about what's coming down the pike.
BBBBB, Reservation, Parking.
225 Pridi Banomyong Soi 25, 091-713-9034. Open Wed-Fri 5-9pm; Sat-Sun noon-3pm, 5-9pm.
Nestled amid bustling Sampeng, this 120-year-old, five-story shophouse embodies the dreams of a five-generation old Thai-Chinese family and their vintage herbal shop. Inside, glass jars filled with fermenting ingredients line the overhead shelves on the way to a wooden elevator that Chef Pitchaya "Pam" Utarntham's family once used to send herbs to the second floor. In her 20-course dinner menu, Pam caters to all five senses to enhance the familiar tastes of Thai-Chinese cuisine, from a garland of mixed herbs encircling fresh sea bass, chili glaze, peanut, and garlic flower to a playful palate cleanser of pepo jelly with Yakult ice cream.
BBBBB, Reservation, Parking.
422, 1 Wanit Rd., 082-97- 3950. Open daily 5-10pm.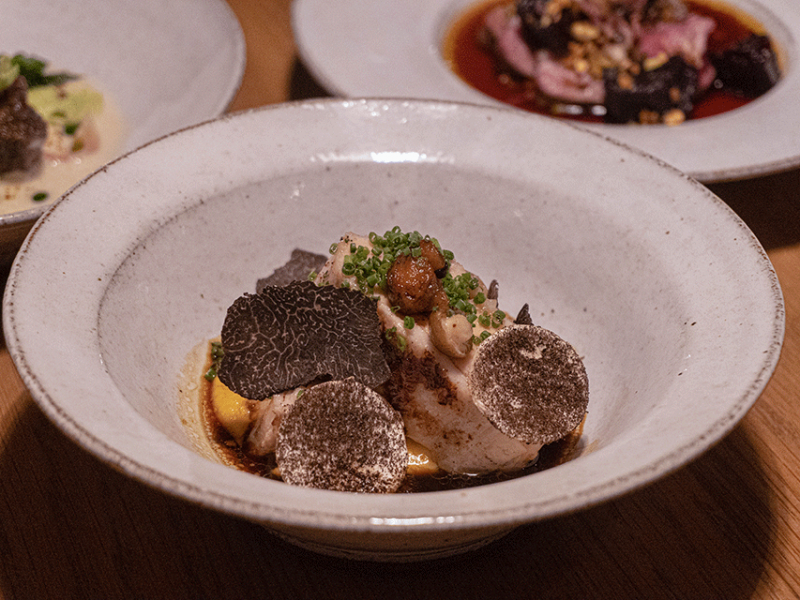 Culinary wizard Bjorn Frantzen brought this portion of the eponymous restaurant empire the Frantzen group to Thailand this year, and it quickly rekindled the Nordic dining scene in Bangkok once again. The two Nordic-style villas—one for the restaurant and the other for the cocktail lounge—in Soi Yen Akat are complete with a lush green garden that dampens the sounds of the city behind its walls. At Villa Frantzen, the food sees modern Nordic styles blended with a touch of Asian influence, from cauliflower chawanmushi (a steamed egg custard in yeasted mushroom tea) and morels to the fiery Szechuan pepper ice cream with mala pepper.
BBBB-BBBBB, Reservation, Parking, Dresscode.
7 Soi Yen Akat 3, 087-344-8222. Open Tue-Sun 5:30-11:30pm; Sat-Sun 12:30pm-11:30pm.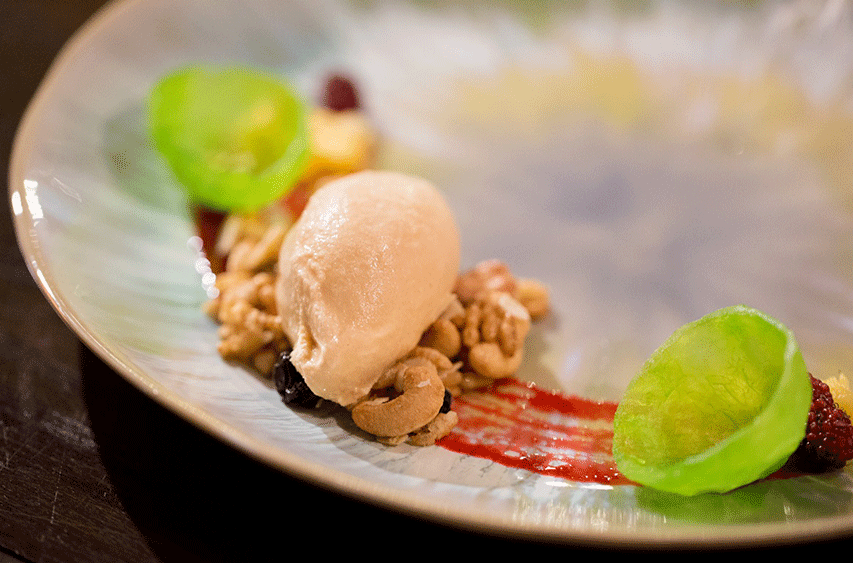 Across four- or six-course tasting menus, one of Bangkok's longest standing fine-dining players proves that you don't need double-digit courses to have an impact. The transformations of Thai culinary paragons like khao chae come courtesy of Ton's highwire techniques, but the foundations are set by cream-of-the-crop local produce: squid from Satun province, mountain rice from Pai, ant larvae from the northeast. Desserts like a coconut panna cotta are almost too exquisite to eat. Topping it all off, Ton is also a certified sommelier with a taste for organic and boutique outfits.
BBBBB, Reservation.
399/3 Silom Soi 7, 092-919-9969. Open Mon-Sat 4-9pm.
After bursting on the scene with his original location (named after the road it's on), chef Chalee Kader expanded the 100 Mahaseth empire to Ekkamai. The new space is imbued with the same rustic, warm feeling as the Charoenkrung location. The two-floor restaurant is filled with wood fittings, now including counter bar seating. Frayed basket lamp shades spread across the ceiling. Turntables and a giant mural of a full moon with a howling wolf take up the first floor while the second floor is set for a more relaxed evening where you can get a glimpse of the dry-aging fridge, packed with a variety of tasty meats. As is on-brand for the restaurant, expect innovative takes on off-cut ingredients and real nose-to-tail dining.
BBB
100 Mahaset Rd., 02-235-0023. Open daily 5-10pm; 5 Ekkamai Soi 21, 02-004-6932. Open daily 11am-10pm.
It's not just the food from the brawny tattooed arms and infectious smile of Francisco "Paco" Ruano or the rarity of fine dining Mexican food—it's hard to deny Ojo is about the view. Get in the mood for crab meat guac and chicharon with your tartare because even though there is definitely a medley of influences, the fare here is distinctly Mexican in flavor. Do not miss the birria beef short rib or the coriander-forward pescado zarandeado. One of only two Mexican fine dining spots in the city, it's new, sky-high, and worth the hype.
BBB-BBBBB, Reservation, Parking, Dresscode.
King Power Mahanakhon, 114 Naradhiwas Rajanagarindra Rd., 02-085-8888. Open daily 11:30am-2:30pm; 5:30- 11:30pm.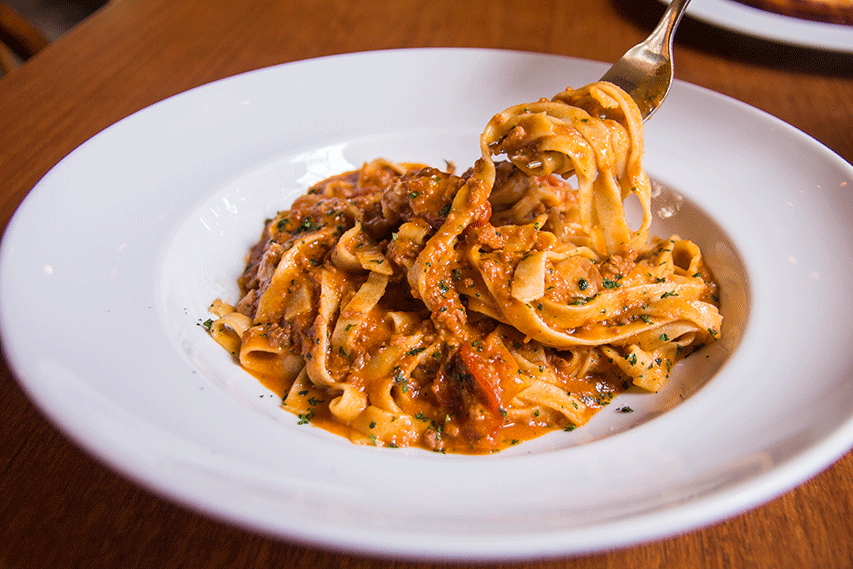 After nearly a decade of top-notch casual fare, Italian restaurant Appia switched things up a few years back with changes to both the venue and the food and a move toward the finer side of the spectrum. The setting is as welcoming as ever, retaining its charming trattoria feel with linen tablecloths, warm lighting, and a wall newly decked out with photos and artwork, while upstairs the mezzanine has been transformed into a beautiful wine room filled with over 120 labels. Here, ingredients are king and allowed to shine, exemplified by something as seemingly simple as the salad of roasted organic red beets.
BBB
20/4 Sukhumvit Soi 31, 02-261-2056. Open Mon-Fri 11:30am-2pm, 5-10pm; Sat-Sun 11:30am-10pm.
Zao originally opened in Ubon Ratchathani to support local farmers in Isaan and push back against naive stereotypes about Isaan culture. This year, they expanded to Bangkok, just behind Pridi cafe in Pridi Soi 25, and the city's food scene certainly took notice. This is real-deal Isaan food, not a watered down version to cater to the sometimes soft palates of Bangkokians. The sleek, photogenic look of the space's bare concrete walls and bright orange logo beckon diners inside. The ingredients here come by way of the same Ubon market as the original location, where villagers gather every day to sell their best produce.
BB-BBB
155 Pridi Banomyong Soi 25, 063-246-9545. Open Wed-Mon 11am-9pm.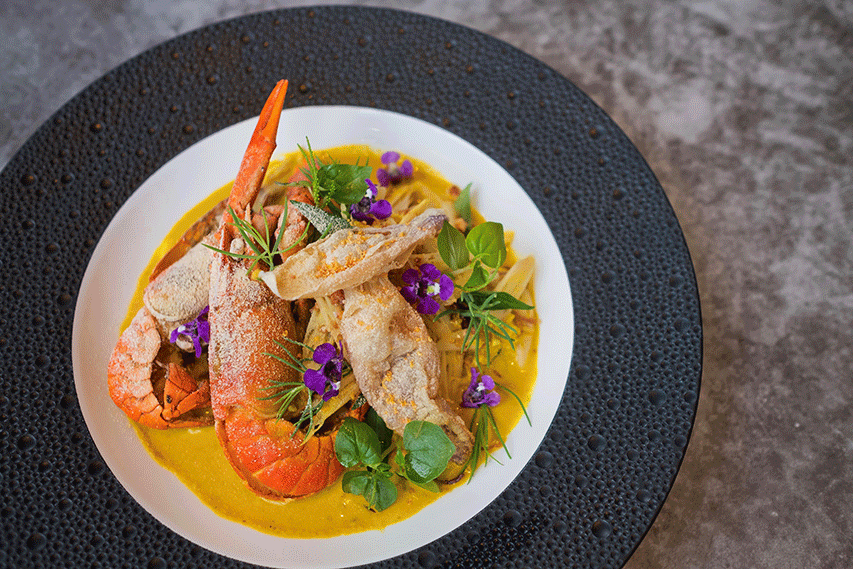 Don't expect molecular or fusion flourishes here, they are not needed. Chef Bongkoch 'Bee' Satongun elevated herself to celebrity chef status in Thailand with her accolade-teeming and sophisticated tasting menus that shine a light on rare herbs and ingredients, from Siam tulips to chestnuts from Nan province. The tasting menus deviate from the norm and come as sharing plates (minimum of two people) to retain Thailand's communal eating tradition. Minimal creams and a sweeping lattice sculpture make the Paste experience feel equal parts restaurant and five-star spa resort.
BBBBB, Reservation, Parking, Dresscode.
3/F, Gaysorn Plaza, 999 Phloenchit Rd., 02-656-1003. Open daily noon-2pm, 6-11pm.
Part of the Siri House complex of high-end eateries on Soi Somkid, Quince has had quite a makeover since its move. Many of the culinary hits here have a bracing char and serious emphasis on preparation, all topped off with a hearty protein finish—think aged duck breast and wagyu hanger steak dripping in juices. The space itself is fun and sleek, with a rare ground-floor green space, complete with a pool space inviting the occasional party atmosphere.
BB-BBBBB, Reservation, Parking.
Siri House, 14/2 Soi Somkid, 094-868-2639. Open daily 6pm-11pm.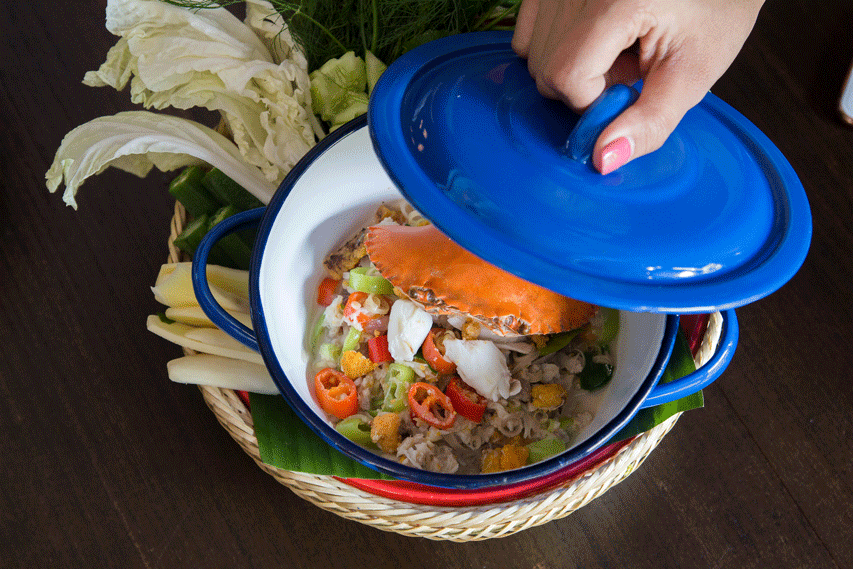 Thailand's eastern provinces may be a little bit under the radar when it comes to food, but this beautiful house in Sukhumvit Soi 33 has dedicated its whole space to the cuisine since opening in 2017. Here, you get to try all the eastern specials, such as lon pu kai, a creamy chili dip made with whole mud crab accompanied by Vietnamese coriander and fresh vegetables, to delicately sour chamuang leaf curry. The drinks menu, meanwhile, steers you in the direction of cocktails with a Thai twist, like the Thai coffee-spiked "O-Liang" with its mix of whiskey, port, apricot brandy, and spice
BB-BBB, Reservation, Parking.
90 Sukhumvit Soi 33, 02-088-0968. Open daily 11am–10pm.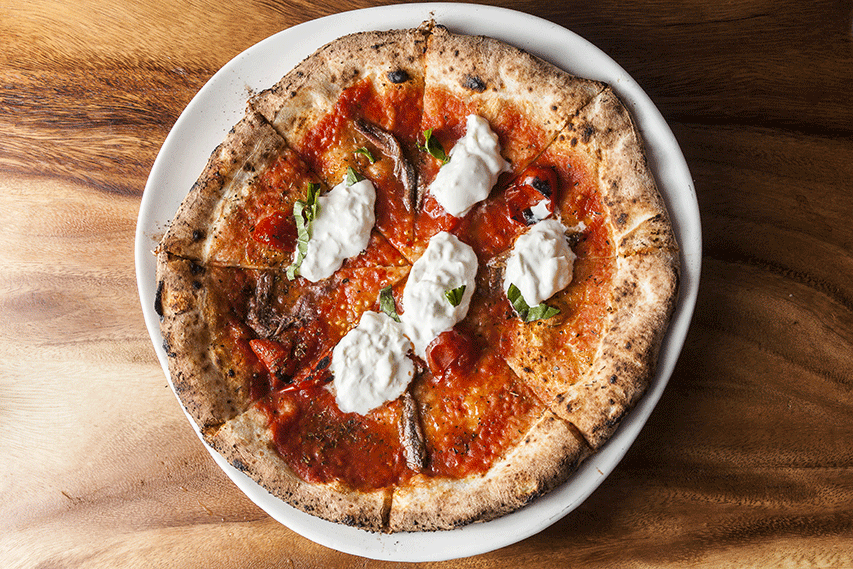 Apart from being a longtime favorite on the scene for Italian food aficionados throughout the city, Peppina brought home international glory this year when it was crowned Bangkok's best slice by 50 Top Pizza—following as it does the strict Associazione Verace Pizza Napoletana rules. But more than just their Neapolitan 'za, Peppina is an ingredients-forward innovator and a perennial brunch go-to for the Phrom Phong crowd, a crowd who know by now that impressive food can be fun.
BB - BBBB, Reservation.
27/1 Sukhumvit 33 Alley, 02-119-7677. Mon-Fri 11:30am-11pm, Sat-Sun 10am-11pm.
To view all Top Tables winners, view the full guide here or find it in participating BK Magazine venues.