Though the hotel is still delayed due to Covid, The Standard's Ojo is officially open as of today, Bangkok's highest and finest Mexican dining on the 76th floor of the King Power Mahanakhon building.
The food here comes from the brawny tattooed arms and infectious smile of Francisco "Paco" Ruano who finds himself in Bangkok via Guadalajara. Get in the mood for crab meat guac and chicharon with your tartare because even though there is definitely a medley of influences, the fare here is distinctly Mexican in flavor.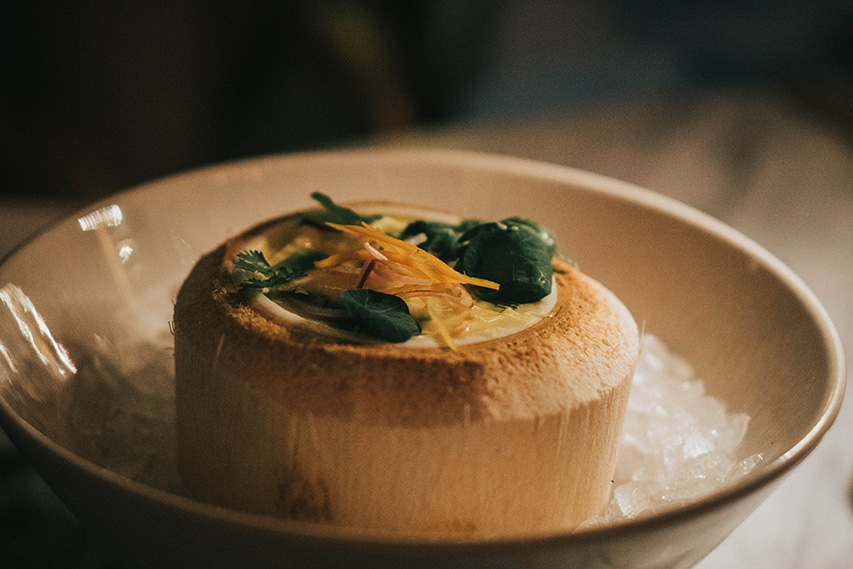 Earlier this week, Chef Paco served BK a refreshing coconut ceviche (B420) with white natto leche de tigre and yellow chili alongside a wagyu carne apache (B780) with dried shrimp and chicharon. The signature crab Ojo Guacamole (B480) to go with the apps is topped with red caviar and goes well slathered on the house made corn tostadas. The baby corn esquites (B390) seem quite simple, but the jalapeno mayo marries fantastically to a faint macadamia flavor.
The big, memorable main is the birria beef short rib (B2,500): slow-cooked and bathed in a jalisco adobo sauce. It's the kind of dish diners moan at when it comes to the table. Similarly, the pescado zarandeado (B1,100) relies on coriander and chili adobo for a spicier kick.
Mains are served with beans, tortillas, and sticky rice. Why sticky rice? Well, why not? This is Thailand, after all.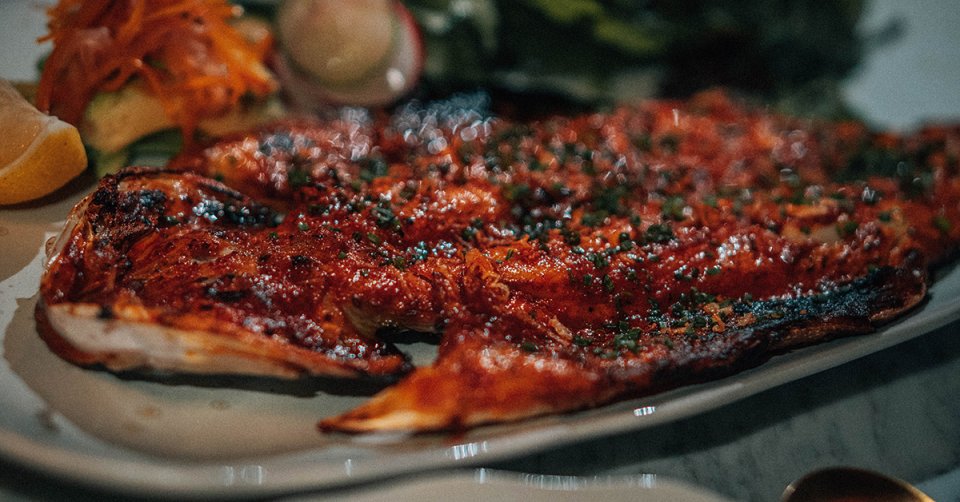 Opt for the arroz con leche (B350) for a smooth, refreshing dessert mixing vanilla creamy rice, white chocolate, and the star of the dish, cinnamon ice cream. For riskier flavors, try the dark chocolate tamal (B350) for crystalized mint in pandan ice cream.
The drinks, too, follow the Mexican and Caribbean theme, with the Batanga (B340) a solid favorite, a simple mix of tequila, house-made cola, lemon, and black and pink salt on the rim.
All of this is couched, of course, in what is likely one of the best views in the city and Ou Baholyodhin design of jewel, marble, and gold aesthetics inspired by Central America, but it's also got a retro playhouse vibe. The 50-second elevator ride to the top is a tourist attraction in and of itself.
With the Ojo now open, it's only a matter of time before The Standard floors are ready for guests; a representative at The Standard tells BK the hotel will follow the Ojo and open in July.
King Power Mahanakhon, The Standard, 76F, 114 Naradhiwas Rajanagarindra Rd., Khwaeng Silom