From timeless noodle soups and street eats to on-trend sandwiches, pizza, Japanese fried chicken, and epic sweet treats, here are 47 dishes you need in your life this year.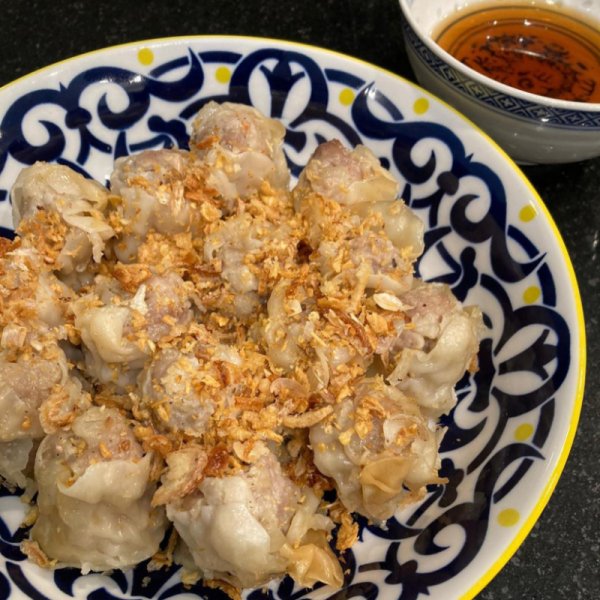 credit: fb.com/teensofthailand
The folks behind the Teens of Thailand empire cleverly thought up this dim sum delivery project when alcohol sales were banned at bars and restaurants for the second time in ten months. Ordering these plump, porky pillows of joy is as much a statement for supporting your local bartenders as it is a way to satisfy your hunger.
Order via IG @dsi_dimsum_international or Line @yologroup
Boat noodles at Bharani (B130)
Around since 1949, Bharani is an eclectic restaurant offering not only classic Thai fare, but a full Western menu that features everything from pork chops to Mexican pizza. However, we only go for the boat noodles, made using Thai and French beef. The silky, kind of murky, but oh-so-tasty broth keeps the lunch crowds coming in.
96/14 Soi Prasarnmitr, Sukhumvit Soi 23, 02-664-4454. Open daily 10am-10pm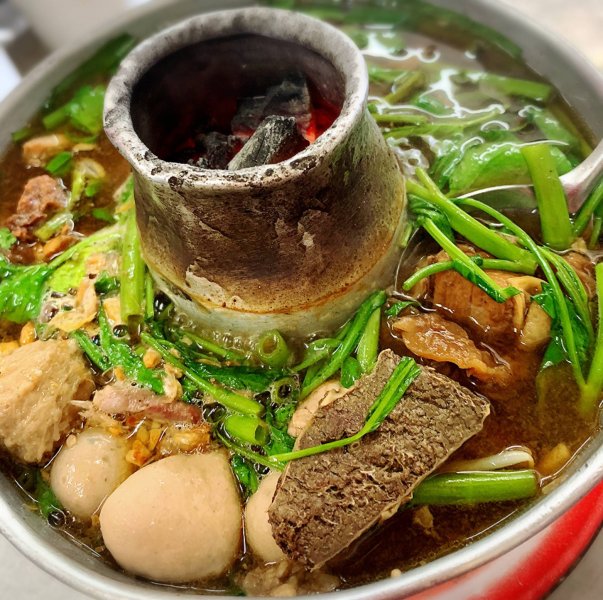 Braised beef hot pot at Heng Chun Seng (B180)
This Klong Toey institution has been serving Bangkok's finest beef broth for decades. The mixed beef hot pot, loaded with chunks of melt-in-your-mouth beef, meatballs, and organs, along with that heartwarming broth and fresh morning glory, make this neighborhood hole-in-the-wall a hit with locals of all ages.
133 Sunthon Kosa Rd., 02-249-2329. Open daily 7am-8pm
Caprese bagel at Volks (B220)

Longing for a taste of New York? This Italian-inspired bagel sandwich, loaded with fresh mozzarella, juicy cherry tomatoes, and basil (B220), served on a garlic and olive oil bagel, might satisfy those cravings.
40/12 Pradiphat Soi 13, 080-102-7190. Open Tue-Sun 9am-2pm
Classic vanilla donut at Drop by Dough (B95)

This outrageously good donut shop is still slammed with cafe-hoppers, and it's easy to see why when you bite into this super-fresh, sweet-savory treat. The custard is so good we wish we had a jar of it.
3131, 4-5 Sukhumvit Rd., 081-961-9135. Open daily 9am-5pm
This Silom ramen joint serves one of the tastiest bowls of oyster ramen in town. You'll get five big oysters imported from Japan, generous amounts of noodles, and thick, delicious broth that will warm your heart all year long.
43/1 Silom-Surawong Condo, Soi Anumarnratchathon, 02-634-2319. Open Mon-Fri 11am-2:30pm, 5-11pm; Sun 11am-2:30pm, 5-11pm


Credit: fb.com/bunmeatandcheesebkk
Homeburg Prototype #1 at Bun Meat and Cheese (B360 pork/B380 beef)
There's nothing like the Prototype burger by Homeburg burger mastermind Taiki Tsubota. The buns are light and fluffy with a crispy base, the medium-rare patties are tender and juicy, the melted cheese is a decadent touch, and Taiki's signature sauce is killer.
The Commons (Saladaeng), 126 Saladaeng Soi 1, 063-363-3659. Open daily 11:30am-8:30pm


Yentafo noodles at Yentafo Convent (B50)

This old-school, Michelin Bib Gourmand-recognized noodle joint has been serving Silom locals for decades. The secret is in the soup. The yentafo is unique with its signature savory broth, which is accompanied with bouncy fish balls alongside pork blood, jellyfish, and crispy octopus.
36/3 Convent Rd., 02-235-0386. Open daily 7am-5pm


Karaage Set at Katsu Shin (B230)

You can find a good fried chicken spot anywhere, but you won't find one quite like this place. Hidden in a small alley off Surawong Road, you will find the home of what is arguably the best Japanese-style fried chicken in town. Look past the katsu menu and go straight for these tender, juicy nuggets of perfection.
9/1 Surawong Rd., 02-237-3073. Open Mon-Sat 11am-2pm, 6-10pm; Sun 11:30am-2:30pm, 5:30-9:30pm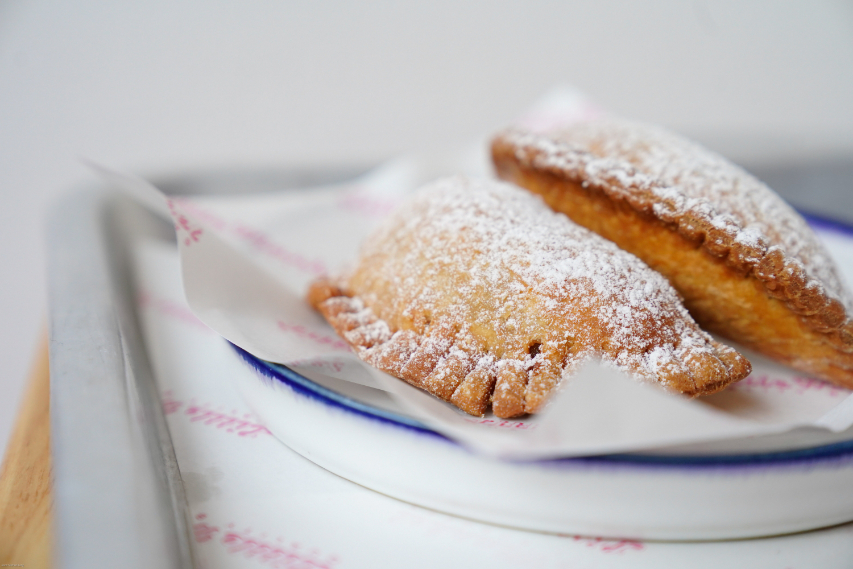 These handheld bites from Little Market are an ode to American dessert culture. Cooked to order, they hit you piping-hot, with a flaky exterior and fillings like tangy cherry and mouth-watering apple. Word to the wise: one is not enough.
5/4 Yenakart Rd., 092-414-6890. Open Tue-Sun 10am-10pm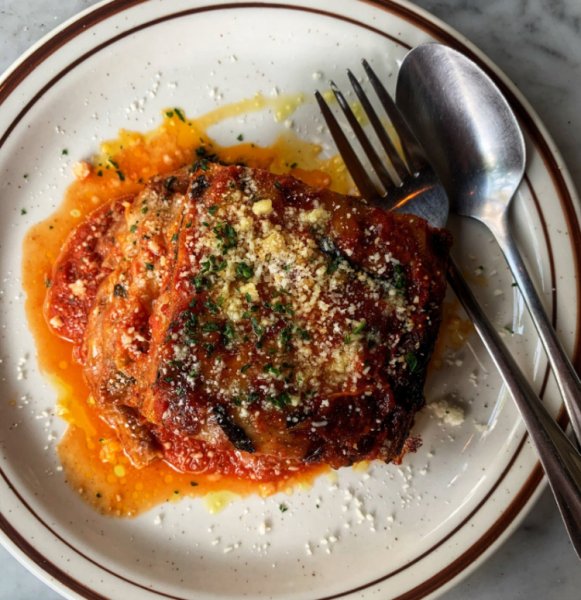 Eggplant parmigiana at Appia (B350)

Whatever 2020 was, we got through it somehow with Appia's rendition of the Italian classic eggplant parmigiana. Baked to perfection, this one sees paper-thin eggplant slices layered over one another with parmesan cheese, then bathed in homemade marinara made with tomatoes from Appia's farm in Italy.
20/4 Sukhumvit Soi 31 (Soi Sawatdi), 02-261-2056. Open Mon 11:30am-2:30pm; Tue-Sun 11:30am-9pm

Crackgriddle at Crackhouse (B220)

2020 didn't bring us a lot of good things, but it did give us Crackhouse. Everything is great here, but don't miss this deeply satisfying sandwich: two pillowy Chu pancakes covered in maple butter contain an omelet, Sloane's sausage, and oozing cheddar cheese. Goodbye, hangover.
The Commons (Saladaeng), 126 Saladaeng Soi 1, 094-490-4188. Open daily 8am-9:30pm

Karaage Curry at Kareya-san Japanese Homemade Curry (B100)

This humble Japanese restaurant serves the best homemade karaage curry in Bangkok. Period. Expect a big plate of fluffy Japanese rice brimming with tangy and slightly spicy curry, fat, juicy, and crispy fried chicken, and big chunks of potatoes and carrots. carrots. You'll just have to jostle with Ari's office workers to get a seat.
Phaholyothin Soi 11 (Soi Sena Ruam), 094-941-5695. Open Mon-Fri 10am-3pm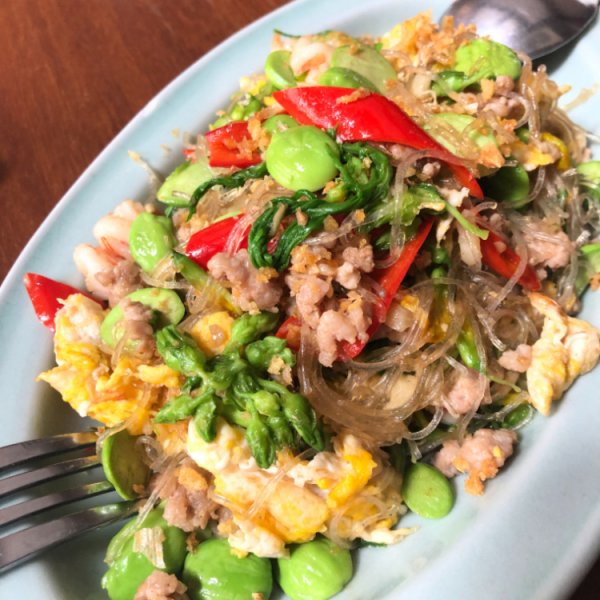 Stir-fried glass noodles with sataw at Soul Food Mahanakorn (B250)

Soul Food has always served up interesting dishes bursting with flavor, but even after 10 years in business, the Thonglor neighborhood joint hasn't ditched this classic dish: stir-fried glass noodles with sataw (stink beans), cha-om, minced pork, prawns, and eggs.
56/10 Sukhumvit Soi 55, 02-101-2367. Open Mon-Thu 5:30-11pm; Fri 5:30pm-midnight; Sat 5:30-11:30pm; Sun 5:30-11pm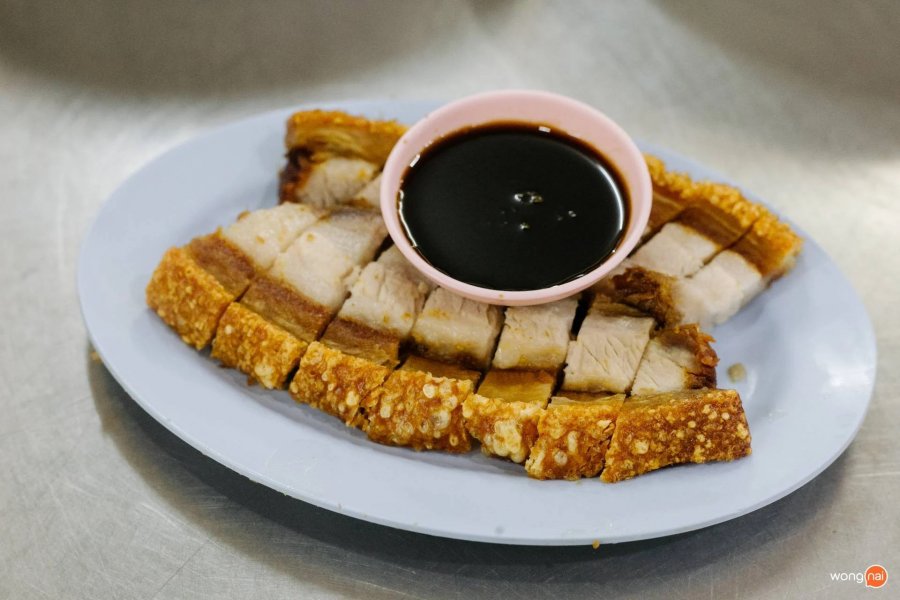 Crispy pork belly at Guay Jub Mr. Joe (B75)

Sliced up into nugget-sized bites and served with dark sweet soy sauce, the pork belly is the real highlight of eating here. It's everything you're looking for: salty, flavorful, and impeccably crispy.
313, 7 Chan Rd., 02-213-3007. Open daily 8am-4:30pm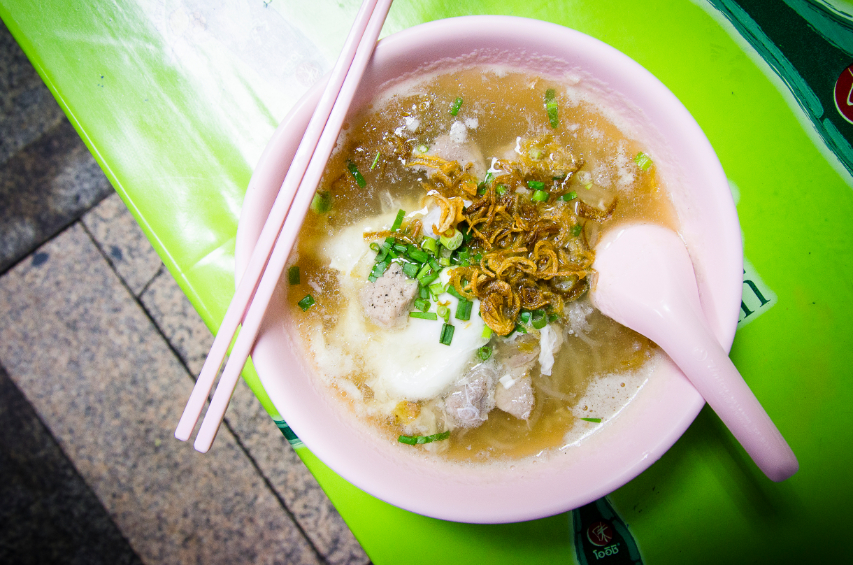 Vietnamese noodles (guay jub yuan) at Khun Daeng Guay Jub Yuan (B55)

The special ingredients brought down from Ubon Ratchathani are the selling point of this shophouse. The guay jub yuan with egg is fragrant, peppery, the noodle is on the right side of gooey, and the Ubon-style moo yor is made from quality pork meat.
68-70, Phra Athit Rd., 085-246-0111. Open daily 10am-9:30pm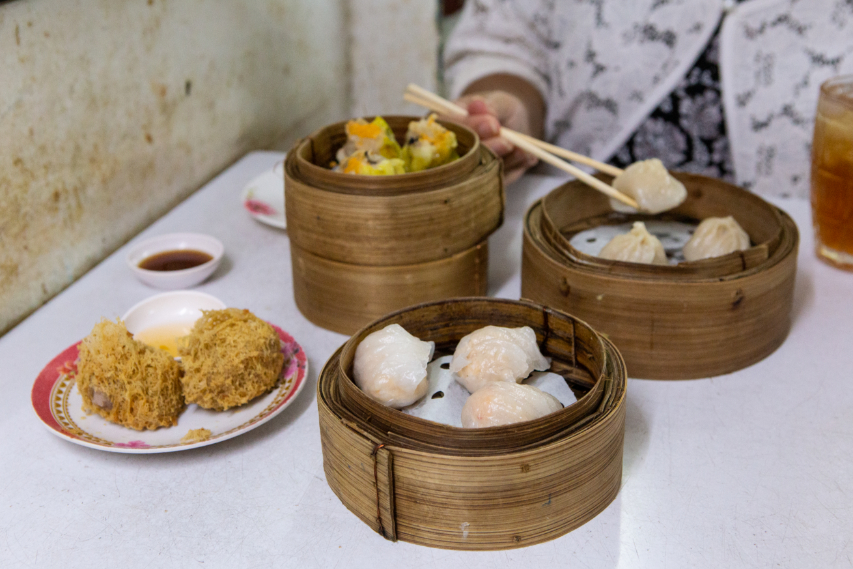 Xiao long bao at Tuang Dim Sum (B40/tray)

This tiny Charoenkrung dim sum place is the definition of an institution, and the perennial queues bear truth to that claim. But if we had to pick only one dish at this legendary shop, where everything is worth lining up for, it would be their xiao long bao. The delicately made, Shanghai-style dumplings are packed with warm, wholesome soup and juicy pork.
2029/9 Charoen Krung Rd., 089-603-0908. Open Tue-Sun 7am-4pm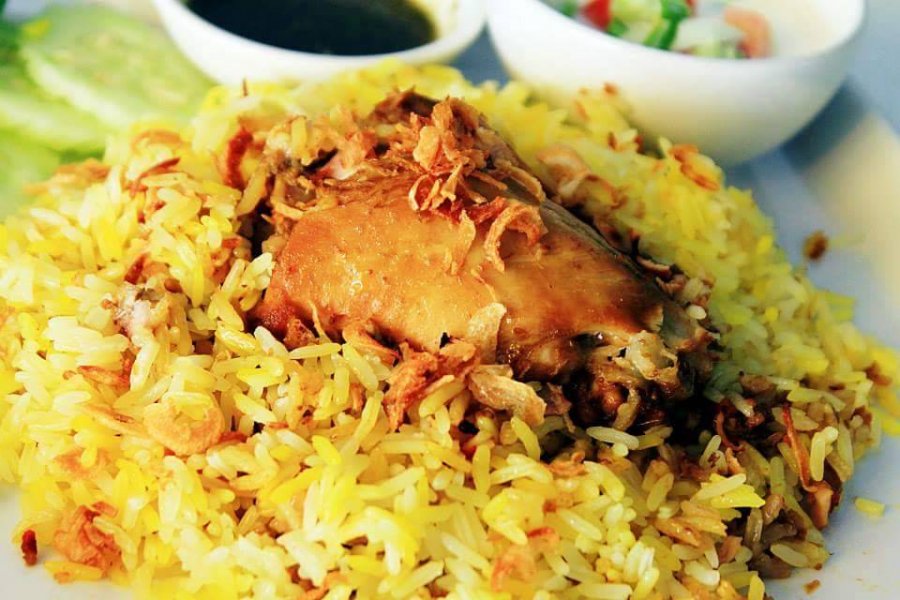 Chicken Biryani at Yellow Rice (B155)

Undoubtedly one of Bangkok's most beloved street food hubs, Convent Road has even more up its sleeve with this small, brightly colored Malay-Indian restaurant. Lounge on pillows and enjoy the aromatic and buttery saffron rice with chicken and the tangy arjad dipping sauce mixed with cucumber with vinegar.
36/4 Convent Rd., 095-874-9464. Open Mon-Sat 10am-10pm
Masala Maska Bun at Jhol (B190)

Jhol, the coastal Indian restaurant, opened to rave reviews, and that's partly due to their popular masala bun. Here, they take inspiration from the honeycomb-shaped bread of the famous Iyengar bakery of Bangalore, stuffing their buns with a potato filling and serving them with pav bhaji butter, which is basically a mashed-up veg curry turned into butter.
7/2 Sukhumvit Soi 18, 02-004-7174. Open daily noon-8:30pm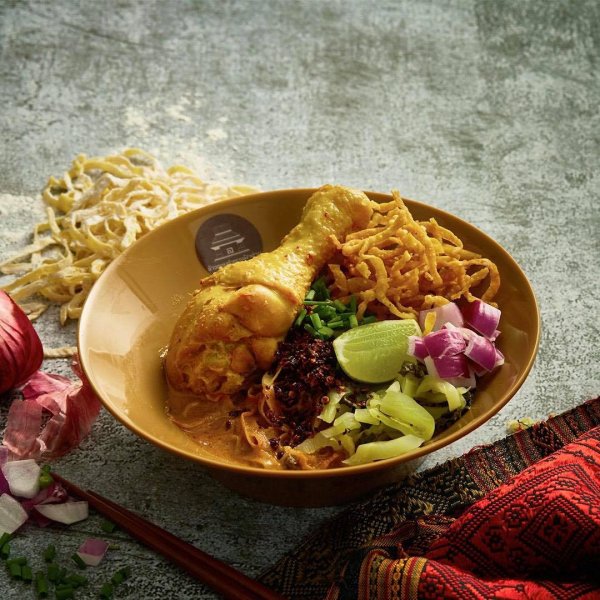 Open for over 80 years in Chiang Mai, the northern street food institution now offers its aromatic noodles to Nang Linchi crowds. Forget the hopelessly sweet Bangkok khao soi. A sip of the curry broth is like bringing Chiang Mai to your palate, without actually having to go there.
95/14 Nang Linchi Rd., 095-464-3722. Open daily 8:30am-6pm
Batter-fried squid with turmeric and crispy garlic at Err (B180)

The new Bolan, which is also the new Err, went through some major changes in 2020, but thankfully they didn't stray far from the menu we've come to love. See: this tender, deep-fried squid with turmeric. Simple in form, yet super addictive, it pairs perfectly with an ice-cold beer while you lounge in the airy garden.
24 Sukhumvit Soi 53, 02-622-2292. Open Tue-Sun 11:30am-3pm, 5-11pm
Vietnamese hot pot at Pho Mor Fai Wongwian Yai (pork starting from B25/plate, beef B35/plate, seafood B40/plate, and vegetables B15/plate)

Affordable, clean, and, of course, delicious, this place has it all set for a classic communal hot pot meal after work. The ingredients are fresh, the broth is on point, and you can create your own killer sauce mix.
55/9 Krung Thon Buri Rd., 088-664-4666. Open Tue-Fri 3-11:30pm; Sat-Sun 12-11:30pm

Nothing screams America like a classic Cobb salad, a dish that was unintentionally created in the 1930s on a late night in a famous Hollywood kitchen. Mickey's does Hollywood proud with all the staple fixings, including grilled chicken, creamy avocado chunks, crispy bacon, a sprinkling of blue cheese tossed in a house vinaigrette, and a side of ranch. Don't you feel healthier already?
G/F, The Portico Building, 31 Langsuan Rd., 02-050-5158. Open daily 8am-11pm
Duck and winter melon soup with preserved lime at Por Krua Thuen (B60)

Representing the resurgent street food hub-slash-cultural district that is Charoenkrung, this modest-looking, old-school shophouse offers top-notch Thai-Chinese fare from its incredibly tucked away location, down a tiny soi accessible only by foot. What's not so modest, though, is their range of soups, particularly this one with tender braised duck, delicate winter melon, and comforting yet invigorating preserved lime.
2351/26 Charoenkrung Soi 91, 02-289-5105. Open Sun-Fri 9am-4pm
Jok (congee) at Jok Samyan (starting from B40)

Simple, yet so satisfying, jok is just the perfect dish to power up your day. With bouncy, toothsome pork, clean-tasting innards, and oh-so-warm rice, no one does it better (for over 60 years, in fact) than Jok Samyan.
245 Chulalongkorn Soi 11, 02-216-4809. Open daily 5-10am and 3:30-9pm
Lod Chong at Lod Chong Singapore (B20)

This Chinatown dessert shop is not new and maybe it's a bit dated, but the long lines will tell you it's not to be missed. The shop specializes in lod chong—thin, almost transparent green noodles, unlike its Thai counterpart, which are thicker and chewier. The noodles are served in tall glasses filled with crushed ice, sweetened coconut milk, and a long spoon for slurping away in the Bangkok heat.
601 Charoenkrung Rd. (near Charoenkrung junction), 02-221-5794. Open Mon-Wed 11am-10pm; Fri-Sun 11am-10pm
Korean barbeque at Doorae (beef starting from B340/plate, pork 300/plate)

After more than a decade in operation, this unpretentious three-story spot remains a bustling destination for barbecue-goers. The air is filled with the heady aroma of grilled meats, and the menu offers a wide variety of meat cuts destined for the grill, as well as mixed salads and staples like bibimbap and hae mool pa jeun (seafood pancakes).
212/15, 1/F, Sukhumvit Plaza, Sukhumvit Soi 12, 02-653-3815. Open daily 11am-10pm
Thai-style Sukiyaki at Elvis Suki (Beef B60, seafood B70)
The suki here, both with and without soup, is some of the best in Bangkok. The fried woonsen noodles are just moist and oily enough and the crunchy cabbage and green onions are super-fresh. The accompanying sauce, spicy but also a bit tart, is just as exciting. And while the seafood option (B70) is the most popular, the perfectly marinated beef (B60) is even better.
200/37 Soi Yotse, Phlab Phla Chai Rd., 094-782-8223. Open daily 4-11pm
Pestocado sandwich at Bartels (B250)

The latest bakery to hit Bangkok has been bringing in the hoards—Covid be damned—with its freshly baked sourdough bread. Try a slice in their loaded Pestocado open-faced sandwich, which is packed with pesto, avocado, cucumber, tomato, kalamata olives, and balsamic reduction.
760/1 Sukhumvit Rd., 061-745-2121. Open daily 7am-6pm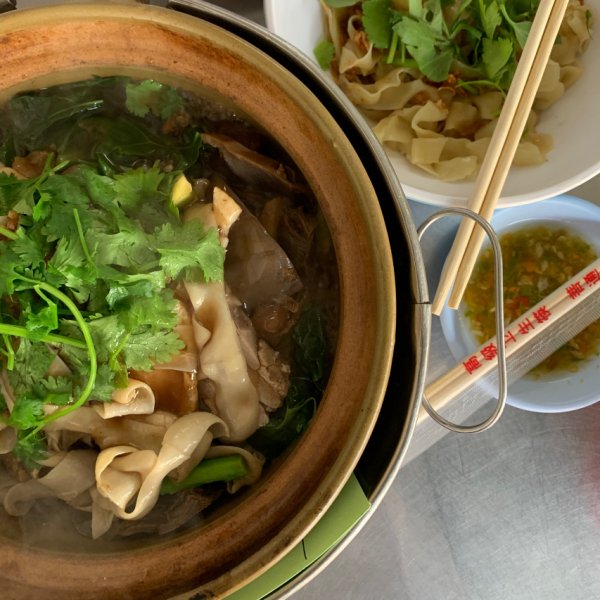 Braised duck in a clay pot at Tung Sui Heng Pochana (B100-B350)

Classics are classics for a reason, and the braised duck—or goose, if you're lucky—at Tung Sui Heng is living proof. Even now, tables are filled with people slowly savoring the aromatic broth, which is enhanced with a variety of Chinese herbs and spices. The clay pot comes loaded with the most tender duck slices and interesting bits like intestines, liver, and wing tips.
649 Banthat Thong Rd., 081-993-9766. Open 11:30am-8:30pm

If comfort is what you're after, then comfort is what you'll get with the steaming clay pot rice with braised beef at this decades-old, family-run shop. Rich in flavor, the aromatic rice is topped with succulent beef pieces and served alongside a warm beef broth. Thanks to its popularity, the long-standing brand is now expanding in the modern age to Mahanakhon Cube and Sukhumvit.
19/2 Charoenkrung Rd., 062-545-9293. Open Tue-Sun 11am-7pm
Kanom krok at Kanom Krok Bai Toey (B50/box)

When that sugar craving hits, look no further than this little snack kiosk located behind Siam Square, where they dole out these pillow-soft, doughy bites. Dubbed "sweetmeats" in English, kanom krok are made with tapioca flour, coconut milk, sugar, and, at this place, a bit of pandan.
Siam Square Soi 7 (beside Novotel Siam Square). Open daily 11am-6:30pm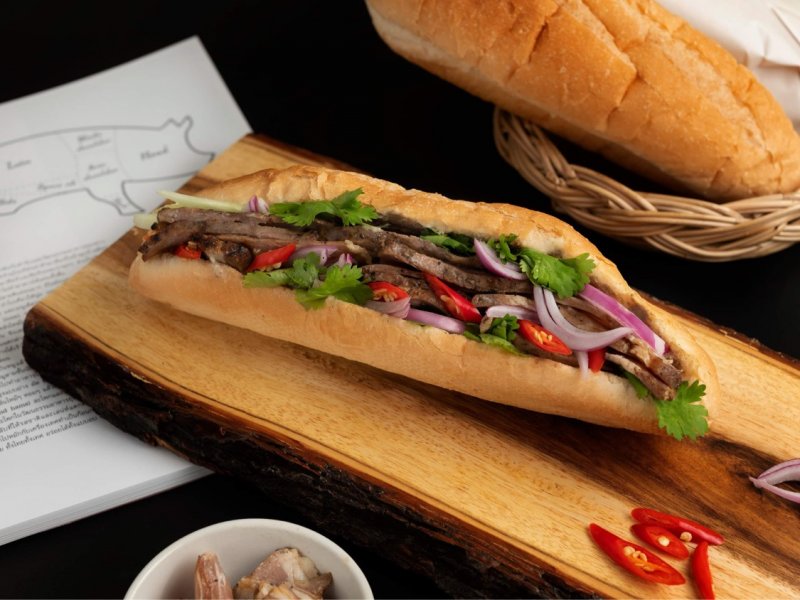 Pork belly Banh Mi at Bun Me (B130)

Even though we are achingly close to the birthplace of the banh mi, it can be quite difficult to find one that makes the cut in Bangkok. Thankfully, Bun Me does a pretty good job at producing a flavor-packed sandwich that is about as close as it comes to the real thing. Go for the pork belly version, slathered with pate and loaded with pickled daikon, carrots, cucumber, chunky bites of pork belly, red onion, and tons of fresh coriander.
8-6 Sukhumvit Soi 11, 095-413-4756. Open Mon-Fri 10am-9pm, Sat-Sun 11am-9pm

The delivery-only dessert service that sometimes hosts pop-ups across the city is full of decadent treats with enticing names. See: the giant Cup C cookie, 155g of chunky valrhona chocolate, toasted walnuts, and a generous sprinkle of sea salt. A.k.a., the ultimate cookie climax.
Order at rollingpinn.com, fb.com/rollingpin

Everyone in the city has a favorite pizza joint, and Ekkamai's Pizzeria Mazzie has quickly accumulated some die-hard fans with their hand-tossed pizzas, whipped out of a custom-made, low-dome Acunto oven from Naples. The classic pepperoni backs up the pizzeria's rabid fanbase with its near perfect, slightly singed crust, tangy tomato sauce, spicy salami, and grana padano cheese.
17 Park Lane Mall, Sukhumvit Soi 63, 02-060-8822. Open Wed-Fri 5:30-9:30pm, Sat-Sun noon-3pm, 5:30-9:30pm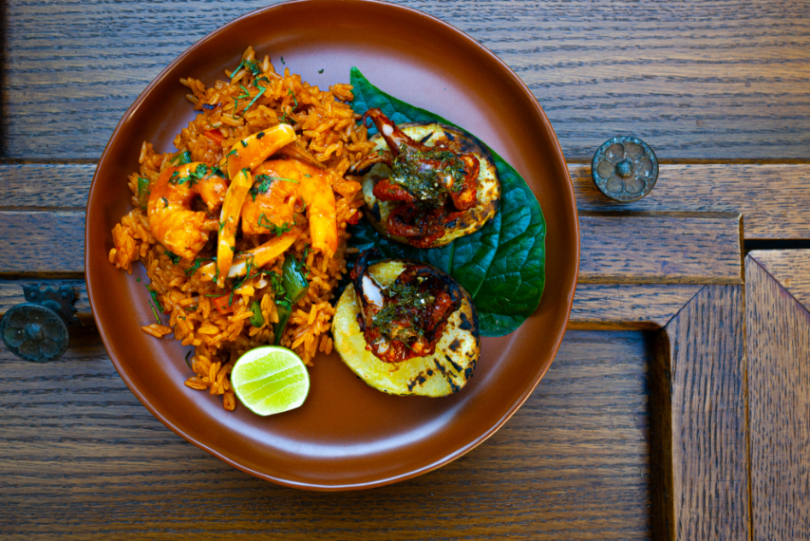 Arroz Con Mariscos at Na at Bangkok 1899 (part of the Peruvian Tasting Menu; B1,000)

Na's full-flavored, soul-reaching South American dishes are not only delicious: they won't break the bank, either. The arroz con mariscos, a hearty seafood rice dish brimming with Peruvian flavors, borders on a seafood paella, but here it's paired with the most tender anticuchos de pulpo (marinated grilled octopus). All it needs is a squeeze of lime and a pisco sour.
134 Nakhon Sawan Rd., 089-164-4454. Open Tue-Sat 11am-8pm; Sun 10am-8pm
Khao Soi steaks at Goodsouls Kitchen (B295)

Goodsouls Kitchen has been serving plant-based food in Chiang Mai since 2017 and recently opened its first Bangkok branch in Phrom Phong, offering up a generous menu of awesome vegan-friendly dishes. The khao soi steaks see two large mushrooms served with a spicy herb cream made fresh turmeric, lemongrass, galangal, chili, and coconut milk.
28 Sukhumvit Soi 26, 062-328-9669. Open daily 9am-9pm
Upside-down aged comté cheese soufflé at Blue by Alain Ducasse (B750)

The newly Michelin-starred restaurant owned by the French icon isn't cheap, but its dishes live up to the elevated prices—especially this soufflé. Served on top of black trompette mushrooms, filled with aged comté, parmesan, and gruyere with mushroom and truffle puree, and finished with a comté cheese emulsion, this decadent treat is utterly OTT.
1/F, IconSiam, 02-005-9412. Open Thu-Mon noon-10pm
Fish sauce caramel and vanilla ice cream at Yora (B100/cup; B400/pint)

Yes, ice cream with fish sauce. Don't make that face. Premium fish sauce gives this decadent ice cream a subtle umami quality, like salted caramel taken up to 11.
Order via Instagram @yora.bkk and Line @yora.bkk

Holey remains one of Bangkok's masters of the sandwich, and it's hard to top their Cubano, packed with pork belly porchetta, smoked ham, bacon, jalapeño, dijon, pickles, and cheddar cheese.
245/12 Soi Sukhumvit 31, 097-048-3170. Open daily 7am-7pm
Fish and Chips at Buster's (B330/B370)

The Brits of Bangkok are descending on Buster's for its line-up of beer-battered fish and chips (B330 for Pacific cod or sea bass; B370 for halibut) and other comfort food classics hailing from the motherland.
591/9 Sukhumvit Soi 33/1, 083-598-3973. Open daily 10am-11pm

Go full throttle on Germany's favorite (Turkish) treat with the enormous Original, served in house-made flatbread loaded with Australian beef and lamb, veggies, and red onion. Be prepared: you're going to get a mountain of food.
Sukhumvit Soi 22. Open daily 11:30am-9pm

Siri House's uber-hip cafe is now under the stewardship of chef Steve Doucakis, and his devotion to feel-good comfort food shines in this bowl filled with brown mountain rice, oven-roasted salmon, avocado, pickled mushrooms, charred corn, shallots, radishes, and ginger-sesame dressing.
14/2 Soi Somkid, Phloen Chit Rd., 094-868-2639. Open daily 8am-5pm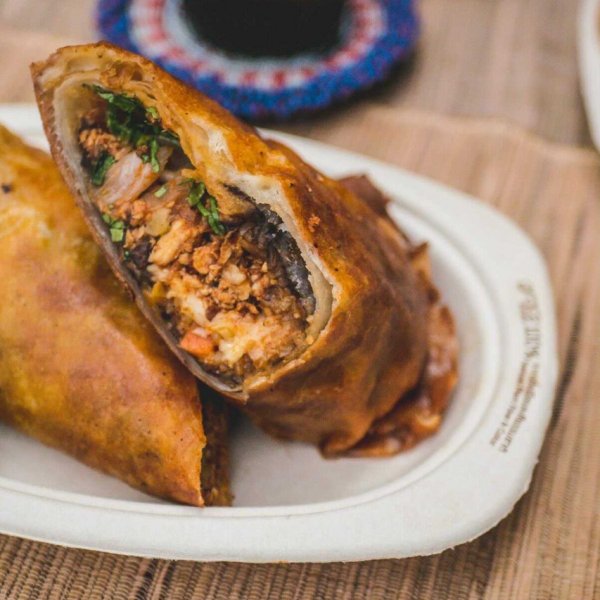 Cheese-wrapped burrito at Cholo's (B280)

Craving SoCal flavors? Don't miss this cheese-wrapped burrito, stuffed with aromatic pork birria (spiced, Jalisco-style stewed meat), tons of cheese, onion, and coriander. The whole package is griddled over the plancha, giving it a crispy exterior and a delightfully gooey cheese center.
Bangkapi Mansion, 89 Sukhumvit Soi 12, 081-831-6277. Open Wed-Sun 11:30am-2:30pm, 5:30-9:30pm
Dry fishball noodles at Lim Lao Ngow (B40)

Even after over 80 years in business, this Chinatown cart still has people waiting in line to savor their light, bouncy, and flour-free homemade fish balls, served with al dente Chinese-style noodles. The soup is so legit, in fact, that Lim Lao Ngow now boasts a handful of branches across Bangkok.
299-301, Song Sawat Rd., 081-640-4750. Open daily 5:30-9pm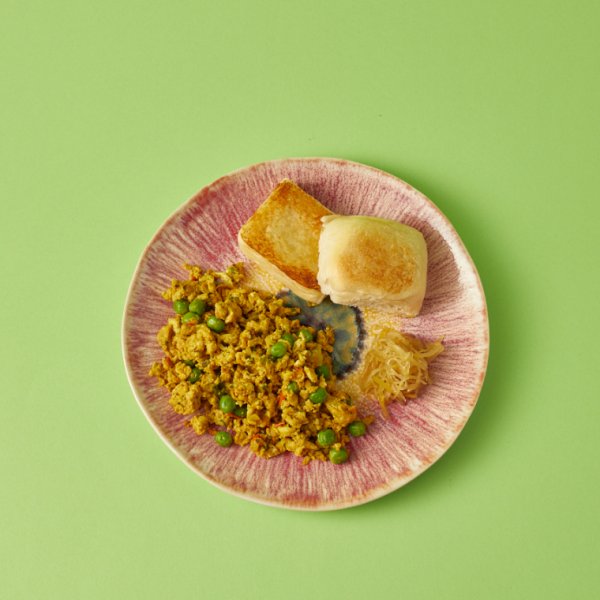 Masala Egg Bhurji at Here (B220)

The all-day modern Indian canteen from chef Garima Arora and co. puts a refreshing twist on your typical brunch fare. Get comfy in the airy, sun-dappled space with the masala egg bhurji: scrambled eggs with onion, spices, and green peas paired with fresh sourdough and pav butter.
46/1 Sukhumvit Soi 53, 097-140-5647. Open daily 7:30am-5pm


Mama tom yam at Jeh O Chula (B144)

Chula's legendary high/low restaurant draws hours-long queues for this absurdly popular tom yam packed with instant noodles and fresh seafood. Want to get real weird with it? Try the Mama Oho (B800), a monster bowl teeming with crispy pork, crab leg, plump shrimp, and a bunch of fresh egg yolks.
11 Charan Muang Rd., 081-682-8816. Open daily 5:30pm-2am
---
What Bangkok bloggers are eating now

Yota and Jira, Kin-Kin
Smashed eggfruit toast at Here
"It's a clever use of local produce, substituting eggfruit for avocado."
46/1 Sukhumvit Soi 53, 097-140-5647
Pure Luck Kombucha
"The pioneer of Thailand's kombucha movement, Pure Luck is widely used in pairings at fine dining restaurants, including Gaggan and Le Du. One of our fav flavors is Reishi Hero, a mix of organic mushrooms like reishi and maitake, chicory root, and cocoa nibs."
pureluckbangkok.com
Mark Wiens, Eating Thai Food
Baan Pu Khai Dong
"For me, this is one of the best seafood restaurants in Bangkok. Try the steamed grouper, pen shells, and the amazing crab jungle curry."
60/11 Bang Na-Trat Soi 32, 099-119-5993
Le Hot Chinese Hotpot
"Amazing Sichuan hot pot, huge selection of do-it-yourself sauces, and friendly service."
16 Sukhumvit Soi 24, 02-260-1540
Ba Chao Ahaan Pa
"Spicy food and unique meats to choose from. Great local restaurant, laid-back spot, and delicious jungle curry and pad phed."
85/369 Soi Chat Chai Ruam Mit (Lad Phrao), 02-570-0755
Neua Toon Thanam Sathu Pradit
"Always a satisfying bowl of braised beef soup with rice."
684 Sathu Pradit Rd., 02-682-0156
---
Bangkok chefs reveal their hidden street food gems
Chalee Kader, 100 Mahaseth
Stewed pork leg and pork offal at Charoensang (B40-B150)
"When you want fall-off-the-bone stewed pork leg, this is a must. The crowds don't lie"
492/6 Charoenkrung Soi 49
Pork and fish noodles at Saew 49 (B35-B55)
"This old school noodle joint is an all-time classic. Savor bowls of any noodle you like, such as sen lek mixed in a secret sauce with minced pork and fish balls."
1 Sukhumvit Soi 49 (not Soi 55), 02-258-7960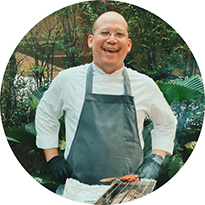 Yodkwan "Yod" U-Pumpruk, Sorn
Isaan food at Ubon Jaew Hon (B60-120)
"I always like to go here for Isaan food when I can't make it to Udon Thani. The beef salad with bile and blood can't be missed."
51 Soi Sassana (Ari Samphan Soi 10)
Duck noodles at Bue (B100)
"The braised duck with five spice is comforting and super aromatic that keeps the people coming in, served with steamed rice, it's an instant classic"
Soi Yu Dee 1/1 (Charoen Rat Rd.)
Randy Norapa, Fillets
Chicken rice at Baytong (B120)
"They are some of the only ones in Bangkok using real chicken from Betong, and all the chefs and staff are from Betong, too."
Ari Soi 4, 092-997-1170
Five spice goose at Urai (B100)
"Most of the time, the goose has to be reserved, as they typically sell out 30 minutes after opening."
Trok Khaosan, Soi Songwat (Chinatown)