The street food "ban" announced three years ago was met with a mixture of disbelief and alarm. While the fate of Bangkok's street vendors remains uncertain, the city has welcomed a new wave of street food restaurants run by young up-and-comers, offering creative dishes with authentic flavors harking back to treasured family recipes. We talk to four of them to hear their stories and views on the future of Thailand's street food.
Jong Dim Sum
Run by Jetpruek "Jong" Lapnarongchai, 28, this modern, two-story kopitiam-style shophouse near Saphan Kwai junction serves authentic Betong dim sum. In less than two years, Jong Dim Sum has become one of the neighborhood's most popular breakfast joints, where early birds can get their fill of juicy prawn dumplings or marinated pork congee alongside freshly brewed oliang coffee. The fist-sized charcoal barbecue pork buns are also not to be missed.

How long did you spend to perfect your recipes?
The food here is based on Cantonese, southern-Thai style recipes from Betong, passed down in my family from my grandmother. While we kept all the authentic tastes for our dishes, we did make some adjustments to the menu.

What feedback have you received from old and young customers about your food?
We found that some of the dishes we serve can be difficult for our young customers, like bak kut teh (B120; herbal pork-ribs soup). When we first opened, we used a really rich broth, which many old customers enjoyed, but not so much with the young crowd—they said it was way too strong. We had to adjust the taste of that dish bit by bit to cater to both the young and old. Also, initially, our customers were really confused about our charcoal barbecue pork buns. We got so many questions from both young and old customers as to why the bun is black and why the filling is grilled pork instead of red pork. I had to do a lot of explaining, but now everyone gets it, and it has become one of our best-selling items on the menu.

Why did you choose to open this dim sum restaurant?
My family has been running a dim sum restaurant in Hat Yai for around 20 years, so I knew what it was like to be in this business very early on. When I graduated from university, I worked at the restaurant for a while, and after gaining some experience, I felt like I wanted to open my own business. My parents gave me the green light, so I came to Bangkok to look for locations.

What were your parents' initial reaction?
At first, they didn't approve. I had to prove myself to them to show that I'm taking this seriously and that I'm ready to run my own restaurant. Many people may think that I have it easy since I have pretty much everything laid out for me, but I did have to sacrifice some things, too.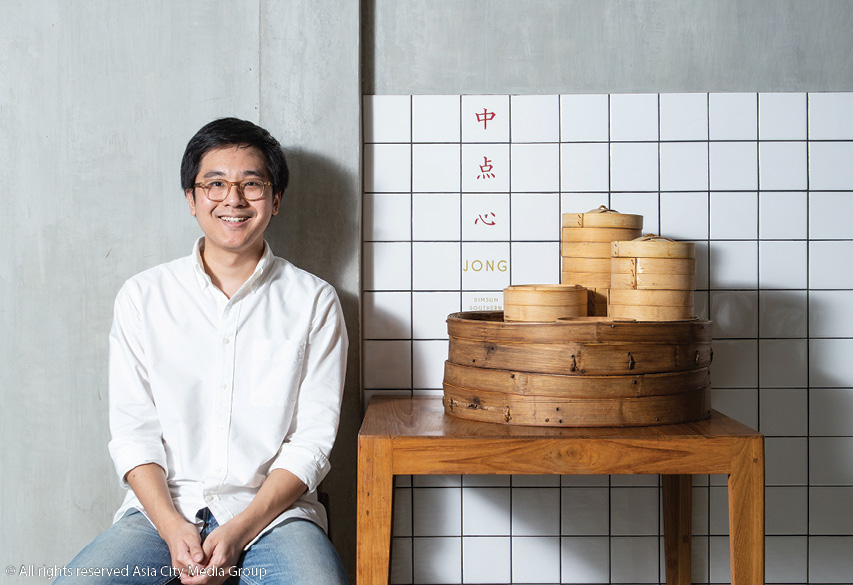 Jetpruek "Jong" Lapnarongchai

What obstacles have you faced?
Since I'm from out of town, opening up a restaurant in an unfamiliar place, I had to try extra hard to explain to people what my food represents. It's like what I just told you about the charcoal barbecue pork buns—people were quite skeptical at first, because they weren't familiar with this item of food. Whereas if I had sold the typical steamed red pork bun, I wouldn't have had any problems because Thai people already know what it is. So I'd say the customers' perception towards my restaurant was a bit ambiguous at first, but now it has improved.

What are your thoughts on young people opening modern street food establishments?
I think it's a positive thing—it helps create new dishes and diversity that will make our street food culture branch out even more. Also, in my opinion, street food nowadays is no longer limited to location. It's more than that—it's a culture, a way of eating that doesn't have to be on the streets. It can be anywhere now: street food can be in a shophouse, a mall, or even in fine dining restaurants, where "street food" dishes are beautifully presented. All of this is the result of the new generation, developing new creations from what already existed.

What are your goals or plans for the future?
I'm planning to open another branch—nothing big, but the new place will focus on salapao (steamed buns) and kanom jeeb (Chinese dumplings).
524/4 Phahonyothin Rd., 089-048-6908. Open daily 7am-8pm. BTS Saphan Kwai
---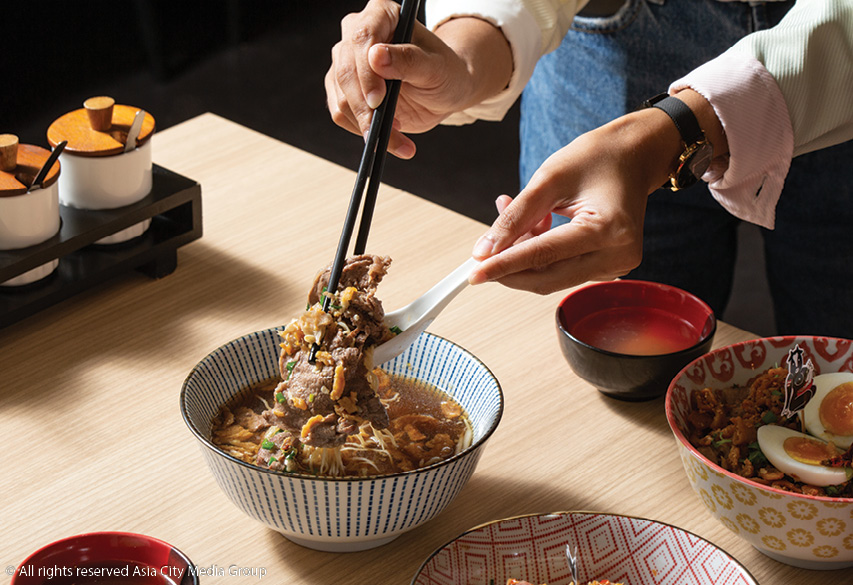 Wuanood
What started as a humble but wildly popular nuea krob noodle shop behind Thai Airways' head office four decades ago is now Wuanood, a stylish and sassy beef noodle restaurant. With a love for their grandparents' authentic beef noodle soup, sisters Smittada "Ploy" Hongsakul, 35, and Narissara "Prae" Hongsakul, 33, have expanded old family recipes to include some next-level premium beef. Think noodles with Thai-French top blade beef dressed with pork crackling. If that doesn't satisfy your carnivorous cravings, we don't know what will.

Why did you venture into this business?
Prae: Cooking became my passion when I was studying for my master's in England. It gave me a way to de-stress from my studies and cooking for my friends sparked a lot of joy in me. When I came back to Bangkok, I had a business opportunity, so I began brainstorming what kind of food I wanted to make. I wanted it to be comforting, uncomplicated, and something that you would want to eat again and again. Then I thought of the one dish that our family always makes, the dish that brings us all together, which is beef noodles.
Ploy: We're a big family. Growing up, we would always have these fond memories of everyone getting together to eat the beef noodles that our grandmother cooked. It was like a big event. Actually, this noodle recipe belongs to our grandmother's brother and his wife, who have both run a crispy beef noodle joint behind Thai Airways' head office for many decades now. When we told them that we were planning to open our own restaurant, they brought us into their shop and taught us how to cook the beef noodles based on their recipe.

Have you changed anything in the recipe to cater to current tastes?
Ploy: We haven't changed anything in the soup recipe—the taste is still based on what our relatives created 40 years ago. But we did add to the original recipe in terms of meat selections like Australian striploin and wagyu. We also created a new signature dish called khao gao lao haeng, which is similar to kurobuta don, but ours is more Thai-style, using jasmine rice, topped with pork crackling and served with our homemade soup.
Prae: When it comes to flavors, we want our dishes to be as authentic as possible. But since we have such a diverse group of customers, from teenagers and elders to big families, we do sometimes customize the flavors for them.

How did your parents or friends feel when you decided to work in this field?
Ploy: Around five or six years ago, it was kind of uncommon for people our age to quit their full-time jobs and start their own business. We did get comments like, "why do you do this when you have a college degree from abroad?" But luckily for us, our parents have been very supportive of our decision, so we didn't take those comments to heart.
Prae: The support we got from our family gave us the boost, plus we were confident in the food and recipes we have. We're proud of launching Wuanood. It has become the place for our family gatherings.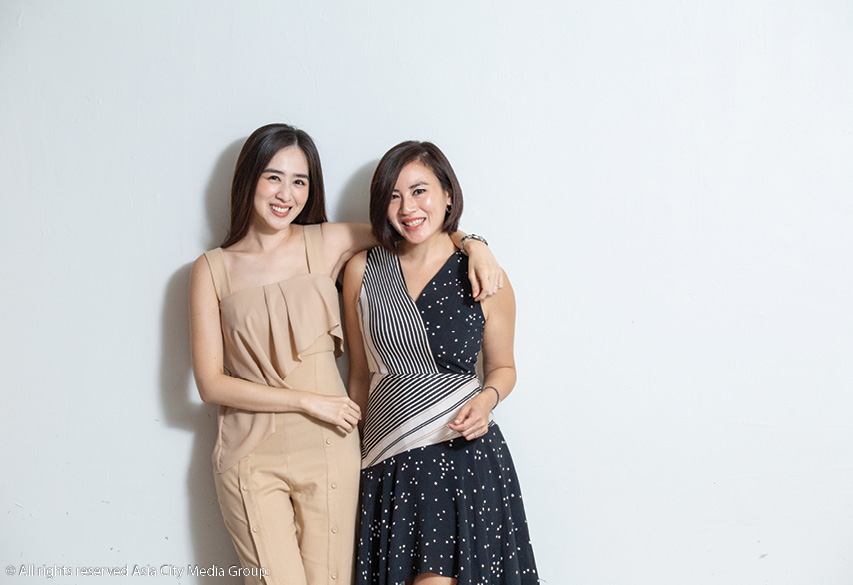 Smittada "Ploy" Hongsakul, 35, and Narissara "Prae" Hongsakul, 33

What obstacles have you faced?
Prae: Before we launched Wuanood, we were both in full-time jobs, which meant we had little experience running a restaurant. We had to learn how to manage everything from scratch. But luckily, many people around us are also in the restaurant business, so we got lots of useful advice from them. Listening to talks from successful restaurant owners also helped.

What are your goals for the future?
Ploy: We definitely want to expand. Before Covid, many of my international friends asked us if we wanted to open Wuanood in their countries. I think this is a good business opportunity, because not many foreigners are familiar with Thai beef noodles. As for Thailand, right now we only have two locations. We still want to manage everything ourselves, so we're not going to franchise our business yet. But we're planning to launch a sister brand of Wuanood soon, which will offer southern khao gaeng dishes.

How do you feel about the state of street food today?
Ploy: Thailand's street food is world-renowned. Street vendors have become an integral part of our local culture. That's why I want to see the young generations elevate the standard of street food and come up with new ways to make it more accessible to a wider audience, while at the same time focus on keeping the authenticity of the original flavors. Many modern street food restaurants today have also brought elements of the old charms we're accustomed to into their own spaces. When you combine everything together, street food becomes more relevant. I want to see street food be a daily part of our eating culture, not something you look back on.

Any words of advice for aspiring young restaurant owners?
Ploy: Don't forget that the food should be at the heart of your restaurant. It is crucial nowadays for the space and vibe to be stylish and trendy, but at the end of the day, it's the food that will bring back customers.
Prae: That is the challenge of running a restaurant. There needs to be an authenticity to the food you make, especially in the flavors, that will make your customers want to come back again and again. Sure, it's important for your establishment to be attractive and photogenic, but you need to look at everything in the long term. Research a lot, study the trends and markets, and think carefully about how much risk you can handle.
1/F, Empire Tower, South Sathorn Rd., 02-286-1123. Open Mon-Fri 11am-9pm; Sat 11am-4pm. BTS Chong Nonsi
---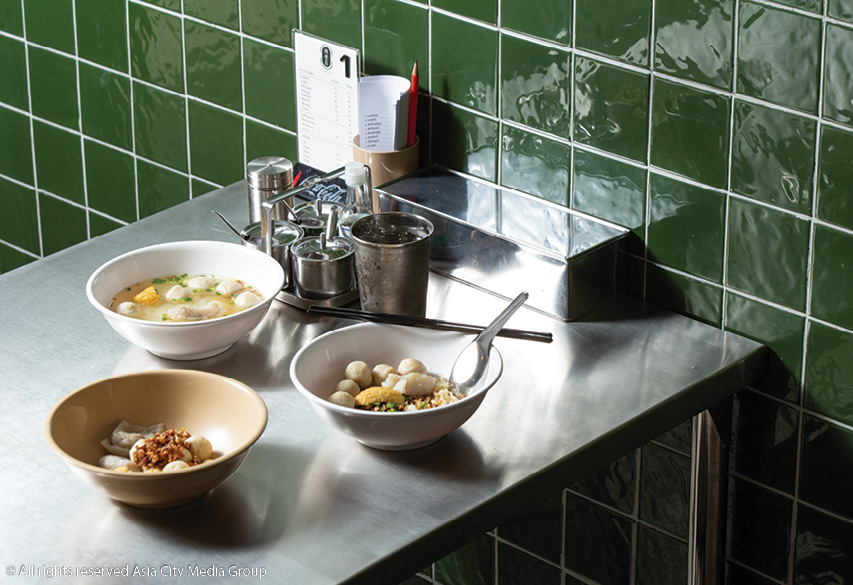 Lim Lao Ngow The Original
For 80 years, this family-run noodle institution has been serving Bangkokians fish balls and specially crafted egg noodles, known for their flat form and slightly crunchy, chewy texture. Lim Lao Ngow has earned a spot in the Michelin Guide three years in a row. Carrying on the family's legacy is third-generation owner Paruay "Benz" Chaiyo, 27, who recently opened Lim Lao Ngow The Original in the hopes of bringing his grandfather's flavors to younger generations.

How did it all start for you?
Lim Lao Ngow is a family business, which I have been involved with since middle school. Did I like it back then? I was still a kid, so not really. But as I grew older, I started to feel that running a restaurant was the right thing for me. I can be myself and it makes me happy. And now I work here full-time.

Why did you choose to eschew a traditional career? Let's be honest: a job in street food is kind of looked down upon in Thai society.
Yes, most of the comments I got are along the lines of, "Why aren't you in a [real] job?" or "Did you have a job before this?" My reply is always that I never had a permanent job. What matters most to me is that what I'm doing now makes me happy. I guess it's like working freelance.

How did your parents feel when you decided to do this?
They supported me, but at first they did ask if I really wanted to do it. Running a restaurant is tough, and they've been through it all before. No parents would want their children to go through hard times, but I told them that this is what I wanted to do.

Is this the first branch of Lim Lao Ngow that's under your management?
The first branch I managed was actually at Saphan Lueng, where I started working when I was in university. Then after that I worked at the branch in Vibhavadi Hospital's food court. I also dabbled in some catering events before I opened Lim Lao Ngow The Original.

What's the concept?
I wanted the customers to come in here and feel like they're eating our fish ball noodles in Yaowarat, where our original branch is located. The restaurant is set up in a modern Chinese style with the use of red and green colors to represent Chinatown.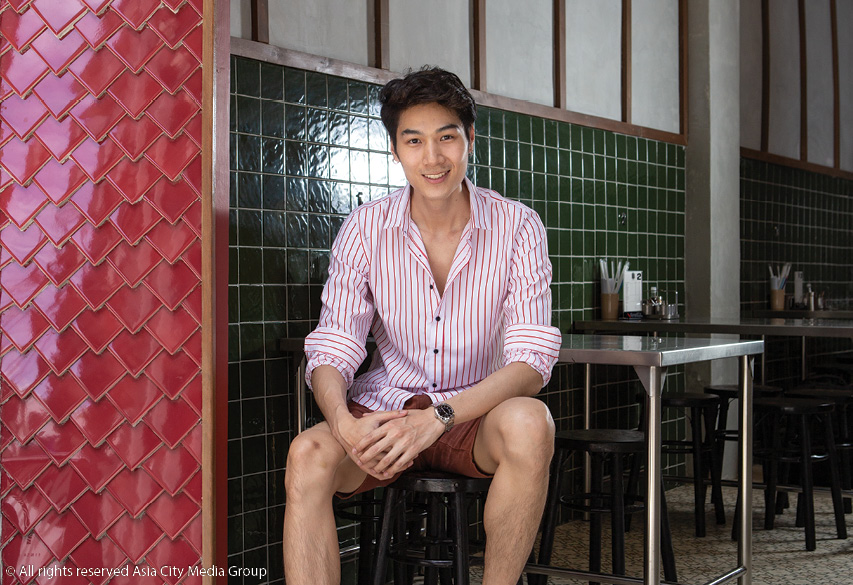 Have you changed the recipes at all?
No, all the dishes here are based on our original recipe. We didn't change anything.

What obstacles have you faced?
I don't think I ever had any big problems running the restaurant. So far, I've gotten a lot of great feedback, better than what I ever expected!

What are your goals for the future?
My number one goal is to be able to open 10 branches of Lim Lao Ngow as my father had hoped. He wanted to be able to reach that number since I was little, but since he was working in this business for many years, he was burned out before he could make it happen. The branches don't need to be super successful or anything, but if they can all support themselves in terms of income, I'm happy.

Any words of advice for aspiring young restaurant owners?
Think really carefully before you go all in. If you're absolutely sure that this is what you want to do and it's your passion, first study and research, and then just go for it. But what's most important is you need to have passion. If you don't love what you do, then you won't be able to do it for long.

What are your thoughts on young people opening modern street food establishments?
Many famous street food establishments we see today are still up and running because they have their own kids or grandkids to take over the business. It's all about the young generations, really. Personally, I think it's kind of rare for someone to not want to help out their family business. Take mine, for example. It has been running for 80 years now. It would be a shame to let it end here. If it still has the potential to breathe life into it, then why wouldn't you do it?

Do you think it will help preserve Thailand's street food culture?
I don't think street vendors or traditional street food stalls will disappear completely, because street food will always be a part of our culture and way of life. But it may be modified with the times by younger generations to become more relevant. Would it have the same value compared to those original establishments? Probably not.

The Hub Phahol-Ari, Phahonyothin Rd. (between Phahonyothin Soi 14 and 16), 090-891-6304. Open daily 11am-7pm
All photos by Poonsawat Suttama