Want to eat at the very best restaurants in Bangkok? Who doesn't? Sadly, not all of us are rolling in cash—but don't give up just yet. Although the usual trade off for splashing out on a B5,000 tasting dinner would be two months of strictly B40 street food, we've come up with some other solutions. From apps and deals to tips and tricks, here's a round-up of fine dining hacks that'll bag you a seat at the table, even when you're down and out.
---
DITCH DINNER
Plenty of restaurants offer daytime specials, serving the same dishes at much cheaper prices than at dinnertime. Here are some of Bangkok's best lunchtime fine-dining deals.


This Michelin-starred omakase (chef's selction) joint has a mother branch in Tokyo and uncompromisingly authentic sushi, with seafood flown in daily from Toyosu Market.
The lunch deal: B1,800 for 14-course Fuyo menu; B3,000 for 14-course Botan menu; B4,000 for omakase.
Price for dinner: B5,000 for omakase nigiri; B7,000 for premium omakase.
G/F, Erawan Bangkok, 494 Phloen Chit Rd., 02-250-0014. Open Tue-Sun noon-2:30pm



From the Ginza Sushi Ichi team; with a pedigreed mother branch in Tokyo. Try the omakase tempura—deep-fried dishes served around a sushi-style counter.
The lunch deal: B3,000 for 14-course omakase.
Price for dinner: B6,500 for 16-course omakase.
3/F, Gaysorn Village Rd., 02-070-0014. Open Tue-Sun noon-2:30pm


The Michelin-starred Cote Saint Jacques in Burgundy is one of the region's most respected restaurants. Jean-Michel Lorain's Bangkok venture is headed by Amerigo Sesti, who doesn't shy from Asian inspiration.
The lunch deal: B1,200 for the five-course lunch set menu (Wed-Mon, except the last Sunday of the month).
Price for dinner: B3,399 for five courses.
U Sathorn, 105 Soi Ngam Duphli, 02-119-4899. Open Wed-Mon noon-2:30pm


This French restaurant is the original face of Bangkok fine dining. Everything's super traditional, from the polished waiters to the perfect table settings.
The lunch deal: B1,800 for three courses.
Price for dinner: B6,800 for eight courses.
Mandarin Oriental, 48 Oriental Avenue, 02-659-9000. Open Mon-Sat noon-2pm



Philippe is part of Bangkok's old-guard French establishment, and deals in unremittingly traditional flavors.
The lunch deal: B720 for the three-course lunch set menu.
Price for dinner: B2,200 for six courses.
20/15-17 Sukhumvit Soi 39, 02-259-4577. Open Tue-Sun 11:30am-2:30pm



At the flagship restaurant of Water Library's empire, German chef Mirco Keller dishes out contemporary fine dining with occassional Asian twists.
The lunch deal: B1,000 for the two-course lunch set menu, and B1,300 for three courses.
Price for dinner: B3,200 for the four course tasting menu.
2/F, Chamchuri Square, Rama 4 Rd., 061-852-5411. Open daily 11:30am-2:30pm



This transplanted Tuscan villa is a long-standing establishment with an expert wine list and exciting guest chefs from Italy.
The lunch deal: B780 for two courses and B980 for three.
Price for dinner: B2,500 for three courses
1/F, Sheraton Grande Sukhumvit, 250 Sukhumvit Rd., 02-649-8364. Open Mon-Fri noon-2:30pm; Sun noon-3pm


Dutch chef Henk Savelberg's eponymous restaurant held a Michelin star in The Hague before moving to Bangkok (where it, too, holds a star). His creative pan-European dishes are prepared using delicate French cooking techniques.
The lunch deal: B1,600 for three courses.
Price for dinner: B3,900 for six courses.
L/F, Oriental Residence, 110 Wireless Rd., 02-252-8004. Open Mon-Wed and Fri-Sat, noon-2:30pm


Bangkok's Yamazato is more luxurious and contemporary than its Amsterdam forebearer, but it still draws inspiration from classic Japanese design and origami art. Though kaiseki (fine dining) is the name of the game, lunches are far less formal.
The lunch deal: B1,700 for the kaiseki set; B650 for the Gozen lunch set; B550 for the lunch rice box.
Price for dinner: From B2,600 for the kaiseki dinner set.
24/F, The Okura Prestige, 57 Wireless Rd., 02-687-9000. Open daily 6am-10:30am, 11:30am-2:30pm
BONUS!

This "modern British" restaurant comes from the former chef of Phuket's Bampot kitchen, Jamie Wakeford.
The deal: Olta's five-course tasting menu is priced at just B995, or B2,095 including wine pairing. Better yet, dine 5-7pm to take advantage of unlimited G&Ts for B795.
101/11 Suanphlu Rd., 094-656-2159. Open daily 6pm-midnight.
---
Get the download

When it comes to fine dining on the cheap, apps are your best friends. Download these effortless apps for awesome deals and discounts, right at your fingertips.


Founded in Singapore, this sleek, free app means business. It offers instant reservations and showers you with 100 "Chope dollars" every time you book.
The deals: Trade 1,000 Chope dollars for B750 off your bill at selected restaurants. Get B500 off with a minimum spend of B1,000 at selected restaurants, too. Deals change monthly. We recently found 50 percent off a second tasting menu at Haoma; a discounted five-course menu at the Waldorf's Nordic-Thai Front Room (from B2,300 to B1,800); and a complimentary dish at Michelin-starred Savelberg.



Backed by TripAdvisor, this free reservation platform lets restaurants fill their empty seats by offering huge discounts to diners at off-peak and non-busy times.
The deals: Get from 10 to 50 percent off your bill at hundreds of spots across Bangkok. Five-star hotel restaurants are especially hot—we found 50 percent off W Bangkok's The Kitchen Table; The Peninsula's River Cafe and Terrace; Plaza Athenee's Raintree Cafe; and Banyan Tree's Vertigo, among others. When it comes to hotel buffets, seriously—you will never pay full price again.

Buffet fiends, this is the app for you. Filter restaurants by location, cuisine, price, user ratings and more to discover the best discounts.
The deals: Exclusive all-you-can-eat deals, with fixed prices in specific time slots. One example: two hours of all-you-can-eat a la carte at Scalini for B990—including Boston lobster bisque (a la carte B480) and Australian black Angus flat iron steaks (usually B840).
Go homegrown
Dishes with ingredients not easily found in Thailand will always cost more. With "hyper-local" becoming an increasingly popular buzzword, there's never been a better time for Bangkok's homegrown dining scene. Here are some of our top venues to sample local produce.


This year, Charoenkrung's hipster hangout went upscale, serving tasting menus that revolve around fermentation. We recommend the sinfully crisp pork belly topped with infused mushroom and served with a fermented chili sauce. The tangy coconut cream with smoked goby fish is great, too. It doesn't come cheap, but after being named in Time magazine's "World's 100 Greatest Places," 80/20 could well be in the running for Michelin star status in 2020.
The price: B3,000 for nine courses.
80/20, 1052-1054 Charoenkrung Soi 26, 02-639-1135


This modern two-story wood house with backyard views is the brainchild of two Indian chefs who are both zealots for the farm-to-table and zero-waste approach. They grow a vast array of edible greens onsite.
The price: B2,390 for nine courses; B2,890 for 13 courses.
231/3 Sukhumvit Soi 31, 02-258-4744.



Located in far out Nonthaburi, this omakase restaurant by Natakorn "Tum" Changrew is dedicated to Thai seafood.
The price: For B2,500, you get 13-17 courses that flit between fresh seafood and Japanese classics—this sort of meal could easily cost double in central Bangkok's Japanese omakase joints.
39/1257 Samakkee Rd., Nichada Thani, 02-004-8127

A locally focused, innovative—yet devoutly Thai—restaurant located 25 floors above Siam. Dishes include Thai wagyu beef shank in a southern-style golae marinade, and pad kaprao basil stir-fry made with sweet-and-tender Nan pork.
The price: B1,700 for the nine-course Sam Rup menu—this might be the most food we've ever eaten in a single set menu.
25/F, Siam @ Siam Design Hotel, 865 Rama 1 Rd., 065-328-7374
---
Go teetotal


We know, we know. A fancy meal just isn't the same without a nice bottle of wine, but you can literally slash your bill in half by sticking to plain old water—and don't let them trick you into that B200 bottle of San Pelle, either.
If that idea sounds abhorrent, pick a restaurant that allows you to BYOB—in most cases, you'll be able to open your own bottle of wine for a corkage fee. For example, Eat Me (1/6 Soi Phiphat 2, Convent Rd., 02-238-0931) charges B500, while Water Library Chamchuri lets you bring your own for free—and yes, you read that right.
---
BK Restaurant Week specials
Through Sep 29, BK Restaurant Week (BKRW) is upon us. That means you can dine at some of Bangkok's best restaurants for a fraction of the usual price, with special multi-course set menus priced at just B750++ or B1,000++. Here, we've rounded up some of the fanciest participants and best deals. Book your seat at bkrestaurantweek.com.
*regular prices in brackets, not including tax and service


The place: A unique Asian fusion of Chinese, Thai and American cuisine that offers all the comforts of home, while adding fine-dining flair to old-fashioned recipes.
Menu highlights: Duck dan dan noodles (B250); seared duck breast with sweet potato, date and trumpet royale mushrooms (B390).
BKRW: B1,000++ for three courses.
78/5 Sukhumvit 51 Alley, 02-005-4085



The place: A no-sauce-necessary ultra-traditional American barbeque wood-smoke purist—no gas or charcoal allowed.
Menu highlights: Beef brisket (B880); beef short rib (B1,060).
BKRW: B1,000++ for three courses.
30/7-8 Ekkamai Soi 12, 02-120-4088


The place: French cuisine in the Waldorf's palatial upper lobby.
Menu highlights: Turbot provencale pan-seared halibut (B900).
BKRW: B1,000++ for three courses.
Waldorf Astoria, 151 Ratchadamri Rd., 02-846-8888



The place: Hip, grungy-chic; designed by Tim Butler of Eat Me, in league with on-site chef Lorin Janita and Nithit "Lenk" Nithikampol.
Menu highlights: "Mac & cheese" cavatelli with breadcrumb oxtail (B800).
BKRW: B1,000++ for three courses.
118/2 Sathorn Soi 12, 02-234-7749



The place: Sleek and sultry, serving boldly spiced Indian dishes and creative cocktails.
Menu highlights: Ghost dum biryani—mutton in nutmeg flower and botanical oils (B650).
BKRW: B1,000++ for six courses.
5/F, Fraser Suites, 38/8 Sukhumvit Soi 11, 02-038-5112



The place: Head chef Stefano Borra—former chef-owner of Michelin-starred Ristorante VO— serves rustic, traditional flavors with a huge wine list.
Menu highlights: Tonno vitellato (veal in tuna mayonnaise; B650) and wild salmon (B790). A set menu here runs B1,800.
BKRW: B1,000++ for three courses.
39 Sukhumvit Soi 27, 02-258-4386



The place: Chef Amit Kumar and Dr. Pushpesh Pant team up on long-lost, hard-to-find recipes.
Menu highlights: Hara bhara kebab and raw papaya murabba—shallow-fried spinach, green peas, potatoes and cottage cheese cutlets coated with rice flakes (B300). The five course menu runs B1,500.
BKRW: B1,000++ for seven courses.
71 Sukhumvit Soi 26, 02-258-4900



The place: The local aromatherapy brand now has coffee shops and restaurants with on-trend decor.
Menu highlights: Cold Explosion—salmon and cod roe, pickled mackerel, white anchovy, caviar, avocado cream, melon jelly (B790); American Doughnut—pan-fried Majestic oyster, Manila clams and tiger prawn, topped with a salted doughnut and calamari (B590).
BKRW: B1,000++ for three courses.
30/1 Sukhumvit Soi 24, 02-262-0700-1



The place: W Bangkok's chic all-day restaurant. The "Tipsy Cow" menu features stateside-style meats.
Menu highlights: Beef short ribs (B650); duck lasagna (B580); 20-layer chocolate cake (B450).
BKRW: B1,000++ for three courses.
2/F, W Hotel, Sathorn Rd., 02-344-4000



The place: A multi-story steakhouse atop the Park Hyatt, with sweeping views and marble decor. The menu is premium, and the cocktails hit the price-to-quality sweet spot.
Menu highlights: Chocolate profiteroles (B430). A three-course lunch menu typically runs B1,499.
BKRW: B1,000++ for three courses.
34-36/F, Park Hyatt, 88 Wireless Rd., 02-011-7480



The place: An award-winning northern Indian restaurant in an over-the-top rooftop setting with exceptional service.
Menu highlights: Chicken tikka; bharwan khumb—stuffed mushrooms (B350). A three-course set here usually costs B1,195.
BKRW: B750++ for four courses.
26/F, Rembrandt Hotel, 19 Sukhumvit Soi 18, 02-261-7100


Credit: r-haan.com

The place: Michelin-starred Royal Thai fine-dining from celebrity chef Chumpol Jangprai; served in a Rattanakosin era setting.
Menu highlights:The chef's choice menu is 100 percent surprises (B2,600).
BKRW: B1,000++ for three courses.
131 Sukhumvit Soi 53, 02-059-0433


The place: Avani Riverside Hotel's 26th-floor rooftop; with a menu curated by Portuguese chef Olivier Da Costa.
Menu highlights: Beetroot carpaccio (B490); seafood risotto (B790).
BKRW: B1,000++ for three courses.
26/F, Avani Riverside, 257 Charoen Nakhon Rd., 02-431-9120



The place: Chef Stefano Merlo pairs dainty creations with heftier meat and pasta plates. One of the first venues to sell out during BKRW 2018.
Menu highlights: Veal tonnato—veal eye round, tuna and egg sauce, capers and pickles (B590); ravioli creme brulee (B290). Seven course menus run B2,690.
BKRW: B1,000++ for three courses.
Narathiwat Ratchanakarin 17 Yaek 5, 02-117-1618
---
Which set dinner menus offer the best value?
We've broken down the set dinner menus at 11 of our Top Tables favorites to find out which offers the best bang for your baht.



B222.31 per course (B2,890 for 13 courses)



B246.15 per course (B3,200 for 13 courses)



B250 per course (B3,000 for 12 courses)



B272.2 per course (B2,450 for nine courses)



B298.18 per course (B3,280 for 11 courses)



B316.70 per course (B3,800 for 12 courses)



B370 per course (B3,700 for 10 courses)



B400 per course (B3,600 for nine courses)



B572.5 per course (B2,290 for four courses)



B401.83 per course (B4,800 for 12 courses)



B850 per course (B6,800 for eight courses)
---
Omakase dinners by price


B2,500 (13-17 courses)


B4,000 (approx. 15 courses)


B4,000 (13 courses)


B4,500 (16 courses)


B4,500 (14 courses)


B4,700 (13 courses)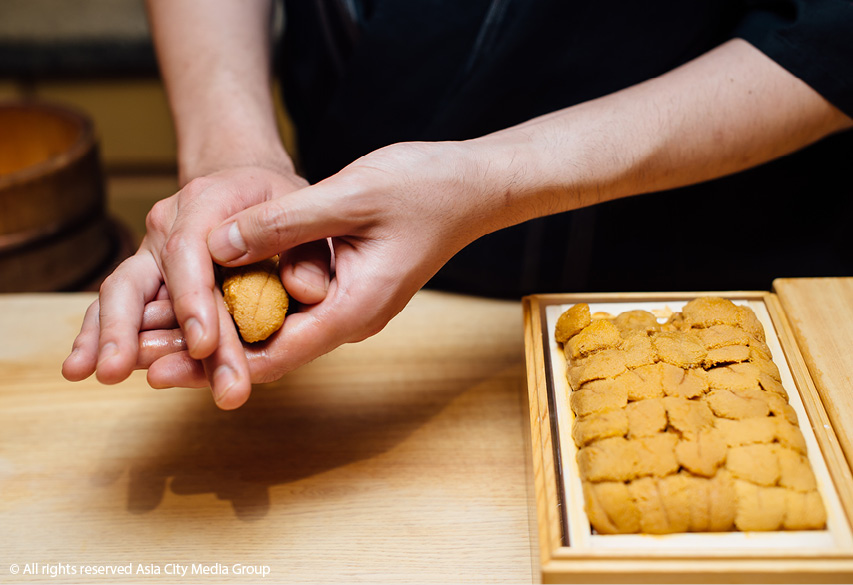 B5,000 (approx. 15 courses)


B6,500 (eight courses)


B8,000 (approx. 16-18 courses)
*some venues offer cheaper set menus and lunches.
---