BANGKOK RESTAURANT
Bo.lan
Chefs Bo and Dylan offer a traditional approach to Thai food, presented in a contemporary style and served in a charming house-turned-restaurant.
The buzz: With a new breed of Thai restaurant preaching hyper-regional cuisine and pledging allegiance to all things sustainable, Bo.lan's reputation as a fine-dining trailblazer only continues to grow. For a decade now, Duangporn Songvisava and Dylan Jones (aka "Bo" and "Lan") have challenged diners to question their definition of Thai cuisine. Beyond rare ingredients and reborn recipes, the chefs are also tireless in their pursuit of a zero-carbon footprint. A rogue, anti-establishment attitude only adds credibility to their efforts.

The food: Diners sign up for a degustation menu where all the dishes are served simultaneously in a sharing experience akin to a Thai home-cooked meal, albeit with refined presentation. Bo.lan's menu changes quarterly based on the seasonal produce sourced both from independent farmers and the veggie patch on-site. You're rewarded with richly spiced curries, complex salads and fiery stir-fries that could only be the result of untold hours of research and labor-intensive techniques.

The place: Taking inspiration from classic Thai residences, the interior of this renovated house comes replete with warm wood furnishings, while dark, multi-dimensional oil paintings of old-school Thai kitchens and covers of vintage Thai funk records lend a cool edge. The complete absence of an a la carte menu ensures long, memorable meals.
#10 in BK Magazine's Top Tables 2017. This is what a meal at one of Bangkok's best restaurant looks like:
---
The buzz: Intent on becoming Bangkok's first zero-waste restaurant, chef-owners Duangporn Songvisava and Dylan Jones have relocated their dining institution to a new premises at which they grow their own vegetables and have installed systems for recycling organic waste and purifying graywater.
The décor: Like the old Bo.lan, the interior of this renovated house focuses on warm wood furnishings and takes inspiration from classic Thai residences. Dark, multi-dimensional oil paintings of old-school Thai kitchens hang on the walls, and vintage Thai covers of funk classics give the restaurant a cool edge. It's a warm and family-friendly ambience, with plenty of natural light during the daytime and dim, romantic lighting at dinner.
The food: Bo.lan's menu changes quarterly based on the freshest seasonal produce both from local farmers and grown on site. The chefs offer a 5-6-course degustation menu (starting at B1, 680 per person) during the usually-packed dinner service, which consists of refined classics such as spicy lake prawn salad, Chachoeng Sao quail curry, and KU beef panang curry. For the more laidback lunch service, Bo.lan concocts seasonal comfort dishes like Spanish mackerel biriyani with Southern-style chicken soup (B495) and kanom-jean with galangal (B380). A more economical six-course lunch menu is also available at B880. All sets come with a ready supply of premium jasmine or gaba rice.
The drinks: Bo.lan still serves the signature in-house yadong as an aperitif for the dinner set menu, while there are four drink pairing choices charged on top of the price of dinner: wine (starting B1,850), cocktails (starting at B1,180), craft beer (starting at B1,200) and fresh juice mocktails (starting at B680). Exactly which wines, beers and cocktails is entirely dependent on the menu each evening. In addition to alcohol and juices, Bo.lan also serves ozonated water which is filtered on-premises using reverse osmosis technology.
The crowd: Thanks to a strong reputation internationally, Bo.lan attracts a lot of foreign guests, both expats and tourists. There is also support from affluent locals.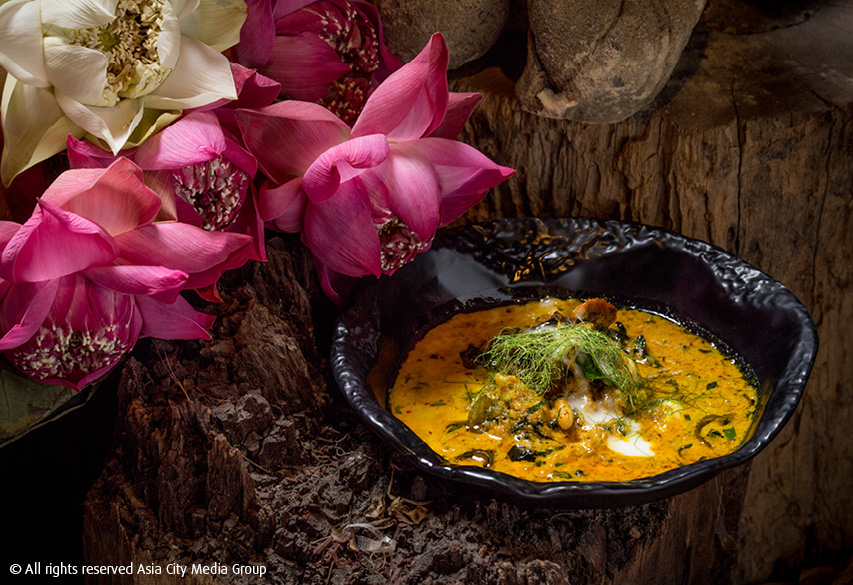 Venue Details
Address:
Bo.lan, 24 Sukhumvit Soi 53, Bangkok, Thailand
Phone:
02-260-2962
Website:
www.bolan.co.th
Area:
Thonglor
Price Range:
BBBBB

Opening hours:

Wed-Sat

6-10pm

;

Thu-Sun

noon-2pm

Nearest train
BTS Thong Lo
Alfresco, Reservation recommended, Parking available, Dress requirements: Smart Casual
Report a correction