BANGKOK RESTAURANT
Bo.lan
Chefs Bo and Dylan offer a traditional approach to Thai food, presented in a contemporary style and served in a charming house-turned-restaurant.
The buzz: After a surprise announcement shuttering Bo.lan as we knew it, chefs Duangporn "Bo" Songvisava and Dylan Jones quickly returned with an ambitious new project. Bo.lan HQ now operates like a one-stop shop, with a bar, grocery store, all-day dining restaurant, chef's table and nook for sipping coffee and tea.
The vibe:
Bo.lan's renovated house is just like you remember, with a moody and slightly dark setting made lighter with easy-listening Thai music playing in the background. Now, you are greeted by
Wasteland
, a bar concept offering counter seating and overlooking a greenhouse. Beyond Wasteland, you enter the new and improved
Bo.lan Grocer
, a spacious room that also serves as a seating-slash-working area. Here, you're welcome to sit and hang out or peruse the handcrafted products that highlight the flavors, cultures and creativity from across Thailand—from shrimp paste, natural wine and fresh veggies to dinnerware and mortars and pestles. After that, you enter the main dining room, where
Err
has been recreated with kitschy Thai knick-knacks and paintings from the previous location. The Bo.lan chef's table operates out of the same room but is separated by glass doors and overlooks the garden and decorative pool.
The food: Err, formerly located in Tha Tien, serves its familiar rustic Thai eats here—you might describe the dishes as fun, upscale drinking food. Using ingredients procured from the same local and sustainable producers as Bo.lan, the kitchen team whips up favorites like the Chicken Movie (B195), which sees deep-fried whole chicken skin stitched together with a couple toothpicks in the shape of the absent chicken, and served with homemade Sriracha sauce. The moo ping (B125)—also dubbed "spicy sober pork"—comes hot from the charcoal grill. Their selection of preserved sausages like sai oua (B245), a coconut-smoked Chiang Rai curry sausage, and sai krok Isaan (B250), a cured sausage made with organic gaba rice, are all made in-house. Don't miss the yum khai dao (B145), a spicy salad of deep-fried organic eggs and herbs, or the Gaeng Kiew Wan Gai Baan (B320), Err's green curry made fresh and pounded from scratch with all the best bits of the chicken. If the Bo.lan experience is what you seek, you can still enjoy what made the restaurant famous: feasts served family-style, influenced by the heritage of Thai food culture, beginning with a shot of yadong and ending with their special selection of petit-fours. The chefs can even make the menu plant-based.
The drinks: Wasteland aspires to be more than just a bar. Paying homage to farmer-focused produce, seasonality and the environment, Wasteland has brought together several top bartenders, who repurpose many ingredients from the Bo.lan kitchen and utilize others from the edible garden. Drinks range from coffee (from B160) to cocktails, including creative concoctions like the Lumka Sour (rice wine, pineapple wine, murraya, brown sugar, lime and egg white; B350). As if this all-in-one destination wasn't stacked enough, there's yet another new concept open in Must Wine Bar. The space is the brainchild of the folks from Fin Fine Wines, which means you can expect a curated selection of organic and biodynamic wines that you can sip by the glass or take home for later.
Why we'd go back: Bo.lan has long stumped for the belief that cooking and eating are essential to a more sustainable world, and this new space puts that belief into action. Bo.lan—and all these supporting parts involved in it now—acts as a platform to promote the exchange and spread of knowledge about sustainable and environmental practices. Apart from the awesome food and drinks on offer, the new initiative, Zero Waste to Landfill, invites anyone involved in F&B to collaborate on sustainable initiatives, and that's reason enough to return.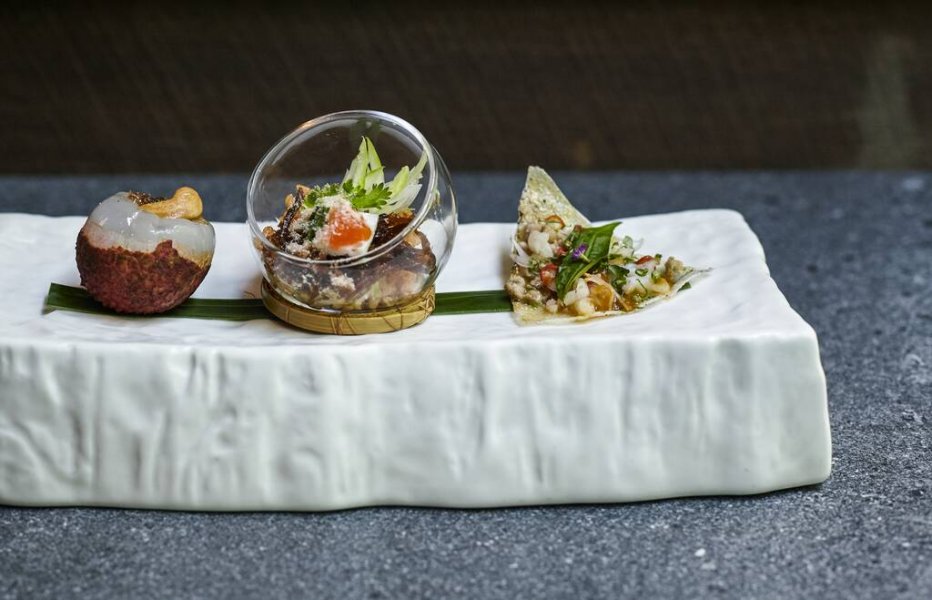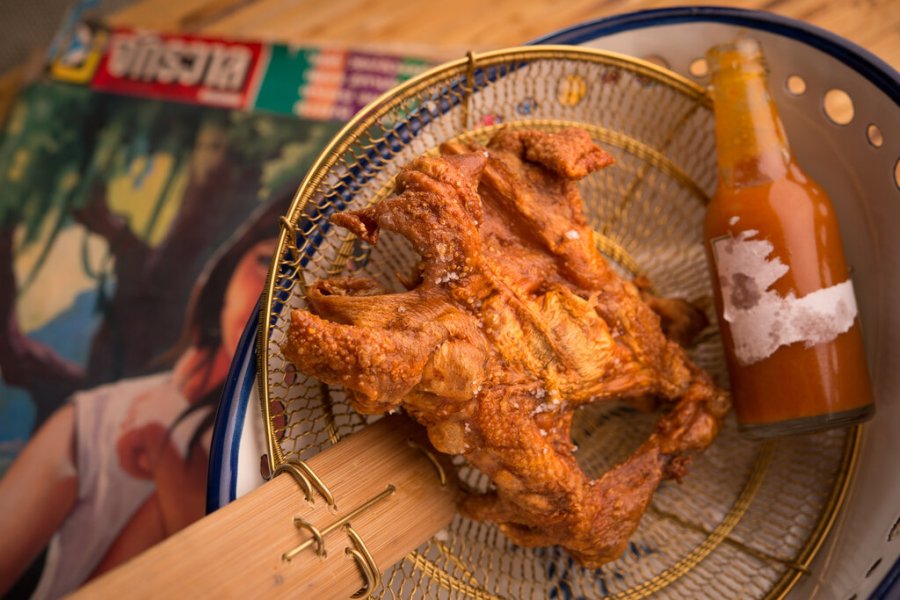 #10 in BK Magazine's Top Tables 2017. This is what a meal at one of Bangkok's best restaurant looks like:
---
The buzz: Intent on becoming Bangkok's first zero-waste restaurant, chef-owners Duangporn Songvisava and Dylan Jones have relocated their dining institution to a new premises at which they grow their own vegetables and have installed systems for recycling organic waste and purifying graywater.
The décor: Like the old Bo.lan, the interior of this renovated house focuses on warm wood furnishings and takes inspiration from classic Thai residences. Dark, multi-dimensional oil paintings of old-school Thai kitchens hang on the walls, and vintage Thai covers of funk classics give the restaurant a cool edge. It's a warm and family-friendly ambience, with plenty of natural light during the daytime and dim, romantic lighting at dinner.
The food: Bo.lan's menu changes quarterly based on the freshest seasonal produce both from local farmers and grown on site. The chefs offer a 5-6-course degustation menu (starting at B1, 680 per person) during the usually-packed dinner service, which consists of refined classics such as spicy lake prawn salad, Chachoeng Sao quail curry, and KU beef panang curry. For the more laidback lunch service, Bo.lan concocts seasonal comfort dishes like Spanish mackerel biriyani with Southern-style chicken soup (B495) and kanom-jean with galangal (B380). A more economical six-course lunch menu is also available at B880. All sets come with a ready supply of premium jasmine or gaba rice.
The drinks: Bo.lan still serves the signature in-house yadong as an aperitif for the dinner set menu, while there are four drink pairing choices charged on top of the price of dinner: wine (starting B1,850), cocktails (starting at B1,180), craft beer (starting at B1,200) and fresh juice mocktails (starting at B680). Exactly which wines, beers and cocktails is entirely dependent on the menu each evening. In addition to alcohol and juices, Bo.lan also serves ozonated water which is filtered on-premises using reverse osmosis technology.
The crowd: Thanks to a strong reputation internationally, Bo.lan attracts a lot of foreign guests, both expats and tourists. There is also support from affluent locals.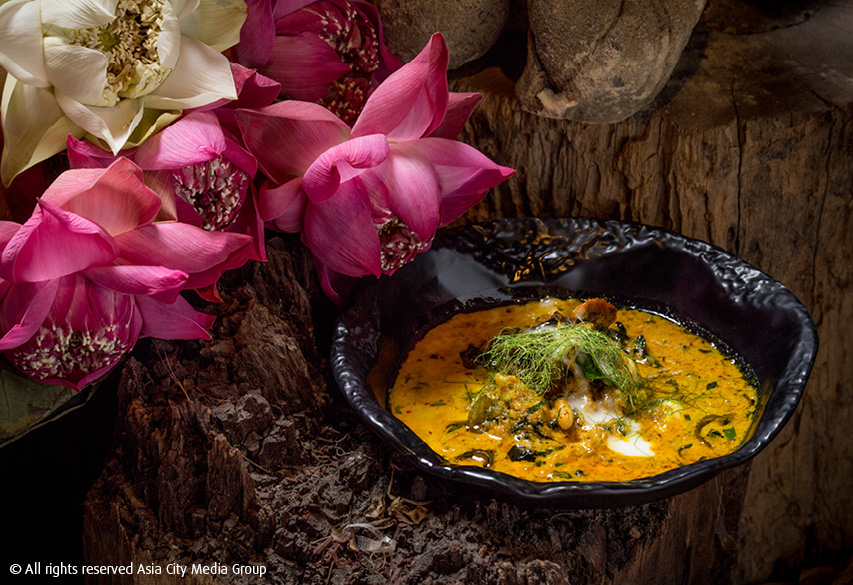 Venue Details
Address:
Bo.lan, 24 Sukhumvit Soi 53, Bangkok, Thailand
Phone:
02-260-2962
Website:
www.bolan.co.th
Area:
Thonglor
Price Range:
BB -

BBBBB

Opening hours:

Wed-Sat

6-10pm

;

Thu-Sun

noon-2pm

Nearest train
BTS Thong Lo
Alfresco, Reservation recommended, Parking available, Dress requirements: Smart Casual
Report a correction