The popular Seoul cafe Dosan Dalmatian is the latest addition to the Korean craze in Siam. With its vibrant, pink-hued decor—along with a four-storey space and rooftop dining area—the place promises a heady mix of Western and Korean dishes, photogenic desserts, and glasses of wine with a backdrop of delightfully twee decor. Order their signature Dalmatian chocolate (B150), an adorable mug of hot chocolate with a cute doggo face on top, with kimchi fried rice (B360) reminiscent of risotto topped with cheese and an egg yolk.
Siam Square Soi 7, 082-565-5565, Open daily 10am-11pm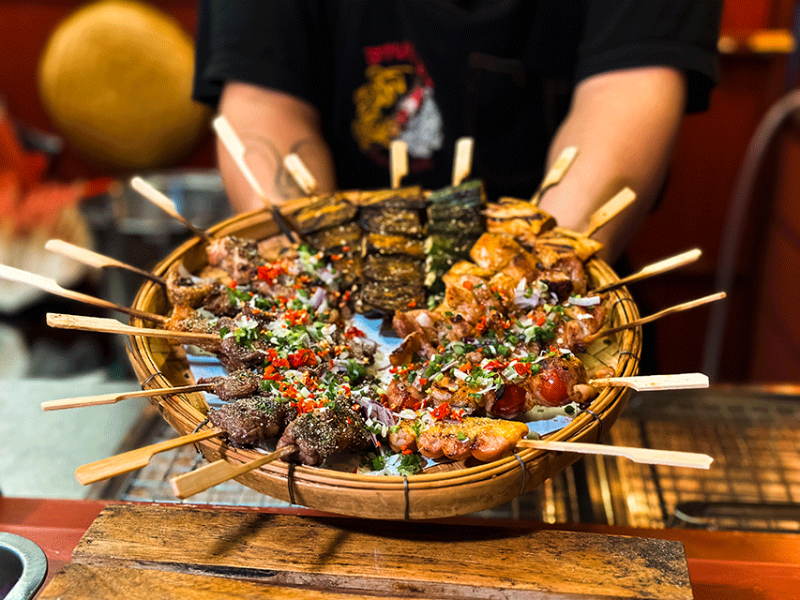 The Jim Thompson Art Center is getting spicier with this izakaya perched on its rooftop. But this is no ordinary drinking spot. There's an Isaan spin to the usual yakitori skewers to turn them into bite-sized larb skewers to enjoy with selected craft beer both on tap and by the bottle.
5/F Jim Thompson Art Center, 098-361-9389, Open Wed-Sun 6-11:00 pm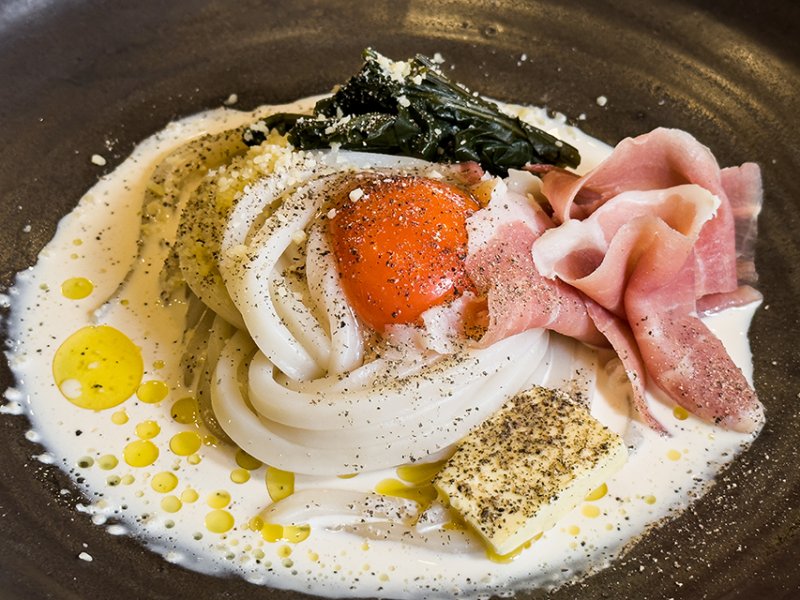 Phrom Phong may be saturated with Japanese restaurants, but this udon specialist—despite opening for just a month—is garnering crowds for its gigantic bowl of freshly made udon noodles. Between the alleys in Sukhumvit Soi 43, Udon Sakaba Kitaro Labo not only serves dense noodles with delectable variations but also dubs as a spot for premium-quality sukiyaki to get you out of your post-work funk. The in-house udon menu comes with a variety of toppings, from mentaiko udon noodles (B360) and potato cream (B280) to beef curry (B360) and carbonara (B420).
Sukhumvit Soi 43, 02-010-5299, Tue-Sun 11.30am-2pm; 5pm-10pm.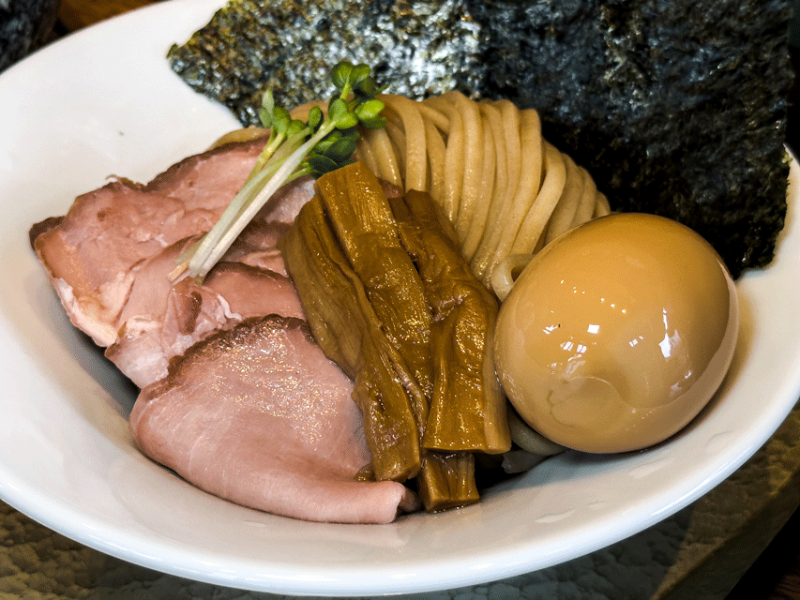 The people behind Thonglor's beloved Kansai udon specialist Tsuru recently unveiled Kiri Tsukemen their new joint specializing in tsukemen, a separate bowl of freshly made noodle paired with various dipping sauces. Each option arrives with a burning stone bowl to keep your experience going. The menu—just like its compact space—sees their thick, bouncy noodles (B350) laden with slices of sous vide pork shoulder, fermented bamboo shoot menma, and perfectly soft boiled egg with a dipping sauce of your choice. Here, you get to choose from five different dipping sauces, boasting both tonkotsu (pork bone) and chicken bone broth. Go for our favorite seabura a simmering broth made from pork back fat, with an end result that is delicate, yet rich, bursting with sheer umaminess.
64 Thonglor Rd., 065-295-8989, Open daily 11am-3pm; 5pm-9pm.
Parma Trattoria
The mind behind the New Pasta Apartment, Filippo Bortolamedi, has teamed up with a friend to open their new homey trattoria in Ari. Part restaurant and part grocery store, Parma Trattoria serves simple Italian classics like agilio e olio pasta (B380) topped with a sizable chunk of bacon and cold cut platters (B550). There is also a wide selection of Italian wine here available both by the glass and bottle.
Ari Samphan Soi 4, 064-246-3256, Open Tue-Sun 5pm-midnight.
Tinned food in Thailand is usually dismissed as cheap and uncreative. But if you look at food trends, tinned food has been garnering more attention globally, and there are several gourmet-level tinned foods with a rich history. Hopping on this trend is Mer Made Cantina, a newly opened tapas spot with only four tables in Ladprao that aims to showcase gourmet tinned fish and locally sourced seafood delicacies. Order the Mer Made pizza with Moroccan sardines and tomato sauce (B340); the sweet acidity of the tomatoes make a delicious contrast to the salty sardines. Wash them down with their natural red wine sangria sorbet (B240).
Ladprao Soi 15, 082-998-1140, reservation
here
Artesia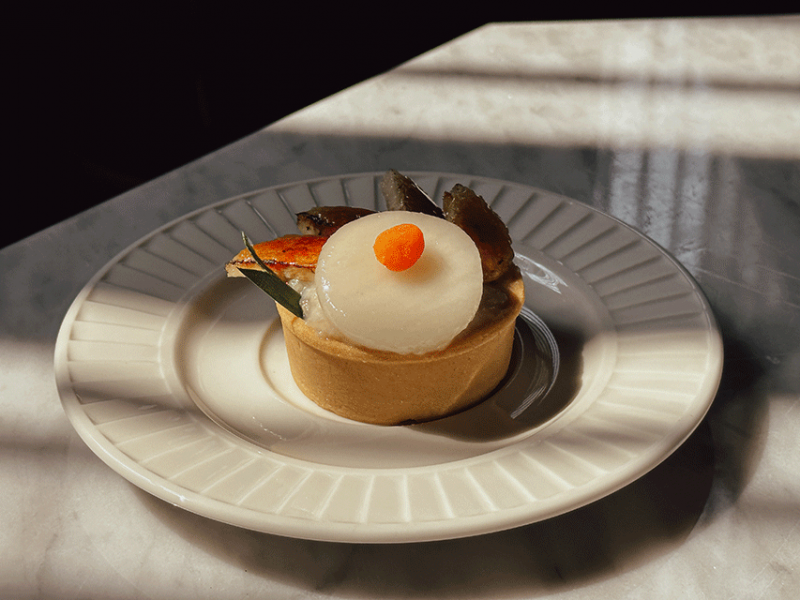 Believing this to be a perfect blank canvas where she can reimagine traditional dishes and desserts, owner Ornong "Art" Prasarnphanich delivers creative tarts for her customers. The Going Banana (B75), for example, takes on the concept of Thai kluay buach shee by filling her tarts with banana and salted egg yolk topped with banana brulee. There's also an omakase tart experience for B315, from a mung bean dumpling stuffed with coconut mousse to duck palo using real duck fat to enhance the flavor.
947 Song Wat Rd., 094-659-6653, Open Tue-Sun 10am-5pm.
Led by chef Stuart of Vistro and Haoma, sous chef Mook from Ocken and Roast, and chef Dee at Mozza, this eatery-slash-gallery wants to bring fresh, simple, non-restrictive and nourishing food. Making as many things in-house as possible—including their own sauces, flatbread, sorbets, and gelato—menu highlights include caesar croquettes (parmesan, artisan bacon, anchovy, homemade caesar dressing, B270) as a starter; tuna toast (spicy remoulade, pickled red onions, and sourdough bread, B290); and the vegetarian Portobello burger (with truffle dijonaise, rocket, and potato wedges served on brioche buns, B320).
The world's most celebrated French chef Alain Ducasse has opened his culinary school-slash-cafe at the leafy century-old Nai Lert Park Heritage Home. With its contemporary glasshouse-like design and each menu item supervised by the head pastry instructors themselves, expect prestige-quality pastries like the croissant (B100) served with homemade caramel jam and French butter and quiche (B180). Items are rotated daily.
4 Soi Somkid Lumphini, 02-253-0123, Open daily 8am-6pm
Chenin
Between concrete buildings along the trail from the speakeasy Alonetogether and The Quarter Phrom Phong lies the new dining spot from Asok Pi Shop's old team. Chef-slash-owner Kunanun Lertpisiku offers something between Michelin-caliber meals with globe-trotting references and wine fare. Go for the Burrata & Sourdough (B450), an eye catching burrata on the crispy sourdough bed topped with zucchini flowers.
29/4 Sukhumvit Soi 31, 061-140-0444, Open Tue-Sat 6.30pm-11pm.
Sushi Kishin
Formerly Omakase Ki Shin at Hotel Nikko, this sleek yet laid-back omakase spot now returns with its new location at St.Regis. Here, the former Sushi Zo chef Satoshi Tsuru presides over a 12-course seasonal tasting menu for B6,500. The new spot also welcomes a bar called Bar Glide BKK, boasting Japanese-inspired cocktails—think yuzu matcha martinis and salt-pickled plum blossom in Japanese liquor.
12/F St. Regis Bangkok Hotel, 063-070-0069, Open Tue-Wed 5.30pm-11pm; Thu-Sun 12pm-10.30pm.
Sukhumvit Soi 11 can be a wild place and it attracts a certain kind of person. Havana Social can be super fun but packed, so the opening of One Two Two bar in front of Havana's tiny soi is a welcome addition—whether you're there for their disco tunes or want to pregame before Havana. The drinks here are not what you think for typical Soi 11 drinks. They're actually decent. If you like something strong but sweet and soft, try the classic Boulevardier with a chocolate twist; Coco Boulevardier mixes cocoa nib infused Dewares 8 Years, Campari bitters, Carpano Antika Formula Sweet Vermouth and is topped with orange peel and milk chocolate (B390).
Sukhumvit 11, 083-710-6659, Open daily 5pm-1am
Leo Sebag (of Kad Kokoa) and his close friend Louis Calderon have opened CALM Bar and Guinguette, a leafy, casual perfect-for-day-drinking spot in Phrom Phong just steps from Haoma. Don't go to this place expecting top-tier mixology, but if you feel like a mixed drink, Leo created a few for cocktail lovers. The Night Cap (B290) mixes pineapple rum with cold brew coffee, maple syrup, orange, and tonic, a strong, refreshing summer-in-a-glass drink.
Sukhumvit Soi 31 (Soi Sawasdee), Open Tue-Fri 4-11pm; Sat-Sun 1-11pm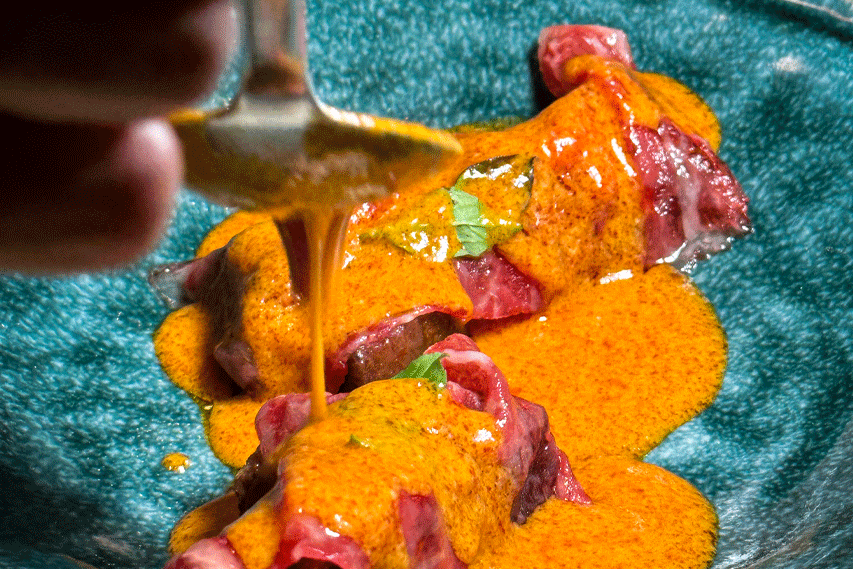 The chef power couple from
Samlor
(previously
80/20
) Napol "Joe" Jantraget and Saki Hoshino, have opened a new fine-dining restaurant. One of the great talents from Samlor, Jirapat "Sep" Praphotjanaporn, will be taking the helm here. The journey starts with small bites of snacks like
ma-hor
(seasonal citrus with sweet pork paste), an ancient recipe for a Thai snack. With culinary skills in their pomp, you might not recognize the dish when it's set in front of you, but expect some flavors you know. For example, for a starter, their take on
koong chae nam pla
sees fresh, cold mantis shrimp served with
nam jim
seafood granita.
The Parklane Ekkamai 22, 084 296 2442, Open Wed-Mon 6pm-10.30pm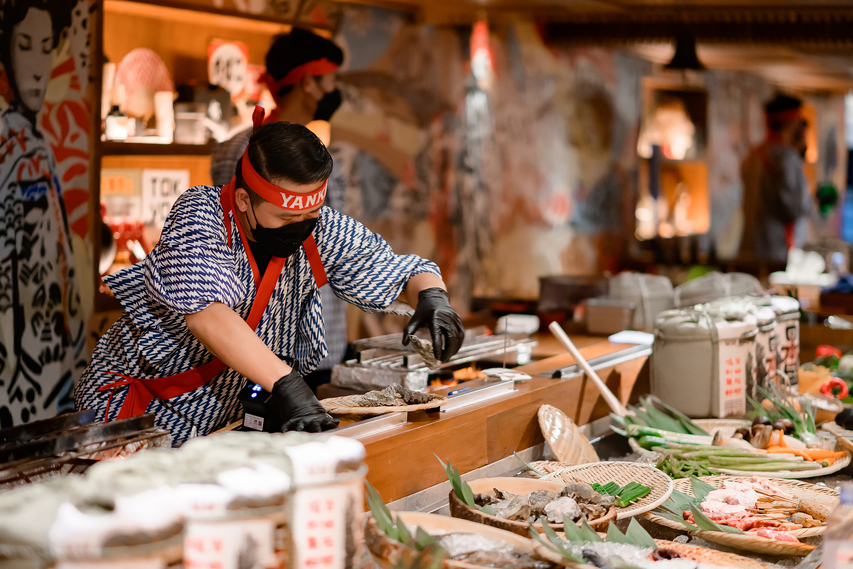 Soho Hospitality
—the team behind Above Eleven, Cantina, Havana Social, Soho Pizza, and Charcoal Tandoor Grill—has birthed their latest baby, Yankii, a Japanese restaurant in Robatayaki style, equipped with a full bar. There are vegetable options we love: the padron pepper with soy sauce and bonito flake (B180) and asparagus with ponzu and bonito flake (B120) are a must-try. For beef lovers, you can order their wagyu hand-roll with uni (B480) but leave out the yankii hot dog (B280) at all costs. Signature cocktails have a light, fun Japanese twist. Negroni drinkers must order the Minneopa, which switches your typical vermouth to Taru Nakata barrel-aged umeshu, mixing with Roku gin and Campari (B360).
Skyview Hotel, G/F, 12 Sukhumvit Soi 24, 02-821-6808, Open daily 6pm-2pm.
Chikara Meshi
Coming hot on the heels after its recent opening of handmade udon spot Sunami and fried pork cutlet Tonkatsu Toku, Silom's Thaniya Plaza has welcomed Tokyo's popular beef bowl Chikara Meshi as its new addition. Unlike other competitors that use simmering techniques, Chikara Meshi prides itself in a BBQ-style beef bowl, boasting slices of yakiniku beef on top of the rice. Go for their grilled cheese beef bowl (B220), arriving piping hot on the stone bowl with tender, sweet slices of beef topped with cheese
4/F Thaniya Plaza. Silom, 080-997-7555, Open daily 10.30am-8.30pm
Frequent patrons at the decadent European restaurant
Mia
might have been wondering what exactly lies behind that curtain area downstairs. Recently, the mystery was unveiled to be the bar promising a dessert omakase pairing with cocktails.Don't let the 'dessert' part scare you if you're not into sweet things. The course opts out the 'sugar overload' options and instead presents drinks that can accentuate the flavors. The experience consists of five desserts by Mia's very own Michelle Goh and five cocktails (mocktails available, B3,200), including mango sorbet, homemade fish floss, lime, and ikura as a dessert, paired with champagne with roasted mango cordial.
30 Attha Kawi Soi 1 (Sukhumvit Soi 26). 098-862-9659, Open Thu-Sun 6pm-9pm. For reservations, click
here
.