BANGKOK RESTAURANT
Larb Siab
Enjoy bite-size larb skewers with an alfresco rooftop view in the heart of the city.
The buzz: The Jim Thompson Art Center is getting spicier with this izakaya perched on its rooftop. But this is no ordinary drinking spot. There's an Isaan spin to the usual yakitori skewers to turn them into bite-sized larb skewers to enjoy with selected craft beer both on tap and by the bottle.
The vibe: After exploring the art space, climb upstairs to find Larb Siab. With an orange metallic roof, steel uncomfy chairs at the bar, and table seatings with concrete floors, the place is reminiscent of street side food stalls. Hit it early to enjoy the view and sunset or round up your friends for a night out.
The food: With the craze on mala beef skewers in Bangkok, owner Arthit "Fai" Mulsan, formerly a morlam arts curator for the art space and Isaan culture scholar, believes Isaan food culture could do better. So, he began experimenting on his larb siab creations from scratch, starting by selecting part of the beef to hone taste profiles. The result was larb siab: addictive, bite-sized skewers complete with toasted rice powder, bird's eye chilis, lime juice, and fish sauce. His basic skewers, ranging from B30-40 per bite, include beef onglet, shank, duck thigh, and pork intestines—dried and crispy on the outside as they should be. His special bites see Isaan sausage (B40) stuffed—and later torched—with cheese, a combination we never saw coming but we have to admit it's delightful in an unusual way. There are also vegetarian options available, from grilled eggplants and okra to orinji mushroom, all finished with his homemade nam prik pao sauce.
Why we'd come back: While Bangkok may never experience a shortage when it comes to finding rooftop drinking spots, Larb Siab offers a very affordable spot and cheap food to pair with your beer drinking. With the chill vibe and friendly chat from the owner and the staff, it won't disappoint. By Porpor Leelasestaporn.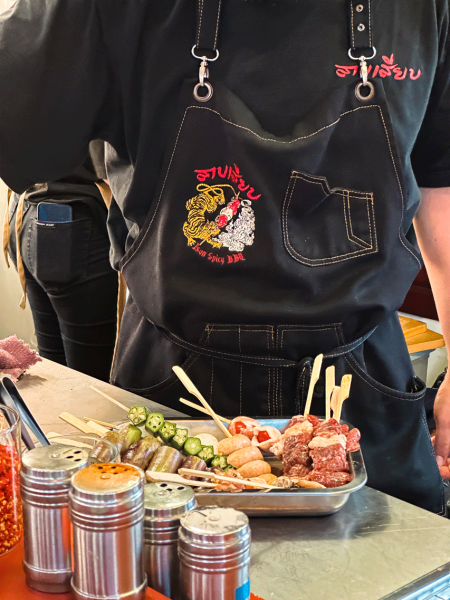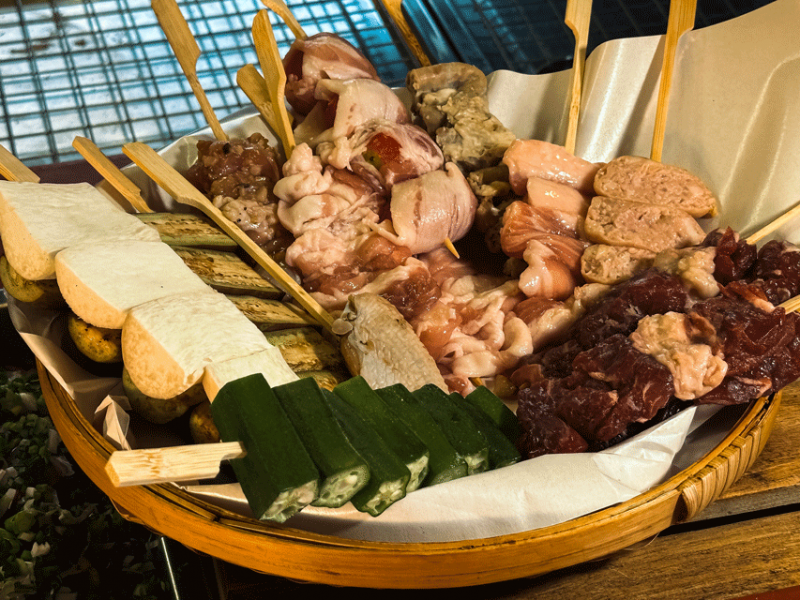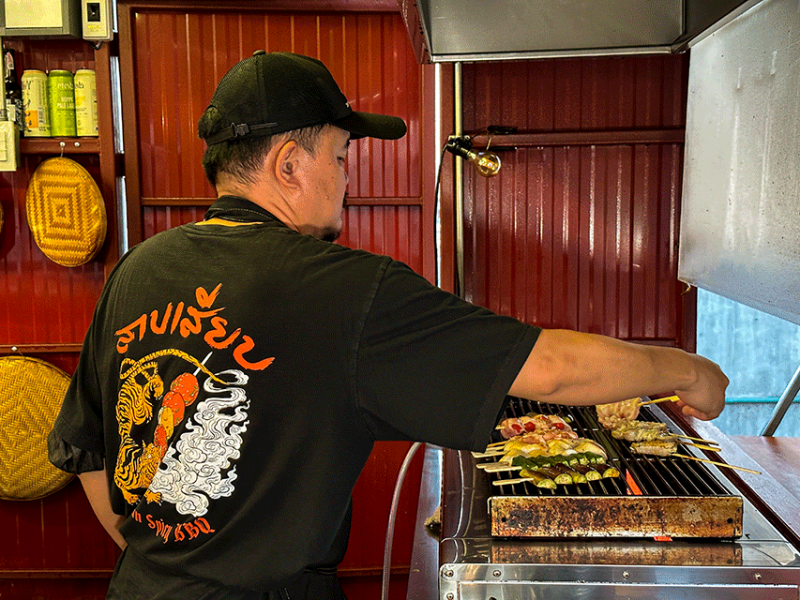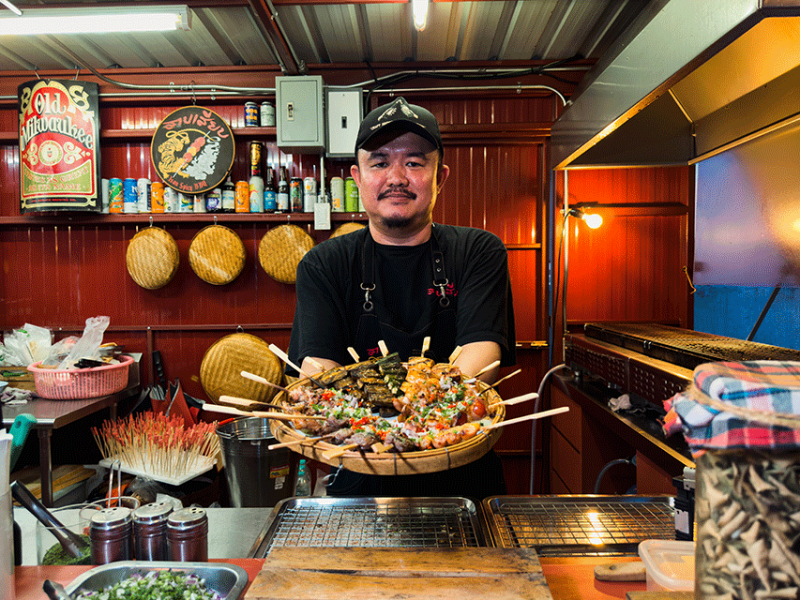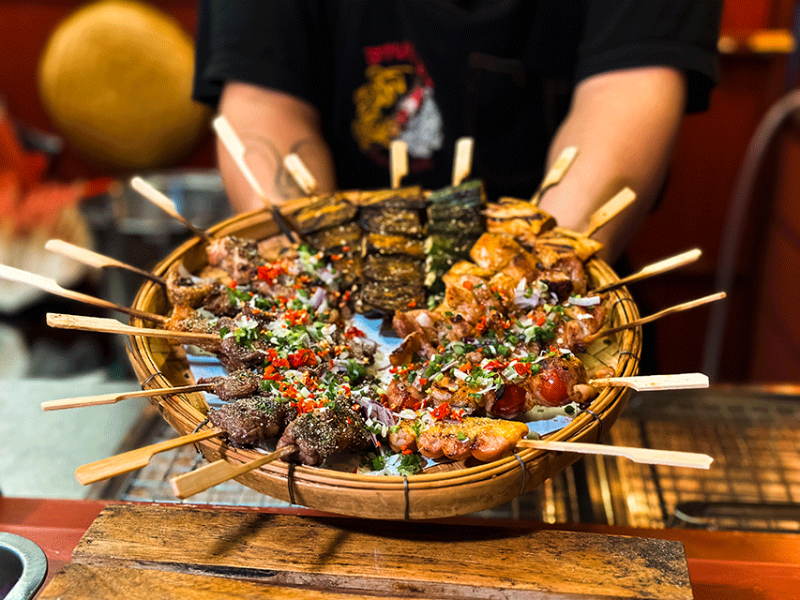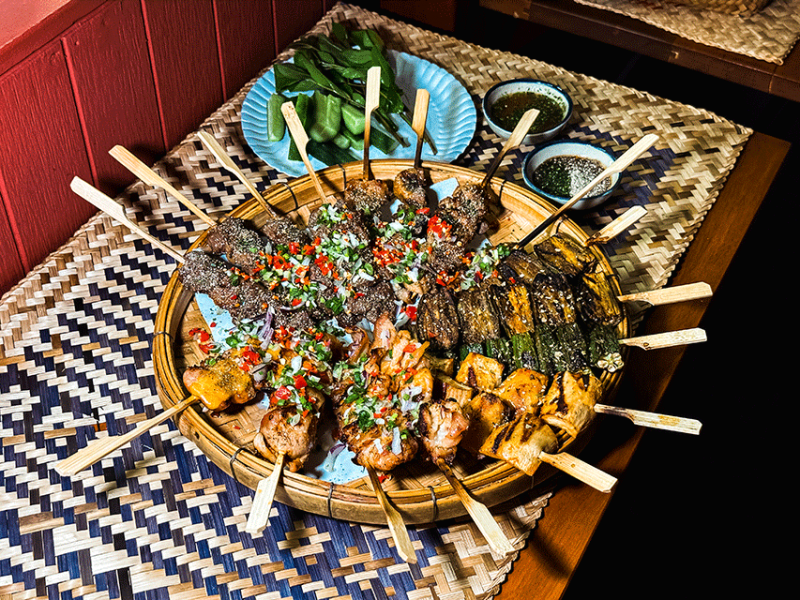 Photo: Porpor Leelasestaporn / BK Magazine.