---
Beer bars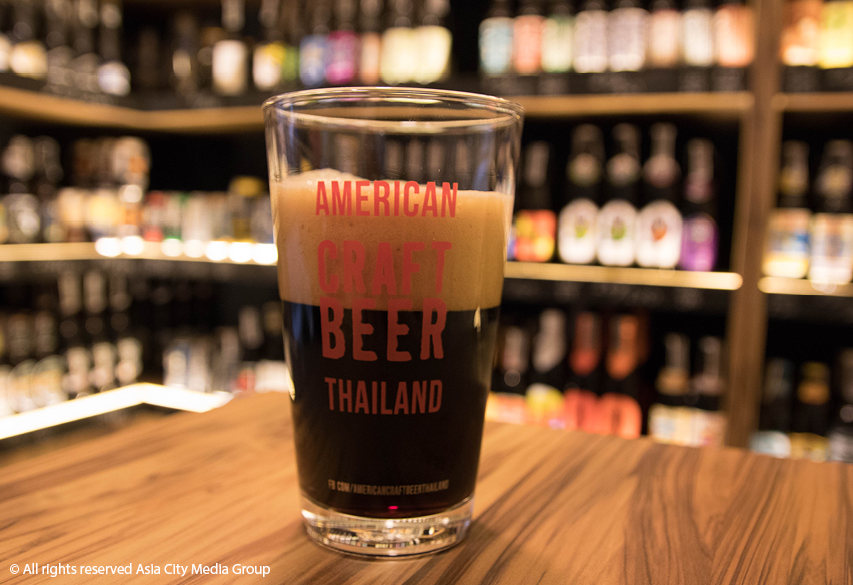 An after-work bottle of booze never been easier to find for Sathorn's salarymen/women. From the people behind Thonglor's Bottles of Beer comes Bottles of Booze, stocking a beer menu to match the original with the bonus of craft spirits.

Another second-edition drinking hole, this one the bigger sibling of the teensy, Phetchaburi MRT original. The new, 30-tap Changwon Express has a beach-side theme appropriate to its urban surf park, and goes all-American with a menu of burgers and pizzas.

The Bangkok beer garden trend has arrived in Ari in the form of this house-cum-bar with links to Bavaria's Schneider Weisse brewing company and a spacious, loungey garden.

Fatty's Bar and Diner has long been the go-to spot to get your grease fix. Now, owner and barbecue purist Matthew Fischer brings his deliciously calorific menu to Ekkamai—half-barbecue joint, half-craft beer bar, this spot is the real American Dream.
---
Cocktail bars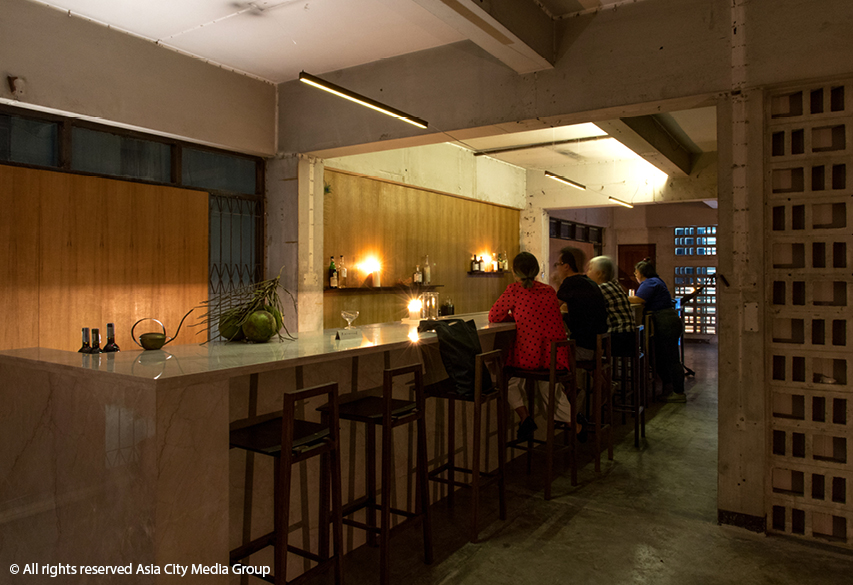 Even for a speakeasy, this bar's hard to find, tucked down an Old Town alley with a backdoor entrance obscured by a shrine. Have we piqued your curiosity? The bar's also helmed by Anupas "Kong" Premanuwat, who worked as a mixologist at New York's acclaimed Angel's Share.

This cocktail bar in hipster Ari takes inspiration from Hawaii to create the neighborhood's first you-gotta-leave-Thonglor-and-see-this opening. Serving tiki drinks (of course) and poke bowls in what amounts to a posh bamboo shack.

To get to this bar inside Arena's 10 newest restaurant, Prelude, you'll have to face a gauntlet of flamingo leg-shaped, pink lights. The bar itself is fun and punchy, with a drinks menu to match.

Bacchus Global, familiar locally as the importer and distributor of whiskey labels Yamazaki and Hibiki, opened its showroom to the cocktail-loving public. Come for classic cocktails served with Japanese precision and delicacy.

With a track record that includes Sugar Ray, Q&A and Dim Dim, the team behind Thonglor's latest opening definitely know the winning formula of a great cocktail bar, serving drinks heavily influenced by Thai flavors (hence the name).

Smokin' Pug's old shop-house on Surawong Road has been reborn as a bar specializing in classic, historically-accurate and sometimes obscure American cocktails, like the Jungle Bird.

Hair of the Dog's Phrom Phong branch is no longer limited to craft beer. To complement the asylum-themed bar's 13 rotating taps, they've turned the mezzanine floor into The Clinic, a lounge doing cocktails and pub grub.
---
Day-drinking bars

Sathorn's unlikely tropical escape takes a more family-oriented route, opening from 11:30am six days a week to offer a brunch-y vibe and a health-conscious menu amid palm trees and faux grass.

With its chill garden vibe and easygoing cocktails, this tropical bar is perfect for day-time drinking (they open at 3pm on weekends). And if you get hungry, just pop inside the neighboring Kram for tasty and authentic Thai dishes.
---
Dive bars
A law grad and his friend flipped a two-story house in a quiet residential neighborhood into a house of beers that doubles as a garish museum of "bad taste," which includes Pepe the Frog (an internet meme since appropriated as a symbol of America's alt-right movement), a shrine to Harambe the gorilla and an ancient Greek bust.

Situated in what feels like the middle of nowhere, this bar lights up a dead-end residential soi in Chatuchak with its vivid neon signage. The whole place recalls a teenage bedroom circa 1987, foregoing craft beers and cocktails for mainstream stuff like Leo.
---
Game bars

This adult playground has an atmosphere that's very "startup rec room," and not only serves drinks but also stocks plenty of games and activities—hence the name, referencing the last year of teenage life.
---
Haunted bars

Taking over an 80-year-old, two-story house out the back of Phayathai, this beer bar not only boasts arguably the best selection of local craft brews this side of town, but also some excellent Thai food—to go with a few creepy claims of supernatural occurrences.

This semi-outdoor craft beer bar lives up to Chang Chui's "sloppy artisan" theme with shabby leftover materials and old bits of machinery giving off a spooky scrapyard vibe. Making things even creepier, the frothy draft beers from local brewers are served through wooden grates that resemble those of Thai prison cells of yesteryear.
---
Karaoke bars

By combining chic, private karaoke lounges, (forget mere fruit and booze, here the punch is actually sophisticated) with punch bowls, Savoy makes every other karaoke place look stuffy, boring or kind of gross.
---
Music venues

After five years of being off the scene, this jazz spot is back in the old home of Bronx Liquid Parlor (RIP). New York-hailing trumpeter-singer-owner Idris Dawud promises nothing but serious jazz.

Tucked inside the meat-centric restaurant Wild & Co, in the place that was once music and booze institution Stu-fe, is this moodily lit cabin-vibe venue that promises genres as diverse as soul, blues and electro, along with vinyl-heavy DJ sets.

The second floor of Bad Motel has never been this popping, thanks to the 28-year old Nick Supreda, the man behind Blaq Lyte's Dayglo look and hip-hop sound. We like this place so much we gave it the Best New Bar 2017 (see our B.A.D. Awards).

Liberty Plaza building roars back to life with the sound of underground music and a raw industrial design in this transformed, once-abandoned room.

This Thonglor bar has a retro vibe that's reminiscent of New York's East Village dive-bars, and serves up creative drinks at prices affordable by neighborhood standards.

A neon sign reading "Fuck the mainstream" sets the tone as it welcomes bar-goers. Raw industrial design and flashing lights give the bar a wild, fun intensity, while the spacious dancefloor and pumping tunes are impossible to resist.
---
Rooftop bars

Bangkok's newest Cuban-themed bar sits on the 32nd floor of the Compass SkyView Hotel and offers rum-heavy drinks amid almost-360-degree views over Benjasiri Park and downtown.

This fancy rooftop bar with a view of Ploen Chit serves great cocktails that are actually affordable. Note: hidden here is a secret whiskey room with a single grand piano and live music.
---
Spirit-focused bars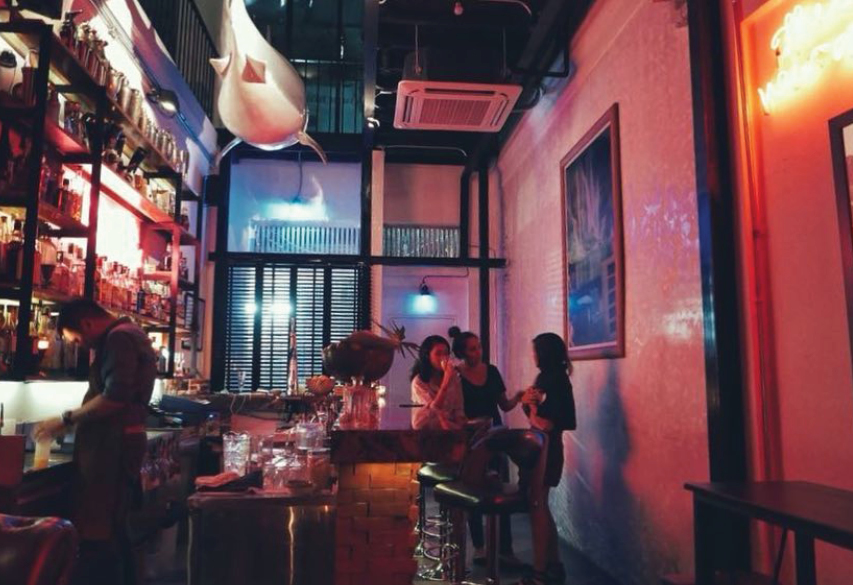 Credit: www.facebook.com/asiatodaybar
Asia Today
A rum bar with a local focus brought to us by the team behind Soi Nana's Teens of Thailand. Think drinks made from wild honey from Khao Yai National Park.

This whiskey and cigar lounge has one of the most varied drinks menus we've encountered, and is also a serious art gallery showing off the works of Thai talents.

This easy-going gin bar is Thonglor's hidden delight, offering over 100 labels of gin spanning big names and local artisanal distilleries, a cocktail menu that changes every month and Taiwanese bar food.

Two guys formerly from UNCLE and Lady Brett (swanky Sathorn cocktail joints, for the uninitiated) open a bar that's an homage to rum and tropical flavors. "Tropical" here isn't limited to "tiki," with drinks taking influence from the Caribbean, Bahamas and Southeast Asia as well.
---
Themed bars

This tiny Chinese-themed bar takes over from Bao & Buns next to the original Peppina pizzeria. While the setting is undeniably retro, the drinks are anything but old-fashioned.

Silom's new Vietnamese-themed bar is located next door to the Woof Pack building, home of Bangkok Screening Room, BStore boutique and Guss Damn Good. Amid an en-vogue mix of pink neon lights and raw concrete, the space serves up Vietnamese eats that go beyond mere bar food.

Red lanterns, neon signage and patterned tiles are no longer the preserve of Yaowarat's new wave of hip bars, thanks to Ninetails Bar & Booster, which brings the trend for all things moody and Chinese to Ladprao.

Squeezed between a motorbike repair shop and a spirit house shop, this is Yaowarat's latest bar to go for a red-lit, retro Chinese look. Rabbit Hill celebrates Asian drinking culture by offering beer, whiskey, sake and other booze from around the region.
---