BANGKOK RESTAURANT
Happy Endings
Silom's Vietnamese-themed bar goes beyond pho.
This funky Vietnamese-themed bar restores some edge to tired and touristy Silom. Find a corner in the neon-drenched dining room and tuck into straight-up takes on banh mi and banh cuon to go with other Thai-leaning dishes. The satisfying beef pho comes with generous slices of beef and a full supporting cast of fresh greens. What's more, the herb-laden, Asian-inspired drinks (sample names: 100 Dong, The Pink Slip) arguably upstage the food.
This review took place in March 2018 and is based on a visit to the restaurant without the restaurant's knowledge. For more on BK's review policy, click here.
---
Between Tonkin Annam on the riverside and Happy Endings on Sala Daeng, Vietnamese food's having a hip moment. Whereas the former takes you on a journey to relatively unseen sides of the cuisine, the latter plays it safe and kitschy, and that's OK too.
Part of the Woof Pack Building (Bangkok Screening Room, Guss Damn Good, Whitespace Gallery) responsible for restoring some edge to tired and touristy Silom, Happy Endings is a mix of neon lights, raw concrete, Sriracha bottle-topped formica tables and a half-dozen other en-vogue decor trends that perches above sister restaurant Meatchop.
It reminds us a little of Little Bao, the Hong Kong restaurant with a brief Bangkok flirtation that took traditional Chinese cuisine in trendy new directions. We wouldn't say the food here is so adventurous, but nor is it particularly true to tradition. That much is evident in the restaurant's version of banh mi (Vietnamese sandwich). The Mama Vo's Classic (pate and pork sausage, B220) is like biting into a soft bun filled with creamy coleslaw, rather than the usual piquant mix of cured meats and pickled goodness. We've had better.
But the "Vietnamese dumplings" (banh cuon, B150) make up for that: balls of chewy, sticky rice batter encasing a fragrant combination of minced pork and mushroom, topped off with the crispiest of garlic shards. Similarly satisfying is the beef pho (B200), which compensates for its relatively light broth with generous slices of beef and a full supporting cast of fresh greens. There's still room on the menu for a few Bangkok cafe mainstays that don't have much to do with Vietnam, such as the (admittedly tasty) fried soft-shell crab salad (B200), all iceberg, mustard dressing and sprinkling of dill.
Happy Endings is as much a bar as a restaurant, and prides itself on a line of Asian-inspired drinks (sample names: 100 Dong, It's Not a Big Dill) that we'd say probably upstage the food. Top marks to the Asian Delight (Chinese herbs, vermouth, Aperol, bitters and gin, B300) for a genuinely interesting twist on a negroni.
Adding to the liveliness is a slick '70s disco soundtrack (keep an eye out for guest DJs) and a crowd of Silom-Sathorn's cool, young professionals. Don't come to Happy Endings for authenticity, come here for a good time.
WATCH what a visit to Happy Endings looks like:
---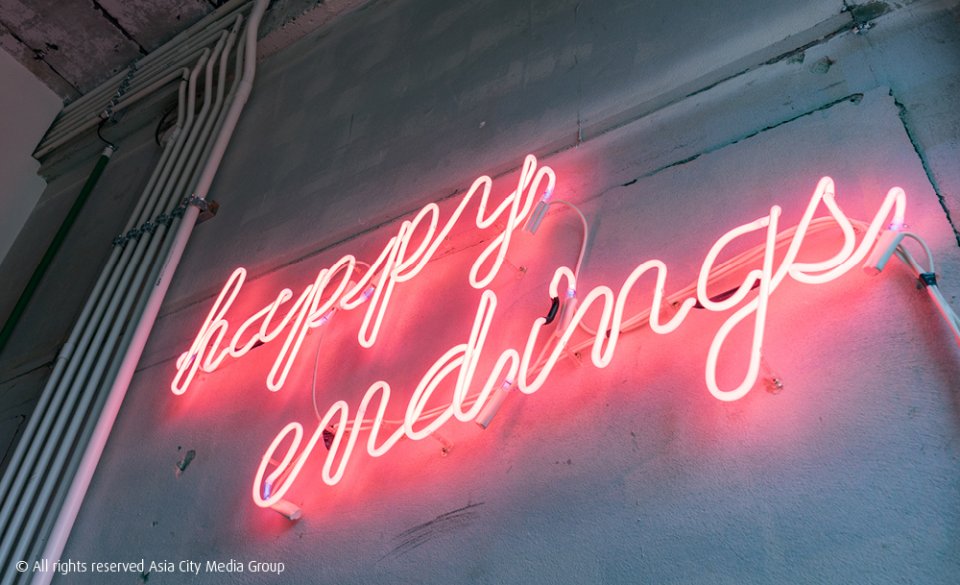 ---