Fresh out of a relationship, perpetually single, ready to mingle? BK shares itineraries for the perfect day out alone in Bangkok, whatever your status—single, taken or "it's complicated."


Bangkok Screening Room
Smalls
Junker and Bar
The Heartbroken

Trying to get over someone? We all wish we could just go to the clinic and get our memories wiped clean like the film "Eternal Sunshine of the Spotless Mind." In reality everybody has their own coping mechanism. Are you the kind that devours dessert to ease the pain? Visit Piccolo Kafe (Yen Akat Soi 2, 098-656-9859) for their brownie (B30) and espresso sunrise (B90), then wipe away those tears and chocolate stains, and soothe yourself in Soi Yen Akat's tranquil greenery. On Pan Road, Luka (64/3 Pan Rd., 02-637-8558) will heal your broken heart with comfort food like breakfast burritos and buttermilk fried chicken sandwiches (both B310). Listen to the "Sad Indie" playlist on Spotify as you travel to Bangkok Screening Room (Sala Daeng Soi 1, 090-906-3888) or House Samyan (5/F, Samyan Mitrtown, 944 Rama IV Rd.), where you can scoff at a romantic movie or two before drinking the pain away at Smalls (Suanphlu Soi 1, 095-585-1398). Follow up with late-night Australian wagyu burger (from B220) and even more booze at Junker and Bar (Suanphlu Soi 1, 085-100-3608). Forget going home to sad memories—crash at Somerset Park Suanplu (39 Soi Suanphlu, 02-679-4444; from B2,300/night) or Urbana Sathorn (55 South Sathorn Rd., 02-227-9999; from B1,600/night) instead.
Yelo House

12 x 12
The Singles Looking to Mingle

Pool parties are so 2012. That's why you're starting your day among the more socially fluid backpacker crowds at Viva 8 (Chatuchak Market, 02-618-7425), where house music and mojitos will strip away all your inhibitions. When you've had enough, head to CentralWorld to pray for love at the Trimurti Shrine. Just kidding! You don't believe in that shit. But it is a great spot to do some people-watching. Since you're near Siam, check out the latest exhibition at Yelo House (20/2 Rama I Rd., 098-469-5924), "Her Love," a group show by eight female artists who tell stories of love from differing perspectives. When hunger strikes, grab a Boston roll (B690) from Lobster Lab and a glass of chardonnay from Cloud Wine, a casual bar from the folks behind Wine Garage, at The Commons Saladaeng (30 Saladaeng Soi 1)—find a seat in the communal space, and you can strike up a conversation with another single-ready-to-mingle type. Then, work off that buttery lobster at Bangkok Swing's social night (The Hop, 3/F, 252/8 Silom Rd.), where you can Lindy Hop the night away. When your legs get tired, go across town to Green Lantern Gallery to catch the closing night of "Wild Things" on Feb 15. This sex-positive photo exhibition—part of Galleries' Night 2020—explores human nature through the lens and declares: "It's selfish not to love yourself first." To cap the night, head to the eclectic and always buzzing 12 x 12 (810/22 Sukhumvit 55 Soi Thararom 2, 094-260-4713), and you might end up meeting your match. If you want some pre-Valentine's action, you can also join the Last Minute Speed Dating event at Flavor Factor (Feb 13, 6pm. Factoria, Warehouse 26, 108/1 Sukhumvit Soi 26), where B1,000 will get you free-flow beer and the chance at a free meal if you match with your chosen date.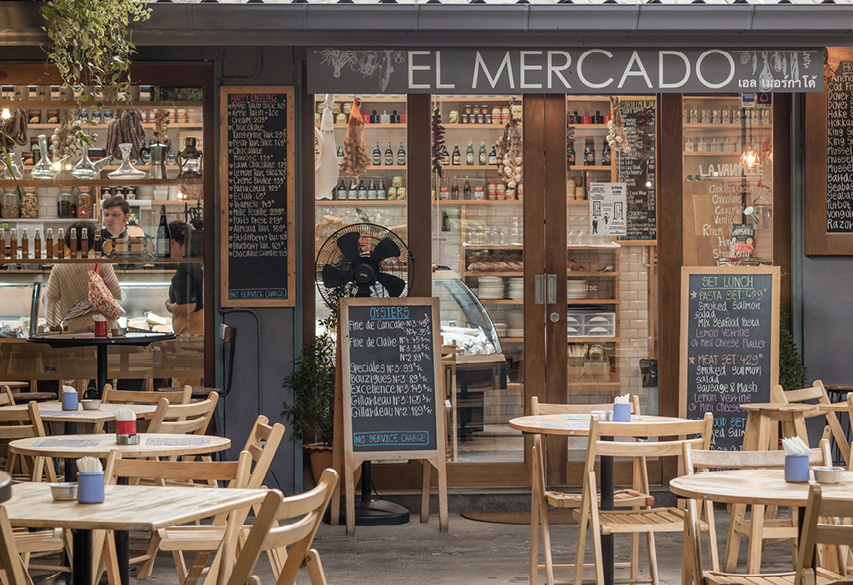 El Mercado

Emporium's Emprive Cineclub
The Sologamist

If you're getting married to yourself this Valentine's (a la Carrie Bradshaw in "Sex and the City" Season 6), kick off your day by treating yourself to a big bunch of roses from Pak Khlong Talat before stopping by the fairytale-like Floral Cafe at Napasorn (67 Chakkraphet Rd., 02-222-6895. Open 10am-10pm) for a mint rose tea (B90) and a slice of carrot cake (B160). Next, hop on the MRT at Sanam Chai and make a beeline for Lumphini Park, where you can glide across the lake in a swan-shaped pedalo, hand-in-hand with yourself. If that leaves your legs a little sore, take a quick cab ride to Yunomori Onsen & Spa (120/5 Sukhumvit Soi 26, 02-259-5778. Foot massage B450/all-day onsen entry B450), dropping by El Mercado (490 Soi Phai Singto, 099-078-3444) on the way for a cheese platter and a glass of wine. Once you're nice and relaxed, grab a First Class seat (B900) at Emporium's Emprive Cineclub (622 Sukhumvit Rd., 02-268-8899), making the most of the lounge and bar access before the 7:30pm showing of "Birds of Prey," which follows a fellow badass singleton, Harley Quinn (Margot Robbie), fresh off a breakup from the Joker as she teams up with superheroes to save a young girl from a Gotham City crime lord. End your night slurping a bowl of ramen (B150 + extras) in a private seating booth at A Ramen (B/F, The Street Ratchada, 139 Ratchadaphisek Rd., 081-545-3655)—no one's judging.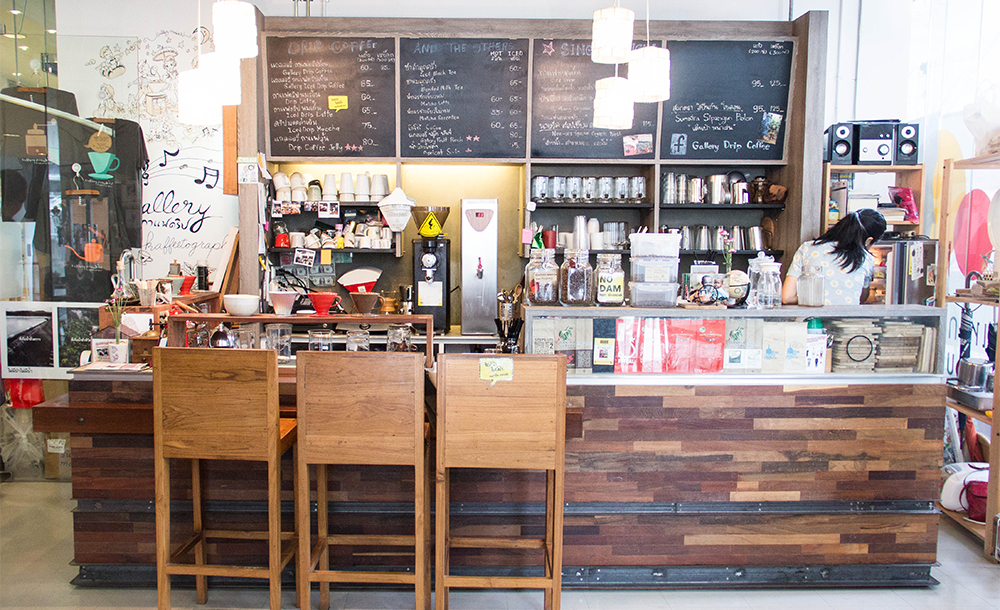 Gallery Drip Coffee

Lido Connect
The Flaneur

Instead of whiling away the hours at home and driving yourself insane, why not dabble in spectator sports and enjoy some people-watching? Begin your day at Gallery Drip Coffee (1/F, BACC, Rama 1 Rd., 081-989-5244)—grab a seat by the window eyeballing Siam's hipsters, art lovers and sightseers while sipping on a piping hot cuppa (from B80 for Thai single origin drip coffee) before exploring the exhibitions at the BACC. Continue your art trail and get your camera ready at Chula Art Town, a public street art and graffiti project spread across the Siam Square, Suan Luang and Sam Yan neighborhoods. Start at Lido Connect (256 Rama 1 Rd., 062-929-8685) to take a few snaps of the colorful art pieces by Juli Baker and TRK, then work your way towards Chula Soi 50 and strike a #selfie against a wonderfully vivid mural by Joker Eb. Hop over to Ari—the leafy "it" neighborhood that has it all. Sit out on the terrace of Lay Lao (Pahonyothin Soi 7, 02-279-4498), Ari's go-to upscale and photogenic somtam spot, which offers the best perch for hipster people-watching. Speaking of hipsters, hit up the latest Instagram hotspot Gump's Ari Community Space (25 Ari Soi 4 Nua), where you can get your nitro cold brew (B60) fix at Cactus and grab a tasty pumpkin bread with pandan nama custard (B78) at Kafer House. As twilight descends, take a tuk tuk over to Chatuchak Park (Kamphaeng Phet Rd.) and relax by the lake overlooking evening joggers and after-work strollers. Close out your night with an after-dark shopping and eating sesh at The Camp Vintage Flea Market (482 Kamphaeng Phet Soi 1) nearby, or if you've still got the energy, go across town to the vintage shoppers' mecca, Rod Fai Market 2 (Ratchadaphisek Rd.).

Bangkok 1899
The Jam Factory
The Split Personality

During the workday, or even daytime on the weekend, you're shy and introverted. That's why the TCDC (2/F, The Grand Postal Building, 1160 Charoenkrung Rd.) beckons you. Settle into its arctically air-conditioned climes, and read up on vernacular design in a room so silent you can hear a pin drop. Then head to World at the Corner (Mahannop Soi 1, 089-699-7074), the weekends-only Old Town bookstore where you can stoke your unspoken desire to travel the world and blog about it. Pop into Bangkok 1899 (134 Nakhon Sawan Rd.) to reconnect with history and green space before taking a boat down the river to The Jam Factory (41/1-5 Charoen Nakorn Rd., 02-861-0950) to catch the newest exhibition, "The Temporary Observer" (Feb 15-Mar 22; opening reception on Feb 15). This photo exhibit by Eve Marisa Rungroj examines emotional transitions, which you're also about to experience first hand—when day turns to night, you come out of your shell and release the caged-up extrovert inside of you. Head to awesome underground bar Speakerbox (Liberty Plaza, Sukhumvit Soi 55, 084-662-6642) first. If you're there on Feb 15, you can join Jambox #2, an open mic night that goes beyond music, inviting everyone in the crowd to grab paint brushes and spray cans for a visual art jam led by a professional street artist. Or go to Live Lounge (10/47 Trendy Building, Sukhumvit Soi 13, 02-168-7335), a hub for the creative community that hosts regular open mic nights. On Feb 15, it's putting together "We're Here, We're Queer: Valentine's Edition," an LGBTI open mic night spanning music, poetry, comedy and more. Finally, set yourself free completely at your favorite late-night club or dive bar, like Mustache (544/5 Ratchadaphisek Soi 7, 081-844-7080) or T-Rex (416/1 Thonglor Soi 14, 087-125-3784), before capping the night in classic introvert style: with a full spread of Thai food all to yourself at 55 Pochana (1087-1093 Sukhumvit Rd., 02-391-2021).
Hiddenwoods

Supanniga cruise
Embassy Diplomat Screens
The Situationship

With someone but don't know what the status really is? Has your situation been dragging on for too long? This itinerary will help you move it forward. Daytime hangouts are essential if you want to move from fling into more serious territory, so why not suggest a cycling adventure in Bang Kachao? Be sure to cool off with lunch at the leafy, air-conditioned Hiddenwoods (777 Moo 4, Petchahung Rd., 090-974-8234). If you're not ready to show your sweaty side, book a pottery class at Charm-learn Studio (95 Phraeng Sanphasut Rd., 080-587-6331) instead—their 10-session course (B32,000/person) will secure you some day-dates well into the future, plus you can attempt to reenact the sexy pottery scene from "Ghost." For dinner, book Supanniga's romantic sunset dinner cruise (B3,250/person. 23 Charoenkung Soi 24, 097-238-8284) before grabbing a bottle of bolly with stunning views over the city at the Waldorf Astoria's secret hideaway, The Champagne Bar. Once you're a little tipsy, head to Embassy Diplomat Screens (Central Embassy, Phloen Chit Rd., 02-160-5999) to snuggle up in a cocoon chair (B2,200 for two people)—opt for a scary movie for extra excuses to cuddle.
---


Why: This corner shop-house has all the old-world charm of your Japanese friend's home. Inside, the dramatic lighting and wall bearing a parade of labels provide a setting in which to lose yourself.
The drinks: Get their gin and tonic (B380), which features Ki No Bi Kyoto Dry Gin, a drop of elderflower syrup, Fever Tree elderflower tonic, soda water and an olfactory bouquet of six herbs as the garnish.
36/5 Sukhumvit Soi 39, 083-019-9062. Open Mon-Sat 6:30pm-midnight

Why: The long, narrow space replicates a classic railway dining car, featuring just 10 leather-upholstered seats along a slick, polished bar. The result? An intimate drinking atmosphere, where the barman can really match your mood and keep you entertained.
The drinks: Start with bar's riff on the Sazerac (B420) and see where that leads.
235/13 Sukhumvit Soi 21, 02-664-1445. Open daily 7pm-2am


Why: This wood-clad, English-leaning boozer opens at 9am, encouraging shameless, quality day-drinking, or even a pint of beer while working on your laptop.
The drinks: Fuller's (B290) to start, and pints of Carlsberg (B119 all day) after that.
Room 597-597/1-3, P.B Building, Sukhumvit Soi 33/1, 02-662-3390. Open daily 9-1am