There was a time when Thai fine dining meant staged dance shows, girls in traditional dress carving fruit, a classical music soundtrack, and elaborate "royal Thai" menus. The implication was that this was all for the tourists, who needed spectacle to go along with the food. Thais themselves were not spending money on Thai dining—their favorite local dishes were found elsewhere, at home or on the streets. Their fine-dining budgets were earmarked for foreign cuisines.
But then something happened. As tourists grew more familiar with Thai food and Thais more comfortable with spending money on their own cuisine, the local dining scene evolved. Thai restaurants pivoted to a celebration of the kingdom's rural roots, serving heretofore underappreciated street food dishes in an air-conditioned, hip shop-house setting with premium ingredients, inventive cocktails and modern music. Today, Thai fine dining is changing again.
Siam Wisdom
"Ten years ago, it was very different," said chef Thaninthorn "Noom" Chantrawan of Chim by Siam Wisdom. "Now, you are seeing more refined ingredients and well-selected degustation menus. We are starting to reach out in a way where the chef is bringing in more food choices, featuring the real heroes of Thai food. Now people are coming into the restaurant, seeing the menu and saying, 'I
never had that before.'"
Now into his second year with a Michelin star, chef Noom is part of a new wave of Thai-helmed restaurants featuring ambitious, and at times deeply personal, reimaginings of what Thai food can be. By refusing hard and fast rules of what Thai food really is, they are redefining it along the way, unencumbered by old labels like "fusion" or "molecular."
"Thai food is so surprising. There are so many untold stories," said chef Noom, who admitted to being reluctant to serve standard dishes like tom yum. He decided to put a different spin on the classic soup by centering it on pla chon (snakehead fish, native to the region and commonly found grilled on the street or fermented for pla rah). Today, it is one of his favorite items on the menu.
"When I opened the restaurant, I didn't want to serve all the same things," he said. "As a chef, I think about what I can do to make it different, but you still have to find something that tastes good. I would like to introduce a different kind of Thai food to my customers."
Of course, the culinary evolution has been largely aided by international arbiters such as Asia's 50 Best Restaurants, published by William Reed Business Media, and the Michelin Guide, which made its first foray into Thailand two years ago. Of the Asia's 50 Best Restaurants list, nine are in Thailand, while a hopping 27 restaurants received Michelin stars for 2019, up from 17 the year before.
Restaurant experts say the stamp of approval from organizations such as Michelin has helped spur the growth of the local food scene, feeding Thai culinary innovation along the way. "I think they're trying to take a more contemporary approach to presenting Thai cuisine," said Chris Watson, a former Michelin inspector-turned-writer now based in Bangkok. "The newer restaurants are genuinely trying to take classic dishes and reinterpret them in a more modern way, but from a place of deep understanding."
But the jury is still out on whether well-made personal interpretations of Thai food via degustation menus and wine pairings will go the way of the classical Thai dancer and mason jar, a food fad of its own. "I don't know if they have longevity," Watson admitted of the Thai fine-dining new wave. "Trends have beginnings and ends, like bell bottom trousers and ABBA."
Click map to enlarge
Thai Fine Dining For Thais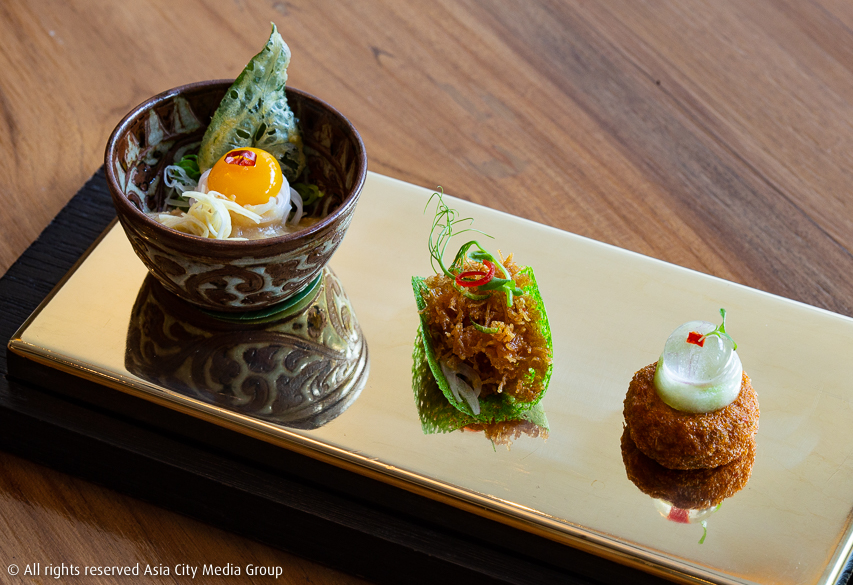 R-Haan
All the same, it's hard to deny that high-end Thai food is having a moment. Chef Chumpol Jangprai of R-Haan, the recent recipient of his first Michelin star, reflected on how Thai food has risen precipitously from being considered a cheap takeaway standard to one of the top cuisines of the world. "In previous generations, no one wanted to cook Thai food. It was a low-paying job," he told reporters at the launch of the 2019 Thailand Michelin Guide. But now that diners have moved on from expecting pad Thai and satay, "everyone wants to seek out something local, something original. This is a global trend I've noticed. I just came back from Russia, where they have Russian modern versus authentic. It's very clear." Thai cuisine once operated by a clear set of rules:
it must be cooked in an unscented oil, it must be served at room temperature, meat must be cooked on the bone, acids must come from natural sources, and there must be fish sauce. The new wave of Thai chefs are comfortable with pushing the boundaries of these hidebound rules. But it's not about playing Dr. Frankenstein with different ingredients and hoping they stick together.
"The only rule is the flavor," said chef Chumpol. "There's no other cuisine that has as many flavors as Thailand, in my opinion."
Saawaan
At the same event, chef Sujira "Aom" Pongmorn of Saawaan mused on what she might do differently, fresh off of winning her first Michelin star. "Thai food can be anything. You just have to know Thai flavors. Now we are working on a second set menu, and we will see some ingredients and some proteins that people normally don't touch, and I will cook it Thai-style, because why not?
Sorn
Among the most-watched chefs of this new wave is Supaksorn Jongsiri, better known as "Chef Ice" and head of southern Thai eatery Sorn, one of Bangkok's most difficult tables to book. Already known for his namesake restaurant chain Baan Ice, Supaksom has elevated the cuisine of his childhood in a way that still pays tribute to traditional southern cooking methods, be it pounding fresh chili pastes, grilling over charcoal, or cooking rice in a traditional clay pot. "Sourcing high-quality ingredients is still a priority as it is with Baan Ice, but with Baan Ice it was my grandmother's recipes," he said. "At Sorn my team and I are creating something new." The restaurant's way with traditional southern ingredients like coconut milk and shrimp paste have clearly struck a chord with Bangkok diners. But even before it won a Michelin star, Sorn was already fully booked through March. Interestingly, all of the clamor for his food has not tempted chef Ice to expand or turn tables more quickly to accommodate more customers. Though they have space for 50, they restrict reservations to 30 or so per night, with only one seating. "We want our guests to fully enjoy the experience. They shouldn't feel rushed," he said.
More Personal Visions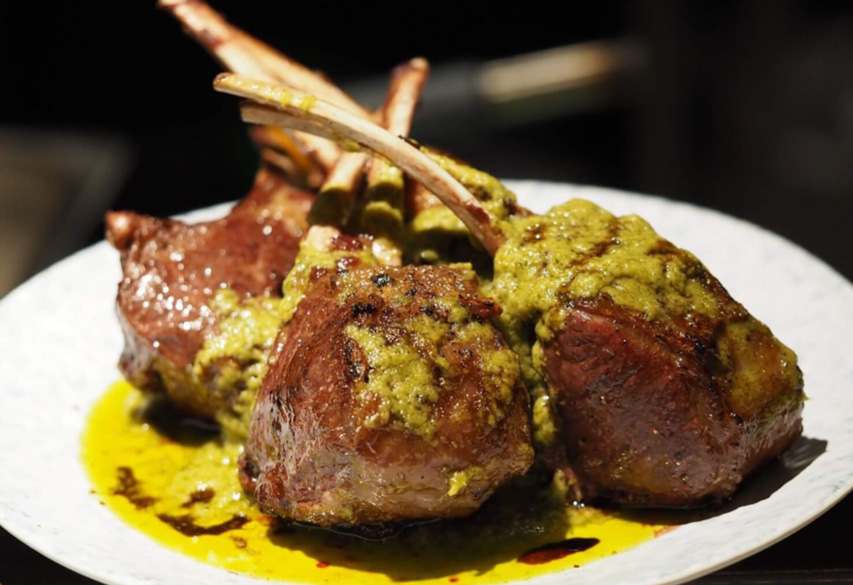 Thaan
A desire to showcase traditional cooking methods and ingredients in a more modern setting is only one motivator behind Thai restaurants' new wave. Others seek to transplant what they love from abroad onto Thailand, resulting in something unique and personal. One of those restaurateurs is Bancha "Bank" Winyarat, owner of grill specialist Thaan, which takes its inspiration from blue-ribbon Parisian bistros like L'Ami Jean. "I wanted a small space that seats about 20. I wanted to have a cozy space, casual and easy-going," Bank said. "Personally I love meat. Of course, here there are a lot of steakhouses. It's pretty standard. They are always European or American. This is our own version of a steakhouse." Open since April, Thaan boasts a menu that is 80-percent chargrilled, studded with Asian beef-focused favorites such as sukiyaki and beef fried rice in a hole-in-the-wall dining room next to Chim by Siam Wisdom. But the restaurant's focus is more about serving meat in Asian ways, and less about re-examining Thai tradition. "I wouldn't say we are Thai-Thai. I want to blend in Asian elements," Bank said. "If you ask me, am I Thai, maybe we are just Asian."
The Front Room

Chef Rungthiwa "Fae" Chummongkhon, too, is bringing a unique vision to the recently-opened Front Room at the Waldorf Astoria. Having lived abroad for 12 years in Denmark, the Chiang Rai native returns to Thailand to serve her interpretation of Danish cuisine, larded throughout with allusions to her Thai heritage. "If you have enough experience, you will know what to cook. Cooking is also personal. It depends on what you like and how you would like to innovatively present it," she said. An example of her vision is the dish gai ob fang, which involves a deboned, marinated chicken wing stuffed with mousse, sous-vide to keep it moist, seared and then smoked. "The idea for this dish came when I was young," said chef Fae. "It's a way for me to show how I cook my food and to introduce myself to my diners. I want customers to know I am sincere, and how I moved from a small town to a big city." However you define it, most will agree that Thai fine dining has grown the cuisine itself, revitalizing and feeding the local food scene. "Two to three years ago, you could get into any restaurant you wanted to in Bangkok," said Watson. "Now you are booking five days—or in some extreme cases, several months—in advance. Whether these restaurants are hype, or really good food, that's missing the point. It's great for restaurants!"
---
Class of 2019
Follow these game-changing local chefs to see where they find their culinary inspiration.
Sujira "Aom" Pongmorn, SAAWAAN

At 31, Aom is one of Bangkok's youngest Michelin-star winners. Her Instagram is proof that creative inspiration doesn't come from sitting still, with foodie tours throughout Thailand and Asia.
Monthep "Mon" Kamolsilp, TAAN

Forget what you think you know about hotel Thai food. Chef Mon reinvents classics on the roof of Siam@Siam hotel, while paying serious attention to seasonality and provenance of ingredients. They call it "hyperlocal"—we call it tasty.
Rungthiwa "Fae" Chummongkhon, FRONT ROOM

The Thai-born chef who heads up Front Room brings experience from stints at Noma and Geranium in Copenhagen. The result? Eye-catching Nordic-inspired creations that blend Thai ingredients
with Scandi techniques.

His noodles made it into Michelin 2019 at Pad Thai Fai Ta Lu while his Table 38 tasting menus are roughing it with the pointy end of modern Thai fine dining. Chef Andy also travels, a lot. Check his account for foodie action from Yaowarat to NYC.