Remember debauched dinner parties at Bed Supperclub? After-work drinks at Cheap Charlie's? Drinking out of booze trucks while feasting on street food? Or is Soi 11 just an amnesic haze of bad decisions culminating in a bottle of Singha on the sidewalk at 4am?
In March 2017, the shutting down of beloved names like Cheap Charlie's and Charley Brown's to make way for redevelopment (reportedly now earmarked as Hotel Plaza, oh joy) felt like the nail in the coffin. Since then, we've seen the soi grow increasingly shady.
What used to be Bangkok's party central, where flashy night spots like Bed Supperclub rubbed shoulders with cheerful beer bars, has slipped into a wilderness of condo development, empty land plots and no shortage of tourists looking for short-time love. Success stories like Soho Hospitality's Havana Social and Above Eleven have been in the minority.
But that might be changing. A recent wave of new openings marks a shift towards a chicer vision of the soi, driven by a swanky new community mall that would feel at home on Thonglor, as well as the return of expat party hangout Hemingway (formerly on Sukhumvit Soi 14).
Don't believe us that Soi 11 might be ripe for a comeback? Reserve judgement till you've checked out these latest spots.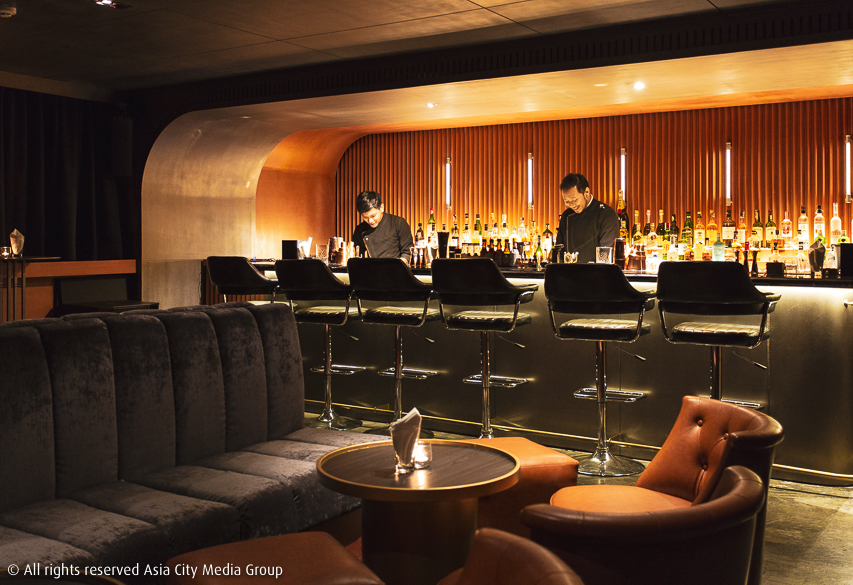 Find The Photo Booth
A super-sleek new speakeasy
The team that brought us The Locker Room have invaded Sukhumvit Soi 11 with another hard-to-find speakeasy, Find The Photo Booth. The drinks menu takes on the classics alongside their Thai-twisted companions. The 20th Century (B360) takes its name from its origins aboard the Twentieth Century Limited Rail, a train service that ran between New York and Chicago, and combines Gordon's gin, bianco vermouth, creme de cacao and fresh lemon juice. Its modern Thai spin-off, dubbed Sorry, Only BTS this Century (B390), creatively plays with the cacao taste by rimming the glass with dried coconut and chocolate, before mixing coconut-infused Botanist gin with white sesame vermouth, hazelnut liqueur and fresh lemon juice. We can't tell you exactly where the bar is, as that's part of the fun, but look out for a functioning photo booth.
Sukhumvit Soi 11, 02-117-2636. Open daily 6pm-2am
Score Bar
A new sports bar that doesn't suck
Opened mid-2018,
Score Bar
has become a popular destination for Bangkok fans wanting to catch a game. Tucked on the second floor of 8 on Eleven, the bar's glass walls allow you to look over the chaos of the street without having to get involved in any of it. Here, as well as screening most sports on their five screens, they offer a pool table, foosball table and a very popular beer pong table. There's also a photo booth for random drunken photos (hint hint). Drinks here are typical for a sports bar, a pint of Tiger beer will set you back B160, but head there for happy hour between 5-9pm when it drops to just B120—at that price, we'd drink it for water.
2/F, 14 Sukhumvit Soi 11, 02-117-2636. Open daily 5pm-2am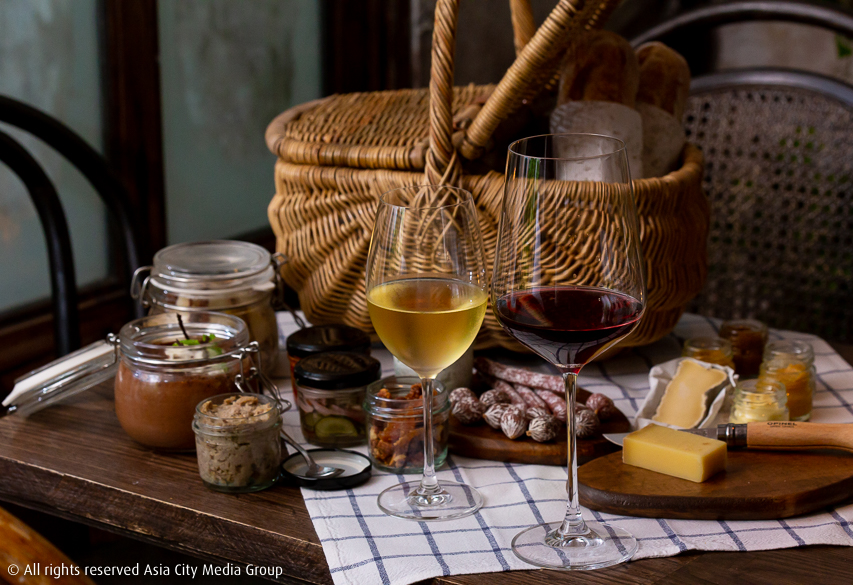 The Bar Upstairs
A classy wine bar
Hidden above French restaurant, Brasserie Cordonnier, The Bar Upstairs cuts through Soi 11's touristy, party vibe with its casual secret garden-evoking decor. The drinks menu features 160 labels of wine from all around the world, starting from as low as B160/glass for the dry and fresh Spanish Airen, L'Ave De Presa, Ucles. We love their South African organic red wine, Percheron—made using a Shiraz Mourvedre grape, which originates from the Rhone valley in France (B1,010 per bottle). The Bar Upstairs also offers casual French cuisine, ideal for fun, light snacking—but for something more filling, order the croque monsieur stuffed with Parisian ham, Mornay sauce and baked emmental cheese (B290).
3/F, 33/30 Sukhumvit Soi 11, 02-821-5110. Open Sun-Thu 5pm-midnight; Fri-Sat 5pm-2am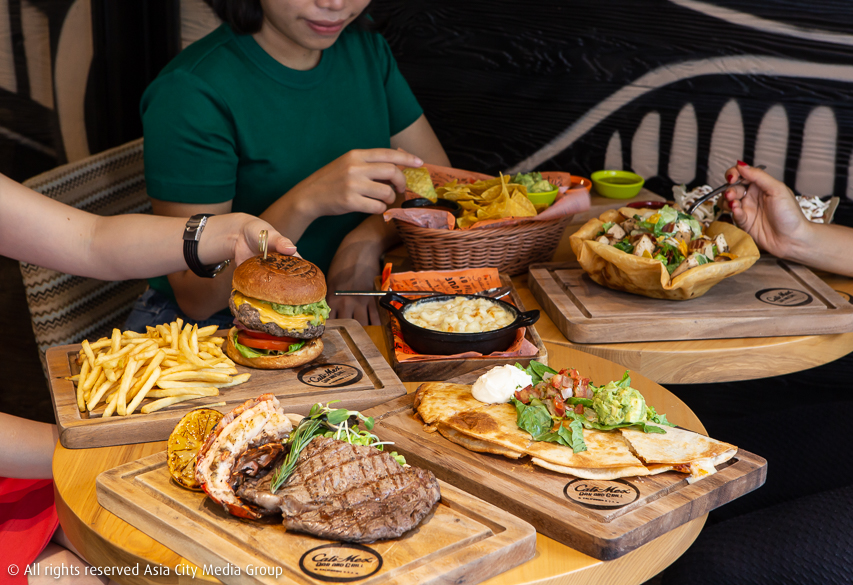 Cali-Mex Bar and Grill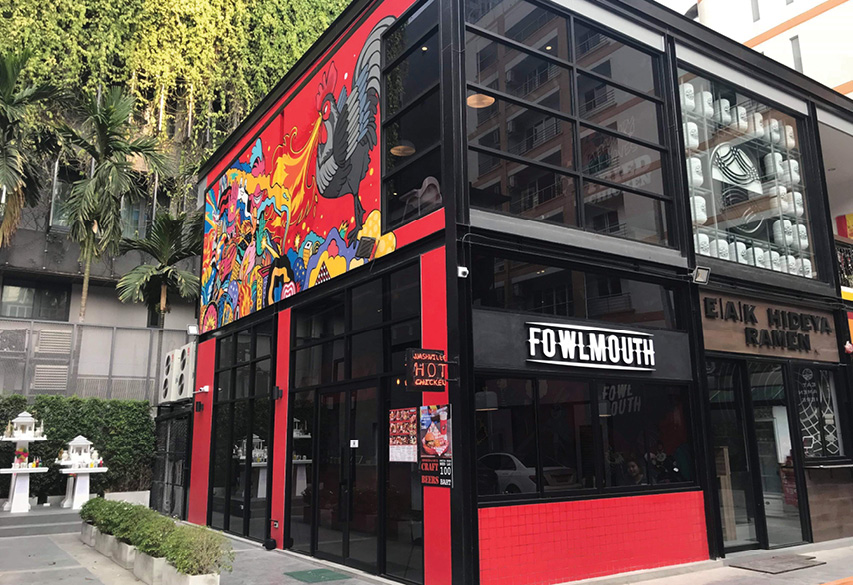 Fowlmouth
A community mall to rival Thonglor's with a fancy condo on the other side
Eleven mall comes with plenty of establishments for daytime hangouts like Cali-Mex Bar and Grill and the hidden Mexican bar upstairs Los Atico; Soho Hospitality's New York-style Soho Pizza and a second more Neapolitan pizza-focused branch of Ari's Cantina. Other familiar names include Shakariki 432, After You cafe, a new place by the people behind Phrom Phong's Sri Trat called Burapa, and Fowlmouth fried chicken (see, just like Thonglor!). With more names added to the compound, like Indian joint Saras for Indian food, Eak Hideya for ramen, Hola Tapas for Spanish, Lebanese House and Artisan Craft Burger joined by Deluxe Spa for a relaxing massage after all that eating, this is shaping up to be a real hub of activity. Just across the road from that, a luxury condo Hyde, starting at B4.7 million a pop, comes with plenty of benefits and also Rocket Coffeebar on the ground floor.
Old German Beerhouse isn't gone forever
As one of Soi 11's favorite and least seedy sports bars, this beerhouse's closure would have been a setback. Luckily, they have announced they're just renovating and they'll be reopening again in mid 2019. In the meantime, the bar has moved to temporary digs over on Soi 13—super-easy to access via the Ambassador Hotel.
Sukhumvit Soi 13, 02-168-7898. Open daily 4pm-1:30am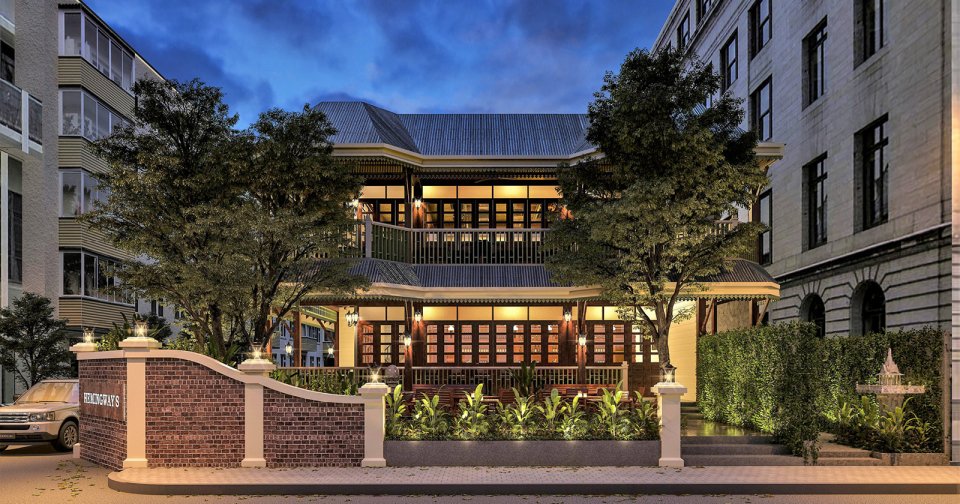 It was one of Bangkok's most loved bars and, though sadly no one can bring back the exquisite old teak house with its iconic tree that used to sit beside BTS Asoke, the team are painstakingly recreating the old venue in its new location—right down to the floor tiles which they've sourced from Spain. Also watch out for a surprise on the second floor that will make you ditch W District.

---
Meet the neighbors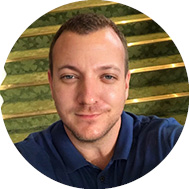 Damian Mackay, general manager of Hemingway
Why did you choose Soi 11 for your business?
Mackay: Opportunity. We started looking for a new location after we found out we had to close. We knew the community mall was going to open on Soi 11, then we found out that Zak's was closing, so we made an offer to the landlord to demolish everything and rebuild something similar to the old Hemingway's.
What do you think about Soi's 11 current vibe?
Mackay: I've seen a lot of changes in the last six to seven years. It used to be a very clubby soi, that's fair to say, but that put the street on the map. Now it's good to see nice restaurants and high-end condos giving this soi a new vibe. I think some people won't come to [the new Hemingway] because it's Soi 11, but they need to give it a try. Soi 11 is not as seedy as before. When Climax and Bed Supperclub opened, followed by Levels and Insanity, it became really clubby. Then you had more restaurants like Oskar, 8 On Eleven or Alex Brasserie which gave more daytime options for people.
Rohit Sachdev, founder of Soho Hospitality (Charcoal, Havana Social, Brasserie Cordonnier, The Bar Upstairs, Cantina and Soho Pizza)
When did you open your business on Soi 11?
Sachdev: We opened Above Eleven in 2012. I was born on this soi, it was always residential, then it began to transform to commercial. Today, I believe that it has reached its peak. I think it started with Q Bar and Bed Supperclub and hotels like the Ambassador that have been open since the '80s.
Why do you say it has reached its peak?
Sachdev: It's really more of a commercial area now. The more commercial it became, the higher the value. Many people who own land on this street have sold their properties, it's no longer affordable for a single residence. In lower Sukhumvit, I don't think there's another street that has more value than Soi 11. Back in 2004, land value was about B400,000 per four square meters, today it's over B2 million.
Do you think recent developments will bring a better crowd to Soi 11?
Sachdev: Soi 11 has gone through its ups and downs. When Bed Supperclub and Q Bar closed, I would say the quality of people went downhill. For the past three to four years though, it's on the rise again. Soho Group is currently looking to build another 300-room hotel on the street next year. Recently, the taxi mafia have no longer been allowed to park, which helps a lot.
Jacqueline Sim, director of Venture Group (#FindThePhotobooth, #FindTheLockerRoom, Ping's Restaurants Group, 8 on Eleven, Score Bar)
When did you open your business?
Sim: We opened the official Manchester United restaurant/bar here in 2008. We turned into Champion Bar in 2013, which closed in 2015 as the building was sold. Within a year, we came back as 8 on Eleven around the corner.
Why did you choose Soi 11?
Sim: We liked the soi—it was right in the city center and it was buzzing but wasn't seedy. Of course, you get that kind of stuff too, but not Soi 4 kind of seedy.
What was Soi 11 like when you first came?
Sim: There used to be more shop-houses and residential buildings. I remember when there were little vans selling alcohol in buckets on the street. Of course, if I were a tourist I would have loved it, but as a business owner, I wasn't happy—they were stealing business. They just drove in and didn't even have to pay rent. After the last election, seven to eight years ago, they wiped all that out.
What do you think about the soi now?
Sim: I'm excited. Soi 11 usually goes through cycles of boom and down time. After Q Bar and Bed Supperclub left, Oskar and Above Eleven came. I think the combination of old and new players makes Soi Eleven exciting and I can feel that we are coming up the hill again.
Do you think recent developments will bring a better crowd to Soi 11?
Sim: Yeah, for sure. First, I think better hotels and better business concepts are going to come in, then those will attract a better crowd—of course, there's nothing wrong with the previous crowd. Interesting concepts bring in interesting people.
---
Old Times
BK's favorite Soi 11 hangouts that have stood the test of time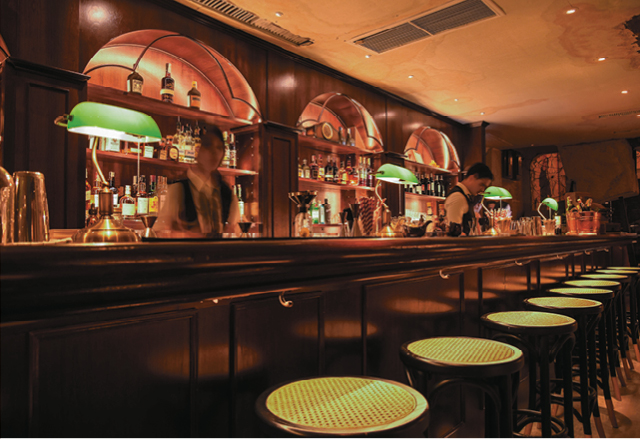 It's so packed we can hardly breathe, let alone dance, but we still get the urge to go there every Friday night.
A pioneer of Indian fine dining in Bangkok.
Underrated little live music bar hidden among the street's shenanigans.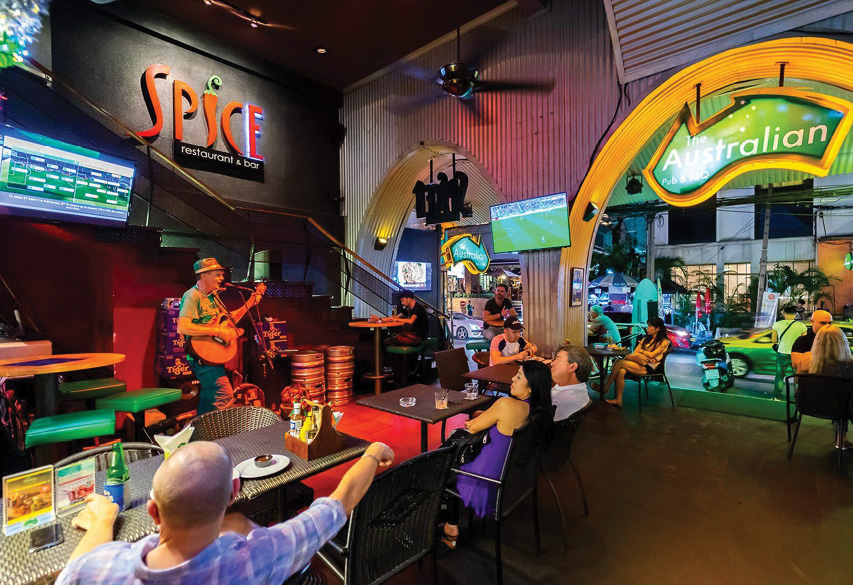 Australian Pub
How many more Maroon 5 songs are we going to have to listen to?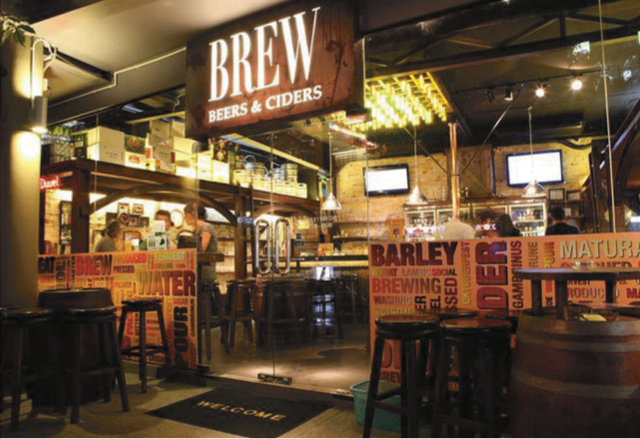 A good spot for pregaming for those Soi 11-goers who are too fancy for Leo. Bonus: Daniel Thaiger burgers.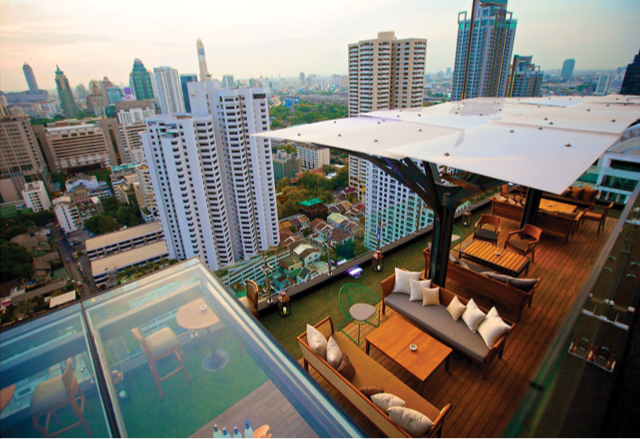 Soi 11 also has a rooftop bar—we often forget that.
A place where the girls who flirt with you may have ulterior motives.
Where else can you get gangsta hip-hop in a real gangsta atmosphere?