From luminaries of the Bangkok bar and craft beer scene to Thailand-born brand owners, these fermentation forerunners tell you how to get started making funky, fizzy drinks at home now.
Kefir
Jeaneah Paik, founder of Bunny Turtle Moon Ferments
A fizzy drink packed with body-friendly goodness, including up to 61 strains of gut-friendly bacteria and yeasts, kefir can be made with water or milk. Both taste great and are easy to make. In Bangkok, Jeaneah Paik was one of the first to teach kefir- and kombucha-making classes. Now, she sells her own products, as well as kefir grains, to those who want to try it at home.
Water Kefir*
Place about 30g (2tbsp) of sugar in a glass jar
Add 1-2 liters of water and stir to dissolve the sugar
Add about 30g (2tbsp) of kefir grains
Cover with a cloth and let sit for 24-36 hours
Strain into flip top bottles
Reserve the kefir grains and use in your next batch or store in the refrigerator, either in sugar water or dry, depending on the grains
Variations
After fermenting 24-36 hours, add 250ml of any fruit juice or puree you prefer

Strain into flip top bottles

Ferment another 12-24 hours, and then refrigerate
Where to find it: Paik's Kapow Kefir—available in several flavors (B150/250ml), including milk kefir (B380/500ml)—can be purchased directly from her Facebook page. She also sells starter cultures, a range of different flavors of kombucha and jun, a kombucha-like blend of honey and tea, through her Bang Bucha and Bang Bucha Jun brands.
Fizzy, tangy kombucha is just brewed tea infused with sugar and a "scoby," or symbiotic culture of bacteria and yeast. You can flavor this gut-friendly drink with all kinds of ingredients—from lemongrass and ginger to strawberries and mint.
Basic Kombucha
Measure 250g of sugar and place it in a well-cleaned fermentation-grade glass jar
Heat 4 liters of water to the proper temperature to brew tea
Brew your tea—unflavored green, white or black tea work best—and immediately pour it into the jar, stirring to dissolve all the sugar
Add a little water—Tibb recommends high-quality spring water—leaving room for the scoby
Once the tea is cool, add your scoby and cover the jar with a cloth secured with a rubber band—never add a scoby to hot tea, says Tibb
Store in a warm (26-29C) place away from direct sunlight
Let it ferment for a week; after that, remove the cloth and stir gently every three to four days
After about three weeks, your kombucha is ready to drink
Want to learn from the pros? Pure Luck periodically leads workshops in Bangkok. Those range from a two-and-a-half-hour "Kombucha 101" class to more advanced workshops on secondary and wild fermentation. They also run a
kombucha school
. Visit
kombuchaschool.com
for more information.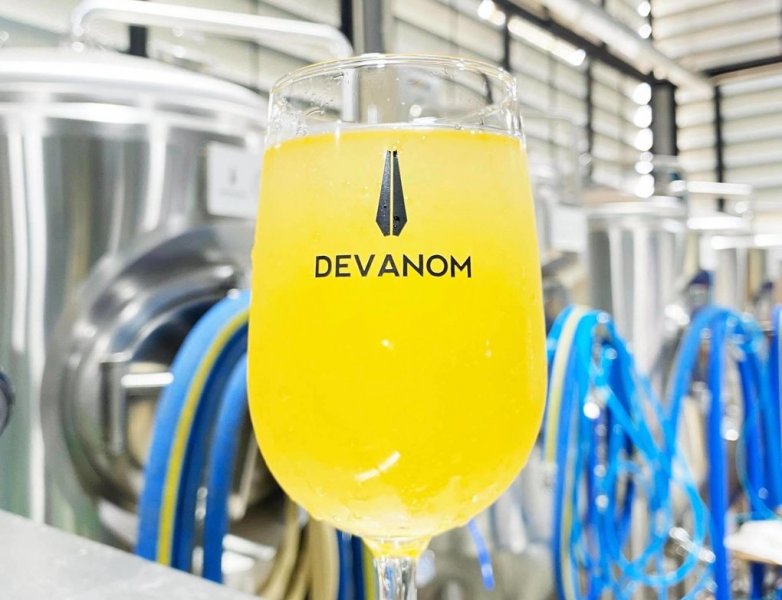 "Mead making is not hard. You can do it with very little equipment. No boiling—just add honey and water together, mix it thoroughly and then add yeast. It's much easier than making craft beer at home."
Nonthaburi-style Mead
For a 20-liter batch, combine 3kg of honey and 20 liters of water in a glass carboy or plastic fermenting bucket
Add white wine yeast and yeast nutrients (both available from homebrew shops like thaibrewshop.co; Devanom also sells advanced yeast for brewing)
Let it sit for about one month to produce mead with 5-6 percent ABV; for traditional mead of 10 percent ABV, age it three to six months
When fermentation is finished, you can sweeten your mead with more honey to suit your taste
Package in clean, sanitized beer bottles
Where to find it:
Devanom's meads—from its flagship Nonthaburi Mead to its Mrs. Lychee and Sour Mocha flavored meads—can be found at bars around Bangkok. They are always available at
Mitr Bar
.
Tepache
A popular street drink in Mexico that tastes like a blend of cider and kombucha, tepache is quick and easy to make. Get some pineapples, sugar and spices; toss it all into a glass jar; and let nature do the rest.
Tropic City Spiced Tepache
Cut two ripe pineapples into smaller pieces—including the skin—and put them into a heatproof glass jar, heavy-duty plastic container or fermenting jar
Add 1kg of sugar, a small handful of cloves, 1 pod of star anise and 3 liters of water
Stir well and wrap the container with cheesecloth
The next day, stir ingredients gently and wrap again
On day three, take out all the sediment and fruit, wrap the container with cheesecloth and let ferment another two days
BONUS RECIPE! Fermented Fruit
Place 2kg of fruit and 1.5kg of sugar in a heatproof glass jar, heavy-duty plastic container or fermenting jar
Add water until combined weight reaches up to 10kg
Dissolve the sugar
Stir daily
In four days, the fruit should be fermented
Eat the fruit or blend into a mixture for use in smoothies, cocktails or coolers
Where to find it:
Tropic City uses tepache in clever ways, like in the popular Love Hangover (B380), which features a spiced tepache reduction with gin, brandied mulberry, peach liqueur and lemon.
Buy some vouchers
, head to Charoenkrung when bars reopen and try it for yourself.
Umeshu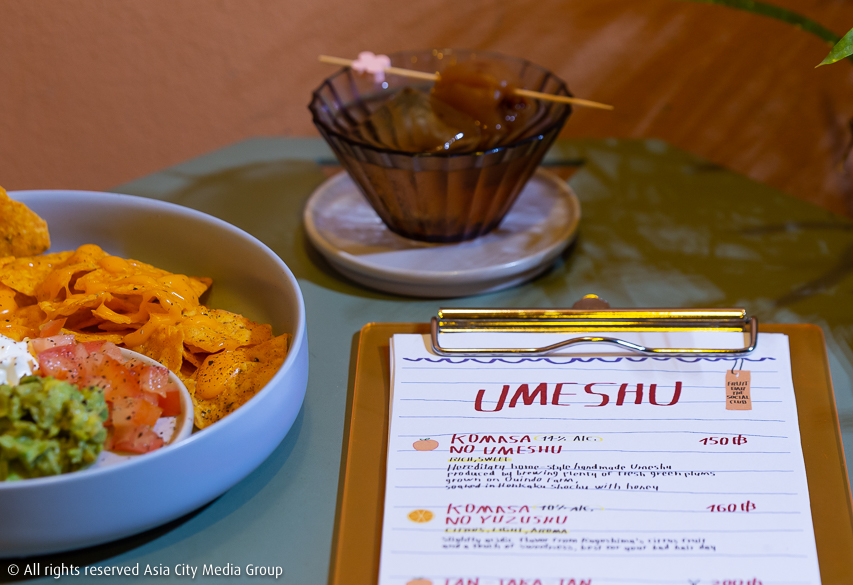 "Making umeshu is easy. The secret of this mellow drink with not-too-strong alcoholic content (around 7-18 percent ABV) is how you combine the plums, sugar and spirit. What really makes it fun to do this at home is the feeling you have a year later when your umeshu can be tasted for the first time," says Piangploy. While umeshu might not be fermented, read on for a funky variation you can experiment with at home.
Umeshu
Combine rock sugar and plums in a glass jar until it is three-quarters full—any plum variety works, although Thai plums are cheapest when in season
For every 1kg of plums, add 500g of rock sugar in layers
Top up with any spirit you like; Piangploy recommends Thai white spirit, "as it's cheap and fun"
Let it age for three months to one year in a cool place away from direct sunlight
BONUS RECIPE! Fermented Plum Wine
Place 2kg of ripe plums in a glass jar and mash to break the skins
Bring 3.5 liters of water to boil and pour over plums
Cover and let it rest in a cool place for 24 hours
Add 1kg of sugar and 5g of lemon juice to the jar; stir well to combine
Add a packet of Champagne yeast and let it rest for a few days
Transfer to a fermenter and ferment two weeks
Bottle and age up to one year
Where to find it:
Visit Ari's Fruit Bar—located in the same space as the daytime cafe, Oh! Vacoda—to try Piangploy's several variations of umeshu and umeshu-based cocktails. Piangploy also leads umeshu-making workshops.
Follow Fruit Bar on Facebook
to see if there is a class coming up, and ping them a message to secure your spot.
*This recipe was amended on Apr 18, 2020, according to information provided by Jeaneah Paik.