China's millennia-old fermented tea has made its way onto Bangkok's health food scene with promises of detoxification and improved digestive health. It's made by fermenting green or black tea with sugar and scoby—a culture made up of bacteria and yeast. The result? A funky-yet-addictive probiotic- and antioxidant-rich drink that's sweet, tart and slightly effervescent. We put some top local brands to a blind test to see who makes it best.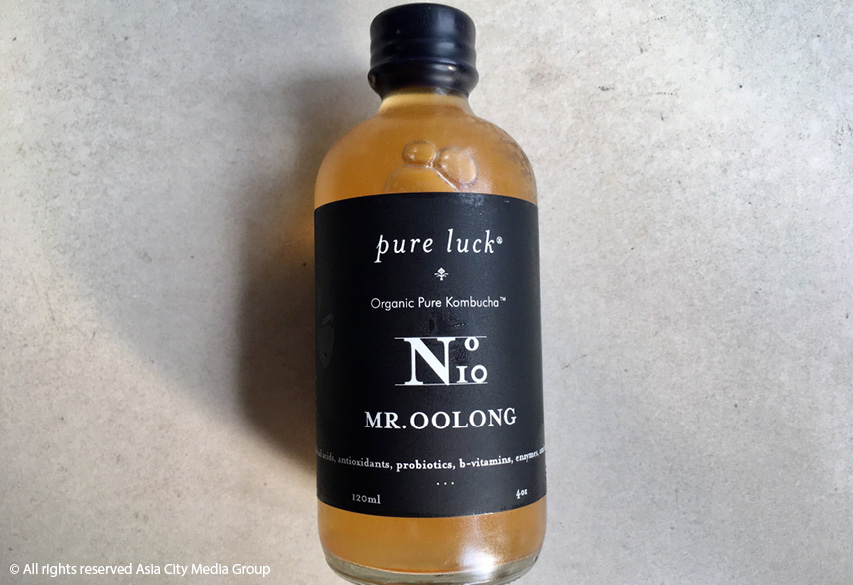 Pure Luck

Winner!
Who:
This New York-born brand claims to have been Bangkok's first kombucha brewery and produces 11 flavors of organic kombucha, including raspberry mangosteen and silver jasmine.
The taste:
Despite having the mildest scent, this is by far the tangiest and funkiest of the lot and also the darkest in color. When you twist the lid, it foams up like soda. On first sip, it hits you with a sharp tang before mellowing out.
Verdict:
Hit me up!
Where:
Oleaf Organic Silom (281/19 Silom Rd., 02-234-6139); The Organique (388/18 Sathupradit Rd., 062-465-1699); Wallflowers Cafe (31-33 Soi Nana, 090-993-8653); Farmer Fresh (561 Sukhumvit Soi 1).
Price:
B125
www.fb.com/pureluckbangkok

The Green Greek
Who:
This organic shop and cafe stocks everything from fresh produce to natural beauty products but the star of the show is its slow-brewed kombucha, in flavors from raw wild honey to lychee with chia seeds.
The taste:
This reminds us of drinking a flat Strongbow cider—it's not so bubbly and is the least complex in terms of flavor. That said, its slightly sweet and not so tangy taste means it's very easy to drink.
Verdict:
Easy does it.
Where:
Habito Mall (G/F, 45/19 Sukhumvit Rd., 098-954-6216). Tonic (Q House Lumphini, 1 South Sathorn Rd.).
Price:
B80
www.thegreengeekbkk.com
Kombucha Bangkok
Who:
After struggling to find kombucha in Bangkok, this brand's French owner decided to make his own. Preservative-free and organic, the kombucha comes in flavors from hibiscus to lemongrass—they even make kombucha soap!
The taste:
Though it has the sharpest vinegary smell, this kombucha yields a clean, mild flavor and a sweet aftertaste. It still packs in some tang and a light fizziness that tingles in your throat. This would be the perfect introduction for newcomers to the drink.
Verdict:
Test drive.
Where:
Various pop-ups across Bangkok, or order through their Facebook page.
Price:
B120
www.kombucha-bangkok.com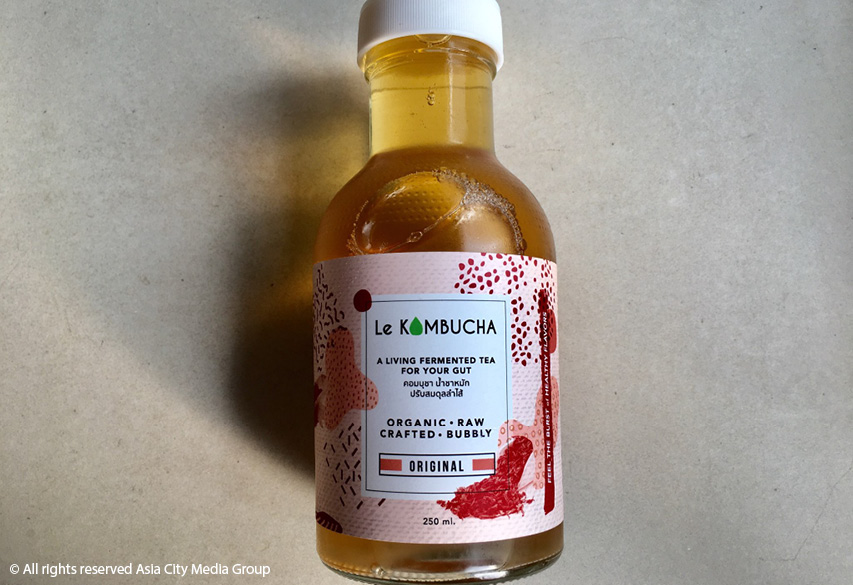 Le Kombucha
The place:
Opened in 2014 by two siblings with a love for kombucha. They brew in small batches and keep the tea raw and unpasteurized to encourage the live probiotic and enzymes.
The taste:
Quite a strong, full flavor with pleasant tingly fruity notes, though at the same time it almost tastes like it's been diluted with water.
Verdict:
Water buzz.
Where:
Sourced Grocers
(The Commons, Thonglor Soi 17); Radiance Wholefoods (20/16, Sukhumvit Soi 39); Sunshine Market (28 Sukhumvit Soi 22); Oleaf Organic Shop (281/19 Silom Rd., 02-234-6139).
Price:
B80
www.fb.com/lekombucha