For when you want to skip straight to the good part. Here is your big list of 20 of Bangkok's tastiest dedicated dessert spots, bakeries, pâtisseries, chocolateries, and parlors.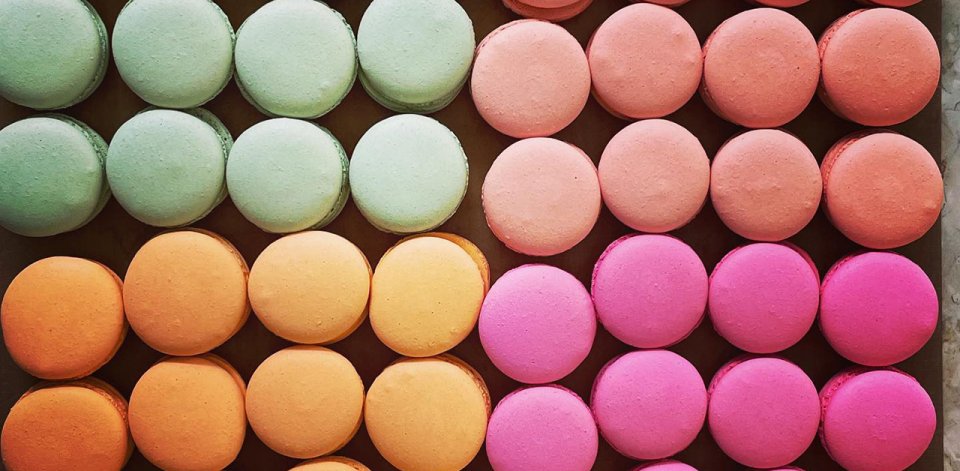 This is a go-to spot for a stunning pack of macarons (5 for B300) for a last-minute birthday gift—or, no one's watching, just eat it. Tucked down a tiny soi in Sathorn, order their larger custom desserts—like their magical fig tart—in advance for special occasions, but also drop into their cafe space for a passion fruit tartlet and a coffee for a rainy afternoon.
1741 Chan Kao Rd., 092-519-6291. Open Tues-Sun 9am-6pm.
Thai desserts are diverse, creative, and exciting, and Baan Dok Pud is where to go to experience treats you never could have imagined. The location is a surprising sanctuary, a hidden mansion on the way out to Lat Phrao, decked out with lush greenery and koi ponds. Sample all the mysterious sweets from Luk Chup - miniature fruits made from mung bean paste, to Kanom Tom - sticky rice dumplings, and everything Foi Thong - golden threads made from egg yolks, sugar, and coconut milk. This is THE place to take your international visitors.
48, Ladprao, Yak 28-16, 085-441-7549. Open Tues-Sun 8pm-5pm.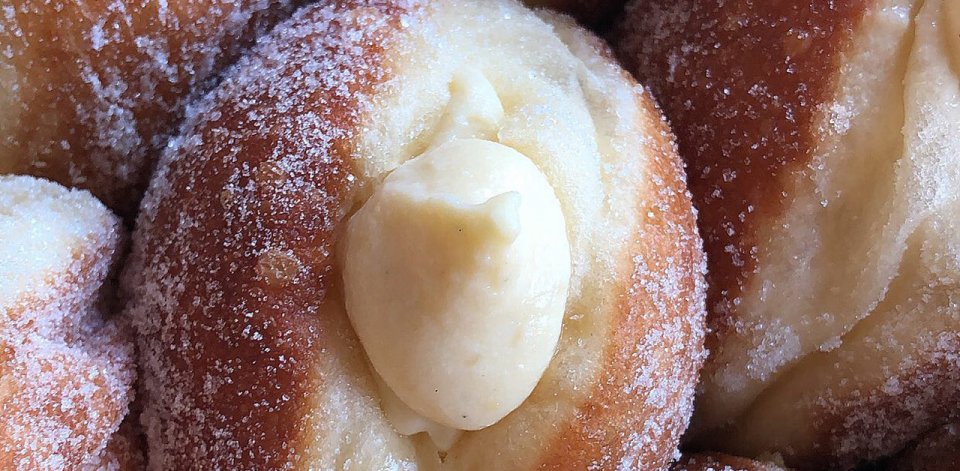 Brassica first opened in 2018 as a fun, hip diner focusing on fried chicken and donuts, and now it's easily one of the finest doughnut spots in Bangkok. Moving from their Nanglinchee spot last year and renowned for their fluffy dough and unique flavors, must-tries include their Leche Flan donut (B120), Kaya Butter, and our favorite, the Burnt Cheesecake. Their doughnuts are in high demand and favorites can sell out quickly, so arrive early.
19/12, Ekkamai Soi 12, Sukhumvit 63, 096-297-5467. Open daily 10am-6pm.
These rolls put Cinnabon to shame. You have to try their original Pecan Brioche (B180)— though the macadamia option is also delectable—and pair your treat with an affogato if you can snag a Parisian-style outdoor table. Other than brioche buns, their tangy yuzu flavored tartlets (B140) are a must-try. The banoffee pie will get the Brits among you emotional, and be sure to keep an eye out for seasonal specials.
156, Naradhiwas Rajanagarindra Rd., Silom, 064-847-0049. Open daily 9:30am-7:30pm.
This dedicated cookie space had to be on the list. These NYC style cookies are never dry because they are stuffed with goodness like peanut butter (B120), lemon cheese pie, strawberry cheesecake, or chocolate. They are plump, huge, and moist, and come in cute gift packs of six, so you can butter up to your friends.
39, 1 Soi Sukhumvit 21, 098-963-5644. Open daily 10am-9pm.
Bangkok's authentic Italian gelato shop now shares space with Brainwake Café in Phrom Phong. Originally founded in 1981 by an Italian Champion Ice Cream Maker, they came to Thailand in 2015. The gelato is prepared each day, adhering to the same time-honored techniques practiced in Italy. Their flavors, such as the delightful pistachio made from genuine Sicilian pistachios, contain no artificial coloring or preservatives. We personally go for the lemon sorbet (B129 for a small).
27, 1 Sukhumvit Soi 33, Watthana, 087-811-6462. Open daily 7am-6:30pm.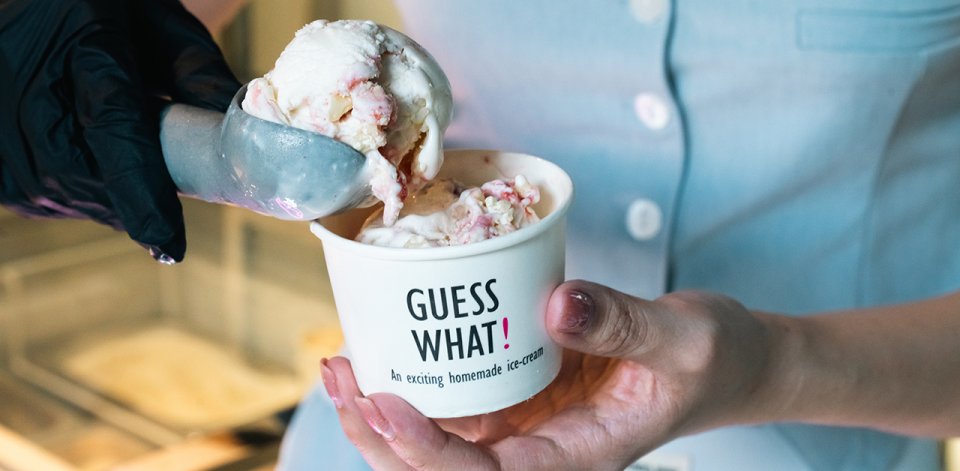 This is a very new space, so it's worth your time to check out. Guess What—or Guess What!—makes new creative flavors that are meant to keep patrons guessing. The names are in little riddles, like the "Can I Call U Bae." It's maple and bacon—yeah, we don't get it either. So, pop down to the ground floor of Seenspace for a scoop of "Corgi Butts" or "State Before Cookie," where you'll also find some favorites like white chocolate strawberry. The idea is that it's homemade, so you never know what you're going to get.
GF, Seenspace, 251/1 Thonglor Soi 13, 02-185-2728. (Seenspace)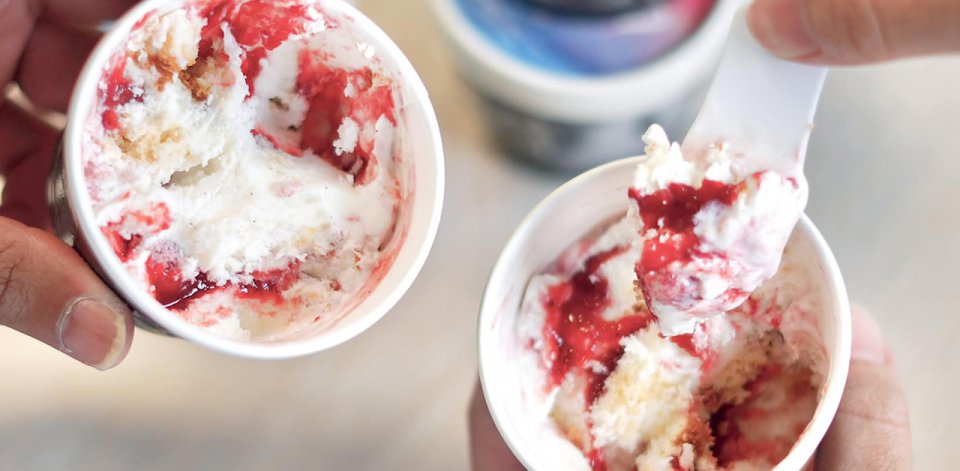 There seems to be another gelato or ice cream spot popping up every week, but Guss is still a favorite. The rapidly expanding chain now has at least 15 locations around town, but check out Ari where you'll find the widest selection and space to sit. With more than 40 flavors on rotation, you will always find something new. Our go-tos are B-Cube (brownie, brown butter, and brown sugar) and Joy (milk caramel and salted butter biscuit) (B160 for two scoops).
1199, Phahonyothin Rd., 097-356-9268. Open daily 10am-11pm. (Also at Samyan Mitrtown, Soi Sathorn 2, Mahatun Plaza, EmQuartier, and The Commons)
You might not have heard of this Polish donut shop which quietly opened back in 2020, but we promise, you are missing out. They have a new cute retro pink shop near Chula with some outdoor seating. Do try the Apple Pie Pączek (B75), the Strawberry Pączek (B55) and some of the best thick milkshakes in Thailand (B99). Leaving its former location inside the 515 Victory Mall last year, Holy Donut Paczkarnia's new shop is in the Samyan area on Soi Chula
131, Suanluang Square, Chula Soi 5, 080-113-5453. Open Thu-Mon 12pm-9pm.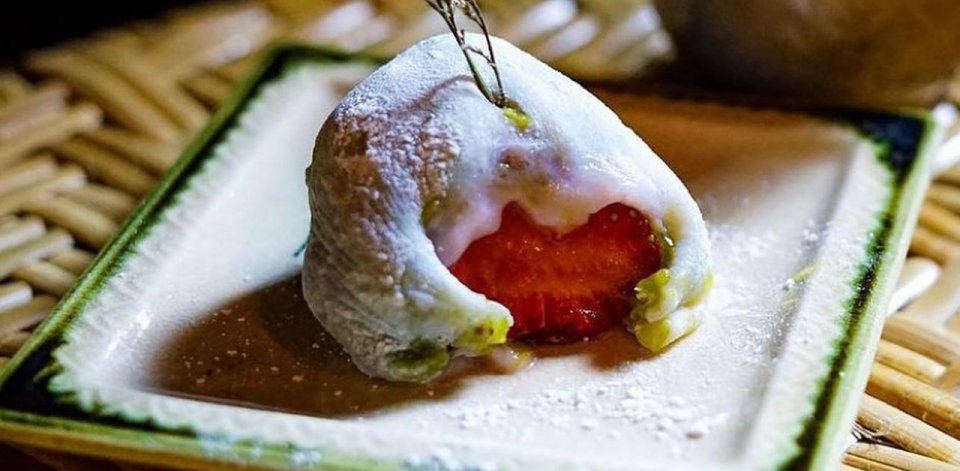 Elegant, sophisticated, and sweet—this Japanese dessert spot in Bangkok is irresistibly chic in a vintage sort of way. They serve traditional Japanese wagashi, and it's all about the daifuku filled with sweet red bean paste, sakura dango, raindrop cakes, stretchy warabi mochi topped with kinako, and tofu annin.
32, Charoen Krung Soi 44, 091-655-4796. Open daily 8am-6pm.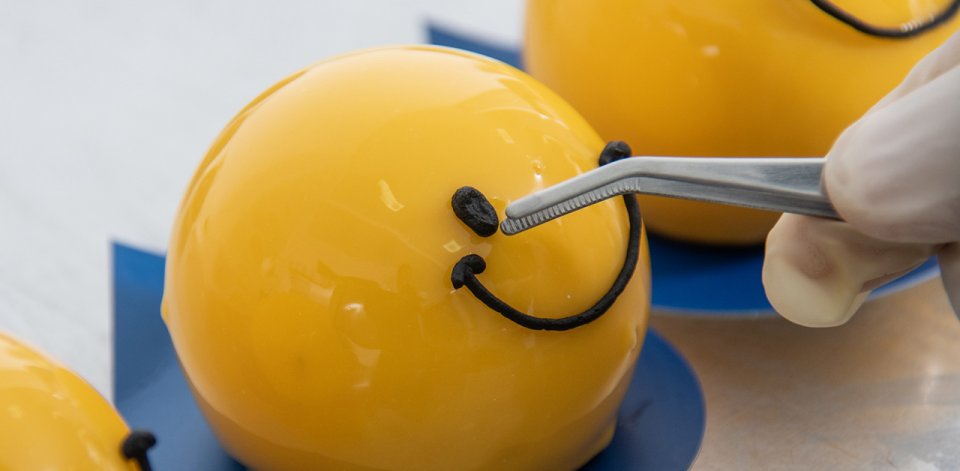 Mousse that looks exactly like a crab claw? Or a starfish? Sure. Why not? ICI is a must just for the surprise factor alone. Adorable little desserts which are as delicious as they are cute. We love the three little pigs cream puffs (B295) and the strawberry soda with sorbet (B185) is a treat. Both locations provide a stylish and comfy backdrop to your sweet afternoon snack.
24 Sukhumvit Soi 27, Watthana, 02-007-3113. Open Tuesday - Sunday, 10am - 6pm (Also at Mahanakhon Eatery)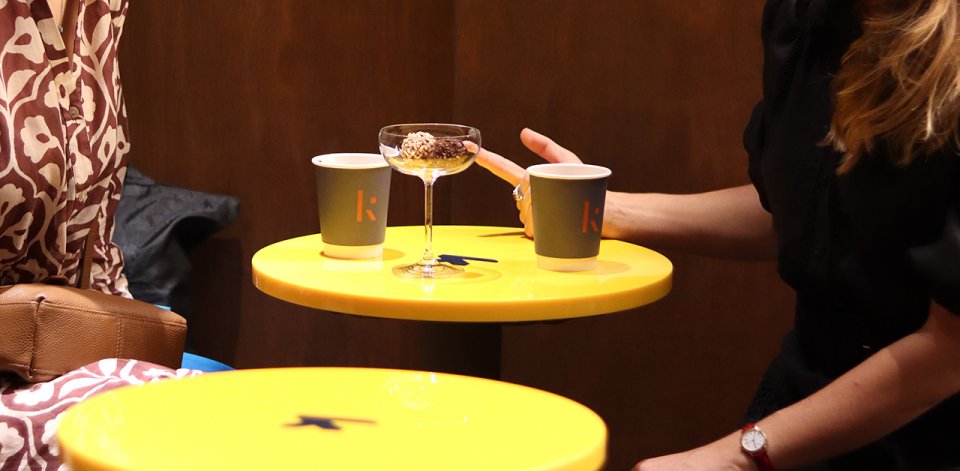 Bangkok's OG Thai chocolate masters have opened a new spot at Velaa shopping center in Langsuan, the latest for this cacao brand, now with four very different outlets in Bangkok. Found behind the garden area of Velaa and featuring walls lined with their famous chocolates, the new space in the glittering, hotel-heavy area of Bangkok will feature a menu only at this spot. In addition to bites and oh-so chocolatey drinks, the new spot features chocolate cacao cocktails and mocktails, as well as a small selection of wines. Peruse the chocolatier, grab a drink, or just pick up some bars to snaffle at home.
Veela Langsuan, 87, Room C115/1, 063-231-1387. Open daily 8am-5pm.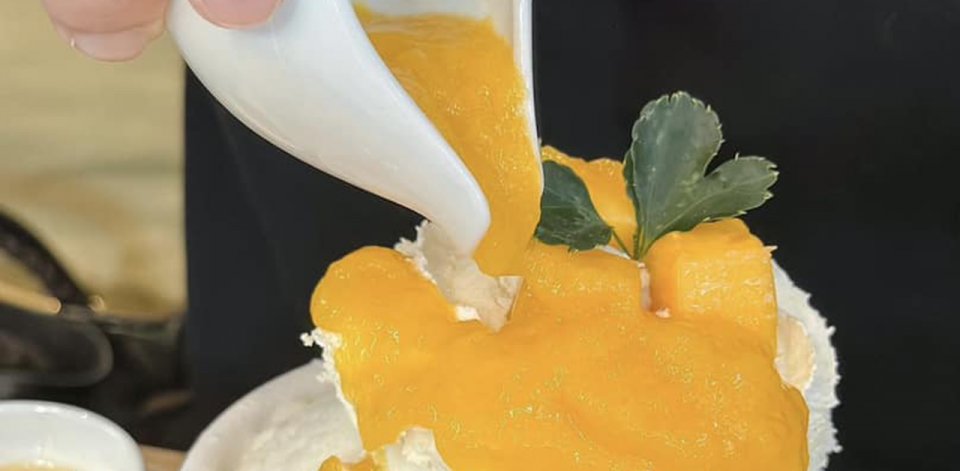 Treat the mango lover in your life to a sweet yellow tropical feast. Get the massive one-liter mango, sago, and coconut smoothie (B245), and if you hate mango (are you mad?), they do have other seasonal fruit special desserts and drinks. Protip: Their adorable two-storey cafe on the riverside has gorgeous views of Wat Arun, perfect if you can score a balcony seat at sunset.
67, Maha Rat Rd., 02-622-0899. Open daily 10:30am-8pm. (Also at Central World, King Power Rangnam, and Nonthaburi).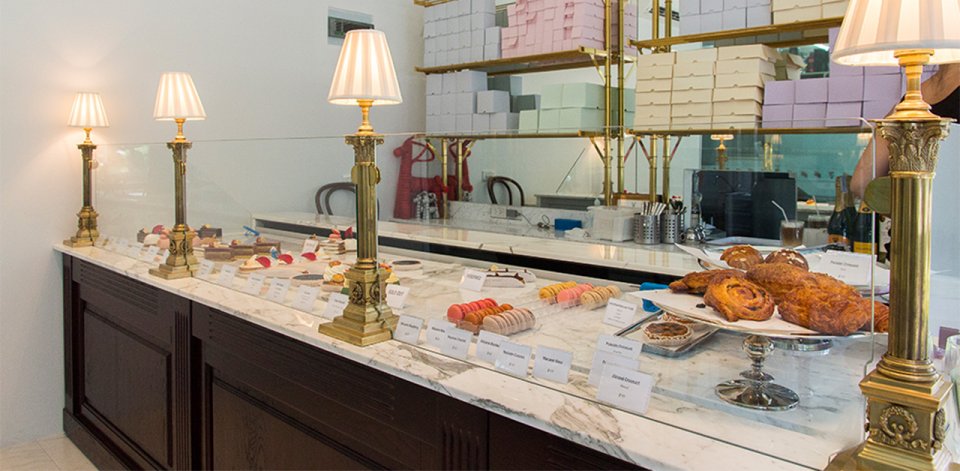 An oldie but still a goodie. Chef Carol Boosaba who graduated from Le Cordon Bleu Paris, is about to celebrate a decade of making pâtisseries in Bangkok. They turn out picture-perfect French treats for the traditionalist, each one consistent and flawless. The Mille-Feuille is just gorgeous, as are their croissants, but apple pie lovers have to try the Tarte Tatin (B235).
27, Sukhumvit Soi 19, 088-870-0020. Open daily 11am-9pm (Also at Central Embassy, Central World, MBK, and EmQuartier).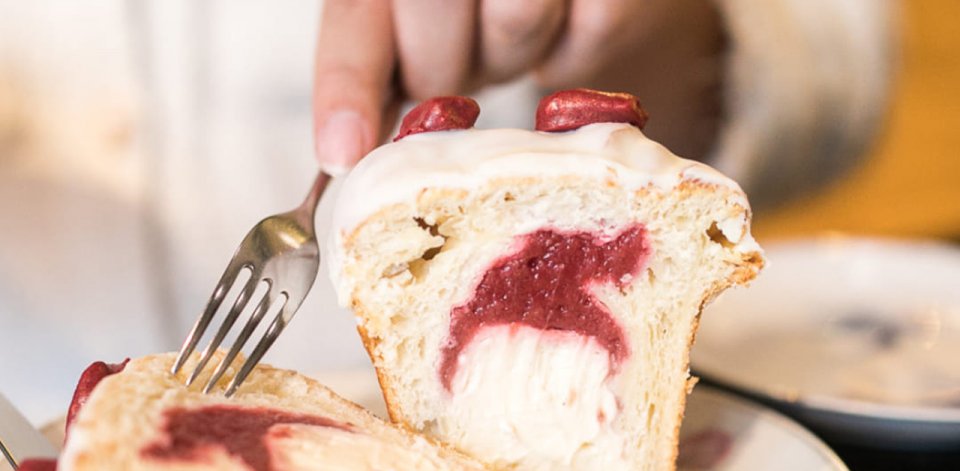 This beautifully vintage shophouse in Thonglor has two levels of seating and a distinctly Parisian vibe. The extravagant pâtisseries feel very posh and are certain to please your Instagram-happy friends—but they're also delicious. Try the Cherry Ripe (B255). And if you have a birthday to go to, be the favorite guest by arriving with a one pound Rosie's Burnt Basque Cheesecake (B1,290).
113/2, Thonglor 10, 092-542-9900. Open Tue-Sun 10:30am-7pm.
Who doesn't like things that jiggle? Jiggly chiffon cheesecakes, jiggly souffle pancakes, jiggly flan puddings, they really put the puff in their desserts. Our favorite treat is their tiramisu souffle pancakes (B119). Their cutesy cafe in Bangkok's old town is a great little oasis from the hustle and bustle. They do large cakes for parties as well.
1367, Charoen Krung Rd., 084-014-3801. Open Mon-Sat, 9am-7pm.

Another incredible Thai chocolatier only using only the best cacao beans sourced from local Thai farmers. Their Ploenchit cafe opened in March of 2022 to serve up homemade coffees and other beverages along with their desserts (and some savory items) in a funky minimalist industrial loft space with floor to ceiling glass walls. You should try the Scarlet—a white chocolate panna cotta and raspberry masterpiece (B245).
59, Prim Raumrudee, Soi Ruamrudee 2. 092-828-5444. Open daily 8am-6pm.
We have been assured by our Italian friends that this place is legit and the best in the city. They specialize in tiramisu - which means "pick me up" in Italian - with its luscious layers of espresso-soaked ladyfingers, velvety mascarpone cheese, and dusting of cocoa. It is not too sweet, but super rich and decadent. They keep the menu simple, with just a few fruity variations on the classic. They include cherry, coconut, and even durian for those brave enough. We stick to the original though (B139 for the small).
Ground Floor, The Trendy Office Building, Soi Sukhumvit 13, Watthana, 094-663-6965. Open daily 8:30am-12am.
Have you ever been eating cake and thought, "There just aren't enough plastic flowers around me right now"? Thongyoy solves this problem. The kitschy, whimsical Ari location is a content creator's dream come true. The saccharine aesthetics are more for the decor though, with desserts taking on a more subtle sweetness of Asia-inspired treats. The Thai dessert set is absolutely gorgeous, but the passionfruit cheesecake (B150) is our favorite with its thick biscuit base. They also have a branch in Siam Paragon which is equally OTT.
24, 4 Soi Ari 4 Fang Nua Alley, Phaya Thai, 098-748-4661. Open daily 9:30am-9:30pm.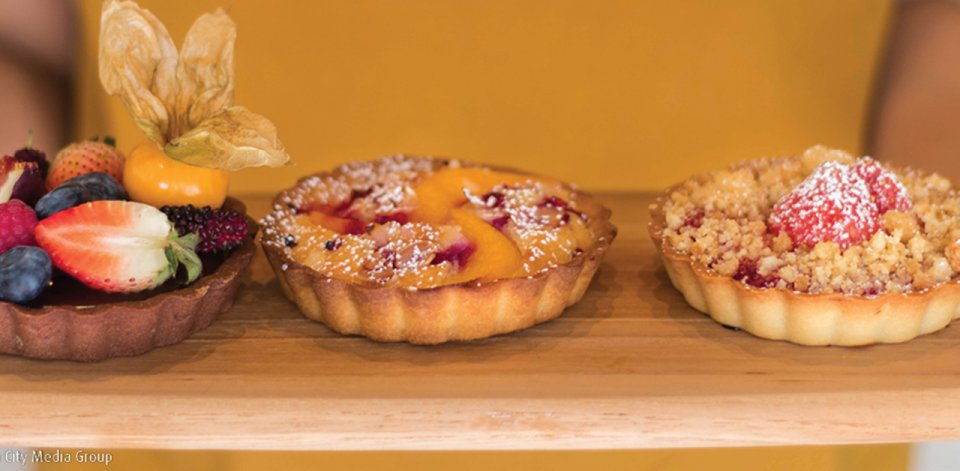 Australians, rejoice! Sticky date pudding (B110), the staple trendy cafe dessert—which is conspicuously missing from menus in Thailand—can be found at Yellow Spoon's delightful Ekkamai coffee shop. We love their cannelés, and the lemon meringue pie fans won't be disappointed either. Their signature venue is (thankfully) not in a mall and boasts adorable sunny yellow interiors, perfect for a sweet date.
582/15 Soi Sukhumvit 63, Watthana, 085-482-2842. Open daily 10am-8pm. (Also at Emquartier, Central Festival Eastville, Central Rama 3, and Little Walk Bangna).