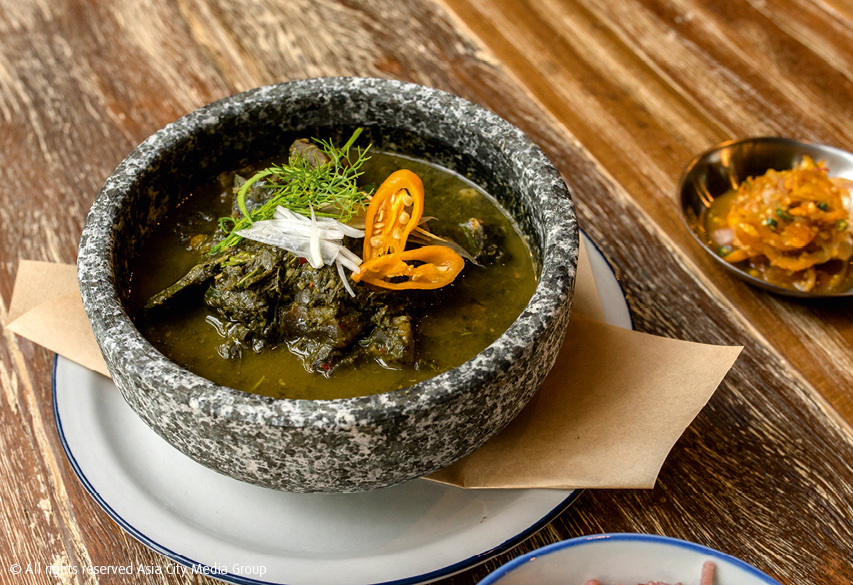 Tom Kee Lek Hang Wua at 100 Mahaseth (B320)
If you're looking for a curry with mind-bending depths of herbal, spicy, well-stewed intensity, this is it. Thanks to ample time amalgamating, the stewed oxtail becomes a decadently fatty thread that runs through the rich, eye-poppingly green combination of cassia leaves and chili. It's stuff like this that makes 100 Mahaseth a kitchen to be reckoned with.
100 Mahaset Rd., 02-235-0023. Open daily 6-11pm
Good khao soi? In Bangkok? It can happen. This Northern-hailing noodle shop avoids the capital's scourge of watery and underwhelming broths with a dish that brims with creamy, heartwarming flavors. One bowl is never enough, but make sure you save space for the deliciously moist poo ong (a mash of grilled rice-field crab's eggs and egg, B79/5 pieces).
17 Phahonyothin Soi 7, 02-003-5254. Open daily 10am-9pm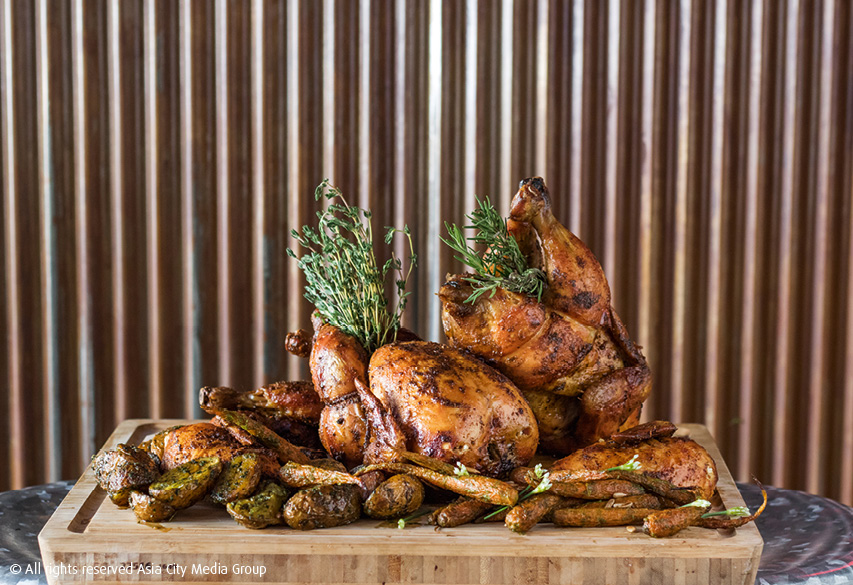 With its skin charred into a beautifully golden shine and backside stuffed with rosemary-and-thyme plumage, this whole-roast bird makes a feast of epic proportions. You'll be needing a side of the rotisserie dripping juices (B120) to go with, as well as plentiful Amantee bread to mop up anything and everything that didn't make it to your mouth in the first go.
378/1 Soi Amon, Nang Linchi Rd., 095-594-6675. Open Tue-Fri 5:30-10:30pm; Sat-Sun 11:30am-3pm, 5:30-10:30pm
Bafun Uni Udon at Sea Truffles (B499)
What we have here is uncensored, premium-produce pornography. Sea Truffles made its name as an importer of high-grade sea urchin (supplier of choice to Crab & Claw) before opening this restaurant in the Commons-esque Foodtopia restaurant community, where it serves the most decadent noodle dish in town: spongy, perfectly prepared udon dressed in a sinfully rich uni and salmon roe sauce.
The Opus, Thonglor Soi 10, 081-694-4186. Open daily 5-11pm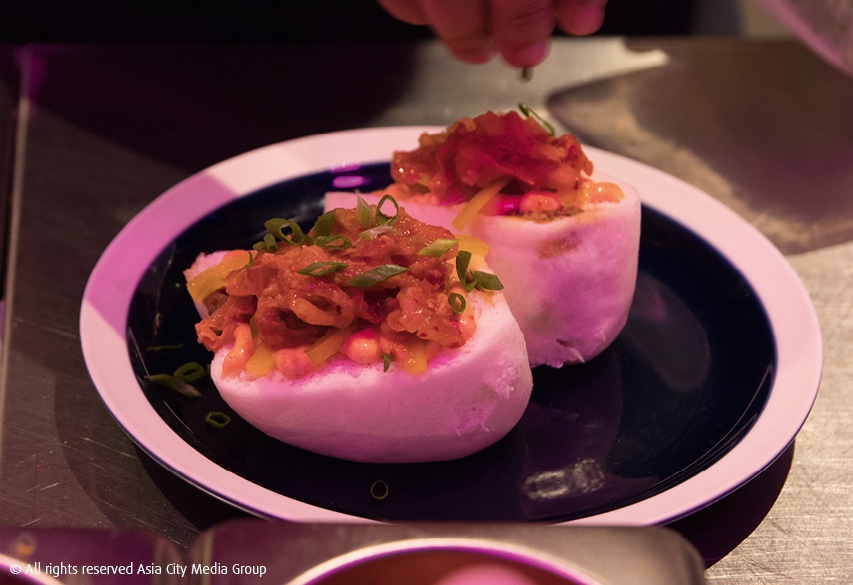 Beef Brisket Bao at Hopeland (B280)
Long live the bao! Taking over from the gone-but-not-forgotten Little Bao at Thonglor's 72 Courtyard, this computer-console-packed, Tiki-cocktail-toting new venture keeps the spirit of Chinese buns alive. The star of the menu comes loaded with melt-in-your-mouth beef brisket, as well as the all-important tang of a well-made kimchi.
72 Courtyard, 72 Sukhumvit Soi 55 (Thonglor). Open daily 5pm-2am
First out of the gates for Warehouse 30's foodie players was this beautifully wholesome soup specialist. What they call "Moon Soup" we call crabmeat and squid ink soup, complete with a velvety texture and tantalizing egg yolk poking out from a pond of jet black broth.
Warehouse 30, Chareonkrung Soi 30. Open daily 11am-11pm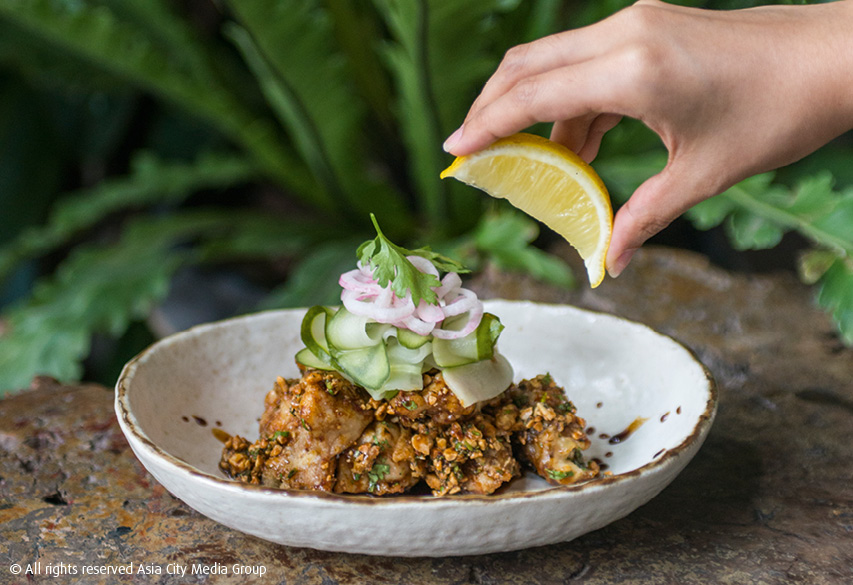 The only thing better than chef Tan Kosiyabong's piled-high mass of fried, deboned chicken is the sauce in which it sits—a gooey, decadent mix of ground peanuts, sweet soy sauce and lemon. Eat it with the lime-and-lemongrass-packed E-sarn Classic cocktail (B120).
460/8 Sirindhorn Rd. Open Tue-Sun 11am-11pm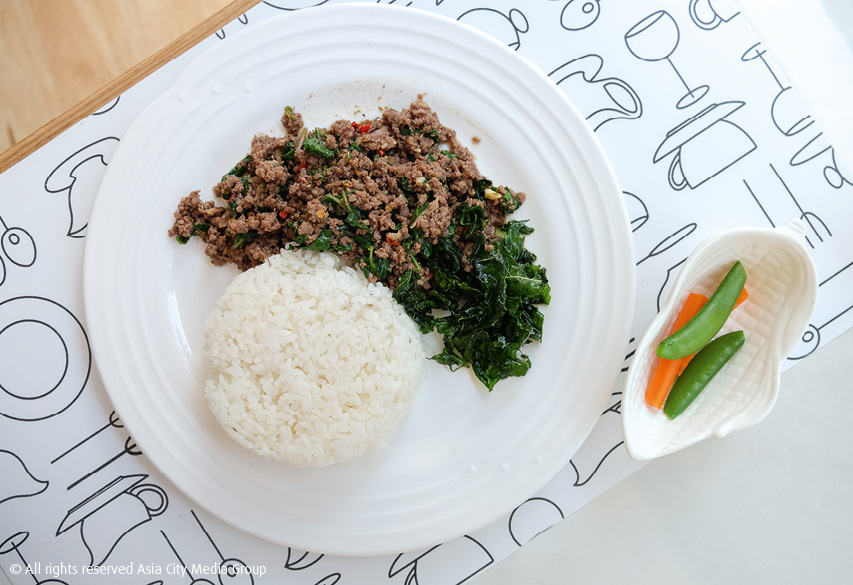 Dry-Aged Beef Pad Kaprao at Kaprow Khun Phor (B129)
Tucked down a vibrant, multicultural Silom backstreet, this little cafe relishes in the simple bliss of a well-made holy basil stir-fry. Using Company B's dry-aged Australian beef, the kaprao nuea sup is a flavor packed assault of juicy meat and fiery chili.
19 Soi Pradit, Silom Rd., 065-509-9693. Open Mon-Sat 11am-8:30pm
Noko Gyokai Tsukemen at Menya Itto (B270/350)
Bangkok's ramen lovers were queueing up for hours when this Tokyo import opened. Menya Itto boasts of being the no. 1 ranked ramen shop on tabelog.com, which is Japan's most used restaurant ranking site. Its tsukemen (dipping ramen) doesn't disappoint, with bouncy, house-made noodles that were made for dipping in the deliciously light seafood and chicken broth. Think ramen's greasy? You need to try Menya Itto.
LG/F, Erawan, 494 Phloen Chit Rd., 02-250-7669. Open daily 11:30am-2pm, 6pm-10pm
Mandarin Tart at Tarr Tarr (B180)
Bangkok is the first city outside of Korea to welcome Tarr Tarr's fancy tarts with eye-catching fruity toppings, various cream cheese-based fillings and a cookie-like dough base. Their mandarin tart with crusted pistachio base tastes amazingly fresh.
G/F, Siam Paragon, Rama 1 Rd., 061-646-0555. Open daily 10am-9:30pm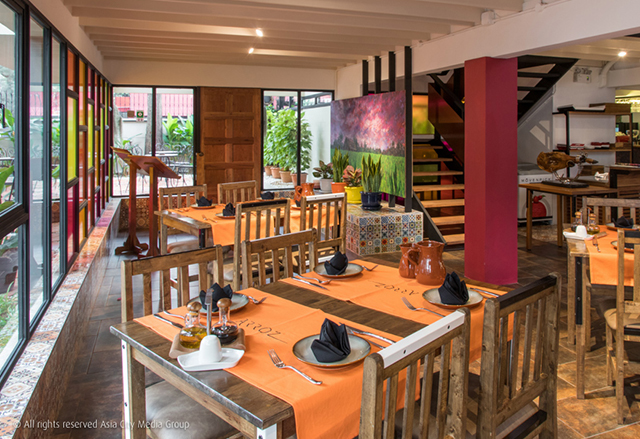 Arroz Caldoso with Monkfish at Arroz (B460)
This dish at the Spanish kitchen of Victor Burgos literally translates to "brothy rice," and sits somewhere between a paella and risotto. As it's not served in a pan, you don't get those amazing crispy bits that paella possesses, but the black creamy rice with monkfish cheek is still an absolute must-order. The broth bursts with beautiful seafood and shellfish notes; the chewy bits of octopus add texture to the firm but yielding rice; the monkfish is delicate yet flavorful.
112 Sukhumvit Soi 53, 02-258-7696. Open Mon-Thu 5:30pm-10pm; Fri 5:30pm-10:30pm; Sat-Sun 11:30am-2:30pm, 5:30pm-10:30pm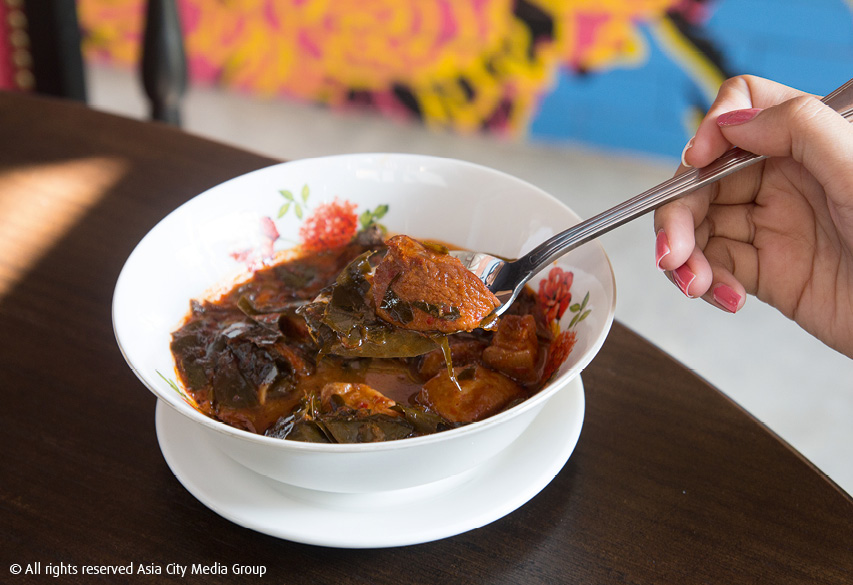 Moo Chamuang at Sri Trat (B220)
If there's one restaurant where you need to book around Phrom Phong right now, it's this one. (OK, this one and Masato.) That popularity comes thanks to the kind of simple, no-nonsense Thai dishes served in an elegant but fuss-free setting that made Supanniga such a success. Incidentally, the star of the show here is also a delicious moo chamuang curry, featuring buttery-soft pork belly in a rich chamuang leaf stew.
90 Sukhumvit Soi 33, 02-088-0968. Open daily noon-1am
Barbecued Beef Short Rib at Le Cochon Blanc (B1,250)
Made with 250-day grain-fed black Angus beef that undergoes 3-5 hours of smoking on top of two days in the sous-vide machine, this succulent slab of bone-in cow maintains intense juiciness while delivering real texture and flavor.
26 Sukhumvit Soi 31, 02-662-3814. Open daily 6pm-11pm
The onion soup at Sukhumvit Soi 11's new French bistro is a thing of sticky, thick, cheesy, caramelized beauty. Inventive? No. But who needs inventive when sticking to tried-and-true methods and flavors results in a dish that's as lick-the-bowl-clean good as this one? More, please.
33/30 Sukhumvit Soi 11, 094-970-8599. Open daily 6pm-midnight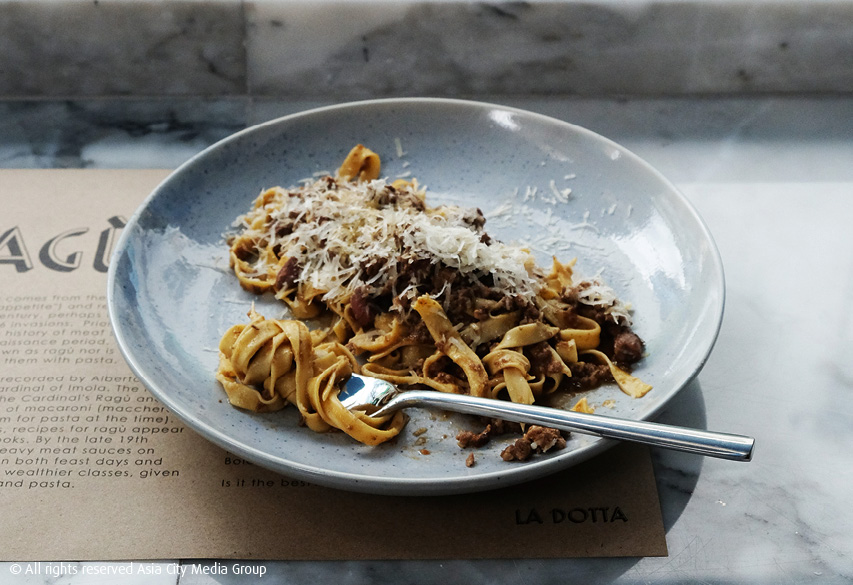 Tagliatelle Bolognese at La Dotta (B590)
The aquamarine Italian diner's high point features wagyu beef shoulder stewed into the ultimate, fully-flavored ragu. Decadence befitting the price tag.
161/6 Thonglor Soi 9, 02-392-8688. Open Tue-Sun 11am-2:30pm, 5:30pm-11pm
Barracuda Tacos at Tacochela (B280)
Good tacos are no longer all that hard to find in Bangkok (they can be had right around the corner from here at Casa Azul), but there's always room for more. At this follow-up opening from the Mikkeller team, opt for the golden yellow, salty-yet-sweet corn tortillas, packed with moist, fried barracuda and coated in spicy mayo.
Ari Samphan Soi 1. Open Tue-Thu 5pm-11pm; Fri-Sat 5pm-midnight
Beef Tartare at Pesca (B250)
There's a reason this little flavor bomb of diced beef deliciousness arrives sitting in an oyster shell. Pesca's kitchen (the Mediterranean sister to Sukhumvit's Cocotte) turbocharges it with oyster juice, then serves it alongside a mousse of oyster and ponzu sauce to create a next-level tasty, new-school beef tartare.
39 Ekkamai Soi 12, 063-267-7778. Open daily 11am-3pm, 6pm-11:45pm
Bread Stuffed with Minced Lamb at Gaa (part of the B2,000-2,600 tasting menu)
Stuffing juicy minced lamb into freshly baked bread was only ever going to go one way: awesomely. In the case of Gaa, the Gaggan-baiting high-concept restaurant from one of his former sous-chefs, it marks the down-to-earth highpoint on a tasting menu of some 12 courses—doughy, comforting, meaty, buttery, wonderful.
68/4 Soi Lang Suan, 091-419-2424. Open daily 6pm-11:30pm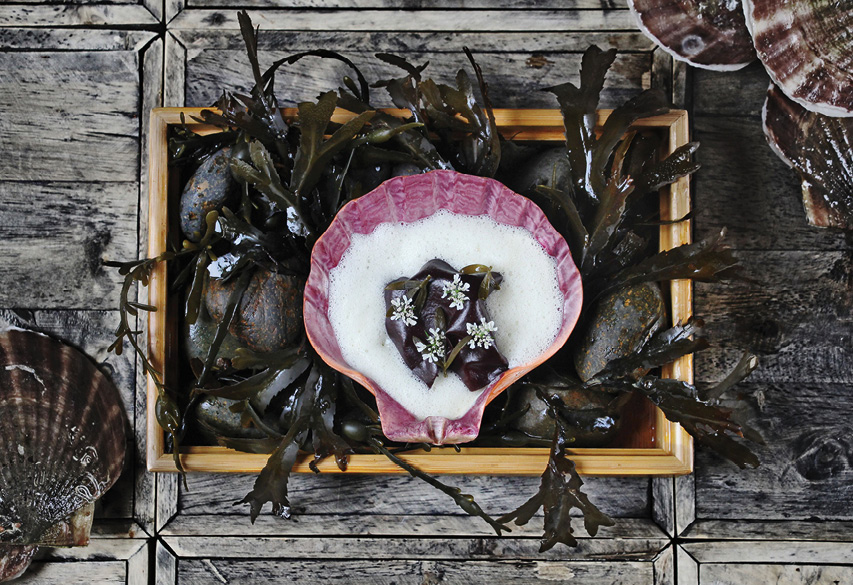 Vikings Discovered Istanbul at The House on Sathorn (part of the B2,800-3,800 tasting menu)
There's a lot to love about chef Fatih Tutak's new menu, which offers possibly the only taste of contemporary Turkish fine dining outside of Turkey. This particular course makes its presence felt with one of the plumpest, most succulent oysters we've ever encountered (sourced from Norway, hence the dish's name), which he dresses in a rich mix of sea fennel and black olive. Delicious!
106 Sathorn Rd., 02-344-4025. Open daily noon-midnight
Gluten-Free Shrimp Noodles at Canvas (B360)
Dressed in an unbelievably flavorful seafood sauce, these unctuous, sticky threads of wheat-free carbohydrate also pack kaffir lime and a gentle dose of chili for a local yet totally unique kick.
113/9-10 Sukhumvit Soi 55 (Thonglor), 099-614-1158. Open Sun-Thu 6pm-midnight; Fri-Sat 6pm-12:30am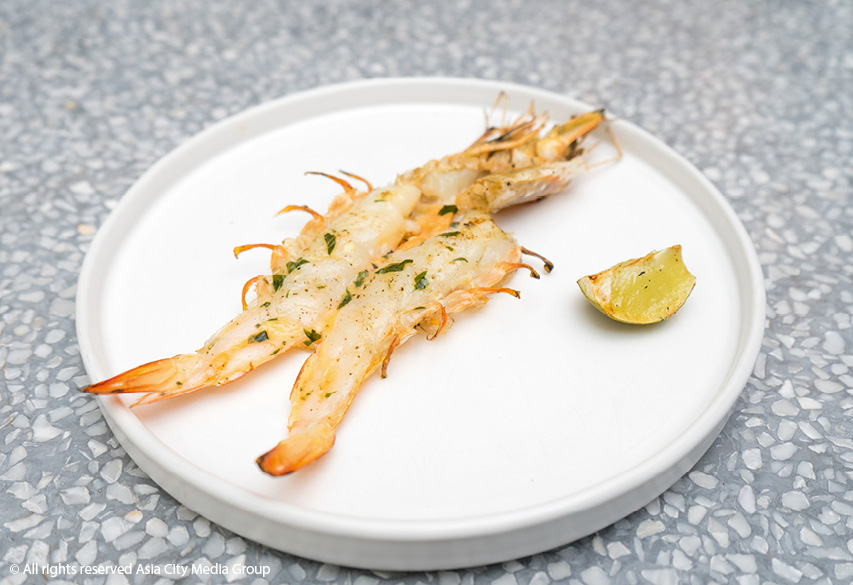 Durian Prawn at Jua (B200)
At his hip Charoenkrung izakaya, chef Chet Adkins (formerly of Ku De Ta's Signature) turns out charcoal grilled Japanese-style bar food. His banana prawns grilled over longan wood do justice to the excellent produce with a light coating of durian butter—way better than it sounds.
672/49 Charoenkrung Soi 28. Open Wed-Sat 6pm-midnight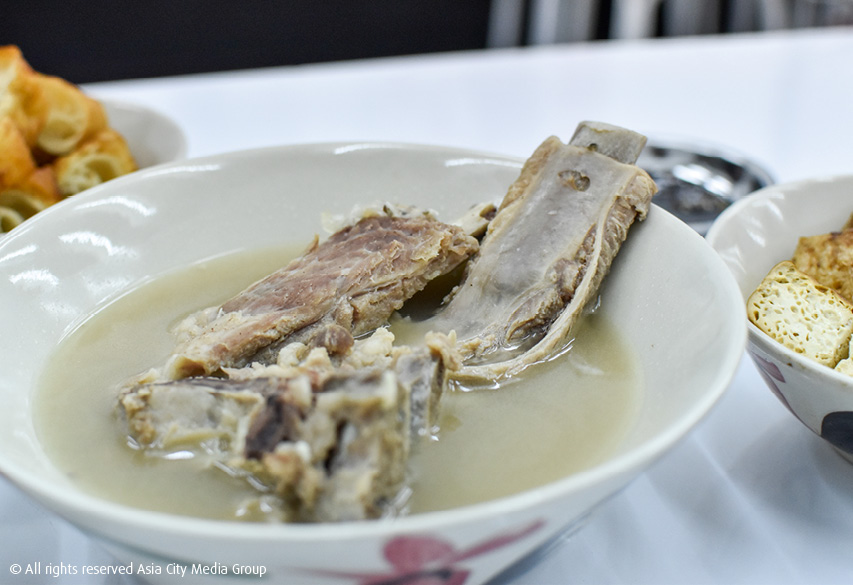 Bak Kut Teh at House of Bak Kut Teh (B120)
Forget the Michelin-lauded Hawker Chan—Bangkok's real Singaporean action is happening here, where the team from Sukhumvit's Bottles of Beer dishes out the ultimate in drunken soups till 4am—a herby, Teochew-style broth with pork ribs that's often hailed as a fail-safe hangover cure.
1/4 Sukhumvit Soi 49, 064-310-3755. Open Tue 5pm-midnight; Wed-Sun 11:30am-midnight
Gambas al Ajillo at Broken Eggs (B210)
Galician-born chef Jacobo Astray, the guy behind Bangkok-based private fine-dining business Gula, serves his classic garlic shrimps in an ample portion with plenty of robust, crispy garlic.
112/7 Ekkamai Soi 69-71, 02-047-7811. Open Tue-Sun 5pm-11:30pm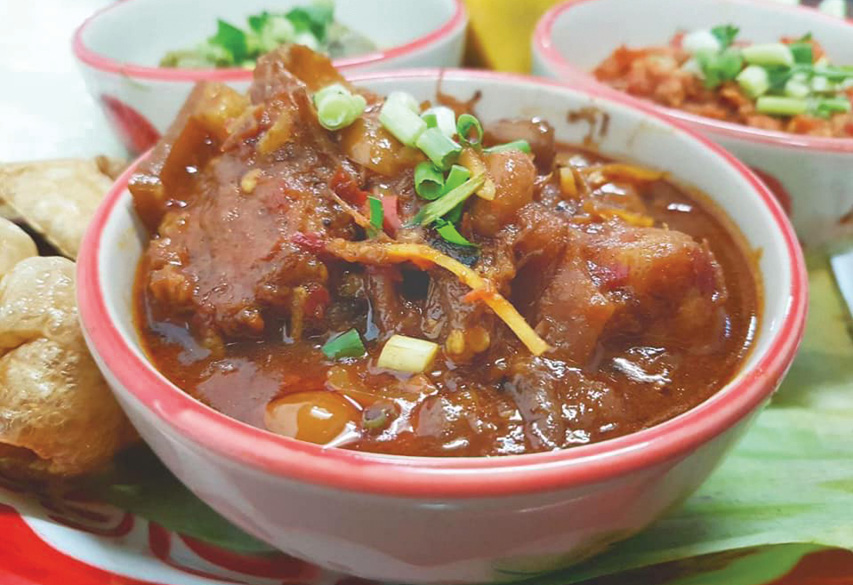 Gaeng Hang Lay at Eats Payao (B180)
This bright pink shop-house has quickly become Sathorn's go-to for a bowl of rich, creamy khao soi. That's not the only dish punters are enamored with, though. This Burmese-influenced dish sees juicy, fat-layered pork belly coated in a curry bursting with the flavors of turmeric, ginger, peanuts and spices. Down-to-earth yet decadent.
95/3 Nang Linchi Rd., 094-303-5833. Open Tue-Sun 11:30-11pm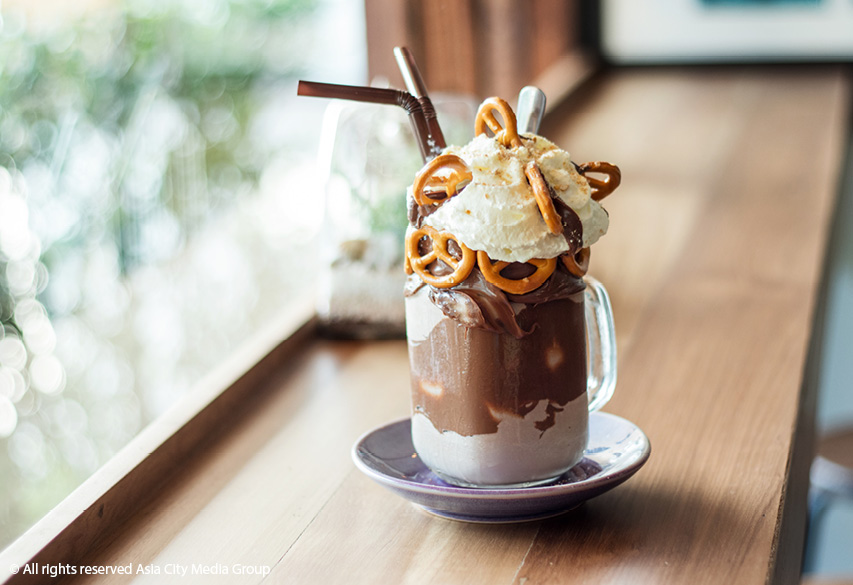 Freakshakes at Patissez (B190)
This Canberra-hailing brunch cafe claims to have launched the "freakshake," those IG-friendly milkshakes piled high with cookies, cream and other dessert toppings. Have your sugar-laden, meal in a glass in one of five different varieties: Nutella pretzel, mint chocolate, banana caramel, watermelon and berries or, our pick, the Bangkok-exclusive Thai tea white chocolate.
Parc 39, 5/9 Sukhumvit Soi 39, 02-185-3258. Open Mon-Fri 10am-6pm; Sat-Sun9am-9pm
Goat Cheese Churros at Rico (B280)
Central Embassy's new Spanish player may not score any points for authenticity. However, these creative plates underpinned by North African influences don't lack for flavor—the scrumptious savory goat cheese churros, featuring olive dough and quince aioli, alone are worth repeat visits.
6/F, Central Embassy, Phloen Chit Rd., 02-119-7777. Open daily 10am-10pm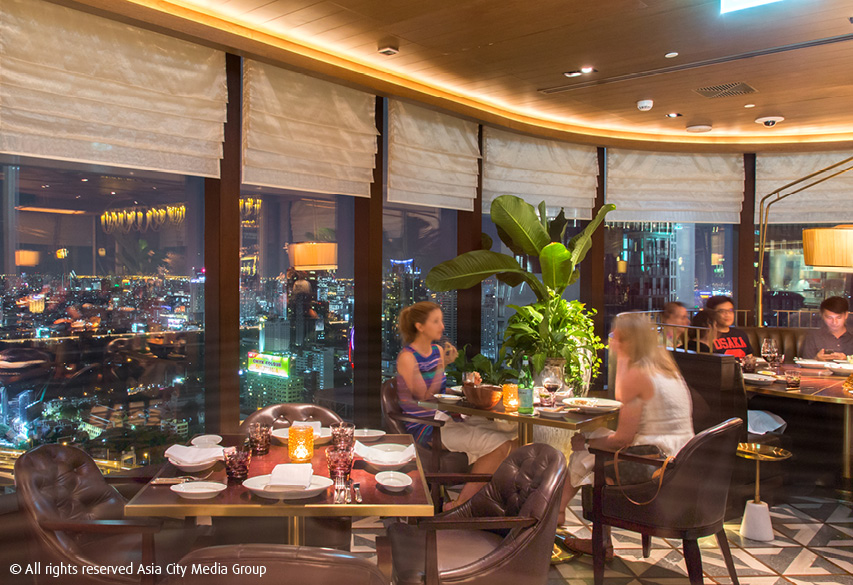 Mac and Cheese at Penthouse (B180)
The fancy three-floor steakhouse and bar complex atop the Park Hyatt hotel screams red meat, stiff drinks and amazing views. While we can't always drop B2,650 on a Japanese Matsunaga A3 wagyu striploin, this "hi-so" take on a comfort-food classic still hits the high notes thanks to the delicious addition of porcini and morel mushrooms.
34-36/F, Park Hyatt, 88 Wireless Rd., 02-012-1234. Open daily 4:30pm-midnight
As well as expanding to a second branch earlier this year, Sukhumvit's uncompromising teahouse also introduced these beautiful shaved yogurt desserts made with the same quality of ingredients as their exceptional teas.
47/1 Soi Sukhumvit 49, 097-267-2626. Open Mon-Fri 8am-10pm; Sat-Sun 10am-10pm