BANGKOK RESTAURANT
Tacochela
Mikkeller brings a love of tacos and beer to Ari.
Danish microbrewery Mikkeller combines tacos and beer at this Ari venture exuberantly decked out in rainbow-colored chairs and window frames. Corn and flour tacos come heaped with toppings like fried barracuda drizzled in spicy mayo, or beef steak with herby chimichurri sauce. Mexican-born chef Jimmy Rojas Lopez also whips out spice-heavy dishes such as longaniza (Spanish sausages with smoked chipotle) to go with 20 different beers on tap.
Mikkeller, the Danish microbrewery that opened a
bar in Ekkamai
in 2014, also runs this Mexican restaurant in Ari specializing in tacos.
It's a rainbow-colored, fun-loving kind of a place—all Latino music, airy vibes and beer swilling (a glass of Mikkeller Double Leaf Pale Ale [B220], recommended by friendly staff, has this light aroma of tea that goes great with the spicy food). With a well-done bowl of guacamole at hand—big chunks of avocado left unmashed and bursting with zesty flavors—you can sample 20 beers on tap.
That should give you plenty of time to work your way through some 12 different tacos on your choice of corn or flour tortilla. Be sure to order the grilled shrimp (B280/three tacos), which are all refreshing pineapple, zingy lime and juicy seafood. The chicken tinga (spiced, shredded chicken, B220/Three) carries full, Mexican flavors and is topped with that lovely guac'—but we could do without the mayonnaise.
All the fillings are aided by tortilla bases that, whether corn or flour, are soft and never too tough. It's a shame then that the slow-roasted pulled pork (B240) with its too-sweet chipotle sauce doesn't really do them justice. The chorizo enchiladas don't quite nail the flavors, either—sour and also watery. You have a tray of four dips and onion pickles to go with everything, which is a good thing. The cashew sauce—thick, sweet and creamy—helps to paper over the flavor cracks in some of the tacos.
For dessert, Tacochela's idea of a churro (B185) is more like a cake: not as crispy as typical churro but still very comforting, especially when dipped in cajeta—a Mexican goat milk and caramel sauce that here tastes wonderful. We'd also advise you get a fat scoop of the Mexican-spiced ice cream sprinkled with honey-coconut crumble (B80).
For anyone living north of BTS Siam hankering after Mexican food, you could do a lot worse than this easygoing little spot. But when next asked, "Best-tacos-in-Bangkok?" we won't be swapping our answer from Missing Burro any time soon. No outside alcohol allowed.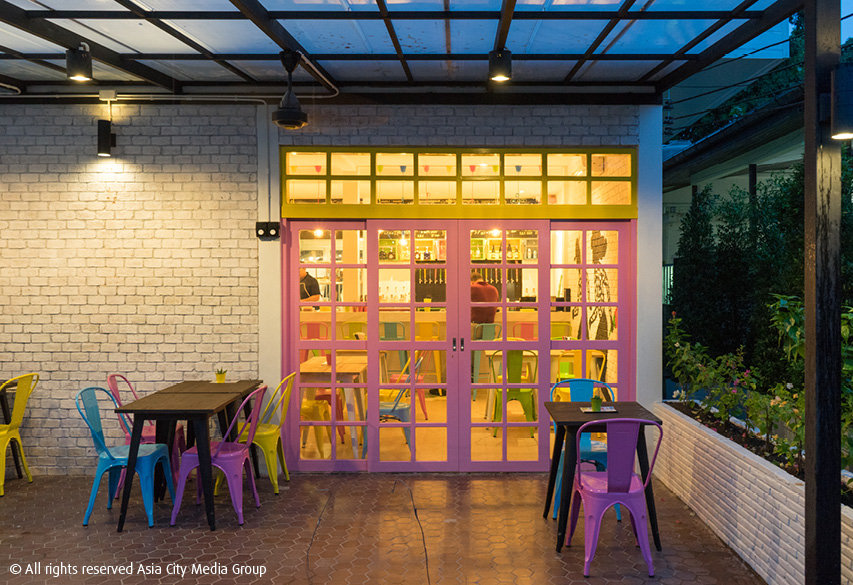 ---
This review took place in April 2018 and is based on a visit to the restaurant without the restaurant's knowledge. For more on BK's review policy, click here.
Venue Details
Address:
Tacochela, Ari Samphan Soi 1, Bangkok, Thailand
Website:
www.facebook.com/tacochelabkk/
Area:
Ari
Cuisine:
Mexican
Price Range:
BBB -

BBB

Open since:
October, 2017
Opening hours:

Tue-Thu

4pm-10am

;

Fri-Sat

4pm-11am

Parking available
Report a correction