UNDER B500 net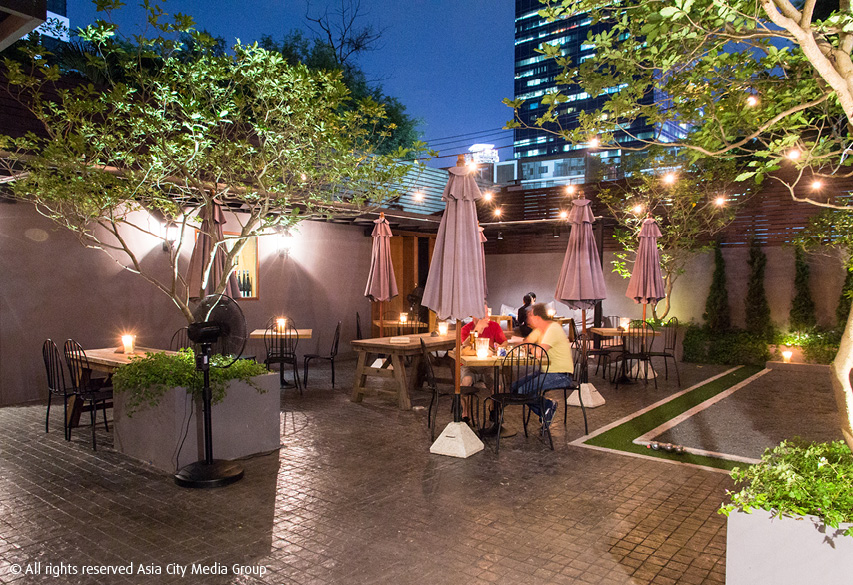 Daily 11:30am-12am
The price: Two-course set menus for B390 or B690
This artfully decked out former residence near the Goethe Institute is Sathorn's latest Italian dining player. Lunch prices skirt well below the price of a single main at dinner, and stick to a concise two courses. The B390 set starts off with a choice of salad, while mains get you the likes of tortiglioni all'arrabbiata (spicy tomato sauce with garlic and parsley) and slow-roasted sundried tomato and rosemary-spiced baby chicken. The B690 set offers a choice of spaghetti carbonara or grilled Italian sausage with mashed potato.
22 Sathorn Soi 1 Yaek 2 (Goethe), 02-287-2402. MRT Lumphini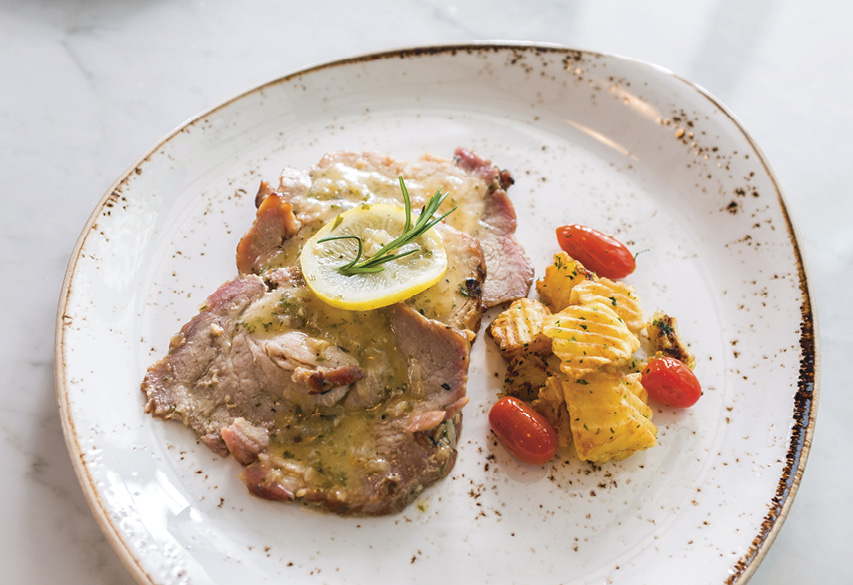 Mon-Sat 11:30am-2:30pm
The price: Two-course set menu for B350; three-course set menu for B450
Perched above the Chong Nonsi office hordes on a mezzanine level of Empire Tower, Water Library's first stab at a steakhouse snubs the little people with a stockbroker-appeasing menu of imported steaks and seafood. Dinner here would comfortably set you back B2,000, making these set lunch prices genuinely admirable. Dishes change regularly, but things we've seen include pumpkin soup and beef goulash as starters, as well as spaghetti arrabiata, grilled sea bass and wagyu beef burgers for mains. Includes coffee or tea at the end of the meal. Nice!
3/F, Empire Tower, Narathiwas Rd., 061-852-5451. BTS Chong Nonsi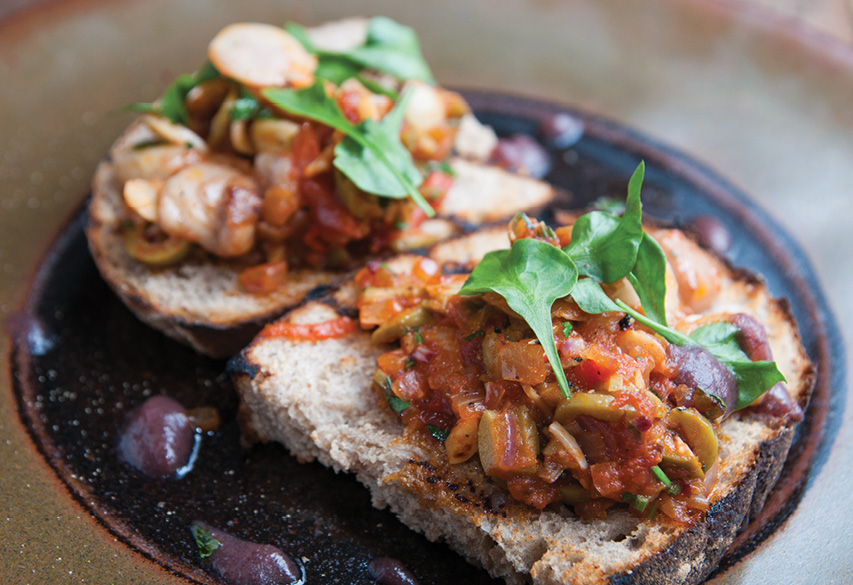 Daily 11:30am-2:30pm
The prices: A la carte
The refined barbecue specialist's lunch menu dishes out the same kind of stuff you'll find at dinner—barbecued meats, burgers, hearty salads and pastas—portioned down slightly and priced accordingly. Go as a group of four, order up the roast beetroot and herb salad (B190), Japanese pumpkin salad (B180), beef burger (B380), penne Bolognese (B320) and some chicken thigh (B170) and you'll each be in for under B400, even after tax. That's a mighty fine lunch at that price—just don't expect to get much work done afterwards.
149 Sathorn Soi 12, 02-635-0405. BTS Chong Nonsi
---
B500-1,000 net

Mon-Fri 11am-2pm
The price: Three-course set menu for B499
Dating back to the '80s, Sorrento is one of the city's oldest names for Italian food. Earlier in the year it got a youthful injection by way of a Diageo World Class cocktail winner and a few Instagram-baiting dishes. For the most part, though, it's still satisfyingly traditional. Things like calamari with mixed salad, beef tongue stew, salmon fillet with brandy cream sauce and spaghetti carbonara crowd out the lunch menu, which rotates weekly and includes starter and dessert.
73 Sathorn Soi 10, 02-234-9933. BTS Chong Nonsi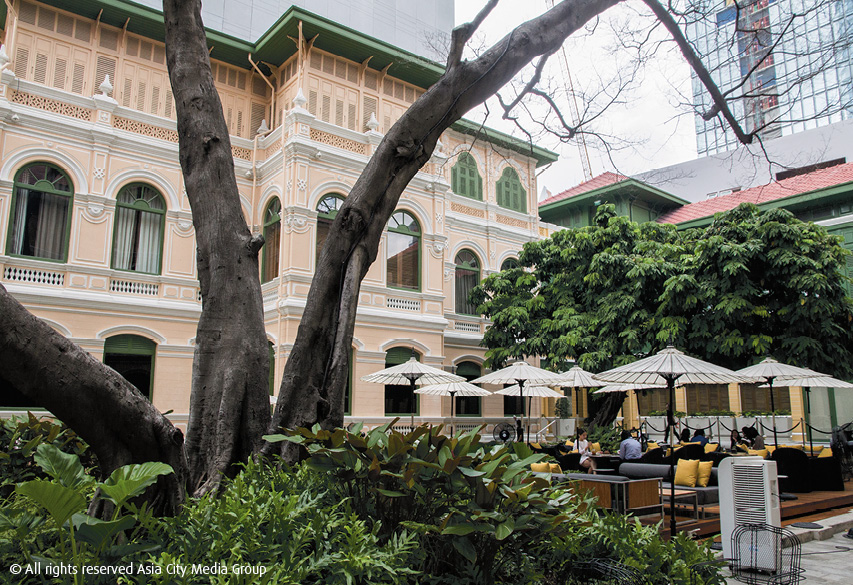 The Courtyard
Daily 12pm-2:30pm
The price: Two-course set menu for B640; three-course set menu for B780
The Courtyard is not House on Sathorn's showpiece restaurant (that would be The Dining Room), but it is a charmingly alfresco venue for a cool season lunch. The menu offers fairly standard "Asian-inspired" type fair—green leaves salad with pomelo peanuts and sesame vinaigrette, tandoori lamb cutlets with saffron biryani and smoked eggplant, pandan panna cotta with mango jelly and hazelnut sable—in your choice of two or three courses.
106 Sathorn Rd., 02-344-4000. BTS Chong Nonsi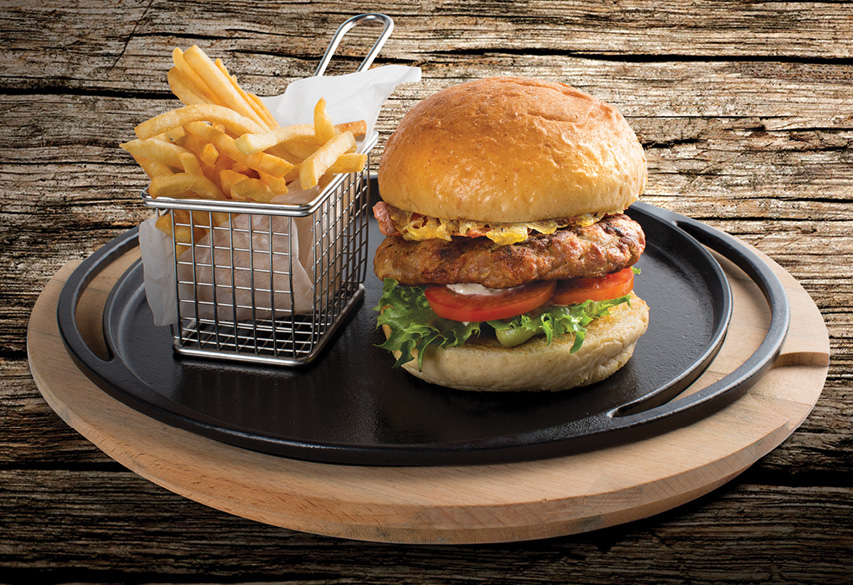 Luce
Daily 12pm-2:30pm
The price: Three-course set menu for B700 net
Luce opened at the end of 2014, but quickly got overshadowed by Eastin Grande hotel's real smash restaurant, Chef Man. There is a certain style to the place—shiny stone surfaces, open kitchens, prominent wine chillers—which makes you quite aware you're not dining in a labor of love, but the food has never disappointed. Lunch gets you three courses, with mains that chart pastas (try the fusilli with smoked salmon and cream sauce) to meat dishes like hunter-style chicken with cherry tomatoes, capsicum, garlic, rosemary, quinoa and scamorza cheese.
14/F, Eastin Grand Hotel Sathorn Bangkok, 33/1 South Sathorn Rd., 02-210-8100. BTS Surasak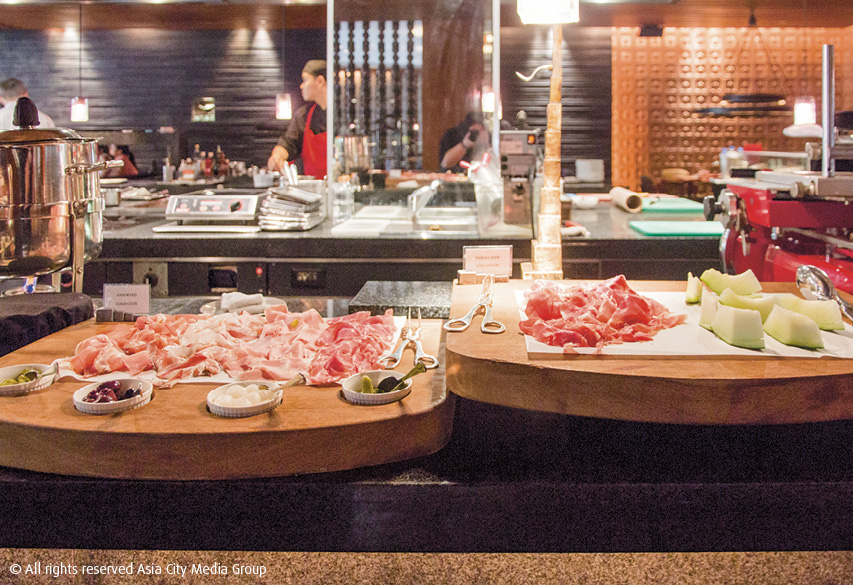 Daily 12pm-2:30pm
Lunch prices: B750 for antipasti, soup, cheese and dessert; B900 for pasta, main course or pizza; B1,100 for pasta and main course or pizza
Sukhothai's La Scala epitomizes hotel fine dining. Less stuffy than Le Normandie, it shares the nosebleed prices and veteran staff with a photographic memory of Bangkok's one percent. Go for the antipasti buffet and you won't be disappointed bythe big line of salads, soups, cold cuts, cheese and desserts. Up the price a bit and you get access to their certifiably excellent pizza, or main dishes like capellini with Italian sausage, and pan-seared duck breast with potato puree.
13/3 Sathorn Rd., 02-344-8888
---
OVER B1,000 net
Daily 11:30am-2:30pm
The prices: B950-B1,950 for lunch sets
For most of us, this might be our only time to try the immaculate offerings of this two-time Top Tables winner. The chic, red-and-black restaurant designed by Pierre-Yves Rochon (who did London's Savoy and Paris's Four Seasons George V) turns out contemporary French fine dining, with sets ranging from two courses (starter and main) to four courses (two starters, main and dessert). Current options include sweet and sour prawn and turnip ravioli with rosemary, tempura of grouper fillet wrapped in shiso leaf and squid ink risotto, and pork cutlet in mustard sauce.
5/F, Mahanakorn Cube, 96 Narathiwat Rd., 02-001-0698. BTS Chong Nonsi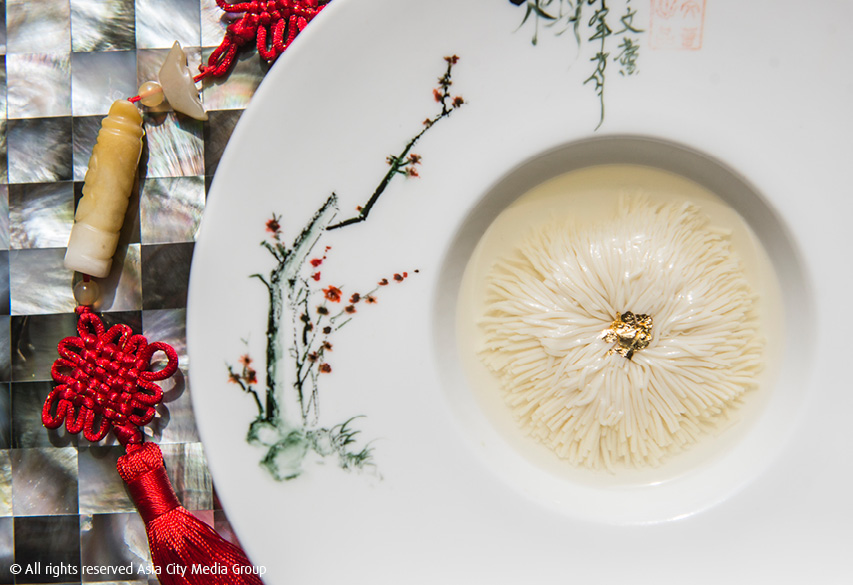 Daily 11:30am-2:30pm
The price: Set menu starts from B2,000; dim sum sets from B1,180
Mahanakhon Cube's other big dining player has the lofty concept of serving modern Chinese dishes in a style befitting French fine dining. Whether you're going for the full ten courses, or the smaller option of assorted dim sum, soup, main dish, vegetable dish, rice or noodle dish and dessert, you still have to book 1-2 days in advance. Expect the likes of double-boiled black chicken consomme, stewed fish maw with abalone sauce and Yong Zhou-style fried rice.
2/F, Mahanakhon Cube, 96 Narathiwas Rd., 02-019-8105. BTS Chong Nonsi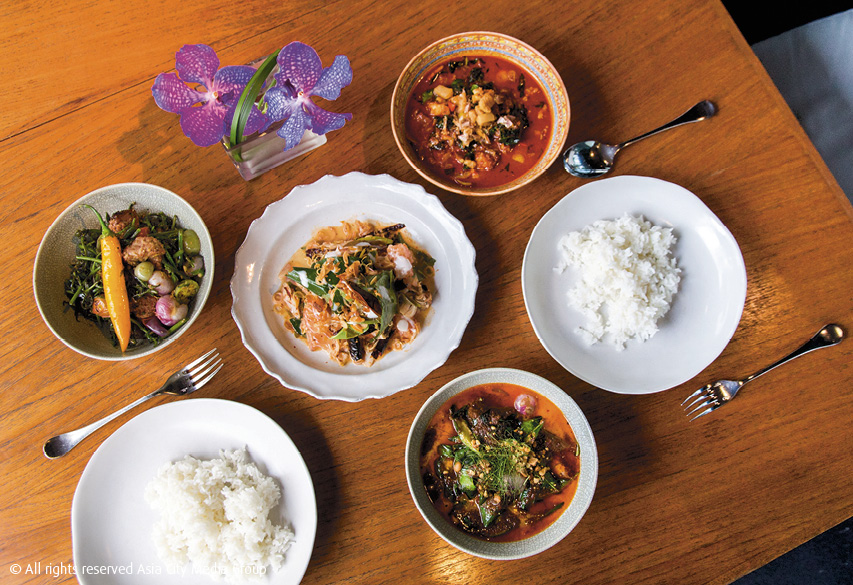 Mon-Fri noon-2pm
The price: A la carte or set menu for B1,600 per person
At David Thompson's showpiece Thai restaurant, you can order from the a la carte or go for a full set menu that includes appetizer, salad, vegetable dish, soup, stir-fry, curry and dessert. Only available at lunch is the single-dish kanom jeen (rice noodles) with your choice of dressing, including coconut milk with fresh herbs and fish dumplings (sao nam, B600), catfish curry with tamarind and lemon basil (B650) and minced prawn curry with yellow eggplants and holy basil (B720).
Metropolitan by COMO, 27 Sathorn Rd., 02-625-3388
Daily noon-2:30pm, except last Sunday of the month
The price: Five-course set menu for B1,100
Back in 2014, this restaurant beat Robuchon to becoming the first restaurant in Bangkok backed by a three-Michelin-star winner (chef Jean-Michel Lorain of the Côte Saint Jacques in Burgundy). While you can still order a la carte at lunch, the five-course set is the way to go. Dishes currently featured include tomato fish soup with red mullet and stuffed calamari and pan-seared tuna fillet with caramelized baby eggplant.
U Sathorn Bangkok, 105, 105/1 Soi Ngam Duphli, Sathorn Rd., 02-119-4899