BANGKOK RESTAURANT
L'Atelier de Joel Robuchon
The man with the most Michelin stars in the world has finally landed in Bangkok
The buzz: The arrival of Joel Robuchon in Bangkok is no longer the talk of the town that it once was (spare a moment to think just how far we've come in three years) but the experience at L'Atelier remains nothing short of exceptional thanks to the consistency of Head chef Olivier Limousin.
The food: Not only are the dots of cauliflower cream in your Imperial caviar in lobster jelly as exquisitely realized as at every other L'Atelier in the world, there's also a surprising wholesomeness to much of L'Atelier's menu. A whole dover sole is pan-fried in butter then plated with nothing more than a wedge of lemon, some beans and a side of mashed potato. A duo of Bresse pigeon and foie gras comes wrapped in rich, glistening pastry. A bowl of snails, wild mushrooms, iberico ham and pine nuts is the sort of thing you'd curl up with in front of a fire in the chilly Normandy countryside.
The vibe: Maitre d' Gianvitto Zizzi's lengthy tenure ensures repeat customers are given the welcome they expect at this level, as they take their stools at the glamorous, French interpretation of a sushi-style counter. The ultra high-end vibe begins on entrance as you're greeted by a bucking Thawan Duchanee ink drawing, but once seated things are surprisingly social and informal. For those who prefer privacy, there's more conventional table seating, too, and even a small terrace.
The buzz: Joël Robuchon is the most important French chef since Escoffier codified haute cuisine. He's known for being the guy with 28 Michelin star across 20 restaurants in the world--fancy, expensive restaurants doing Gallic food that's modern without losing its rusticity. But Robuchon is actually a rather atypical chef: he spent a lot of time doing competitions, traveled as journeyman learning from France's best cooks and earned his Meilleur Ouvrier de France title at 31 (the highest honor for an artisan). As such, Bangkok is pretty psyched about finally getting its own Robuchon place, and the restaurant is already packed.
The décor: Borrowing the same concepts from all L'Atelier branches, and designed by interior designer Pierre-Yves Rochon (who did London's Savoy and Paris's Four Seasons George V), L'Atelier has diners seated around a large open kitchen, a format more reminiscent of a sushi bar than classic dining a la Francaise. On top of the 30 seats at the bar, there is table seating for another 20 guests in the back, and even a small outdoor garden. The color scheme is black and red, the light are dim, and it's all tres tres chic.
The food: Led by executive chef Olivier Limousin, the kitchen combines French techniques and the best ingredients they can get, which means produce from Thailand's Royal Projects along with some European imports related to the seasons. Signature dishes include the French Brittany lobster served with Malabar sauce, baby spinach and coconut foam (as part of the set, see below) and caviar from Sologne served with a salmon tartare (B1,900). They don't shy from Asian twists, such as the free range quail stuffed with foie gras and potato purée (B900), where the small bird is marinated in soya sauce. Everything is exquisitely arranged and photogenic; particularly when you get a color combination like the chilled green kale veloute and spicy tomato jelly (B600). The bakery chef is from Robuchon's Le Pain in Tokyo, so you can also expect some of the best craftsmanship in that department, too. There are lunch sets ranging from one course plus a dessert or starter at B950, two courses plus one starter at B1,450 and two courses plus two starters at B1,850. For lunch and dinner, there are also degustation menus with seven courses at B7,500 per person and five courses at B5,000 per person. Wine pairing is an additional B3,000-B4,000 for 5-7 glasses. Tasting portions are also available.
The drinks: Wine is the leading actor here. There's a vast wine cellar you can ogle next to bar, with a very French selection, and a few rotating selections by the glass such as the 2012 VDP des Cotes Catalanes, Passion Blanche (B400 per glass) or 2010 Ventoux (B360 per glass).
The crowd: Michelin-star groupies, high-flying execs inking deals in the private room, hisos who need to check in on Instagram, genuine food lovers and deep-pocketed tourists.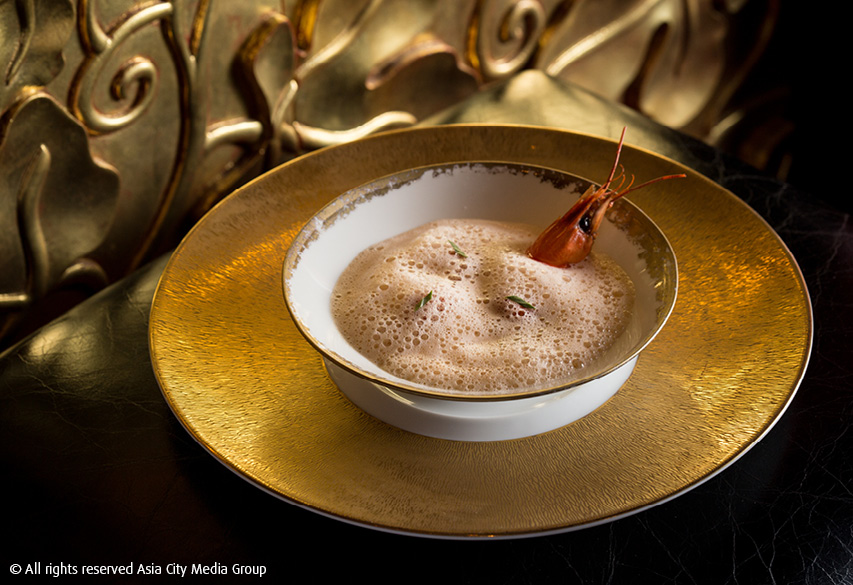 ---
#3 in BK Magazine's Top Tables 2017. This is what a meal at one of Bangkok's best restaurants looks like:
---
Venue Details
Address:
L'Atelier de Joel Robuchon, 5/F, Mahanakorn Cube, 96 Narathiwat Ratchanakarin Rd., Bangkok, 10500 Thailand
Phone:
02-001-0698
Website:
www.robuchon-bangkok.com
Area:
Sathorn
Price Range:
BBBB

Open since:
December, 2014
Opening hours:

daily

11:30am-2pm, 6:30-10pm

Reservation recommended, Parking available, Dress requirements: No Slipper, Short Trousers
Report a correction