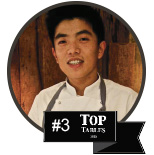 Thitid Tassanakajohn of Le Du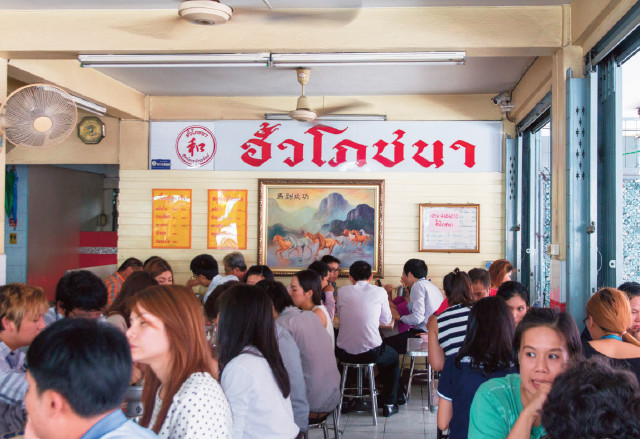 Hua Pochana
This braised-meat specialist is famous for its succulent beef with Chinese herbs and pork with shiitake, served either with noodles or in soup.
Chef's pick: The tender nuea toon mor fai (braised beef in hot pot, B160/B200) with entrails and beef balls.
Tip: "You'd better go there before noon, when a huge crowd hits and the fried pork belly, which is also good, sells out. The owners easily get moody, so behave yourself and wait to be seated."
Chan Soi 16, Narathiwas Soi 14, 096-465-6232. Open Sun-Fri 8:30am-3:30pm
---
Boon Pochana
This no-frills Sichuan Chinese restaurant nestled down an obscure Silom alley serves up comforting dishes.
Chef's pick: Stir-fried string beans (B120)
Tip: "Go there late at night. There are two chefs at the restaurant and the late-shift one does a better job."
152/8-9 Silom Rd., 02-237-2764. Open daily 11:30-4am
---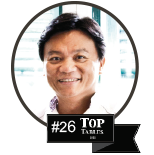 Pad Thai Thip Samai
Also known as Pad Thai Pra Too Phee, this renowned one-dish specialist has some of the best pad Thai in town, and of course is always busy. Good news is, with plenty of hard-working staff, the wait is not crazy once you're seated.
Chef's pick: Pad Thai hor khai goong sod (pad Thai with fresh shrimp wrapped in an egg crepe, B80)
Tip: "I like to eat it with the freshly squeezed orange juice sold out front."
313-315 Mahachai Rd., 02-221-6280. Open Tue-Sun 5pm-2am
---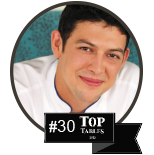 Sabaijai Kaiyang
There's way more to Ekkamai's beloved Isaan place than the namesake grilled chicken—though it is something special.
Chef's pick: Grilled chicken (B90/B170)
Tip: "Go early. Try everything."
65 Ekkamai Soi 1, 02-714-2622. Open daily 10am-11pm
---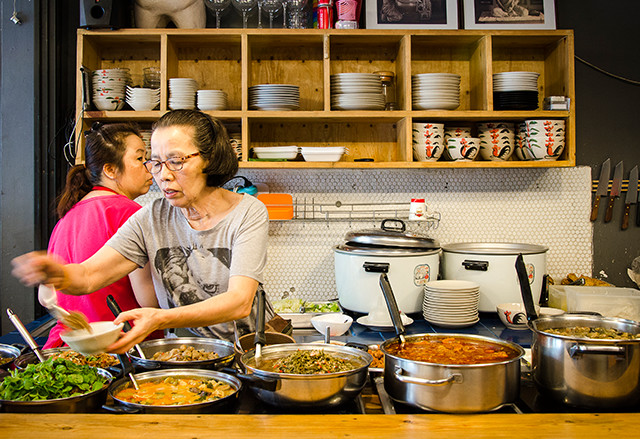 Hom Duan
The place started up as a coffee shop that also sold Northern Thai food on its second floor. It was so popular that the owner dedicated the entire shop to food.
Chef's pick: Khao soi (B65)
Tip: "I like to add fermented greens and chili as long as I didn't drink too much the night before."
70/2 Sukhumvit Soi 63 (Ekkamai), 085-037-8916. Open daily 9am-5pm
---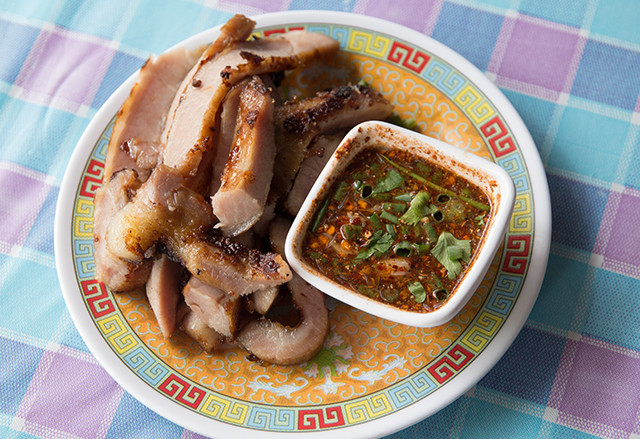 Som Tam Krok Yai
This is a small stall in the soi opposite Wat Kaek (Sri Maha Mariamman Temple) with no particular name sign. It specializes in Isaan food like somtam and tom saeb. Spot the grill in front of the stall to find it.
Chef's pick: Kor moo yang nam jim jaew (grilled pork neck, B60)
Tip: "Go there in the evening when you don't have to go back to work— this food paired with beer is perfection.
In front of fresh market, Silom Soi 20. Open Tue-Sun Noon-10pm
---
Nai-ngieb
This 43-year-old fish ball specialist takes pride in its fish balls made fresh daily, by hand, with no chemicals involved.
Chef's pick: The fish ball soup (B60)
Tip: "It's a busy place. You have to get there early when they still have everything in stock."
125/21 Bhuthamontol Sai 4 Moo 6, 02-441-0655. Open daily 6am-5:30pm
---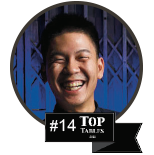 Somkiet Pairojmahakej of Seven Spoons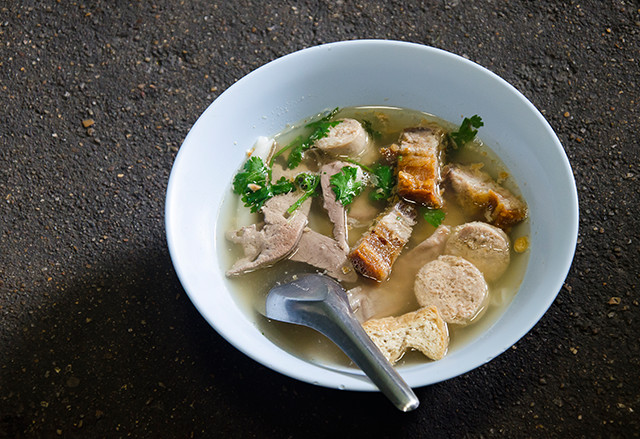 Guay Jub Worachak
You can easily walk past this gem as it's located in a dark, narrow alley. The third-generation owners still do their cooking on a charcoal stove.
Chef's pick: Guay jub (rice noodles and aromatic soup, B50).
Tip: "Get there around 11am or you'll have to wait for people making massive orders to finish. It has the best crispy pork belly and traditional look grok. The portion is pretty small. One bowl of guay jub and one of gao lao is enough for a meal. The spring rolls in front of the alley are also good!"
An alley on Luang Rd., connecting to Wat Phra Piren, 02-221-7894. Open daily 11am-4pm
---
Gaggan Anand of Gaggan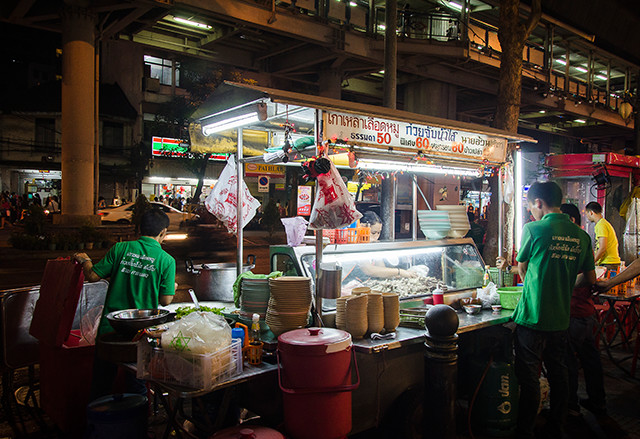 Guay Jub Je Berb Pochana
This reliable after-dark stall selling rice noodles with pork and entrails is a favorite of Silom clubbers. Find it on Sala Daeng Road during lunch and in front of Burger King in the evening.
Chef's pick: Guay jub (B50)
Tip: "Go there before the crowd because the nice kidney tends to sell out very fast."
Corner of Silom Soi 2. Open Tue-Sun 6pm-late
---
Dario Brusnelli of Attico
Tee Lek Ying Charoen
This small stall in JJ Mall actually started Ying Charoen market many years ago. Now it's run by the founder's children.
Chef's pick: Khao mun kai (B40), which is made using super-thin-skin boiled chicken
Tip: "The accompanying sauce is simply perfect. Go there on weekdays so you don't have to wait in line."
JJ Mall, 588 Kampaeng Phet 2 Rd. Open daily 10am-7pm
---
Duangporn Songvisava and Dylan Jones of Bo.lan
Kao Lao Jom Yut
The stall specializes in braised beef using the front belly of the animal (plate cut), which results in tenderness and a satisfying amount of fat.
Chef's pick: Braised beef clear soup (80) with rice (B10)
Tip: Don't go there after 12:30pm. They tend to run out of many items.
Corner of Soi Pipaksa 1, off Plaeng Nam Rd., 02-221-7894. Open Mon-Sat 10am-3pm
---
David Thompson of Nahm
Nai Mong
An old specialist on oyster dishes.
Chef's pick: The dry-and-crispy-cooked oyster, aka Orlua (B70)
Tip: "Ask for yours to be cooked very dry and crispy. Season with pepper."
545 Plubpla Chai Rd., 089-773-3133. Open Wed-Mon 11am-9:30pm
---
Paolo Vitaletti of Appia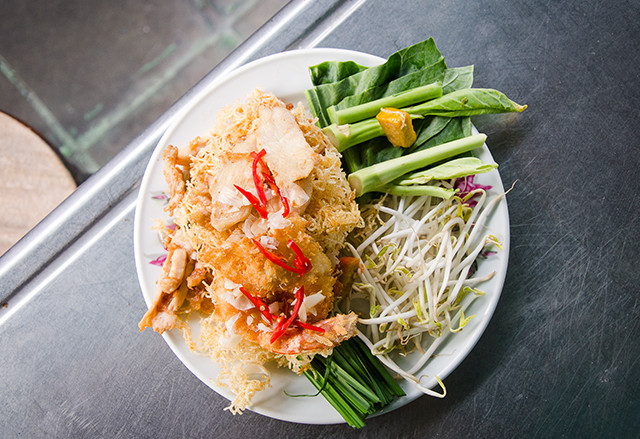 Chote Chitr
The tiny one-unit shophouse has been serving some Thai food since the Rama V era. And they still keep the price reasonable.
Chef's pick: Mee krob (semi-sweet, crispy fried noodles, B95) with chicken, shrimp and tofu.
Tip: "If you want quality street food, don't go somewhere touristy like the Sukhumvit area."
146 Prang Phuton Rd., 02-221-4082. Open daily noon-9pm
---
Rangsima Bunyasaranand of Little Beast
Thai Dessert Stall in front of Pad Thai Tipsamai
The stall has a few options of steamed Thai desserts on offer, including banana custard, pumpkin custard and steamed coconut milk stuffed with caramelized coconut.
Chef's pick: The velvety-textured steamed banana custard (B40/6 pieces).
Tip: "Don't be shy and just go for it. It's so good I always request this instead of cake on my birthday."
In front of Pad Thai Tipsamai, Mahachai Rd. Open Tue-Sun, 5pm-1am
---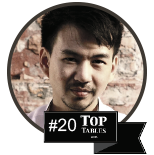 Zra Jirarath of Aston
Sawangarun
Though it doesn't have the old-school look of most street eateries, this braised beef noodles joint has been around for decades. The specialty is its braised beef warming in a large brass wok at the cooking counter, which can be eaten with both noodles and rice.
Chef's pick: Beef soup (B100) with rice (B10) and the accompanying fresh and crispy morning glory.
Tip: "Don't waste time with anything else. Just go straight to the beef soup. Always go before 1pm because the good parts sell out quick. For people who like to spice it up, the nam prik pao and prik nam som there are good."
153-155 Chokchai 4 Soi 25, 088-357-1881. Open daily 7am-4pm
---

Top Tables 2015. Didn't get your copy?
Visit bkmagazine.com/toptables