The return of The Smokin' Pug, an innovative urban farm, Silom's carnivore heaven and more must-visit restaurants.

This pre-booked, chef's table-style dinner led by English chef Davina Pickering (cafe-cum-fashion shop WWA) is all about good food and good company. In a shop-house sparsely decorated with Edison-bulb chandeliers and fresh flowers, a single, long dining table takes center stage. Bookings are required 3-4 days in advance, time for Pickering to prepare her ingredients for a wholesome, six-course meal. Dinner might start with a shot of green pea soup and crispy maple-candied bacon, followed by a mouthwatering tray of bread topped with beetroot hummus and caramelized hazelnuts, and bite-sized slices of cauliflower pizza. For the main, there's 24-hour-marinated beef with roasted, mustard-marinated baby carrots. The price of B3,000 per person also includes free-flow wine and cocktails.
Sukhumvit Soi 42/1. See full details here.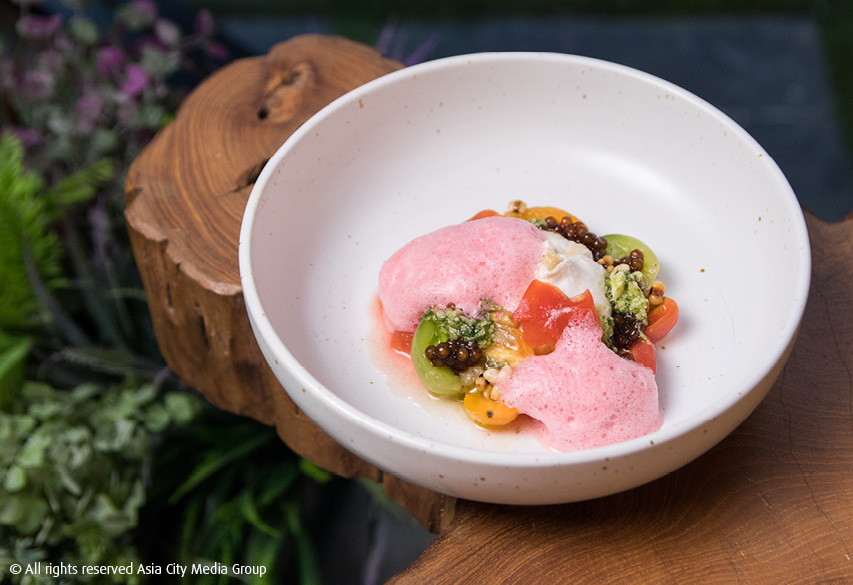 At Haoma, you'll get a short tour of the truly remarkable kitchen garden, where they grow 37 different edible greens, before being led to a modern, two-story wood house with backyard views. A largely veg-driven menu features high-wire dishes whose presentation drills home the farm-to-table concept. Stick to the Roots (B370) evokes a vegetable patch, with delicate beetroot puree "roots," 90-day black garlic "dirt" and heirloom carrots. Even some of the cocktails are veggie-forward, like a gin-based concoction that blends avocado and kale before being topped with parmesan shreds (B350). This is not a vegetarian restaurant, though, with duck liver pate (B400) and Tasmanian beef carpaccio (B490) both figuring on the launch menu.
Sukhumvit Soi 31. See full details here.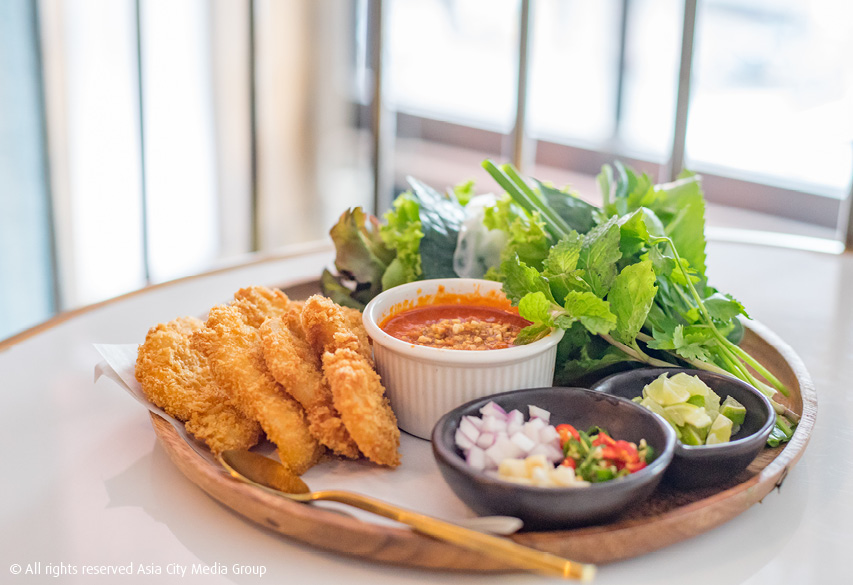 Next door to the Woof Pack building (Bangkok Screening Room, BStore boutique, Guss Damn Good), Silom's new Vietnamese-themed bar goes beyond just pho. Amid an en-vogue mix of pink neon lights and raw concrete, the space serves wild leaf wrapped pork or beef, fried fish in herbal wraps and lemongrass chicken banh mi. There's also a delicious Australian beef pho. The B340 cocktails include the 100 Dong (spiced vodka, sweet vermouth, roselles syrup, lemon juice and tonic) and Asian Delight (Chinese herbs, vermouth, Aperol, bitters and gin).
Sala Daeng Soi 1.
See full details
here.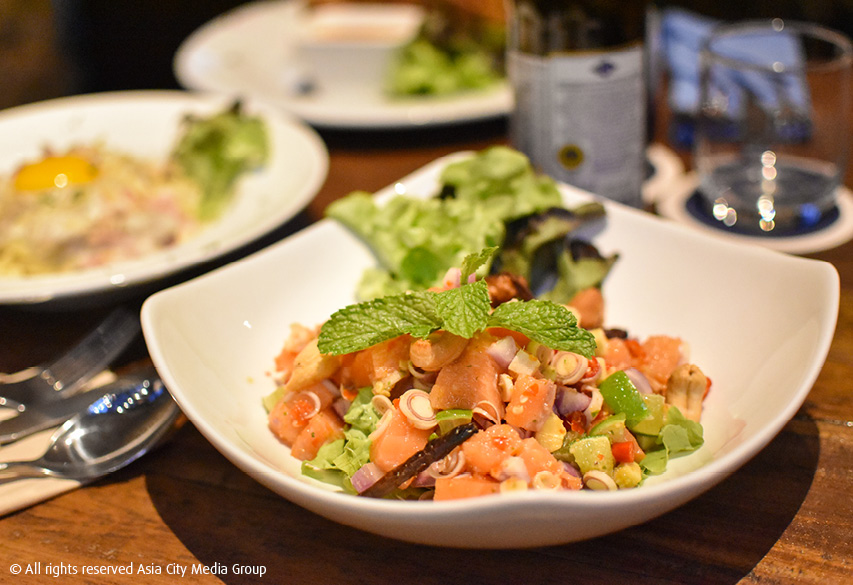 Just in time for the winter breeze, Bangkok's newest beer garden has opened in Ari. With links to Bavaria's Schneider Weisse brewing company, Schneider Haus is set in a spacious house hidden in Ari Soi 4 that comes with a nice garden, perfect for this time of year. Pretend it's properly cold out with a heartwarming bowl of German venison stew and a big glass of the eponymous beer.
Ari Samphan Soi 4. See full details here.
A new, upscale sister brand to all-night izakaya favorite Shakariki 432 has opened on Thonglor. Named Shakarich, the place sets itself apart from other Shakariki branches by focusing on premium, seasonal ingredients from Japan. That means Hokkaido oysters, salmon from Nagano and Kagoshima-breed wagyu, all served amid neat, traditional Japanese-inflected decor. Those premium ingredients come in dishes including the deep-fried oyster, a glass of sea urchin and ikura (salmon roe) in Japanese soup and grilled salmon on tea-soaked rice. There are even 10-course dinners of seasonal produce available at B3,000.
Thonglor Soi 14.
See full details
here.
Bangkok kaiseki specialist Kitaohji has opened a second location, bringing the same meticulous presentation and high-end ingredients to a new form: omakase. Hand over control to a formidable troop of the Japanese chefs whose mastery isn't reserved for perfectly sculpted sushi, but extends to the humble steamed egg (its mellow flavor spiked with pickled plum), the perfectly crisp fish tempura, and the bowl of clear soup that will match your favorite comfort dish in a heart-strings tug-of-war. True to the spirit of omakase, all of this is prepared in front of you, each dish like a conversation between you and the chef. We recommend booking five days in advance. It's B8,000 for 18 courses.
Sukhumvit Soi 39. See full details here.
Fatty's Bar and Diner has long been the go-to spot to get your grease fix. Now, owner and barbecue purist Matthew Fischer brings his deliciously calorific menu to Ekkamai with The Fat Tap—half-barbecue joint, half-craft beer bar, this spot is the real American Dream. The main event is the ribs, which are fall-off-the-bone tender and coated in a sticky, smoky glaze. Pair them with one of 12 beers on tap.
Ekkamai Soi 16. See full details here.
Bangkok's latest carnivore heaven serves premium steak, tasty tapas bites and cocktails in a deli store concept. An open kitchen, patterned black tiling, pink walls and rattan chairs lend it a swanky yet fun feel. For serious grill dishes, prime cut steaks include Black Angus from Australia's Rangers Valley, oven-baked Chiang Rai chicken and Australian lamb chops. Smaller plates like the platter of jamon Iberico and serrano, and grilled octopus with avocado mash are perfect to nibble on while sipping on a classic cocktail.
Sala Daeng Soi 1. See full details here.
After closing up its teeny-tiny spot on Surawong, barbecue institution Smokin' Pug is back on Lang Suan Road and it's even bigger, better and badder than before. Giant smokers in the back courtyard cook all the meat low 'n' slow. Beef brisket is smoked for up to 12 hours overnight; ribs and lamb for four; even the cheese for the mac 'n' cheese sees the inside of the smoker. The result is intense flavor and tender perfection. Meanwhile, he bar menu proudly steers clear of fancy mixology, and proves its point by hitting the spot with simple-done-right cocktails.
Lang Suan Rd. See full details here.