---
Chinatown means bustling markets, grunge-chic shophouses and great food. With the Wat Mangkon MRT extension now open, all the action is more accessible than ever. Here's our guide to the neighborhood.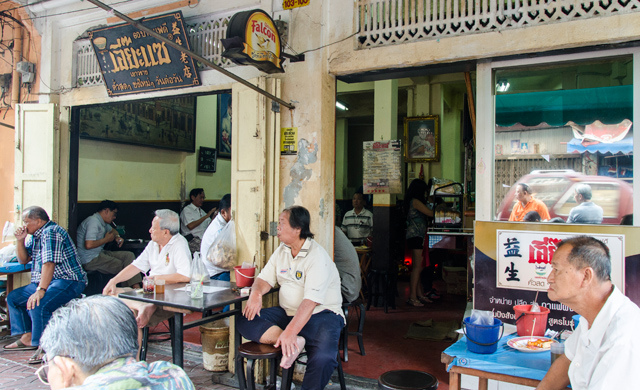 Eiah-Sae
Coffee & Breakfast
Start off at
Hong Huat
(41 Charoenkrung Soi 12, 02-223-9672) for toast and tea, or 92-year-old
Eiah-Sae
(1-103 Yaowarat Rd., 081-868-9891) for Thai coffee and kaya toast (B25 each).
Urai Han Palo Songwat
(Song Wat Rd., 02-221-4413) serves incredible Teochew-style goose that often sells out before noon, while
Lhong Tou Cafe
(538 Yaowarat Rd., 085-824-6934) has a delicious Chinese breakfast set (B129). For something sweeter, try the chocolate and matcha AMA Signature (B120) at
AMA Cafe
(191 Chakkrawat Rd., 02-221-0463). Located inside Shanghai Mansion Bangkok,
Cotton Breakfast Restaurant
(479-481 Yaowarat Rd. Samphantawong, 2-221-2121) is a sure bet for those in search of more traditional international breakfast foods.
Lhong Tou
Lunch & Dinner
Rice and curry (B40) on the red stools at Jek Pui (19 25 Mangkon Rd., 02-222-5229) is a must. Hit up Kong Prasert (304-6 Charoenkrung Soi 27, 02-238-3587) for incredible moo krob (crispy roasted pork belly, B30) or seek out the perfect fish balls at Guay Tiew Luk Chin Krae (Yaowarat Rd., in front of the Lieng Seng Heng gold shop) or Yoo Fishball (433 Yaowarat Rd., 089-782-7777). For dinner, find classic Thai-Chinese fare like braised goose (from B120) at Lao Tang (467/1 Yaowarat Rd., 02-221-6070) or visit Tang Jai Yoo (85-89 Soi Yaowapanich, Yaowarat Rd., 02-224-2167) or Yim Yim (89 Yaowaphanit Rd., 02-224-2203) for next-level dim sum.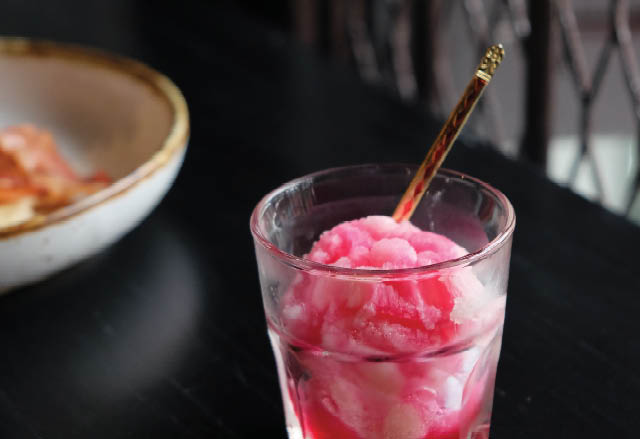 Jing Jing

Ba Hao Tian Mi

Dessert
Stop by
Jing Jing
(154 Charoenkrung Soi 14, 081-974-1929) for quality coconut ice cream (B50/scoop), or satisfy two vices at once with an alcohol-infused sorbet. Nearby, the folks at
Ba Hao Tian Mi
(8 Phadung Dao Rd., 097-995-4543) can feed your Chinese pudding addiction.
23 Bar and Gallery

Teens of Thailand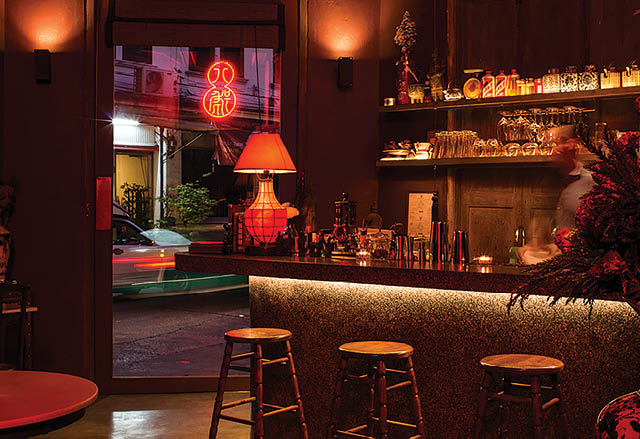 Ba Hao
Drinks
Relax with sangria (B150) at Spanish haunt El Chiringuito (221 Soi Nana, Charoenkrung Rd., 086-340-4791) or channel your inner Wong Kar-wai at Ba Hao (8 Soi Nana, 064-635-1989) with excellent Chinese-inspired cocktails (around B290). Hit up Wallflowers Upstairs (37-39-41 Soi Nana, 096-727-6789) for the enchanting ambience; rub elbows with the in-crowd at Teens of Thailand (76 Soi Nana, 096-846-0506) and Tep Bar (69-71 Soi Nana, 098-467-2944); and end the night belting out indie anthems after one Singha (B100) too many at 23 Bar and Gallery (92 Soi Nana, 080-264-4471). Venture off Soi Nana to find laid-back vibes at Shanghai Red Rose (479 481 Yaowarat Rd., 02-221-2121), breathtaking views at Sky View 360 (215 Yaowarat Rd., 02-224-9977) and local craft beer at Let the Boy Die (542 Luang Rd., 099-493-9909).
Transport
MRT Wat Mangkon.
Accommodation
While projects like Station One Chinatown on Charoenkrung Rd. are in the works, it's still slim pickings in Chinatown, but Condo One Soho (2070-72 Khao Lam Rd.) is just a 10-minute walk from MRT Wat Mangkon and features 48 units from B10,000-14,0000/month. Architect and designer Florian Gypser rents out his stylish, 65 sq-meter studio on Airbnb (B31,500/month), while Ba Hao offers staycations on its two impeccably designed upper floors (B3,000/night).
Visit/Do
Get cultural at Wai Traimit (661 Charoenkrung Rd.), home to the world's largest gold Buddha, and Wat Mangkon; revel in the beautiful Chinese-inspired decor at MRT Wat Mangkon; and then shop for random goods on Sampeng Lane. Weave through the backalleys with a Co Van Kessel (Charoenkrung Rd., beside River City) bike tour.
---
BK ASKS
What's great about Chinatown?
Chutinat Thasananuphan, owner of Jing Jing Ice Cream Bar and Café
"The unique mixture of Chinese and Thai culture, both old and new. Chinese immigrants can go back to their roots and find home comforts."

Niks Anuman, owner of Teens of Thailand
"It's raw. It's real. It's not a place to be pretentious."
Thanapolpoj Rochnattakul, co-founder/architect of Ba Hao
"It's the past, the present, and the future all coming together and continuously evolving as one unique entity."