Winter is always painfully fleeting in Bangkok. But even when those crisp, cool days become a distant memory in your heat-rattled mind, we still have months of sunshine and clear skies to enjoy. From the rooftops to the riverside, these are our favorite al fresco bars and restaurants in Bangkok.
---
---
ROOFTOP


The rooftop bar at Bangkok Marriott Marquis Queen's Park divides a beautiful space overlooking Benjasiri Park into two floors and two bars. Head to ABar Rooftop, where you can select your favorite label from an apocalypse-ready supply of gin and watch the sun dive over downtown Bangkok as the surrounding city lights twinkle to life. The chairs even come with built-in air-con.
ABar Rooftop, 38/F, Bangkok Marriott Marquis Queen's Park, 199 Sukhumvit Soi 22. 02-059-5555. Open daily 6pm-1am



Chill vibes and cool breezes define this 30th-floor bar overlooking Asoke. There are a dozen beers on tap plus an extensive range of bottled beers, from Leffe Blonde (B280) to Stone Delicious IPA (B360). Pair those with Thai beer snacks like larb moo tord (B190) or heartier fare like IPA-battered cod with mushy peas and chips (B490).
30/F, Radisson Blu Plaza, 486 Sukhumvit Soi 27, 02-302-3333. Open daily 5pm-1am


Credit: www.fb.com/CatOnTheRoofGrillBar

Saphan Kwai's Cat on the Roof is stripped of all pretentiousness. Neon bathes the bar inside, where indie bands regularly hold court. Outside, bare concrete, white brick and naked bulbs make for a low-key setting to watch the BTS rumble down the tracks as you sip on craft beer.
4/F, Everyday Sunday Social Hostel, Phaholyothin Rd., 095-046-8824. Open Mon-Sat 5pm-midnight



Saphan Kwai has a lot going for it in the rooftop department. Vibrant murals add splashes of color to the raw concrete at this casual, quasi-hidden space. Every weekend, some raucous bands bring energy to the outdoor space, where craft beer and easy-drinking cocktails are the order of the day. And just like Cat on the Roof, you're seated pretty much at BTS height.
490/5 Phaholyothin Rd., 094-560-7222. Open Mon-Sat 5pm-midnight


Swanky EmQuartier dedicates some fifth-floor, mall-top space to a venue that's part tapas bar, part tiki bar and wholly committed to its "downtown beach club" theme. Instagram-ready nooks litter the huge, tropical-plant and pink-flamingo festooned area.
5/F, The EmQuartier, 693, 695 Sukhumvit Rd., 02- 258-6515. Open daily 5pm-midnight

This rooftop serves up one of Bangkok's most stunning sunset scenes—looking straight over Lumphini Park and onto the gleaming skyscrapers of Phloen Chit. Maybe that's why it's one of the few spots that attracts a local crowd, one that likes to knock back Champagne and smoke cigars while reposed on the almost-too-comfy scarlet daybeds.
29/F, So Sofitel Hotel, 2 North Sathorn Rd., 02-624-0000. Open daily 5pm–1am


The Avani Riverside's Portuguese bar and restaurant is big on energy and flair. Those timeless sweeping views over the Chao Phraya River combine with a stunningly lavish design, funky music, playful cocktails and friendly service for a relaxed but special feel.
26/F, Avani Riverside, 257 Charoen Nakhon Rd., 02-431-9120. Open daily 6pm-1am



Who says rooftops are only for drinking? A massive complex of rooftop restaurants and bars, all speckled with light wood furniture and potted plants, Siwilai City Club offers everything from coffee and light lunches to group dinners, cocktails and parties fueled on by top DJs. The beachy vibe makes you feel far removed from the Phloen Chit setting, too.
5/F, Central Embassy, Phloen Chit Rd., 02-160-5631. Open daily 11am-midnight



Maybe the most chilled out—and definitely the best value—rooftop bar in the city is the kind of place we wish could remain a secret. Here you can expect legitimately affordable cocktails (for a rooftop) that are actually good, plus a low-key house soundtrack and room to breathe.
26/F, Novotel Bangkok, 19/9 Sukhumvit Soi 20, 02-009-4999. Open daily 5pm-midnight


Credit: Swing Bar Facebook
This casual bar boasts impressive views of Bangkok's heritage sites. Grab any of the dozens of beers on the menu—Stonehead Lemongrass Kolsch (B150), Deschutes Fresh Squeezed (B250)—order some spicy Thai bar food and watch the sun go down over the Giant Swing as you belly up to a rustic wood bar overlooking the Old Town.
6/F ,Chingcha Hostel, 88/4-89 Siripong Rd., 063-231-2017. Open daily 5pm-midnight


Credit: Vanilla Sky Facebook

Decked out with LED lights, Vanilla Sky gives off a fancy sky bar atmosphere, but still remains easy-going. Gin and tonics take a starring role in the cocktail menu, with some unusual flavors the mix (think peppermint and passionfruit or chestnut and chamomile).
35/F, Compass SkyView Hotel 12, Sukhumvit Soi 24, 02-011-1111. Open daily 5pm-2am
---
Riverside


Offering a more laid-back riverside hangout to the five-star hotels, this bar sits atop Song Wat's playful Hostel Urby, offering cocktails with a view. Crash out on one of the large cushions on the deck for a chilled-out drinking sesh.
Hostel Urby, 1222 Songwat Rd., 02-043-6358. Open daily 5pm-midnight


Credit: Chit Beer Facebook

No day trip to Nonthaburi's Koh Kret is complete without a craft beer or five at this much-loved brewing school and bar. Nab a waterside table on the deck and watch the world float by as the sun goes down.
Ko Kret, Nonthaburi, 083-999-0935. Open Sat midday-9pm, Sun 1-9pm



While many riverside restaurants offer prime views of Wat Arun, none is quite as spectacular as this one. With the Temple of Dawn directly across the river from your table, feast on well executed Thai classic and European grill dishes. Spread over two al fresco stories, request the top tier for the best view.
Arun Residence, 36-38 Soi Phatu Nokyung, 02-221-9158/9. Open daily 8am-10pm


A classy place to drink right on the river on Phra Arthit, with 13 taps of craft beer and live music? It almost sounds too good to be true. These guys are plugged into the Thai craft beer scene, and you can't beat that riverside setting by the Rama XIII bridge at golden hour.
49/7 Phra Arthit Rd., 02-629-5165. Open daily 9am-midday, 3pm-midnight



An oldie but forever a goodie, this ramshackle and raucous hangout promises not only the cheapest riverside beers you're likely to find, but also some lip-smackingly tasty home cooked Thai food. Just be prepared to wait for it—service can be painfully slow.
Soi Wat Suan Plu, Charoenkrung Soi 42, 086-416-8182. Open daily midday-midnight



Offering a stunning view of Wat Arun, this renovated shop-house hotel doles out elegantly plated Thai classics, regional specialties and Western bistro food on its outdoor terrace. Head up to the rooftop for fruity cocktails (from B220) with a breeze.
4/F, Sala Rattanakosin Hotel, 39 Maharaj Rd., 02-622-1388. Open daily 7-10:30am, 11am-4:30pm, 5:30-10:30pm


It takes an explorer to find this tucked-away wooden house by the Chao Phraya, but you'll be rewarded with great music, reasonably priced beers and sake, a host of cats and a super chilled-out vibe.
1612 Song Wat Rd., 02-639-6853, 086-978-9331. Open Tue-Sun 5pm-midnight



Located in the small community behind Wat Devarajkoonchon, this brightly painted 60-year-old house may not deal in fine dining, but there's no denying the comfort factor of its casual and simple Thai fare. The tom klong pla salid (spicy soup with dried fish and mushroom) is a killer hangover cure.
68 Sri Ayutthaya Soi 21, 02-281-0915. Open daily 11am-10:30pm



Housed in an industrial-style warehouse, the vast waterside terrace at this bistro is the perfect spot to catch the winter breeze and indulge in European comfort food washed down with a Thai-infused cocktail.
41/5 Charoen Nakorn Rd., 02-861-0953. Open daily 11am-11pm


The Old Town riverside location of one of Bangkok's most satisfying Thai restaurants offers not only Supanniga's wonderful food with prime Wat Arun views, but also an excellent cocktail menu brimming with localized classics.
Riva Arun, 392/25-26 Maharaj Rd., 02-015-4224. Open daily 11:30am-10:30pm

---
Gardens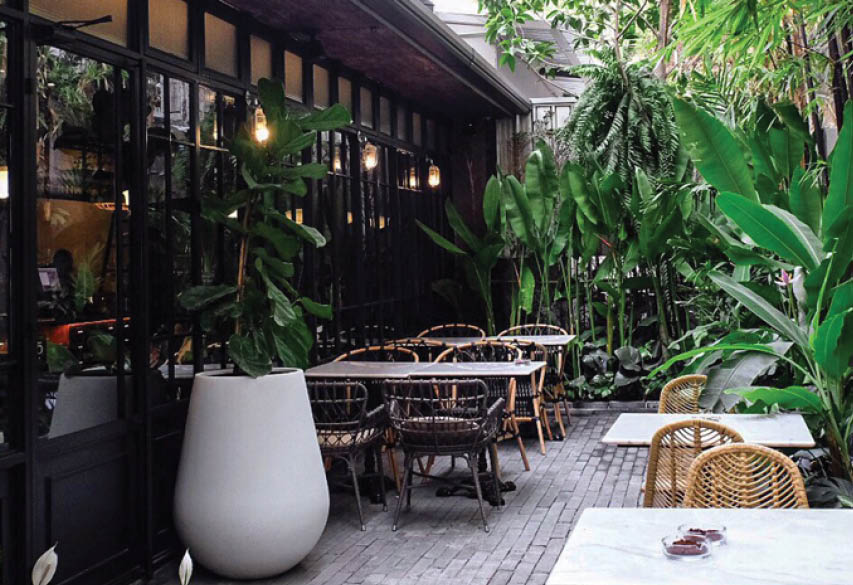 Set in The Garden complex—a leafy slice of Eden off of hectic Asoke—this coffee counter is an extension of the rustic Thai eatery, Kiew Kai Ka. Take a seat in the deep green,
tropical-wallpapered dining room, or lounge on cushioned garden furniture amid colorful flowers with a sweet Thai-style coffee and a ham-cheese croissant or a slice of velvety cheesecake.
The Garden, 68/2 Sukhumvit Soi 21, 061-963-5364. Open daily 7am-10pm



Revolucion Cocktail's backyard shelters this tropical sanctuary hidden amid Sathorn's concrete jungle. Blue Parrot is essentially the vision of a holiday in Thailand brought to life—all faux grass, palm trees and Thai salas surrounding a kid-friendly swimming pool and petanque courts.
50 Sathorn Soi 10, 02-235-4822. Open daily 11am-11pm



Across a pair of huge plant-strewn glasshouses, a 60-year-old house and a sculpted English garden, this cafe offers a bright and airy experience few can match. Find your own quiet nook and tuck into fusion fare. They also whip out a line of aromatic house-baked goods and refreshing soda drinks.
436/1 Phahon Yothin Soi 12, 062-569-7946. Open Tue-Sun 10am-9:30pm



It doesn't get much greener than Bang Krachao, and this tucked-away cafe is the perfect tree-shrouded pit stop while touring the city's last true urban oasis. Surrounded by cute wooden bridges, mini man-made waterfalls, fairy lights and a big deck overlooking the river, the cafe helps you boost energy levels with a range of coffees, desserts and Thai dishes.
777 Moo 4, Phetchahung Rd., Bang Krachao, 090-974-8234. Open Thu-Sun 10:30am-6pm



Ari's Austrian bakery is a hidden gem, a stripped down townhouse brimming with fresh-baked breads and pastries with a pet-friendly backyard garden. That space regularly gets transformed into community craft markets, selling locally made clothes, bags and more—the ideal activity for a slow weekend afternoon.
18 Phahon Yothin Soi 5, 081-902-9183. Open Tue-Sun 7am-7pm



This high-end Mediterranean restaurant, run by a friendly French expat, occupies a cottage-like house down a leafy Narathiwat soi, with the star attraction being its outdoor terrace. A firm favorite of the city's Gallic crowd, Le Cabanon boasts a menu packed with premium imported French and Spanish seafood put to great use in dishes like the classic lobster soup.
44 Akhan Songkhro Soi 3, 092-568-0444. Open Mon-Thu 6-10pm; Fri-Sun 12-3pm, 6-10pm



This Samui transplant (now with another branch in Chiang Mai) brings a secret-garden vibe to already leafy Yen Akat. A koi pond sits in the middle of a wooden-decked courtyard surrounded by tropical plants and a towering banyan tree, adding a touch of zen to long, boozy days out.
19 Yen Akat Rd., 02-077-4804. Open daily 10am-10pm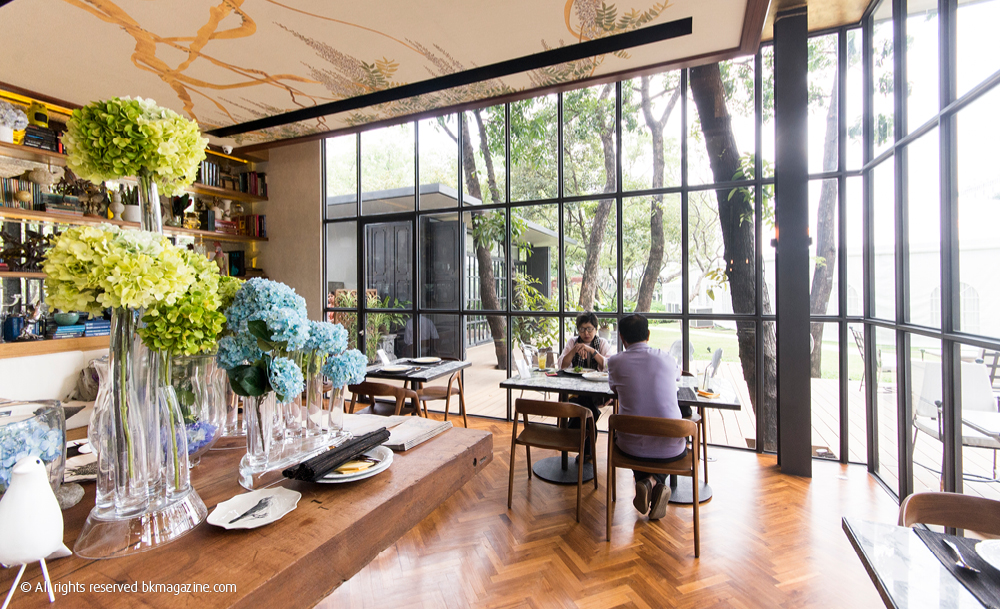 Located within the Nai Lert Park Heritage Home, this charming Thai restaurant surveys the property's lush and impeccably manicured confines. The menu features family recipes that date back to the 1920s, prepared at the level you'd expect from such a stately domain. This is easily one of the city's most charming, if aristocratic, lunch destinations.
Nai Lert Park Heritage Home, 4 Soi Somkid, Phloen Chit Rd., 02-655-4773. Open daily 11am-2:30pm, 6-10pm



The second outlet of the now-global craft beer empire to open outside of Denmark, Mikkeller has rewarded beer geeks for over half a decade with its pared-back Scandinavian style and away-from-it-all setting in a mid-century house in the back sois of Ekkamai. The front yard lawn practically begs you to settle in with one of the 30 beers on tap or hundreds of bottles and cans found in the cold room. Frequent weekend barbecues see the bar open as early as noon, too.
Mikkeller, 26 Ekkamai Soi 10, Yaek 2, 02-381-9891. Open daily 5pm-midnight



Patom's greenhouse-like cube, surrounded by a shroud of foliage, feels so far removed from Bangkok that you'll forget you're on Thonglor. Its good-life image has made it a huge hit with the photo-hungry cafe hoppers, though that's not to say its salads and lunch boxes—made from ingredients sourced from the Sampran network of farmers—don't back up their claims of local, sustainable and organic.
9/2 Sukhumvit Soi 49/6, 02-084-8649. Open Tue-Sun 9:30am-6pm


Credit: Siri House Facebook

Property developer Sansiri's charming mid-century house is centered on one of Bangkok's most chilled-out gardens. Pop in for brunch at Luka, get a pre-dinner drink at the Jackie O-inspired Jacqueline, visit for dinner at the second-coming of Quince or just drop in for one of the frequent weekend events—this place rewards repeat visits.
14/2 Soi Som Khit, Phloen Chit Rd., 04-868-2639. Open daily 8am-midnight


Credit: The 51 Tasty Moments Facebook

This single-floor space comes complete with a spacious lawn with big trees and bean bags—just made for day drinking. Since the closure of Soi 47's Freebird, this part of town has lacked the kind of open, green space that's ripe for weekend chilling. With its diverse menu, 51 Tasty Moments well and truly fills the void.
64 Sukhumvit Soi 51, 098-870-7051. Open daily 11am-11pm