WASH UP

VS: People think washing your car too often is going to damage the paint job, but that's only if you're using a Scotch-brite sponge.
JS: Do it once a week.
WAX Lyrical

JR: You have to ask yourself what you want: different types of wax create different results. Some give a glossy shine but attract dust, while others provide less shine but make the surface very slippery. The important thing is not to use too much at a time; wipe it softly onto your car and wipe it off at the exact time as directed.
DETAIL POLISHING

VS: Light detail polish is better than normal waxing since it keeps the car more slippery and glossy. If you want to get rid of scratches then you can even get heavier detail polish.
JS: Older cars usually have a thinner layer of lacquer, so detail polishing isn't recommended. New cars, on the other hand, have a thick layer, so detail polishing eliminates scratches and doesn't do much damage to the car's surface.
SR: Don't do it more than twice a year, though.
GLASS COATING

VS: Glass coating is good for your car, making it easy to wash dirt off and providing great shine without the need to apply wax after every wash. It is pricey and the process takes several hours, but once you're done the coat can last for years.
SR: To determine if a place does good glass coating, see which products they use and how they care for other cars, even those just there to be washed and not glass coated. Ask them which method of coating they use. If they use synthetic resin, it's very likely that they're using the true Japanese method.
GOING UNDERCOVER

VS: Car covers will leave scratches if you put them on a dirty car. Also never drag your car cover along the ground, as it will pick up dirt. You need two people to set it up properly.
SR: Definitely get two people to help you cover your car.
JS: Only use it when you're not going to use your car for an extended amount of time. The wind can cause the cover to flap leading to scratches, so you might want to actually tape certain parts of the cover to the car.
SEASONS CHANGE

VS: During summer, be careful not to wax your car too often, as sometimes the weather gets so hot that small particles of wax will melt and remain on the surface of your car. During the rainy season, wash and wax it to protect it from the elements and to minimize water stains.
SR: It's true that waxing your car when the weather is hot could leave wax stains, but you should still do it at least twice a month as the sun can really damage your paint job.
JS: During the rainy season, wax often since it helps protect your car from
water damage.
BAD IDEAS

VS: Most people wash their car with a cloth right away—that's wrong. There's always sand or dirt on your car so you should remove it with water first. If you just use a cloth, you'll simply drag all those particles along the surface and scratch it. It's best to use a sponge as they have little holes that pick up the spicks and spots. Also, don't use a single bucket of water to wash your car—that's like washing your body with a glass of water.
JR: Don't use a duster, as even ones made from feathers can cause scratches. Avoid using dish washing detergent and don't wash in the direct sunlight as it can cause the water droplets to dry too fast before you can wipe them clean, leaving stains. Vacuum the inside of your car at least once a week; dust and sand circulating when you turn on the air-conditioner isn't something you want. Don't use only one piece of cloth to wash your car, change it up. And start washing from the roof of the car since that's the dirtiest part.
SR: Avoid parking under a tree—you might think it's safer to keep it in the shade but all sorts of things can drop onto your car.
Car Care 101

Wax: A liquid coating applied to the surface of your car.
Glass coating: A nanotechnology that forms a hard coat.
Detail polishing: A polishing agent stronger than wax to eliminate swirl marks and
create a glossy look.
Wax On
Shield your ride from the rain and get it gleaming with these car waxes.
Meguiar's 21 Wax 16oz, clear shine effect for all car colors, B850 at tinyurl.com/7q5qa39, 083-854-4800.
Wolfgang Deep Gloss Paint Sealant 3.0 Wax 16oz, clear shine effect for minimum dust, for all car colors, B1,400 at tinyurl.com/89nprag, 081-804-6467.
Pinnacle Liquid Souveran Wax 16oz, wet gloss shine effect, for all car colors, B1,500 at tinyurl.com/89nprag, 081-804-6467.
BODY EXPERTS

Varong Sriboonvong, owner of J Glaze Car Wash.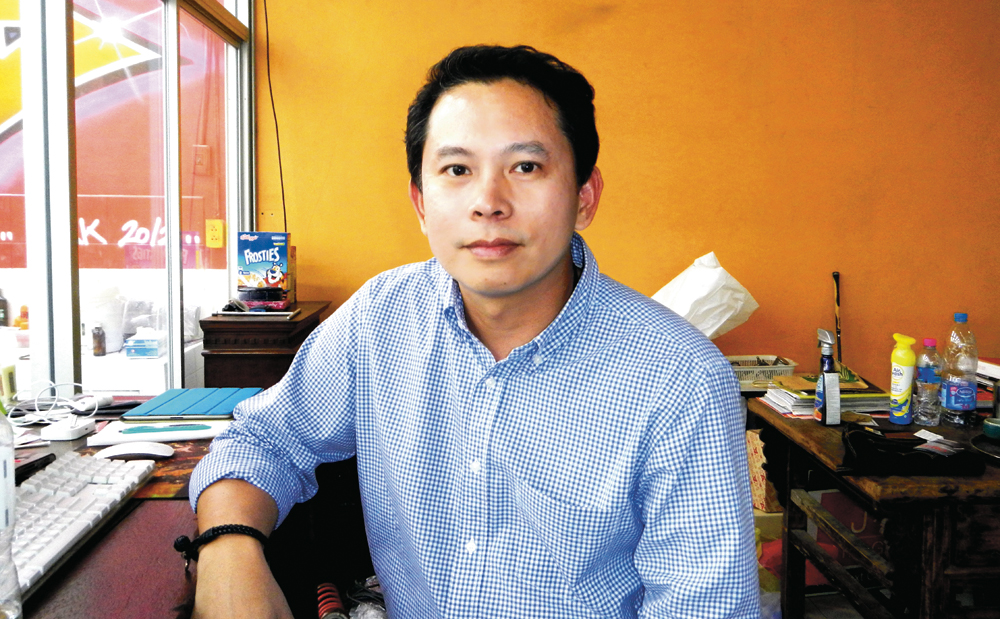 J Glaze, opposite Ramkhamhaeng Soi 39, Ramkhamhaeng Rd., 02-934-6160. Open daily 10am-9pm. Wash+wax from B350, wash+glass coating from B9,000.
Jirawut Sukkasem, Owner of 888 Spa Car Care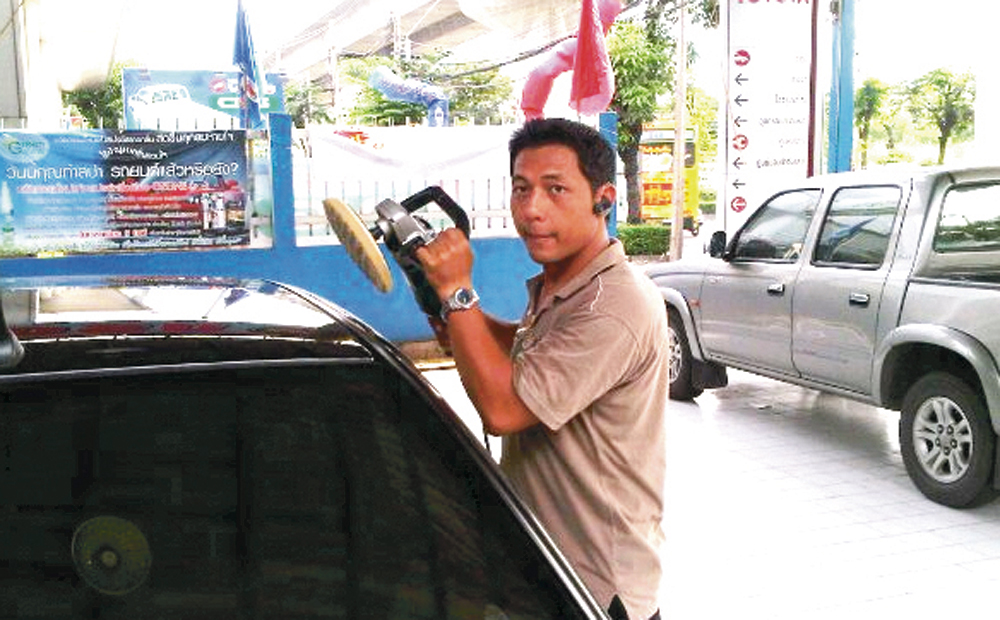 888 Spa Car Care, next to Sukhumvit Soi 70/3, Sukhumvit Rd.,081-803-1992. Open 9am-7:30pm Mon-Fri, 8:30am-8:30pm Sat-Sun. Simple wash B120, wash+wax from B300 wash+polish from B1,300 , wash+glass coating from B10,000
Suppatpong Rajitwattana, Owner of 55 Wash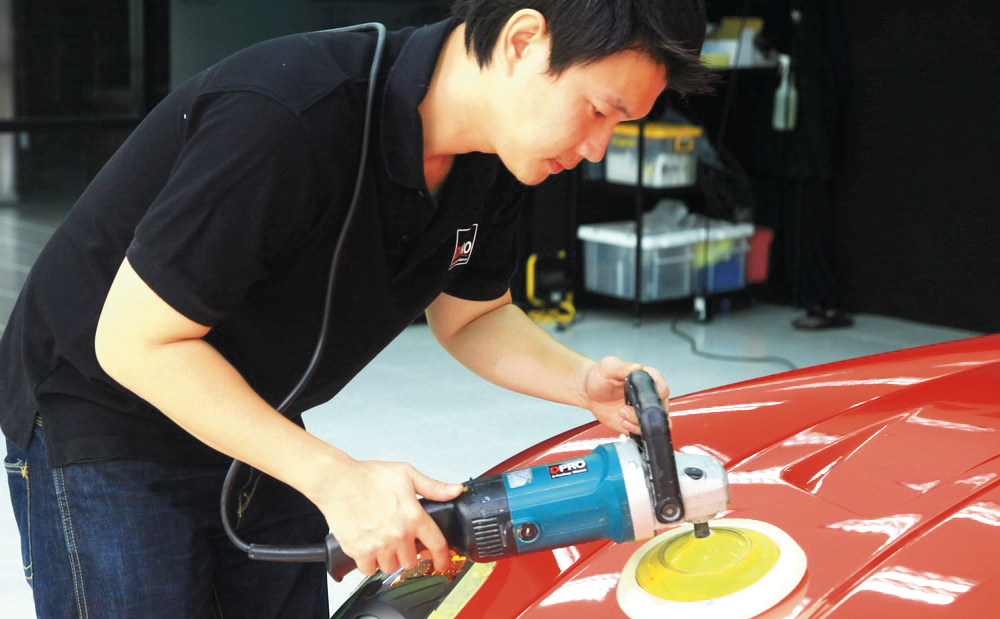 55 Wash,19/282, Ekkachai Rd., 02-892-4349. Open daily 9am-8pm. Simple wash B120, wash+wax from B300, wash+polish from B1,000, wash+glass coating from B15,000.