For the Spring shopping season, we advise you to ditch your expensive farang friends—you know, Vivienne, Marc, Christian and Chloe. Bangkok may not be an international fashion hub, but we still have enough talented local designers to dress you up in outfits that echo the trends in Shanghai, Milan, New York, Paris and London—and for much, much less.
Shanghai Splashes
Yaowarat Neon Chic is the local equivalent of the hot look in Shanghai right now—more colors, more patterns—which has been perfected by Shanghai Tang.
For Her: Her canvas-inspired dress from The Garten (B2,580) matches nicely with this pair of green ballet flats from ASAP (B1,950).
For Him: His dark outfit by Channel One (shirt, B890) and Inspired By Inner Complexity (pants, B2,690) is simple yet with embroided highlights on the back.
For all the a-tis out there who are looking for something cool for your night out, this multi-colored shirt from Grand G (B990) is for you. You can also give it a boost with pale denim jacket from Inspired By Inner Complexity (B3,680).
Daring Milan
Milan is almost synonymous with the word style, and this Summer, style translates into daring bold colors—primaries like red, yellow and blue. For inspiration, see brands such as Prada and Gucci.
For Her: The bright red bow on this shirtdress from Monoya (B690) will bring you all the attention you desire.
If you are not quite that bold and daring, pair this red patterned top from Senada (B2,150) with something a little lighter like this pale pink denim skirt from CPS (B1,290).
For Him: He is better off going for subtlety. Heavy brown straight-line patterned shirts from Grand G (B890) and simple denim from Be 70's (B1,890) work magic to bring across a classy yet casual look.
Breezy Blue Big Apple
New Yorkers are always on the move, so they need comfortable clothes as opposed to tight-fitting or tailored. Look to DKNY and Marc Jacobs for jeans and loose-fitting items; summer colors include beige and grayish blue.
For Her: A gray sleeveless number from Senada (B3,250) for daytime. At night, roam the city in a blue velvet dress by Senada (B5,900).
For Him: Below, contrasting white (B1,590) on black jeans (B2,490) from CPS. On the cover, matching tones (shirt from ASAP, B2,490; jacket from CPS, B2,290) for a sophisticated urban look.
Glamorous Paris
In the city of glam and haute couture, shimmers, glitters, and sequins are all the rage. If you're not ready to walk the sois of Bangkok in your futuristic Jean Paul Gaultier ensemble, the easiest way to highlight your inner Parisian is to just blend in some of the glittery pieces with simple colors.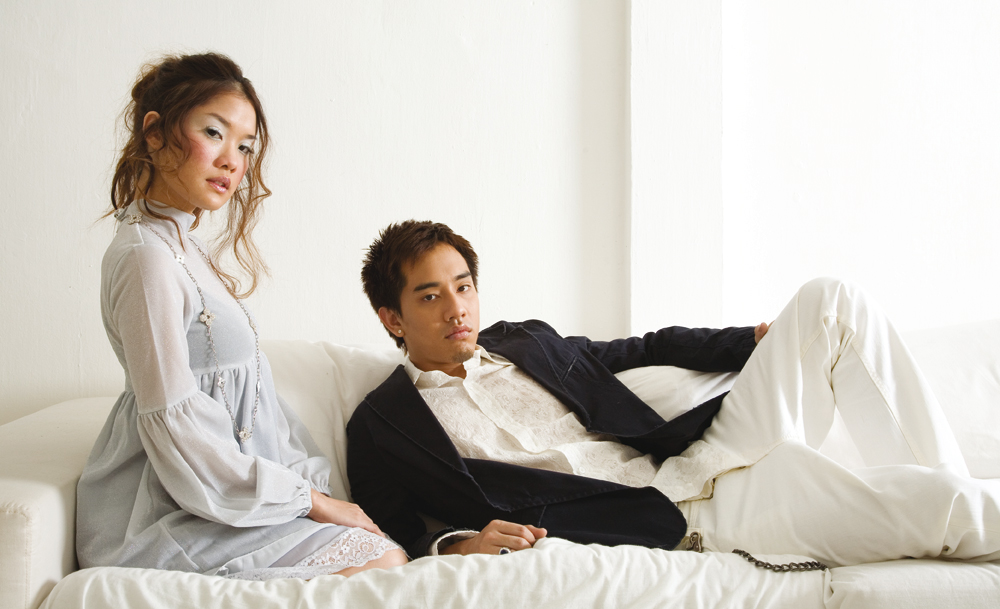 For Her: At right, this dress by Munchu's (B7,500+) keeps things under control with a white body highlighted by sparkly braided straps.
On top, a Duet turtle neck mini dress (B3,290) twinkles just right.
For Him: Contrasting blue black velvet ASAP jacket (B5,600) and white shirt by Duet (B1,950) and jeans by CPS (B2,290).
Classic Chic London
London is all about the classic, sophisticated look courtesy of Stella McCartney and Alexander McQueen: think tailored (or at least tailored look-alike) and monotones and browns. Tone down your snobbish style with buttons and bows.
For Her: The Sretsis ensemble (top, B6,500; bottom, B4,950) makes classic chic a little more playful. Add the leather tote from CPS (B2,990) to complete the look.
Side, blouse by Munchu's (B4,000+) is very khun noo, so balance it with masculine shorts from Senada (B2,190).
For Him: This elegant combination of earth tones and white show that casual does not mean sloppy—white jacket by Channel One (B2,590), shirt from Grand G (B890) and pants by Inspired By Inner Complexity (B2,690).
Opening This Summer: Adjust your look as the seasons change
Wide legged jeans
That's right: wide. Mind you, baggy and wide are not synonymous. Wide but straight and not too loose.
Platform Shoes
Platform shoes are much easier to walk in than noise-making stilettos while still adding extra height. Don't go too high, though, as you are not working the poles.
Metallic/Futuristic
Shimmers and glitters shine in the sun and help you get the attention you crave. Mix and match with simple base colors to balance out the bling.
Mini dresses
Mini dresses are comfy, cute and help bring out your girly side, plus you can convert them into long tops with a pair of slim pants.
Floral prints
Bloom up your outfit for the urban beach look. Beware though, too many flowers can be a disaster—one focal floral piece per outfit, please.
Headgear
Scarves, hats and sunglasses can brighten up a boring outfit in a snap.
Show your legs
If you've got it, flaunt it—but only if you've really got it. That means legs but not cellulite or flabby ass cheeks. If you have big thighs, showing only your lower legs will do.
Nude Makeup
You don't want your face stealing the spotlight from your summer outfit. Au naturale is the way to go. Reserve the bold red lips for the fall and winter when everything is dark and gloomy.
Fashion Police: Don't let us catch you making these mistakes
Hip Hop ain't no HAUTE
We're in Bangkok: you don't need sweaters and blings, and you definitely don't need the pants anymore if you're gonna wear them that low.
Slut Couture
It's "show your legs," not your ass. Unless it's making you money, if you're going to wear something short, don't pair it with a revealing top or super high stilettos.
Under not Outer
For low-rise pants, you should wear even lower rise underwear. See the word "under"?
Branded Bimbos
It's good to glam up your B299 dress from JJ with an Hermes bag. But if your sunglasses are Armani, your top Burberry, your pants D+G, and your bag LV, that's just too much. You may have money, but showing it off like this just makes you look cheap.
Khaosan Chic
OK for backpackers who don't know any better but reserve those torn up military shorts, raggy tops and flip flops for the beach or short trips to your neighborhood 7-Eleven.