Private dining has hit a fever pitch in Bangkok. With high-end restaurants charging an an arm and a leg for tasting menus, not to mention the hours on end you have to devote to a single meal, it's easy to see why people have gravitated towards the more relaxed approach of private dining. Here's a run-down of one of the hottest dining trends in Bangkok right now.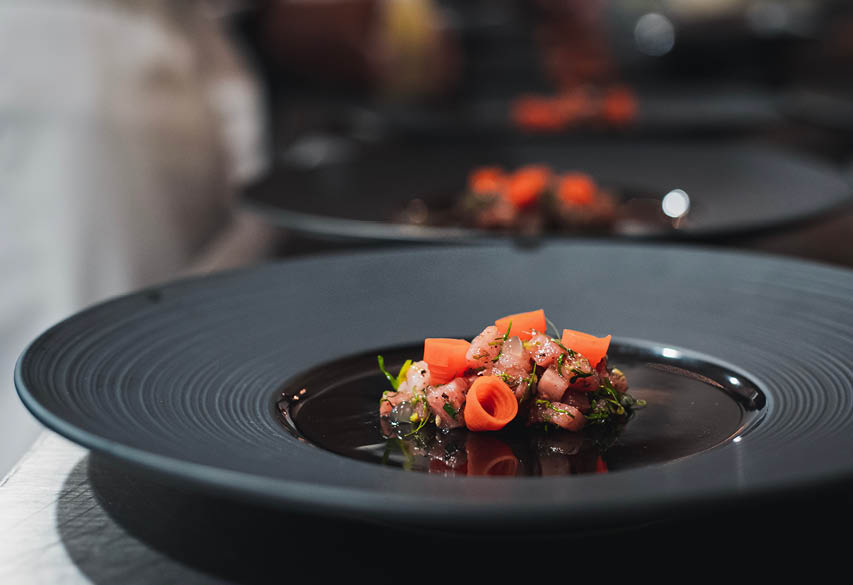 Who:
AdHoc, the newest player to go the private dining route, is making headlines with beautiful plates presented by chef
Supasit "Tap" Kokpol. His self-proclaimed cooking ethos can be broken down into three words—
heritage, ingredients, innovation.
What: The delicate, contemporary Asian-influenced menu is inspired by the chef's Thai-Chinese heritage and his worldly travels. He sources ingredients from small farms across the region and uses them across 10-course tasting menus (B3,400/person) that change quarterly. Spread across three floors, the recalls warm, minimal Nordic elegance, while the open kitchen allows you to chat with the chefs while they're plating your meal. The current menu offers palate-pleasing dishes like miang kham ice cream, bluefin tuna larb with spiraled, pickled carrots and a perfectly-cooked free range Dombes duck served with red plum sauce and a red cabbage cake.
36/22 Phrom Si Soi 1, 065-143-1111. Open daily 6pm-midnight
What: Chef Prin's omakase-style kitchen offers a 10-seater counter bar where he and his team whip up neo-classical Thai dishes with hints of Chinese influence. Known to delve deep into old history books and cookbooks, chef Prin offers monthly-changing menus featuring curries with local fruits, stir-fries and some veritably life-changing Thai salads. For B3,200-B4,500/person, you'll not only get a front-row seat and delectable meal, you'll also get to see a culinary savant at work.
100 Mahaseth Rd. Open Wed-Fri 7:30pm (one round); Sat-Sun 5:30pm and 8:30pm (two rounds)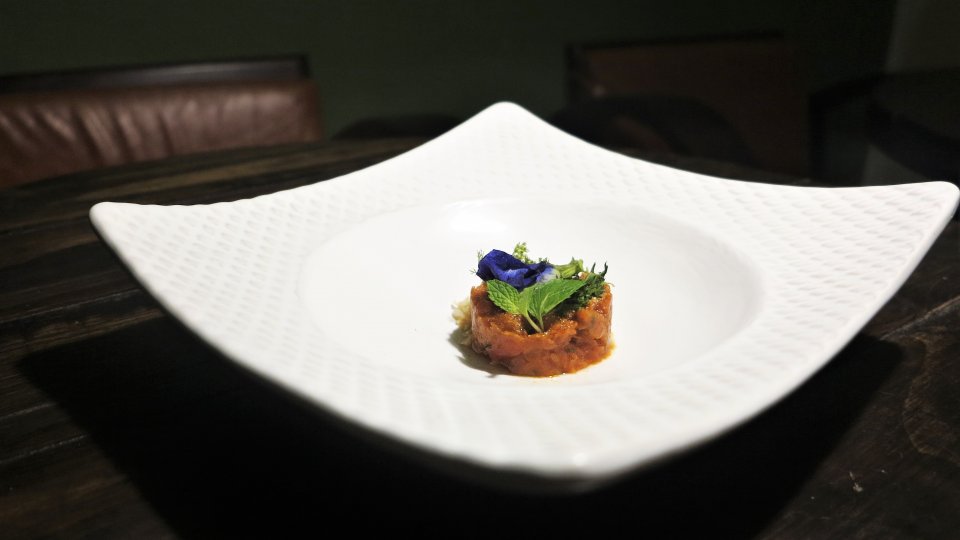 Who:
Thai-Swiss chef-owner Steven John is the bright mind behind Empty Plates, a private kitchen based in his own home. After binge-watching more than a hundred recipes from Gordon Ramsay's cooking class on Youtube, the self-taught chef discovered that his natural talent lies in the kitchen, and since then he has collaborated with the likes of chef Num of
Samuay & Sons
.
What: This dining experience sees a Lat Phrao condo transformed into a fine-dining restaurant, with multi-course dinners that lean on a Europe-meets-Asia style. John's passion with Thai produce is showcased in his ever-changing dishes like beef nam tok with a fiery nam prik jaew that incorporates Dijon mustard and Worcestershire sauce; red mullet with watercress emulsion and zucchini carpaccio; and sake radish prawns from Ranong served with calamansi, chili prawn foam and home-baked bread. He even makes his own cocktails, but wine and beer are also available.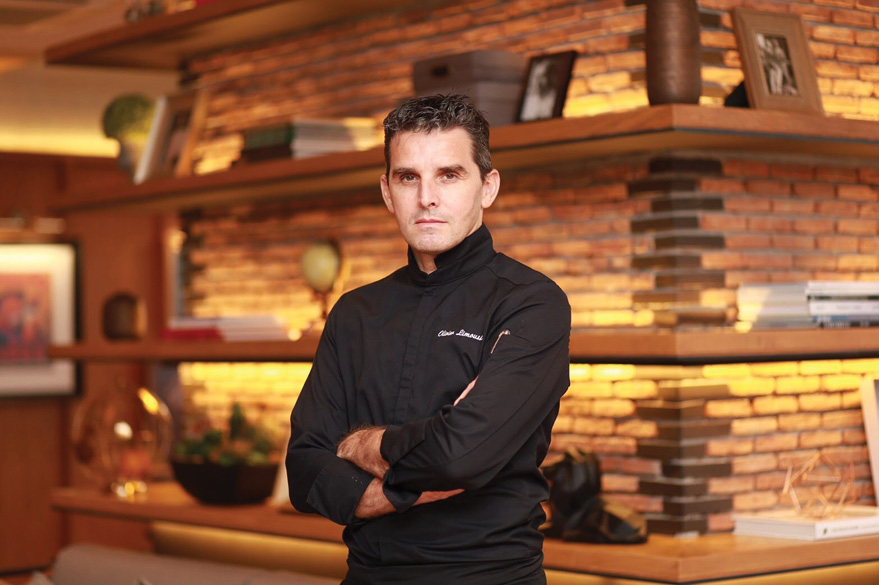 Who: Formerly the executive chef of L'Atelier de Joel Robuchon, Olivier Limousin has been busy working on his latest venture, L'executif, an exclusive dining and catering company available in Thailand and overseas.
What: With a resume that reads like a Michelin guide, Limousin worked in some of the best restaurants across Europe before landing in Bangkok. His food is French fine dining with a touch of Thai flare, but don't worry—he still keeps the essence of Robuchon alive in his tailor-made menus. His company, unlike most on this list, is for house calls or private events where he will go to you with his team. He sources premium ingredients from around the world, offers a wine list that would make any sommelier in the city jealous and does it all with precision.
Mighty Private Dining
Who:
Mighty Private Dining has been around for just under a year and is led by
chef Kongsak "Pang" Likitchanyakun and chef Waranya "Jeab" Sunantharak. Both studied at Le Cordon Bleu before working at Bangkok restaurants like
Ku De Ta, Freebird and
Gianni Ristorante
.
What: The food here is an international fusion of European dishes with Thai elements. The dining space has a hi-so grandma-meets-antique collector feel, with light wood armoires, gold-framed pictures and antique trinkets. The menu here can change depending on taste and preference, but expect dishes in the vein of cappuccino mushroom soup with mushroom madeleine and smoked and seared scallops with green pea mousse. The place can hold up to 14 people and a five-course menu is priced at B2,800/person, while the eight-course menu, which is the chef's recommendation, is B4,200/person.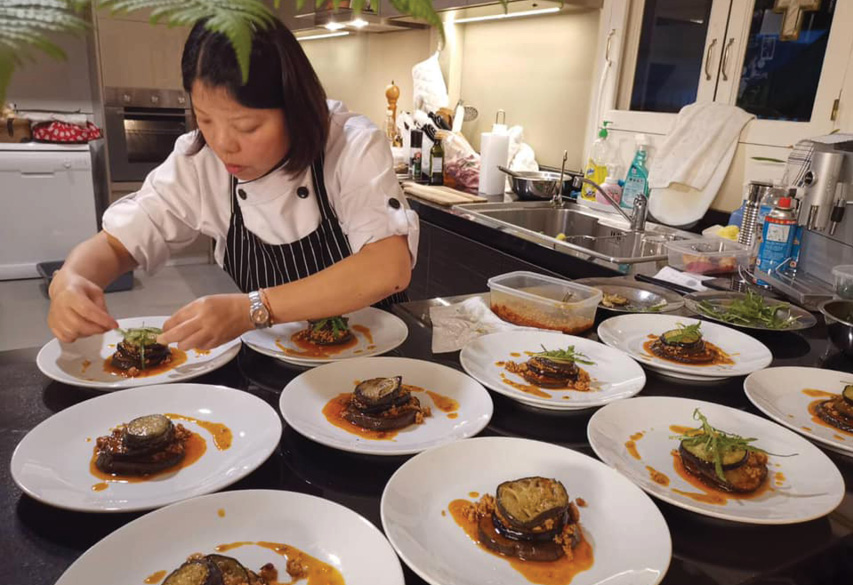 Who: Hong Kong-raised chef Anita Tang left her Chinese restaurant in Phuket after four successful years to open this private dining kitchen in Sukhumvit. She also mastered the art of pasta-making after living in Bologna, Italy, for a year.
What: The 16-seat private restaurant and cooking school feels like a friend's kitchen, centered on a large island topped with equipment and ingredients. Tang's food is a mix of Chinese and European flavors and can be customized to your liking. She can even feature both cuisines in one menu, where you'll get to savor Chinese dumplings with green onion, Taiwanese fried chicken with Italian balsamic vinegar and salted egg yolk with pumpkin and squid. A six-course menu will set you back B1,088/person, while the eight-course menu is priced at B1,688/person. You can book for a minimum of four people and a max of eight.
Room 77-78, Young Place, 118 Sukhumvit Soi 23, 094-597-3756. Open Tue-Sun 10:30am-1:30pm, 4-10pm
The Table by Chef Pam
Who:
No stranger to the limelight, chef Pichaya "Pam" Utharntharm—a Le Cordon Bleu graduate and former chef at three-Michelin-starred Jean-Georges in New York—was one of the first chefs to introduce private dining to the Bangkok food scene. Beyond hosting dinners, she also juggles being a judge on
Top Chef Thailand
and appearing on her own cooking show.
What: The restaurant focuses on New American cuisine while tying in elements of chef Pam's Thai-Chinese background. Owing to her love of classic American barbecue, she has mastered all things grilled, smoked and roasted. She also prides herself on five elements: salt, acid, spice, texture and the Maillard reaction, which can be seen in her ever-changing menu—think fish maw and chicken velouté or slow-cooked soy sauce lamb ribs with mantou. There is no charge for corkage, so guests can bring their own drinks, although they do offer a nice selection of wines and champagne.
Aria
Who:
Chef Worathon "Tae" Udomchalotorn has a CV that would make any food-lover nod in approval. A graduate of Le Cordon Bleu and the Culinary Institute of American, chef Tae also counts stints at WD-50 in New York, Benu in San Francisco and
Le Du
among his experiences.
What: Fueled by a passion for fine dining, chef Tae blends his past culinary experiences, utilizing Western and Asian techniques as well as top-of-the-line ingredients sourced locally and from abroad. For B2,900/person, you can try their nine- and 10-course tasting menus that feature dishes like a tartelette of mountain crab cream and confit tomato marmalade, and duck ballotine with black truffle jus. Chef Tae is also trying out beer pairing as part of the meal experience.
2/F, Gump's Ari Community Space, Ari Soi 4 (North). Call 090-053-5563 to book
---
Chef Tap of AdHoc
Why are you doing private dining?
Fila, the owner of AdHoc, and I had the same idea about having a place where we can sit down with friends and have great food without having to worry about the people around us. We wanted to create a space where people could have intimate moments with their closest friends, while enjoying delicious food and wine.
What are the advantages of private dining?
When an entire restaurant is only one table, we can create a vibe that other restaurants cannot. As a chef, I feel privileged to serve my food directly to my customers and explain what we've done to make these dishes possible. It brings another level of emotion to the food when our customers are able to hear our inspiration and ask us questions about our dishes.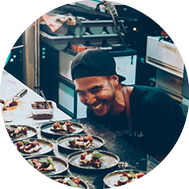 Chef John of Empty Plates
Why are you doing private dining?
I am not a trained chef—I never went to culinary school or worked in a restaurant before. It would have been impossible for me to find a place where I could be able to serve my food. It all started a few years ago when I invited friends to my home for dinner parties and noticed that people like my food. I also like the privacy and unpretentious atmosphere where people can truly enjoy [themselves] and be themselves while dining.
What are the advantages of private dining?
To be exclusive and to provide a very unique dining experience. That is what private dining is all about. I serve ten people a night, three or four times a week only. A lot of thought and time goes into the preparation and execution. [For me], running Empty Plates has taught me so much, not just to become a better chef, but also how to manage, how to do marketing, retain customers, work with suppliers, visit farms and find produce.
Chef Tang of Anita Private Kitchen
Why are you doing private dining?
Private dining is the best for not having to deal with any disruptions, which you can't always guarantee when you are dining in the main area of a restaurant. Sitting next to a table with a crying child or a loud and boisterous group can diminish your dining experience. Some people opt for private dining because it affords a high degree of privacy.
What are the advantages of private dining?
It offers a completely different experience from a standard restaurant, where the private chef designs the menu specifically for customers. It caters to special occasions, and when customers eat in a private dining area, they get a high degree of attentiveness from the staff [that] can augment the entire experience.