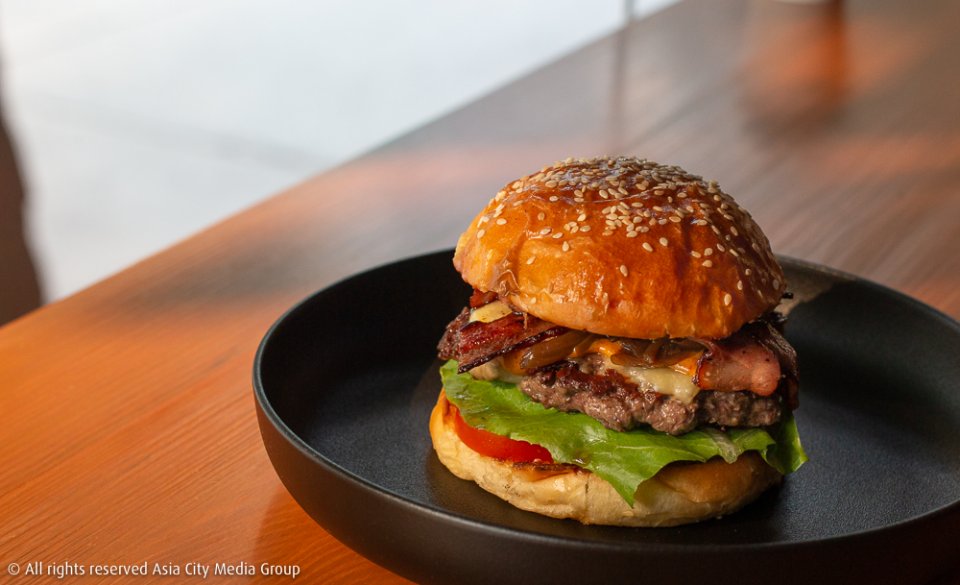 This Chiang Mai burger specialist made its way to Bangkok, bringing its signature American-style burgers with it. Highlights include The Beast (B230) with a soft brioche bun, juicy patty, caramelized onions, cheese, bacon, organic lettuce, and the signature "Beast" sauce. There's also the Double Double (B340) with two patties, double cheddar cheese, bacon, caramelized onions, and, you guessed it, Beast sauce. They don't just sell burgers, though. Try the Australian wagyu flank steak (B690) served with chimichurri sauce, tater tots (B110), and bacon-jalapeno mac and cheese (B200).
Thonglor Soi 10, 065-441-1145. Open daily 5pm-midnight. BTS Thong Lo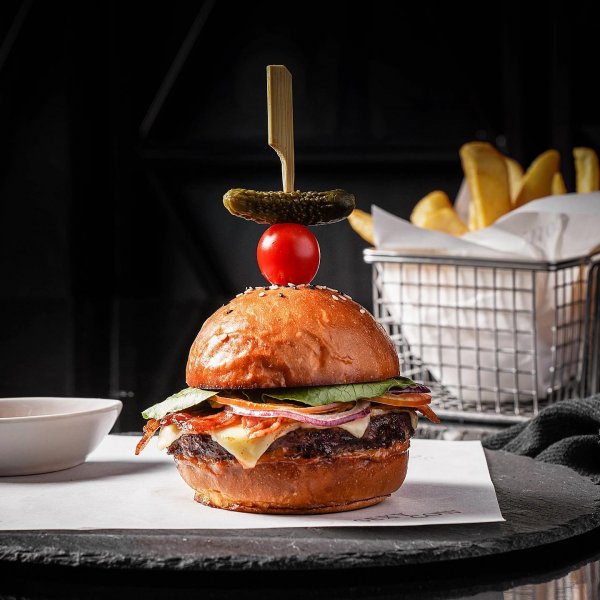 The name pretty much says it all. This is another carnivore's haven that loads up on all kinds of premium cuts of meat from Australia, Japan and the US — the world's big three beef producers. The venue has its own, purpose-built coal-fired grill, which they've named "Charzilla", and is used for everything from seafood, to steaks and of course burgers. Speaking of burgers, you'll find three options on the menu here, the sexy cow classic (B400), the avocado (B450) and truffle burger (B450). But the restaurant's mainstay actually focuses on prime cuts of meat and premium seafood, with all the best of both highlighted at the very top of the menu—the first items you see.
G/F, The Millennia Tower, 62 Langsuan Road, 082-924-4014. Open daily 11am-2:30pm, 6pm-10pm
Exclusively for Citi credit card members:
Get a complimentary Korean wings 5 pcs.valued THB 180 when spending THB 500 or more /sales slip (limit 1 dish /card /table /sales slip)
Today – 31 Dec '20
Billy imports meat from all over—the U.S., Japan and Australia—and dishes up portions on platters fit to burst. While dishes like beef brisket take center stage, Billy's burger game is up there, too. The "Billy's Burger" (B310) is a must, modeled on an In-N-Out "Double-Double" with its two well-crusted, thin patties, simple cheese slices and house-made potato bun. The "Ensenada Burger" comes with a similarly well-made, flame grilled beef patty, avocado, mayonnaise and molcajete salsa. There are chicken and pork options if you are not a beef eater.
Mahutan Plaza, 888/23-24 Phloen Chit Rd., 02-651-4398. Open Tue-Sun 11:30am-11pm.
Exclusively for Citi credit card members:
Get 10% discount when spending THB 2,500 or more /sales slip (food only)
Today – 31 Dec '20
Operated by the same team behind Thai bean-to-bar chocolatier, Malai Chocolate, this restaurant offers American comfort food such as Nashville-inspired hot chicken, daily-made donuts, and sandos (a massive slap of chicken in between a potato bun). Try the Nashville Hot Clucker with their signature "clucking" sauce, house-made slaw and pickles, hot chicken and a brioche bun. You can also go all-American with the Clucking Wings (B220)—crunchy and golden on the outside, piping hot and juicy on the inside.
11/33 Petchaburi Soi 47, 064-871-9002. Open daily 10am-7pm
Daniel Thaiger is the instigator of Bangkok's burger truck trend, with handcrafted buns, no nonsense-classics—cheddar, and signature Thaiger sauce. The classics include Steve burger (B280) with a perfectly seasoned chargrilled beef patty, unmelted cheddar slices, lettuce, tomato, grilled onions, and the signature sauce all served between a Conkey's brioche bun. The menu also features a grilled cheese sandwich (B49), bacon cheddar french fries (B200), and parmesan truffle fries (B200).
30 Sukhumvit Soi 11, 02-255-5532. Open daily 11-2am. Open across the city, check their FB page for locations and details.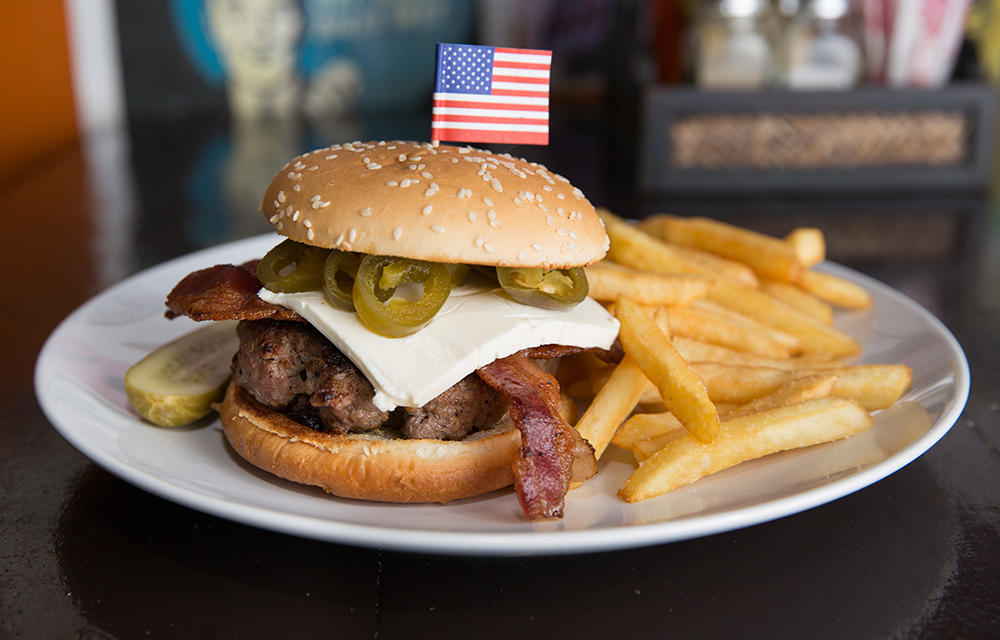 A famously grungy space out in the Rama 9 badlands, Fatty's mostly flies under the radar. But it boasts a loyal following among expats, all thanks to the rock and roll vibe and the kitchen which has a real way with all-American junk food. Burgers like the cream cheese (B260) comes with throat-searing sauce, crisp bacon, Wisconsin cream cheese and jalapenos. Another highlight is the Philly cheesesteak (B250)—sirloin slices with sauteed peppers, caramelized onions and Wisconsin mozzarella, all served on top of lightly toasted baguette.
598/66 Asoke Din Daeng Rd., 081-438 7221. Open Tue-Sun 11am-midnight
This riverside restaurant offers seriously tender and juicy meat, smoked at low temperatures for 13-14 hours with local longan and lychee wood from northern Thailand. The signature burgers include the Beast Burger (thick beef patties, fried onions, fried egg, crisp bacon, lettuce, caramelized onions, and buns, B380), and the brisket ( B495) which uses grain-fed beef and is served with homemade pickles, smoked corn, homemade mustard and their barbecue sauce.
Charoennakorn Soi 45, 081-301-7711. Open Tue and Sun noon-3pm; Thu-Tue 3-10pm
Halfway between Asoke and Phrom Phong, this joint busts out remarkably familiar-looking smashed patties in a narrow space fitted out with patterned tiles and black brick walls. Burgers (all B245 single/B295 double/B375 triple) are stylized by city, from the classic New York (Australian beef, cheese, onions, pickles, ketchup and mayo) to the Dubai (chicken, cheese, lettuce, onions, tomato, Prime sauce). We recommend the Stockholm (beef, cheese, pickled red onions, pickles, tomato, lettuce, Prime sauce) whose the flavors guaranteed by being the winner of being the winner of "Phuket's Best Burger 2019."
497 Sukhumvit Rd., 093-583-8700. Open noon-11pm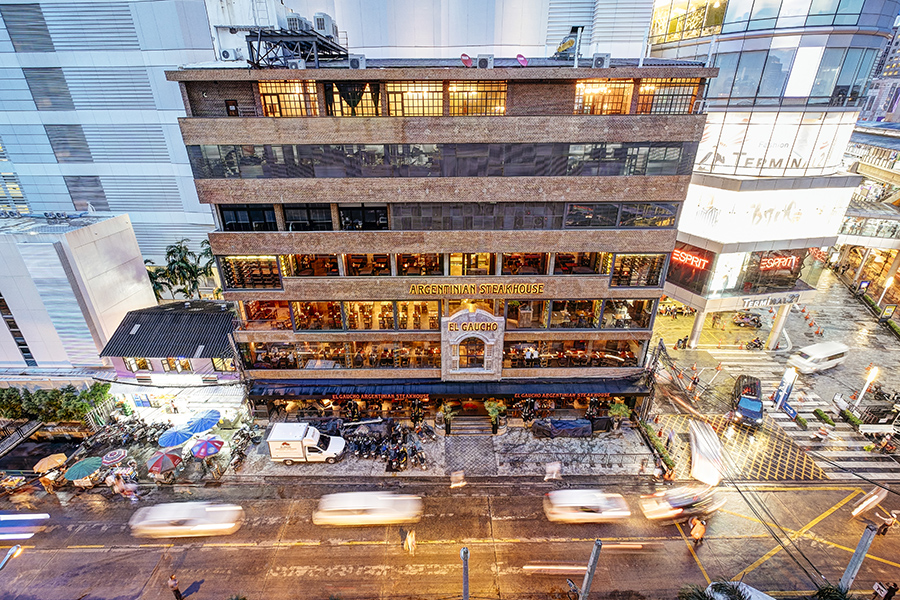 One of Bangkok's longest-standing steakhouse chains, and still a place that brings in droves of customers looking for a cowboy-worthy meal. Steaks and giant slabs of meat are the restaurant's calling card, there are some good burgers to be found here — they are similarly massive and on the higher end of the price scale. Not surprising when the first option on the menu is a homemade burger with foie gras (B1,090). You can also opt for the classic version (single patty B690, double patty B1,090). All burgers are made with a blend of four meats, and need to be served medium or higher.
Steakhouse, 8/4-7 Sukhumvit Soi 19, 02-255-2864. Open 11am-midnight. There are two other locations in Langsuan and Thong Lor. For reservations, visit https://th.elgaucho.asia/
Exclusively for Citi credit card members:
Get a complimentary hot chocolate cake with vanilla ice-cream valued THB 460 when ordering a la carte menu (limit 1 dish /card /table /sales slip)
Today – 31 Mar '21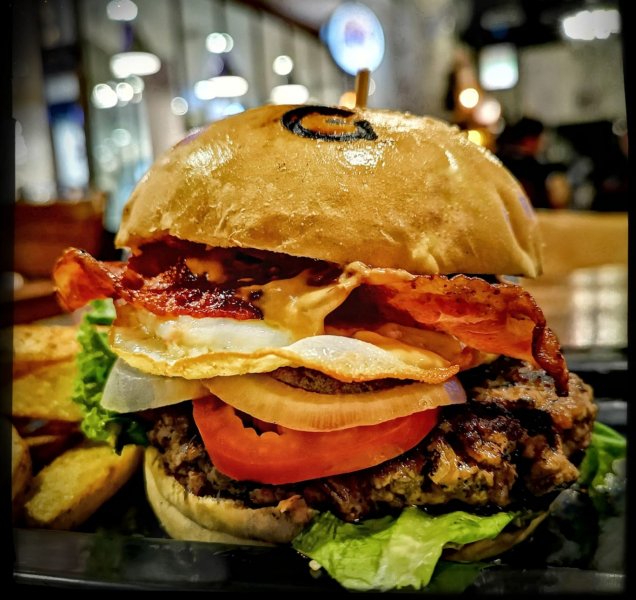 Inspired by famous New York City diners of years gone by, The GARAGE Burger & Grill has been serving top-notch American staples for the past 18 years (quite a feat in the restaurant biz), but pays special attention to burgers. There's a pretty big selection here. You can keep it classic with the "GARAGE Burger" (pretty much your standard single patty burger with a selection of toppings), or change it up with other crowd favourites like the chili burger, vegan burger or the "Juicy Lucy" stuffed with cheese. If you are not in the burger mood, there is also a wide selection of pastas, salads, hotdogs, sandwiches, steaks and ribs to fill your belly.
2/F, All Seasons Place, Wireless Road, 02-685-3626. Open daily 11am-9:30pm.
Exclusively for Citi credit card members:
Get 10% discount on food only
Today – 30 Jun '21
Sponsored by: