It's 6am and the sun is barely up as we hop into Weerawat "Num" Triyasenawat's 4x4. Despite the viscerally off-putting hour, and the fact that he's geared up in an ungainly facemask, Num seems to be in bright spirits. "The pollution has been pretty bad these days so one can never be too careful," he says.
Num is the owner and head chef of
Samuay and Sons
, the highly regarded contemporary Isaan-Thai restaurant located in agricultural hub Udon Thani. Imagine bites like ant larvae delicately piled over wild-caught river fish and local avocado, or seasonal marian plum with local crab and salted egg yolk. But he's not just known for using local Udon produce. At his game-changing restaurant, he's flying the flag for foraged food—a Rene Redzepi-like figure in the fields of
northeastern Thailand
.
Today, Num is taking us on a tour of the forests and fields in Sakhon Nakhon, where he goes to find ingredients, inspiration and peace of mind. During the two-hour car ride, the blazing sun starts to rise and displays a faint layer of what looks like morning haze above the passing fields. Instead, it turns out to be the potent pollutants from farmers burning the last remnants of sugarcane husks—good thing we packed extra bandanas.
"Foraging is a big part of living in Thailand, especially for Isaan people," says Num. "Here, an environmentalist and activist named Sawat Upa-hat works with local people to help them make a living by foraging and selling [the edible plants], while still making sure to keep it sustainable. Sawat supplies us with most of our produce and proteins. He knows everything about Isaan culture. We call him Mr. Everything."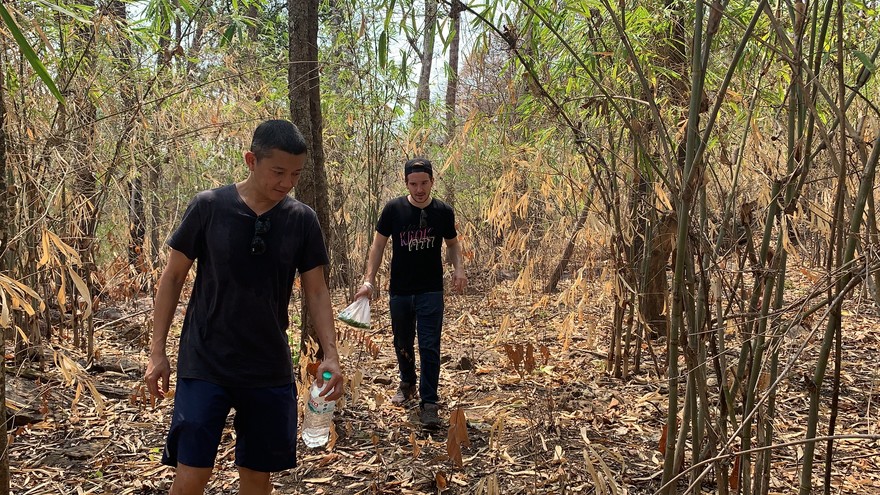 Chefs Num and Pepe Dasi Jimenez foraging for ingredients in Sakhon Nakhon
Siam tulips
The ride is a breeze as Num tells us about his new summer menu and what ingredients to look for while we forage. Pepe Dasi Jimenez, a young Spanish chef who is joining us for the day and interning at Samuay and Sons, listens with great intent and curiosity. "Udon Thani is such a peaceful place. I've never seen so many unique ingredients," he tells us. "Chef Num always takes time to teach me about them and Isaan culture, and with so much passion. I never feel shy to ask questions."
When we arrive at the forest, we are greeted by Mr. Everything himself, Sawat, who embraces Num like a son. He tells us he won't be joining our trek, but he expresses his sincere gratitude for our visit. "I'm indebted for chefs like Num who work so hard to keep our community alive and fight to preserve our forests and culture," he says, before seeing us off with our foraging guide, who is dressed head-to-toe in army fatigues.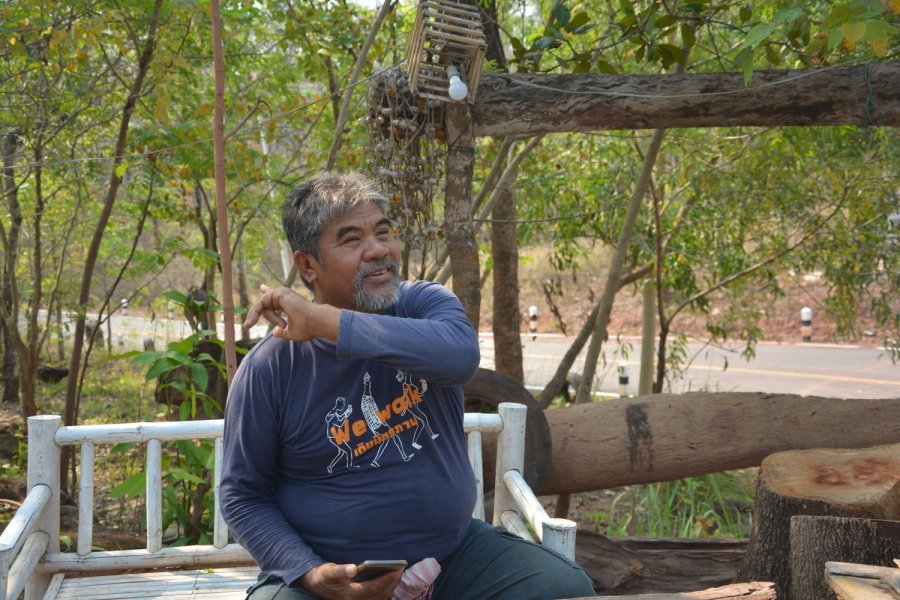 Sawat Upa-hat, a.k.a. "Mr. Everything"
During our three-hour expedition, there's a constant glimmer of excitement in Num's eyes. He tells us he has been coming to this forest for years. He has even spent nights after long, treacherous hikes, but still he savors every minute of it, which probably explains his astonishing knowledge of local ingredients. Even though we have a guide, hacking away at thorny shrubbery as he leads us deeper into the woods, Num can point out the different species of herbs and whether they're edible or poisonous—the rare ingredients he needs, the ingredients that are the basis of his entire restaurant.
From table to farm
Num was 30 years old when he realized he wanted to be a chef. He moved to California, where he worked at then Michelin-starred Commonwealth, a modernist Californian-driven restaurant located in San Francisco, before doing an internship at Atelier Crenn and returning to Bangkok to hit the kitchen at
Bo.lan
. It wasn't easy for him to choose this path, he says.
"Our parents look at chefs as labor class workers. Their hope is for us to get a job that will make good money. When my brother Joe and I decided to open a restaurant, we really fought with our parents. They couldn't understand it, but this is what I wanted to do, and since then, I have never looked back."
After our adventurous morning, we are ravenous. Num takes us to his favorite restaurant in Sakhon Nakhon—one where he takes all his foraging visitors—but he casually warns us it's not for the fainthearted. Laab Pie Lorm, a shophouse located on a quiet road, specializes in nose-to-tail dining and features the Isaan holy grail: cow bile. This bitter-tasting ingredient is present in almost every dish, because, Num tells us, the locals believe the bitterness will help ward off parasites and has medicinal properties.
Lunch spread at Laab Pie Lorm
Isaan food is a far cry from the dishes most are accustomed to. At Samuay and Sons, although all ingredients are 100 percent Thai, Num takes a more modern and relatable approach to today's palate.
"Sometimes I find it difficult to cook my food outside of Udon Thani," he says. "I want to represent the terroir of Isaan, but when you go outside your zone, it can be quite challenging. Not everyone outside this area understands it, so you need time to digest it and cook it right, to make flavors that people outside this area can understand."
Chalee Kader
, head chef at
100 Mahaseth
, as well as a longtime friend of and occasional collaborator with Num, says: "His respectful personality is not only reserved for people; it's relevant to everything he does, that includes having the utmost respect for his culture, the forest and the fruits it bears.
"Num can extract the flavors that he wants out of them or leave them as they are to respect the form and natural beauty all the way down to the physical attributes of each ingredient. It's a real reflection of his personality and beliefs."
Avocado and ant larvae in a crispy prawn wafer with wild-caught river fish
The next wave of Thai chefs
The morning hike and meat-centric lunch has us all yawning as we make our way back to the car. Num turns on his favorite band, Paradise Bangkok, known for their molam funk music, and tells us about his future. He wants to acquire his own piece of land, where he can start from scratch and grow his own forest. In three years, he plans to move Samuay and Sons, so his guests can have a first-hand experience of what he's preaching.
"Since we spend so much time in fresh markets and foraging with locals, I realized that this is the direction I wanted to see Samuay and Sons go," he says.
It is that devotion to his holistic culinary philosophy that has positioned Num as a flagbearer for the future of Thai food.
"He has chosen to approach the food of Isaan at Samuay and Sons the way Rene Redzepi of Noma or Magnus Nillson of the now closed Faviken have done: seeking hyperlocal and seasonal foodways, foraging half-forgotten forest plants and herbs, promoting ethical animal husbandry and then cooking with great skill and technique, plating like a Michelin-starred restaurant, with deep respect for the cuisine of his ancestors. He and his compatriots are quite literally the future of the cuisines of Thailand."
As the 4x4 rumbles down the road back to Udon Thani, full of obscure plants and vegetables, Num seems to recognize his role. "We will still do great Thai food, but in our own way," he says. "We are going to support our farmers and act as storytellers, representing the people from the villages. I think Thai people should be proud of what we have here and what we have accomplished."