You've probably heard the names of their restaurants already. BK has been writing about them for months. 80/20 even made the Top 30 of Top Tables way back in March. But as we approach the end of 2017, it feels like Bangkok's restaurant scene has this year witnessed one of those rare sea changes—the kind that happened when Gaggan showed us how double-digit-course tasting menus should be done, or Le Du refined Thai cuisine with skills honed in Michelin-starred restaurants, or Bo.lan started shouting "local, local, local" and threw its first farmers' market (back when farmers' markets were more about buying fresh produce than brownies).
All those restaurants remain awesome, valuable places on the Bangkok food scene—and will no doubt pick up big with the arrival of that hallowed red book, the Michelin Guide, in Dec—but there's also a new generation of scene-defining Bangkok chefs out there, too. This new guard is cultivating its own dining ideology—sometimes fine, other times, not so. It isn't about truffle or uni mania, and doesn't abide by (or cater to) a foreign palate. Instead, these chefs plunder fresh markets, reinvent marginalized recipes, and harness their training, from molecular gastronomy to down-the-line traditional, to bring us truly local food.
We've chosen these six chefs and the restaurants they represent because, in all of their kitchens, you'll taste flavors and ingredients that are uniquely Thai. That might be an authentic tom kee lek hang wua (oxtail braised in herb stock and cassia leaves), or seemingly un-Thai creations like Canvas's gluten-free shrimp noodles (B360), dressed in an intense seafood sauce cut with the familiar local flavors of kaffir lime and a gentle dose of chili.
Some of these people originally come from here. Some are foreigners. All make food with a devotion to local produce that defines where Bangkok's food scene is at right now. In fact, it would be impossible to imagine their kitchens anywhere but in Thailand.
---


Garima Arora, Gaa
"It's about challenge. Anybody can cook with wagyu beef or truffle and make it taste good. But where's the challenge? It's more difficult to get unpasteurized milk than truffle in Bangkok. Some people think it's so wonderful to get uni all the way from Japan, but you're not doing anything new."
The Restaurant: When it opened in March, Gaa made headlines as a natural sibling to Gaggan. It was run by his former sous-chef, the Mumbai-born Garima Arora. It sat directly opposite Gaggan. And it too specialized in fine-dining tasting courses that employ high-wire culinary techniques. Still, it sports a younger, relaxed vibe, and on the left wing of the second floor is a tapas bar where you can enjoy some drinks alongside a la carte snacks.
The Chef: Arora trained at Le Cordon Bleu Paris. She's also a former chef de partie of Noma. Given free rein at her own restaurant, she cooks up something she's termed "modern eclectic," a mishmash of influences of no specific provenance. The ingredients, however, are 100-percent local, with Arora personally overseeing the fermentations and baking of lamb-stuffed bread.
The Food: In Arora's 10-14-course tasting menu (B2,000-2,600), modern techniques meet traditional cooking methods in dishes like the sandwich of translucent, dehydrated cabbage with roasted bell pepper paste. Simpler-looking items pack no less flavor, like the grilled seasoned baby corn husks with corn milk dip. Thai and Indian cultures converge in the poached grouper, wrapped taco-style with caramelized milk skin and kanom la (a Southern Thai crepe floss dessert).
68/4 Lang Suan Rd., 091-419-2424. Open daily 6-11:30pm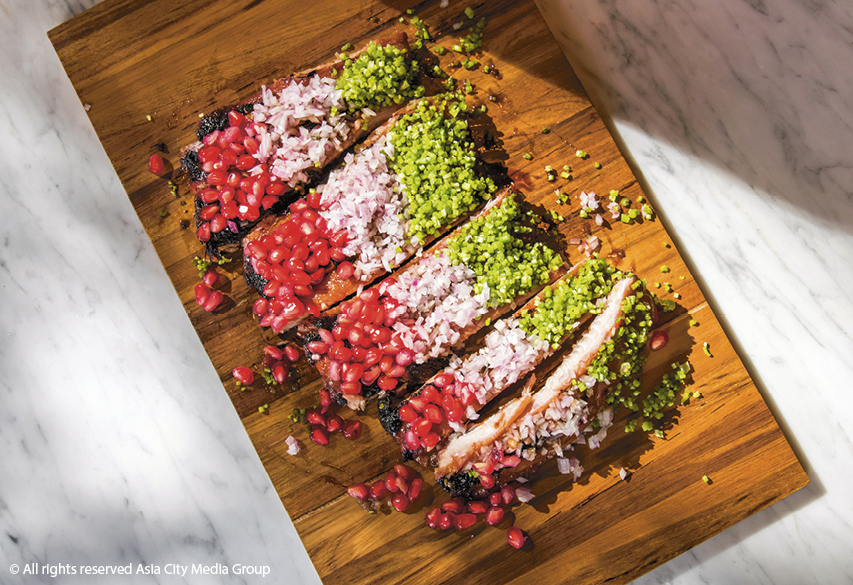 ---


Parkorn "Tan" Kosiyabong, One Ounce
"The old generation of Bangkok chefs who raved about imported produce has already passed. This next generation values the stuff we already have in our country, and believes it's better to invest in this land. I work with farmers through a supplier called ByFarmers. I ask them what they can provide as substitutes for the flavors or textures of the ingredient I'm looking for during its off-season."
The Restaurant: The best reason to trek out to Chang Chui art complex, Once Ounce shares a name with its sister coffee shop on Ekkamai—but don't expect drab, cafe-hopper fodder here. Tan serves up international food using local produce from a space that's Mad Max meets Marie Antoinette, with classical European sofas and chandeliers sandwiched between rusting scrap iron.
The Chef: Tan earned his molecular gastronomy stripes in the three-star kitchen of Azurmendi in Spain, taking part in the restaurant's 100-night dining event in Malta. After that he moved to Phuket, leading the team that built Iniala resort's collaboration with Azurmendi, called Aziamendi. These days, he also draws on the food cultures and ingredients from across the region, and has spent time visiting farms and restaurants in Vietnam and Laos to better understand their taste profiles.
The Food: The menu devotes itself entirely to Thai ingredients, although the flavors Tan creates with them are completely unrestrained by geography, whether it's a Korea-referencing plate of gnocci (B300) or a tiramisu made with Chiang Mai coffee (B140).
Chang Chui, 460/8 Sirindhorn Rd., 02-116-6076. Open Tue-Sun 11am-9pm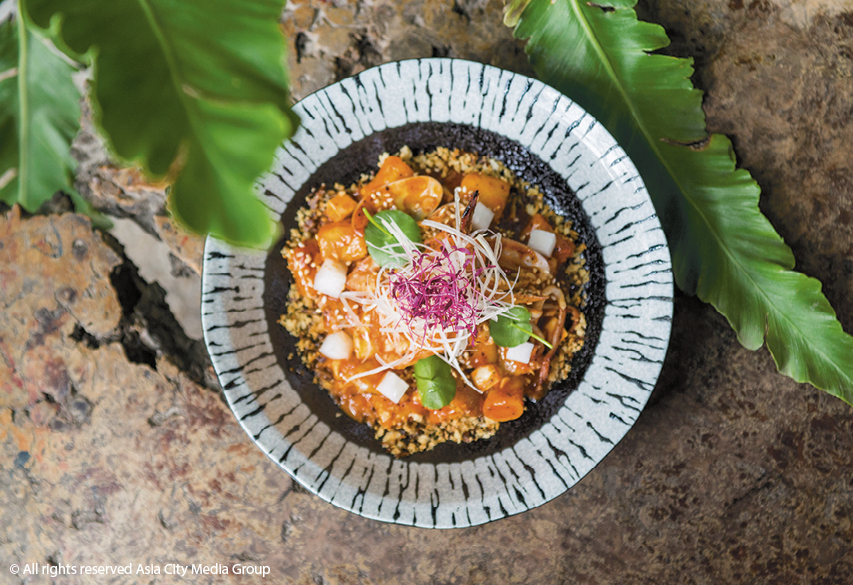 ---


Riley Sanders, Canvas
"I came to Bangkok for the first time four years ago, which is when I discovered the Khlong Toey Market. It was absolutely incredible, with products that I'd never seen before. It's still interesting today, and I still love to go at night. But I use it as a secondary option now because I do want to shift to what's really local, organic and sustainable, and of the best quality and grown with care."
The Restaurant: Canvas champions its devotion to local ingredients while happily straying outside any nationalistic flavor definitions. It does this with more flash and sense of occasion than anywhere in this list. Opulence abounds in its shimmering copper bar and gloved wait staff rubbing fingerprints off glasses. It's an approach that's as polished as the plates of food, each fawned over in immaculate detail.
The Chef: Originally from Texas, the young (aged 29) Riley Sanders arrived in Bangkok in 2016, where he quickly introduced a range of high-wire bar snacks to cocktail den Rabbit Hole (who are also the owners behind Canvas). Early culinary years in Austin and Chicago's best kitchens (including the now-defunct L20, which held three stars within a year of opening) as well as years spent cooking around the world on a private yacht have informed Sanders' cooking. At Canvas, he's forged ahead with a self-assured menu of creative small plates, which each night he serves from behind the open pass.
The Food: Small, driven by produce, and imbued with a subtle undercurrent of Thai flavor. This could come from the familiar sweet hit of candied pork floss in the unbelievably delicious purple yam bread basket (complimentary, yay!), or thanks to the herbal tang of cha muang leaves in a sticky rice and river prawn risotto (part of the new B2,600 11-course tasting menu). Heartier dishes like the grilled catfish (B640) are just as locally focused, with a sticky glaze of tamarind used to create something akin to Japanese-style glazed eel.
113/9-10 Sukhumvit Soi 55 (Thonglor), 099-614-1158. Open Sun-Thu 6pm-midnight, Fri-Sat 6pm-12:30am
---


Chalermpon "Van" Rohitratana, Rarb
"Last year I went with my friends into the forest in Chiang Rai. We found rare ingredients we'd never seen in the expensive cooking schools we all come from. We were mesmerized by new flavors that can only be found in nature. Since that trip, I haven't been able to stop exploring our country and learning more about amazing plants."
The Restaurant: A small room dominated by sheets of galvanized steel, jars filled with fermentation experiments and a tank swimming with crayfish give an indication of the creativity on show. Rarb isn't bogged down in concepts—its deceptively straightforward dishes are elevated by an honest dedication to excellent produce and painstaking DIY techniques.
The Chef: Sporting his iconic beard and golden earrings, chef Van is by no stretch a new face on the Bangkok food scene. With longtime collaborator Karn Liangsrisuk, he launched the burger institution that is Escapade on Phra Athit Road back in 2012. With Rarb, though, Van has tapped into his true culinary powers, turning out heavily spiced Isaan creations using no prime cuts.
The Food: The single-page, handwritten menu highlights skewers and other dishes made with secondary cuts of meat—think pig velum (soft palate) that's parboiled in a herb-rice soup (B100) or nam tok gaem moo (B140), a spicy salad made with pig cheek. For all the talk of offal, Rarb also does delightfully approachable comfort food, like the perfectly cooked fried rice (B260) with shreds of sweet, fresh crab meat.
49 Phra Athit Rd., 081-406-3773. Open Tue-Sun 5pm-midnight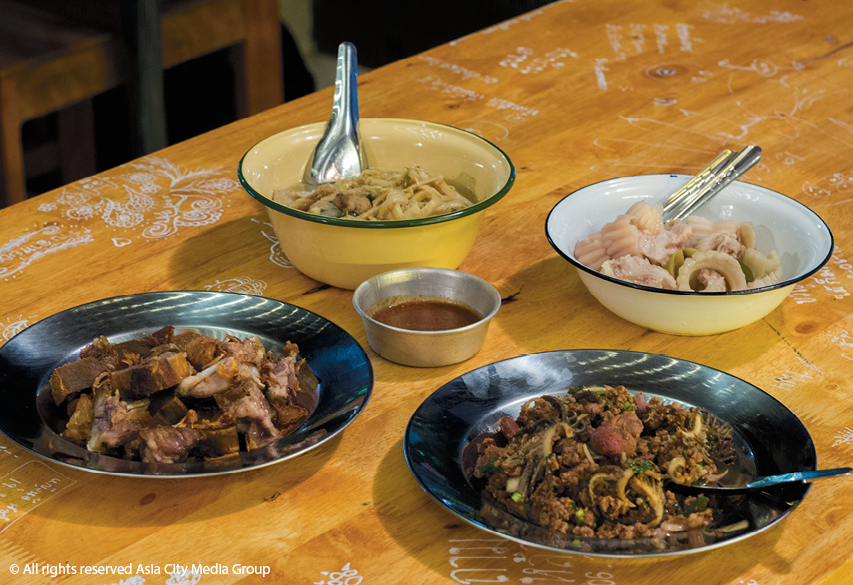 ---


Napol "Joe" Jantraget, 80/20
"I don't find anything attractive about using truffle or fleur de sel. They are so pedestrian, you can even buy them from Villa Market. Compare that with the salt I get from underground in Udon Thani, which can only be harvested once a year. That's more valuable than any of the expensive stuff."
The Restaurant: Situated in a busy Charoenkrung hostel, 80/20 channels old-school shop-house charm through retro signage, heavy wooden soors and irong grilles, but the food is far more foward-thinking. Canada-trained executive chef Napol Jantraget, his pastry chef wife Saki Hoshino and Canadian accomplice Andrew Martin use local ingredients and made-from-scratch elements, backed by Western cooking techniques, for a daringly different take on Thai cuisine.
The Chef: Chef Napol "Joe" Jantraget leads the mostly Canadian-trained kitchen team. Much of his inspiration comes from a stint at Creme Brasserie, an unpretentious, ingredients-led French bistro in Toronto. Joe likes to use a minimal number of ingredients in each dish, and plays with Western cooking methods while embracing Thai produce. He sees "organic" food as the starting point for a bigger trend in good dining and wellness, but is cautious about whether the current enthusiasm can be sustained.
The Food: Both traditionally Thai and internationally cribbed fermentation techniques bring powerful intensity to 80/20's locally leaning menu. Snakehead caught from the waterways surrounding Bangkok (B400) comes prepared in a green curry made from fish stock and the sweet and zesty Isaan mustard green, which has a nasal hit like wasabi. Dehydrated acacia also provides a local stand-in for nori. Dishes are small and elegant—often approaching fine dining in their presentation—though 80/20's total package provides a laidback and also affordable night.
1052-1054 Charoenkrung Rd., 087-593-1936. Open Mon, Wed-Sun 6pm-midnight
---


"The imported stuff is so easy to get. You don't have to make much of an effort, the suppliers practically knock on your door with offers. With local stuff, you can't deny it's more difficult because you have to trek down to find it on the farms yourself. It's almost impossible to learn about the ingredients otherwise because there are no middlemen promoting or selling it."
The Restaurant: Nestled close to 80/20, 100 Mahaseth brings nose-to-tail cuisine back to the Bangkok dining scene. Just like the many other meat-oriented venues in Bangkok, here you can also see animal haunches hanging in the kitchen-side dry-aging fridge. Orange brickwork and tables made from raw wooden planks dominate the space, keeping the vibe down-to-earth. The kitchen presents an honest, understandable, non-pretentious selection of dishes that draw from Isaan cuisine as well as our neighboring countries' food legacies.
The Chef: Indian-Chinese chef Chalee Kader has already chalked up a formidable reputation over in Thonglor thanks to the modern-Euro bistro fare of Surface as well as the creative pies at Holy Moly. 100 Mahaseth though is Chalee embracing local food culture. He says he had a revelation about Thai produce after traveling to farms with Bo Songvisava and Dylan Jones of Bo.Lan. "I'd overlooked it all the time I'd been a chef here," he says. "It was good stuff! But I'd never chosen to use it."
The Food: Don't be afraid of the words nose-to-tail. Together with partner Randy Noprapa (Fillets), Chalee presents a straightforward selection of dishes. OK, so you will find the occasional prime cut imported from Argentina and Akita, but 80 percent of the menu is comprised of local offcuts and entrails. Most of this passes through the hands of Best Country Beef, the butcher that supplies other top local beef restaurants like Arno's and KRBB. If you're bold enough, go for the rice noodles and pig's brain mousse (fatty, crumbly, spongy and a not-too-pricey B220), or the addictive fried tripe in fish sauce (B180). The beautifully rich tom kee lek hang wua (ox tail braised in herb stock and cassia leaves, B290) comes with a salsa-like bolo maka fruit salad on the side.
100 Mahaset Rd., 02-235-0023. Open daily 6-11pm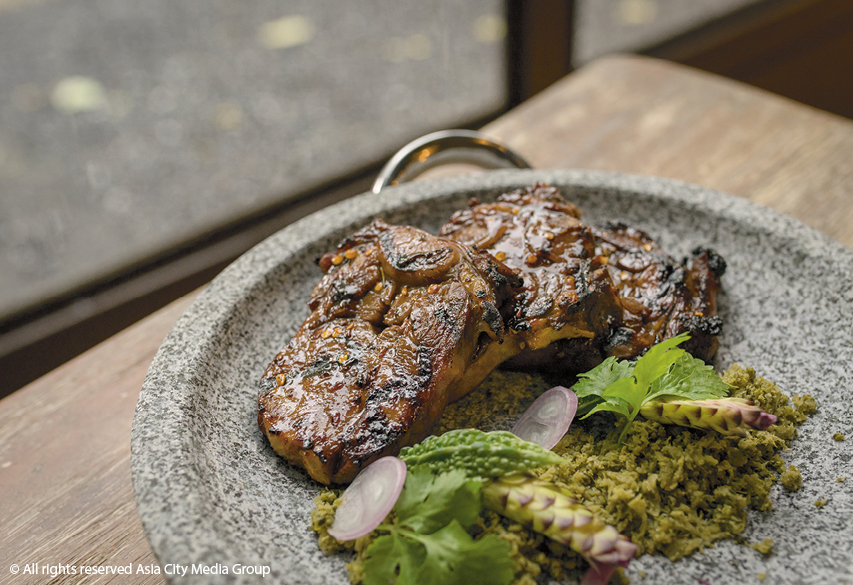 ---
Q&A: Dylan Jones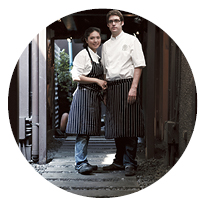 Together with his wife, Bo Songvisava, Dylan Jones pioneered a local produce-centric take on fine dining in 2009 with the launch of
Bo.Lan
, a restaurant all about authentic, historically researched Thai dishes. Here, he shares his thoughts on the progress Bangkok's dining scene has made since then, and what makes it unique.
Have you eaten at the restaurants of the six featured chefs?
Yes, Gaa, 80/20 and Canvas. Rarb and 100 Mahaseth are on the list.
Do you feel Bangkok's restaurant scene has progressed for the better since you opened Bo.lan?
Yes. We think it has changed immensely but there's still lots of room for improvement.
Do you think Bangkok has cultivated a fine-dining culture that's unique to this city?
Yes and no. There is very much a fine-dining culture but many of the fine-dining restaurants are ones that you could find in any major metropolis. There are exceptions of course, but even 10 restaurants don't make a "culture."
Are there restaurants here—and we don't mean street-food or old-school shop-houses—that you would not find in any other city?
Sure, especially the ones that are focusing on local produce and by that we don't mean ones that just cook Thai food.
Is there anything that is still missing from the Bangkok dining scene?
Definitely! Bangkok's dining scene lacks real credible sustainable dining. This goes beyond just using—or even worse saying you're using—sustainably caught fish, happy pigs or organic produce. We mean fully integrating sustainability and waste issues into the back and front of house operations. Bangkok's restaurants and hotels should be rejecting single use plastics and Styrofoam. They should be recycling—upcycling would be even better—and sorting their waste, composting and supporting farmers and food producers. The Bangkok restaurant scene, and by this I mean the punters as well, should be lobbying government and local councils to really implement better waste management systems, and demanding better packaging options from their suppliers.
---
Where to buy the best local produce

By farmers
Crab Bank
A small group in Pranburi that cares for pregnant crabs and releases their eggs before the crabs go to market. Buy them through Rarb (see above).
Best Country Beef
Grain-fed wagyu crossbreed beef raised in Northern Thailand (dry-aging up to 45 days available).
goo.gl/brjadf

Uncle Ree Farm

Surin Farm
Ethically reared pigs, raised to be 150-perecent larger than organic certification requires, and without antibiotics 30 days before slaughter. Available at Villa Markets.

Pla Organic
Ocean-caught seafood from small-scale fisheries in Satun, Krabi, Phangna, Songkla, Patalung, Petchaburi and Pattani.
www.fb.com/pla.organic