When it comes to barbecue, no country comes close to the messy, finger-licking goodness that they've got going on stateside. If you take your U.S. barbecue seriously, you'll know that it can be categorized even further into five main styles: Carolina, Memphis, St. Louis, Kansas City and Texas.
In the Carolinas, they like to go the whole hog (literally), keeping it minimal with a vinegar-based sauce. Memphis barbecue is best known for its pulled pork and ribs, which are either served dry or doused in sweet tomato, while St. Louis is all about the pork steaks. Kansas City natives like their ribs cooked in a dry rub but are also famed for their hickory smoked slow-cooked brisket, served with a thick, sweet and spicy sauce. Then there's Texas, where it's all about the beef.
Here's where to find them all—and more—in Bangkok.
---

Where: You might know Billy Bautista from Osito Unique Spanish and La Monita. Here, Billy takes on low-and-slow smoked meats with an all-American barbecue approach that nods to his California roots.
The method: Beef brisket takes center stage, normally made using Aussie wagyu with a marble score of five (fatty but not extreme) and smoked for upwards of 22 hours with hickory—"we couldn't find any local wood that didn't taste like an ashtray," says Billy. A charcoal black crust seasoned only with salt and pepper holds flesh so tender and juicy it falls apart, ringed in the telltale red-pink sign of serious 'cue.
The order: One of the giant platters for B2,700 will easily feed four and includes beef brisket, beef rib, a full rack of ribs done California style ("a little more chewy and meaty than in Kansas"), smoked Sloane's sausage and a heap of sides including an awesome, unsweetened cornbread—they'll send out more free of charge on request.
888, 23-24 Phloen Chit Rd, 02-651-4398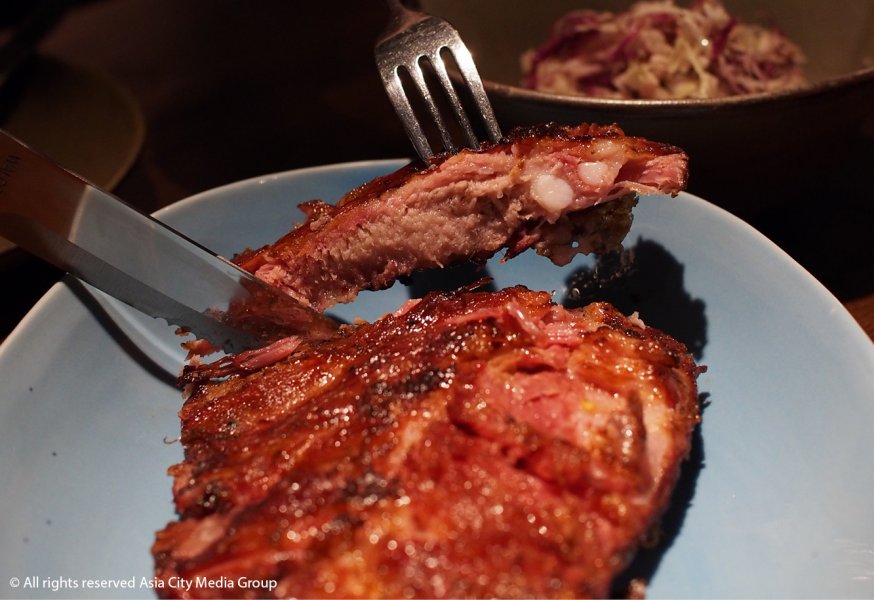 Where: This barbecue restaurant takes things upscale with a knowingly-kitsch neon-lit dining room and gigantic fire pit. It's usually festooned with a steak, a rack of ribs, and even a hanging lobster or two. Head chef Chandler Schultz did the leg-work before opening, traveling through Texas to sample and learn barbecue culture from the source.
The method: Le Cochon Blanc's barbecue is all about Texas, with meats smoked for over five hours before being grilled and charred to perfection.
The order: Go for the BBQ Beef Short Rib (B1,250)—fall-off-the-bone Australian black angus beef, coated simply with salt, pepper and molasses, and served with a side of pickled chilies and onions. For a diversion from their Texas classics, the sticky Memphis-style pork ribs (half B580/full B890) are dry rubbed and smoked for hours, then grilled and glazed with vinegar and honey.
Sukhumvit Soi 31, 02-662-3814, Open daily 6-11pm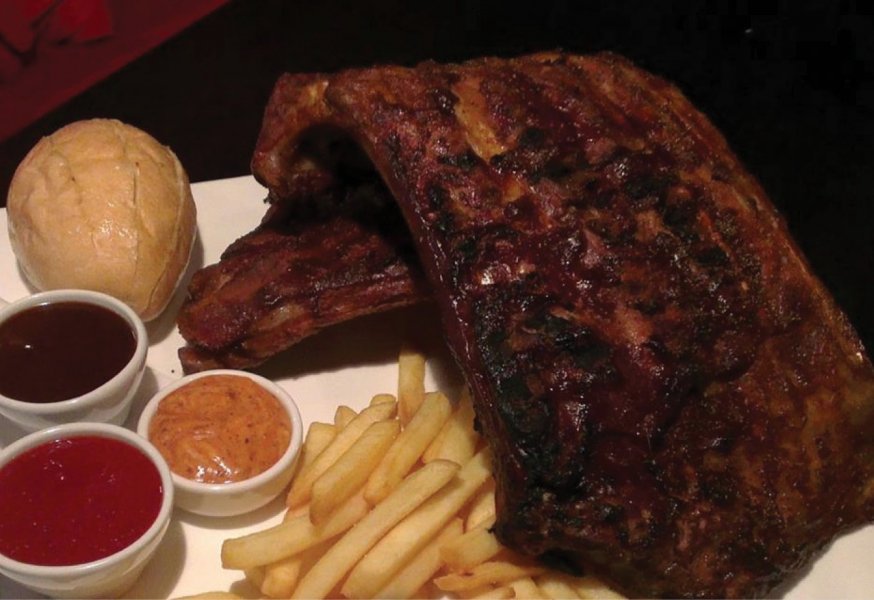 Credit: www.facebook.com/devilisheats
Where: This American-Australian hybrid sits in the Phra Khanong area, serving up Australian beef and lamb using the low 'n' slow approach, all while incorporating American style sauces and rubs.
The method: Inspired by Kansas, the meats are rubbed in a variety of spices and cooked over charcoal with a mix of mesquite and hickory woods. Choose between sweet and sticky or Memphis-style with nothing but spices and a splash of vinegar.
The order: The signature dish here is the 300g Australian Beef Brisket (B499), accompanied by the 11-hour chilli con carne, beans and cornbread. If you bring your crew, go for the BBQ Platter (B1529), which includes a half rack of pork spare ribs, pulled pork, sausages, a half chicken and sides.
Di Wavery Place Community Mall, 29-29/1 Sukhumvit Soi 101/1, 02-747-8902, Tues-Sun 5pm-midnight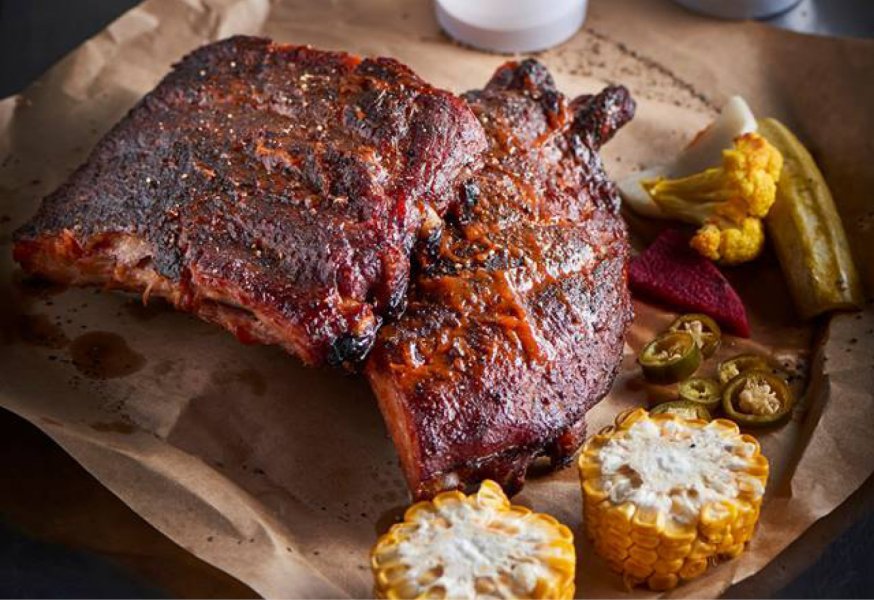 Credit: www.facebook.com/feedthebeastbkk
Where: Barely open a year, this riverside restaurant's drool-worthy menu means it's constantly packed with meat-lovers and barbecue fanatics.
The method: Rather than using traditional hickory or oak wood, they use local Longan and Lychee wood from northern Thailand for smoking. Offset smokers pump indirect heat from charcoal burning the wood, allowing the meat to be slow cooked at a low temperature.
The order: Expect seriously tender and juicy meat. The brisket ( B380/200g) uses grain-fed meat, smoked at a low temperature for 13-14 hours and served with homemade pickles, smoked corn, homemade mustard and their barbecue sauce. Be warned: it's only available Friday to Sunday and reservations are highly recommended.
Charoennakorn Soi 45, 081-301-7711, Thu-Tue 5-11pm
Exclusively for Citi credit card members:
Get 10% discount on food only when spending THB 500 or more /sales slip
Today - 31 Aug 19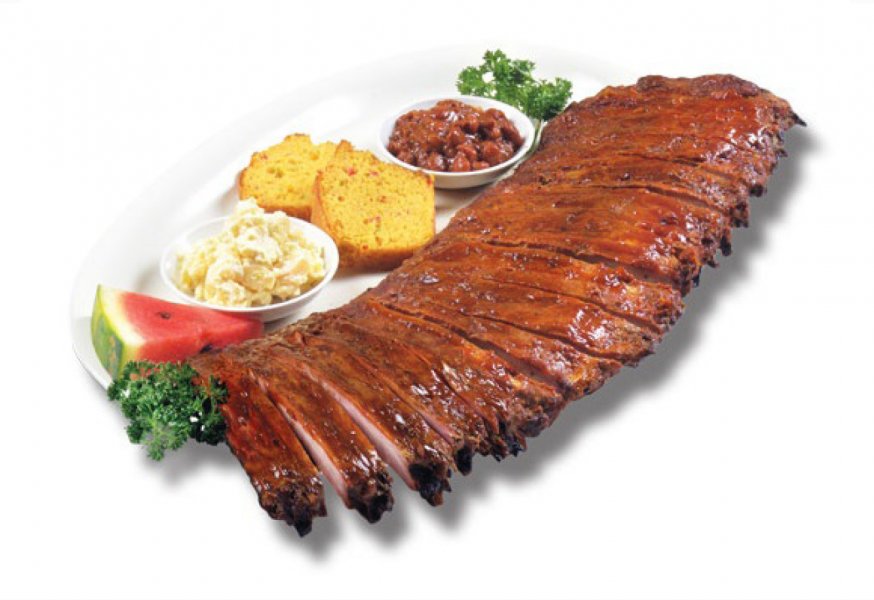 Credit: www.greatrib.com
Where: With their big tables flanked with benches and checkered tablecloths, Great American Rib Company offers an all-American barbecue experience in a leafy outdoor location, right in the heart of Sukhumvit.
The method: Marinated overnight in a dry rub, slowly smoked, and then coated with a homemade sauce. All of the hickory wood is imported from America, they claim.
The order: Go big with the Great American Beef Ribs (B495/B935) that promise hickory wood-smoked prime ribs served with a choice of two sides. Alternatively, the Great American Feast (B895/B1625) includes a full rack of ribs, a whole Butt-Kickin' Chicken, mound of pulled pork, pepper coated pastrami pork tenderloin, BBQ beans, coleslaw, Idaho curly fries, potato salad, corn on the cob, and jalapeno corn bread—perfect for a large group with rumbling stomachs.
32 Sukhumvit Soi 36, 02-661-3801, Open daily 11am-11pm

Where: The Commons' low 'n' slow barbecue offering is all about ribs—and pretty much ribs alone. There are two options: the standout eight-hour-roasted beef ribs and the six-hour-roasted pork ribs.
The method: Both are cooked in a smokehouse with their own recipe of rubs and barbecue sauce.
The order: Tender and juicy beef ribs (B480) and pork ribs (B280) with classic southern sides which are made fresh daily—the cornbread is particularly good (B60 for small and B80 for large).
M/F, The Commons, Thonglor Soi 17, 081-933-7143, Mon-Thu 11:30am-2:30pm, 5:30-10 pm; Fri-Sun 11:30am-10:30pm
Exclusively for Citi credit card members:
Get 15% discount on food only
Today – 14 Sep 19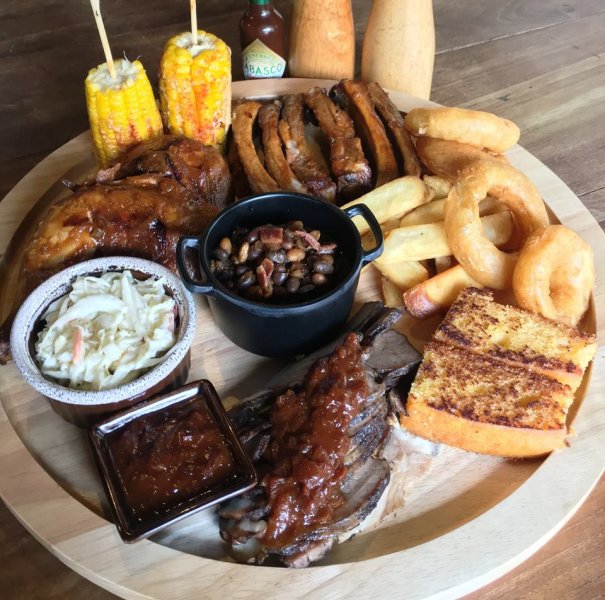 Credit: www.facebook.com/Roadhousebarbecue
Where: Bangkok's original real-deal barbecue joint still pulls in a big crowd for its authentic, American-style wood-smoked ribs. The space spans three floors and the TVs are permantly showing the essential sports games.
The method: With a fully equipped smokehouse and grill, baby backs and pork shoulder get treated with imported mesquite, salmon and sea bass with apple wood, and beef brisket with hickory that is smoked for over 12 hours.
The order: Go big with the BBQ Platter for two (B999), which includes fall-off-the-bone ribs, chicken, a choice of brisket or pulled pork, cornbread, onion rings, caesar salad, corn, coleslaw, and baked beans—you might need to be rolled out after this meal!
942/1 Rama 4 Rd., 02-236-8010, Open daily 10.30-12.30am
Exclusively for Citi credit card members:
Get 10% discount on regular priced menu
Today - 31 Aug 19

Where: This buzzing smokehouse relocated to a larger space recently to accommodate the barbecue-loving throngs that continue to crowd the dining room night after night. Now also featuring a smoker-accommodating courtyard, the restaurant continues to delight with faithful odes to Deep South 'cue.
The method: The meat is cooked low 'n' slow in the courtyard's giant smokers. Beef brisket is smoked for up to 12 hours overnight, ribs and lamb for four—even the cheese for the mac 'n' cheese sees the inside of the smoker.
The order: The baby-back ribs and beef brisket platter with homemade cornbread and slaw (B895/two portions) hits all the right notes—intense flavor and tender perfection. Despite its intimidating size, the smoked lamb sandwich (B475) comes with Alabama horseradish sauce and three housemade barbecue dips that will make you savor each bite down to the last.
105 Lang Suan Rd., 083-029-7598, Wed-Sun 5-11pm

Where: This Charoenkrung hipster-hangout is located at the top of the FooJohn building. The interior is bare and simple with plastic chairs, plain wooden tables and walls plastered in newspaper clippings for added shabby chic—and it works. Sitting on SpareParts' breezy rooftop terrace, with twangy folk music from the likes of Jonah Tolchin playing in the background, you'll feel as though you've discovered an authentic hole-in-the-wall smokehouse stronghold in a flyover state.
The method: Texas-born owner Caitlin Lee Chullasapya (owner of Deli-Q Food Truck) takes care of the rooftop smoke pit, where she smokes the ribs for up to eight hours. Everything at SpareParts is homemade, from the rub and the sauces to the French fries.
The order: Go for the ribs mixed platter (B420), served with pulled pork, burnt ends, chicken wings and crispy onions. The delicious Sriracha-marinated chicken wings (B180) are smoked for a couple of hours before being baked in a dry rub crust and served up with a side of addictive crispy fries—another must-try.
3-4/F, FooJohn, 831 Charoenkrung Soi 31, 087-593-9973, Tue-Sat 7-11pm, Sun 4.30-9pm
Credit: www.facebook.com/smacknsmokes
Where: This cozy, rustic barbecue joint lies in close proximity to Khaosan Road, where the Old Town cool clique can enjoy over 100 types of craft beer and melt-in-your mouth American-style wood smoked ribs.
The method: The chefs here adopt the dry-rub method, massaging racks of ribs with 15 different spices before giving them 12 hours to absorb the flavors. Then it's time for 10 hours in the smoker, where they gain even more taste from charcoal and wood chips.
The order: Sample the lot with their B1,515 combo platter, packed full of flavorful beef ribs, pork ribs, smoked sausage, hot wings and a whopping eight sides.
62 Prachathipatai Rd., 082-966-2614. Open daily 5-11.30pm
Credit: www.facebook.com/tonyromasbangkok
Where: This American chain, known for their baby-back ribs and fried onion loaf, has been around since 1972. They only grace Bangkok with one restaurant these days, which you'll find inTerminal 21.
The method: We're talking chain restaurant ribs here, so don't expect house-rigged smokers out back and a unique wood-chip blend. But whatever, Tony's is doing, we like it, with sticky sweet sauces and meat that always slides off the bone.
The order: The Original Baby Back Ribs (B435/half slab) are a must—tender pork slathered sauce and served with your choice of sides—we'd go for the coleslaw and fries.
4/F, Terminal 21, Sukhumvit Rd., 02-108-0790, Open daily -11.00am-9.30pm
---
Put on your stretchy pants, forget about the macros and tuck in to BK Best Eats 2018. This is the Bangkok dining that ignores fancy restaurants and 10-course tasting menus and goes straight for the comfort food—steaming bowls of fat-rich ramen, triple-decker burgers, all-you-can-eat dim sum buffets with an extra helping of pork buns. In other words, the stuff most of us eat out, most of the time.
Download your PDF copy of the guide here.