Heartbroken? Sad? Doomed to be alone? Well, hey—you know what?—the calendar is not the boss of you. St. Valentine is also the patron saint of epilepsy and beekeeping, so what does that nerd know anyway? Drown your sorrows. Maybe even meet a kindred, lonely spirit.
Here, we gather some of the best bars where the drinks and honeytrap bartenders can mend your hurting heart.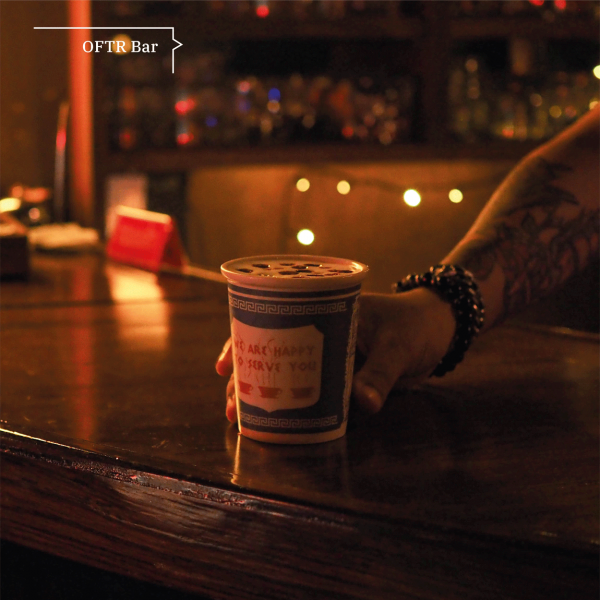 Why: If you love Wong Kar Wai's latest produced film One for the Road, this is for you. In fact, it's the very first bar that Kar Wai has sponsored and co-owned. After finishing with all the filming, Thai film director Nattawut "Baz" Poonpiriya decided to bring that bar from the movie alive. The place draws heavy cinematic references from Kar Wai's films—think a mix of conserved modernist architecture like the ones from In the Mood for Love and Happy Together.
The drinks: Each signature cocktail at OFTR has its own cameo in the 2021 film, and they are all the tributes to the character's past romances. Ronnaporn "Neung" Kanivichaporn from Backstage bar lent his expertise to design these cinematic drinks. Noona's Tear (B360) takes on Italian Sparkling wine Divici Prosecco blended with ST Germain elderflower liqueur while the strong yadong Dragon's Dick (B280) arrives in the most comical way: two scoops of dragon fruit and a tiny cucumber in the middle–yep, you guessed it. Our favorite, however, is New York Sour in New York City, a bourbon-based cocktail with a burst of sweetness from sour apple Pucker, mellowing eggwhite foam, and white wine. It's also topped with a spoonful of caramelized sugar that lends a crunchy texture to sipping.
OFTR Bar. 245/11 Ground Floor Sukhumvit 31 (Sawasdee). Open Tue-Sun 5pm-11pm. Tel. 02-004-2429. For reservations:
www.fb.com//OFTR-BAR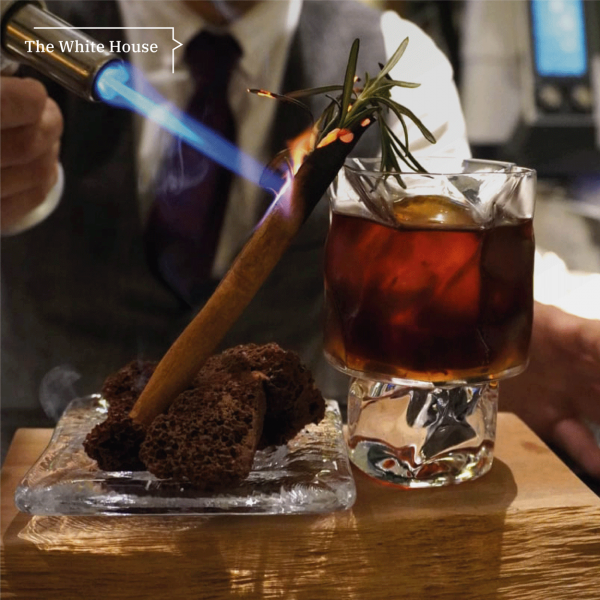 Why:
The place is not exactly a bar, but the head bartender Kei Sawada should be more than a reason for anyone to spend their hard-earned baht there. For those who don't know him, Kei Sawada was a legendary figure from a Japanese alcohol showroom and bar
Salon Du Japonisant.
Now, Sawada has teamed up with Latvian chef Aleksandrs Nasikailov for Klong Toey's latest fine-dining
The White House Bangkok
where Sawada brings his unique spin and Japanese techniques for creative cocktails—both for pairing with food (B1,500/8 glasses) and by the glass.
Drinks: Sawada's cocktail creations are still classics with a twist. The only difference from his days at Salon Du Japonisant is how he blends cultural uniqueness with the power of science. Here, Sawada uses cutting-edge technology like the rotary evaporator (he claims that there are only eight places in Bangkok that use this equipment) to lend the unique flavors in his cocktails: sadashi and miso gin or wasabi whiskey sour. When asked which drinks he would recommend for those with broken hearts, Sawada laughingly replied, "F*ck Valentine," and then mixed up something off the menu. His Bitter Negroni sees the ultra-luxury grape liquor Ruby Roman, mixed with housemade grapefruit campari, tonka bean rum, and earl gray whiskey. The drink also has chocolate crumbles to add more bitterness.
The White House. Sukhumvit 16, Klong Toey. Open Tue-Sun 7pm-11pm. Tel. 097-694-9898.
Why: It's another hidden jade in historic Chinatown. Sitting above chef Pam Utarntam's Thai-Chinese fine-dining, Opium Bar used to be her great-grandfather's opium den and was renovated with modern charm while keeping its old structure intact. Upscale as it is, though, you'll find that the drinks are surprisingly affordable—at least cheaper than some of the places in CBD Thonglor and Phrom Phong.
The drinks: Choose from a 15-page cocktail menu–yes, we counted them. On our last visit, we asked the head bartender Matteo Cadeddu to make something sweet. His FF (B360), gin-based cocktail whose appearance can dub as dessert just fine, sees gorgonzola blue cheese and the subtle sweetness from opium fig cordial and cacao nibs. To add the final touch to the drink, Cadeddu puts the glass inside the smoker box for a distinct aroma.
Opium Bar. 422, Soi Vanich 1, Samphanthawong. Open Wed-Sun 5pm-midnight. Tel. 082-979-3950
Why: Though the place is a little cramped and tucked away in one of those sub-sois in Soi Nana, this Chinatown's bar is exquisitely charming with its unique creative spin on Thai local ingredients. Head there and sit at the stools at the side of the bar for more privacy. The founder, Nicks Anuman-Rajadhon, also made a cameo of Netflix's latest series Midnight Asia.
The drinks: This month's special cocktails (B440) are all about wild honey. We tried the Eastern Honey, made with a mix of gin and wild honey and citrus, which arrived in a yellow cup made from beeswax. Kiattikoon "Toon" Auengkum, head bartender of Asia Today, is also more than happy to customize your drinks based on how broken you are, too.
Asia Today, 35 Soi Maitri Chit. Open Tue-Sun 6pm-11pm. Tel. 097-134-4704. (ATK Testing required B100.)
Why: This Thonglor speakeasy is every boy's dream lounge. It's pricey, sure, but 008 Bar also has one of the most nuanced cocktails in town, which guarantee to make your mouth sing—and scream when the bill arrives.
The drinks: The mysterious location needs mysterious concept drinks. On our last visit, they were all about Sherlock Holmes. We tried A Study in Scarlet (B420), a fancy vodka-based cocktail with maraschino liqueur, grenadine syrup, and a slice of peach. We also love 7th of July (B420), a mix Scotch whiskey, French herbal liqueur, and lady gray tea, topped with a chocolate bar for more depth of flavor in every sip you take
008 Bar. 11/F, Akyra Hotel, Sukhumvit Soi 55 (Thonglor). Open daily 6pm-11pm. Tel. 02-392-8959.
Why: Do you need somewhere to cry where no one will see you? Then this Thonglor speakeasy bar is a perfect spot. True, it's not hidden or private anymore, but the bartenders there are very attentive and are willing to lend their ears to all of your past fiery passions.
Drinks: How do you move on after a bad ending? This bar has the right glass for you. The Happy Endings (B430) is a fresh take on the rum-based El Presidente, featuring blueberry wine jam, Frangelico, creme brulee syrup, and Greek Yogurt.
Find The Locker Room, 406 Sukhumvit Soi 55 (Thonglor). Open daily 5pm-11pm. Tel. 098-287-1898