BAR
Mahaniyom
Squid cocktail? Steak in a glass? Ingredients shine at new Mahaniyom Bar
You won't see the squid in your drink at Mahaniyom Bar. But it's there.
In December last year, Ronnaporn "Neung" Kanivichaporn told
BK Magazine
—when he and his fellow founders
dropped the last curtain for Thonglor's Backstage
—that he would team up with chef Chalee Kader of 100 Mahaseth. But who would have expected Neung to incorporate Kader's nose-to-tail philosophy in his new Charoenkrung bar?
Mahaniyom Bar. Photo: Chayanit Itthipongmaetee / BK Magazine
Sitting on the 2nd floor of
100 Mahaseth
, the bar oozes a cozy feel thanks to the classy wood furniture and chic animal-printed upholstery. Head upstairs and you'll find a neon-lit two-headed tiger welcoming bar-goers. "It is Thai-Rococo, but with a bit of disco," bar co-founder Chennarong "Jan" Bhumitchitr says.
All signature cocktails (B390), Neung claims, are entirely novel concepts, all discovered through trial and error.
"It's a challenging process," Neung says. "Certain parts of the ingredients usually taste the same, and to create distinctive flavors requires nuanced understanding."
Our Mahaniyom cocktail journey started with the fizzy, refreshing Pineapple arriving in a Collins glass. The process begins with Neung picking pineapple leaves and dehydrating them into powder, which is then blended and mixed with vermouth and spice. The pineapple's rinds are fermented into tepache while the remaining fruit is mixed with peppercorn and Vietnamese coriander cordial.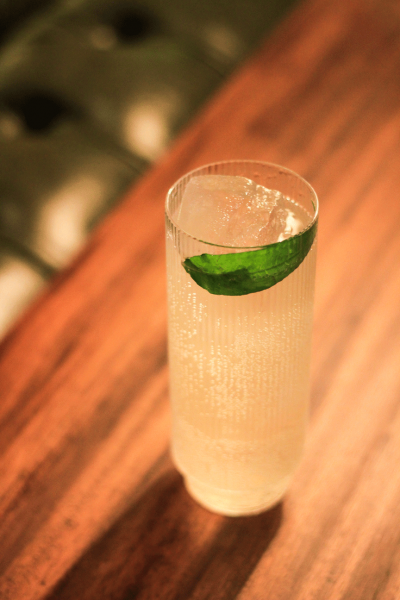 The fizzy Pineapple. Photo: Chayanit Itthipongmaetee
Next was the Pomelo with a garnish cracker made from pomelo pith soaked in alcohol. Neung uses the light Bacardi Carta Blanca rum as a base, mixing it with homemade pomelo juice, homebrew tea made from pomelo leaves, paddy herb, jasmine cordial, and dried chili bitters, delivering a spicy yet subtle blow to the ingredients.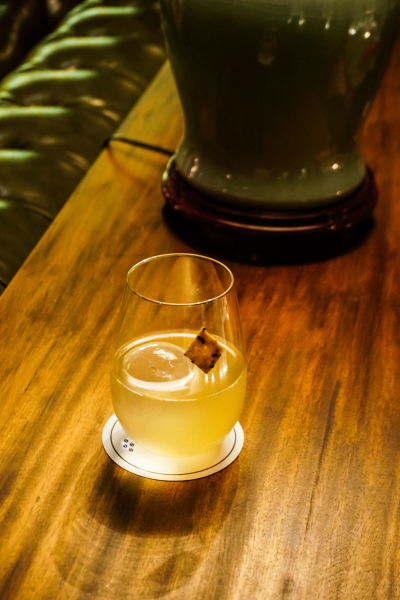 Photo: Chayanit Itthipongmaetee / BK Magazine
The stars of the night, however, were Squid and Cow, both of which, like their names suggest, squeeze their essential ingredients into the drinks. And they're not for the light-hearted.
The Squid arrived in a two-layered black-and-white glass. To capture the squid flavors in the drink, Neung slowly cooks dried squid in clear tomato juice and mixes it with ginger brine cordial before mixing it with vodka, sake, and mirin. The black part, you probably guessed, is squid ink. Blended with sake it's surprisingly easy to sip.
Photo: Chayanit Itthipongmaetee / BK Magazine
The Cow, on the other hand, is a wagyu steak in a glass with a faint red medium rare color. Neung cooks brown butter with black peppercorn in brandy, sears the beef fat, and adds red wine, Thai mulberries, and miso. Then, he tops it off with clear milk and blue cheese bubbles. Blindfolded, we'd swear this was actually a savory dish.
Photo: Chayanit Itthipongmaetee / BK Magazine
Last was the Coffee. Before tasting, Jan tells BK Magazine to forget what we know about coffee. It's a gin-based cocktail with a mixture of dried coffee bark, coffee blossoms, and white port wine—all topped with egg whites blended with coffee beans and guava foam. It's a playful thermal sensation, a mix of hot gin and cold foam.
Photo: Chayanit Itthipongmaetee / BK Magazine
With Mahaniyom sitting atop 100 Mahaseth, the food also takes inspiration from the kitchen below but with sizable portions. We tried the papaya fritters (B160), Thai northern deep-fried vegetables arriving in a comical McDonald's-like packaging. Their shrimp and oyster crisps (B150) are also perfect bar snacks with a fun, tangy seafood gel on top. Those craving something larger should try the bone marrow (B200), slow-roasted rib of beef with perilla seeds to satisfy your post-drink hunger pangs.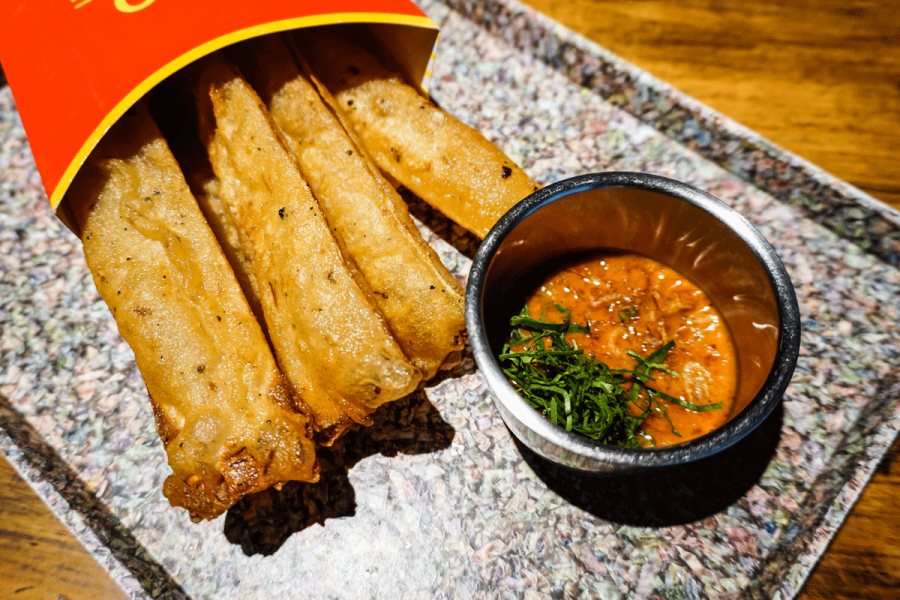 Photo: Chayanit Itthipongmaetee / BK Magazine
Photo: Chayanit Itthipongmaetee / BK Magazine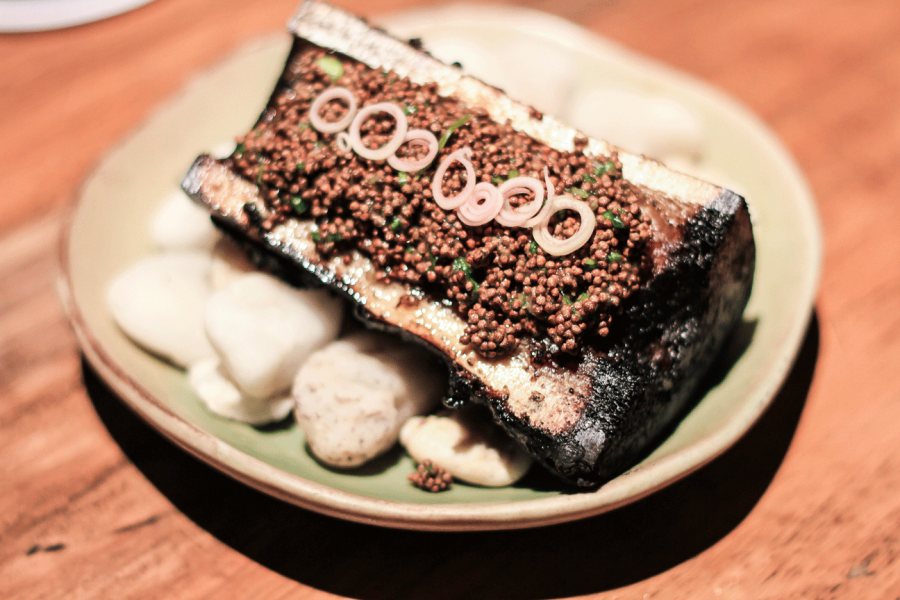 Photo: Chayanit Itthipongmaetee / BK Magazine
Mahaniyom Bar will start welcoming visitors this Mar 15.
By Porpor Leelasestaporn
Venue Details
Address:
Mahaniyom, 2/F, 100 Mahaseth. 100 Maha Set Rd, Si Phraya, Bang Rak, , Thailand
Opening hours:

Tue-Sun

5pm-midnight

Report a correction