When it comes to rooftop bars, Bangkok's more than got you covered. Here, we list the best rooftop spots across town offering incredible views—and the drinks to match—including the winner of Best Rooftop Bar at the
Bangkok After Dark (BAD) Awards 2023
and the runners-up.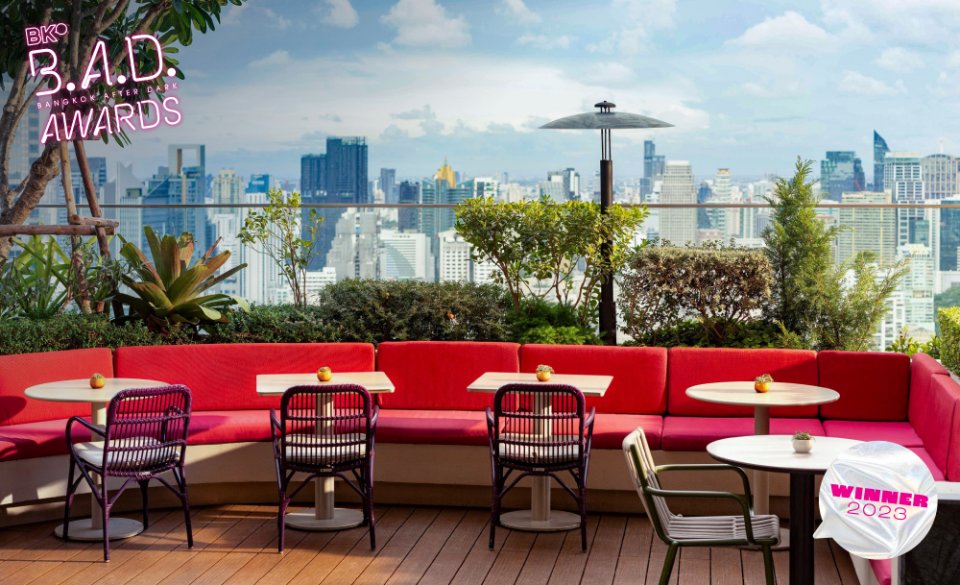 Located on the 40th floor of Langsuan's swanky Kimpton Maa-Lai, this rooftop garden-slash-bar promises a bright, breezy space filled with leafy, bamboo-clad decor. It's not just a place for after-work drinks and taking a selfie with the skyline (but, yeah, it's definitely good for that); this is one of the few rooftop hotel bars that actually elevates to a party atmosphere, with regular DJs rolling in and out and themed nights that bring out the wild side of locals and the jet set.
40/F, Kimpton Maa-Lai Bangkok, Soi Ton Son, 02-056-9999. Open Mon-Sun 4pm-late.
Set on the 46th floor atop the T-One building conveniently located next to BTS Thonglor, this tribal-vibe rooftop bar brings the fun with their cheesy mainstream pop for you to drunkenly sing along and easy-to-understand Tiki cocktails. This is one huge jungle rooftop. There are also levels for you to climb up and get 360-degree views of the city.
46/F, T-One Building, Sukhumvit Soi 40, 065-878-5562. Open daily 5pm-midnight.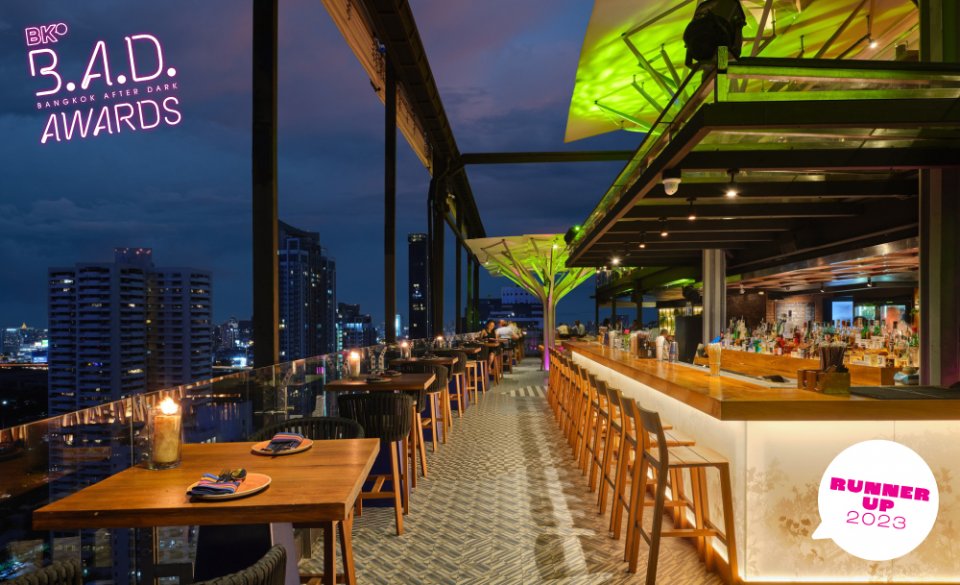 The altitude isn't the only thing that's elevated at this Peruvian rooftop experience on the 32nd floor of the Fraser Suites. Here, the drinks and especially the food—both inspired by creative takes on Nikkei tastes—are a cut above what you normally expect at a rooftop space. There's a long open bar in the center and tree-shaped lamps that lend a chill, hang-out vibe to this venue. But don't be fooled: Above Eleven can party.
32/F, Fraser Suites, 38/8 Sukhumvit Rd., 083-542-1111. Open daily 6pm-late.
This rooftop bar is arguably the highest rooftop bar in Thailand on the 78th floor of the Mahanakhon building. You'd think it'd come with ridiculously unreasonable prices given the wow-factor and the address, but the cocktails here are set in the B300 range, which is frankly shocking. They regularly host some wild full moon parties as well. After all, this is as close to the moon as you can get in this city.
78/F, The Standard, King Power Mahanakhon, 114 Naradhiwas Rajanagarindra Rd., 02-085-8888. Open daily 10am-midnight.
Too many rooftops allow stunning views to be let down by substandard drinks. That's not the case here. Sit downstairs for dark spirits or upstairs for the 50-plus labels of gin, all of which can be paired with the tonic of your choosing. Their chairs with built-in air-conditioning always get us, plus their events schedule is packed with tastings, live music and even pop-up cinemas.
38/F, Marriott Marquis Queen's Park, 199 Sukhumvit Soi 22, 02-059-5999. Open daily 5pm-1am.
Hyatt Place enters the rooftop-bar fray with this no-frills, Benjasiri Park-view venue that's ideal for after-work drinking. All signature cocktails are B280, which in the world of rooftop bars is a steal—try the North Star, a fruity, Plantation Pineapple, pomegranate and bitters. The list of 30 wines also does not disappoint.
28/F, Hyatt Place, 22/5 Sukhumvit Soi 24, 02- 055-1234. Open daily 5pm-1am.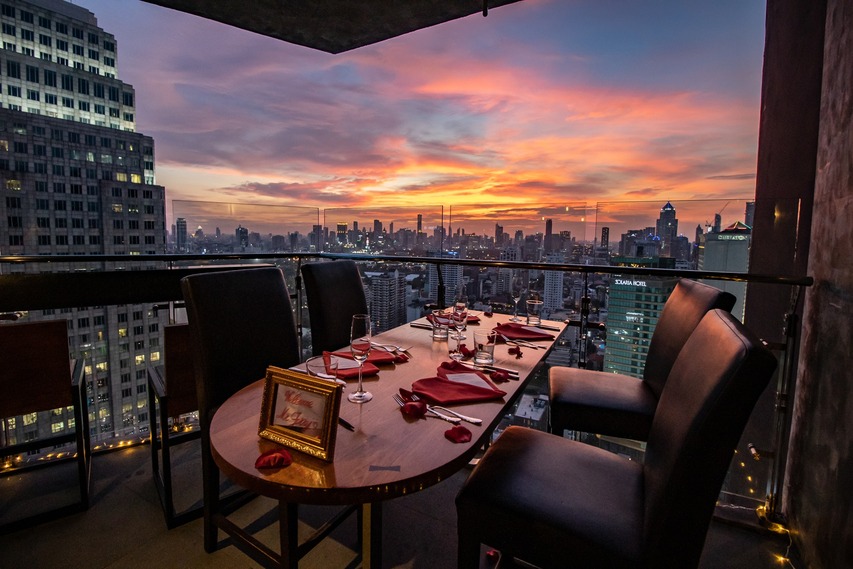 This 39-story-high undercover lounge bar aims to bring Thai "street food" to a rooftop setting. Alongside the fancified versions of Thai classic dishes, the signature cocktails also play around with a lot of local flavors. While the place is a bit small, the ceiling low, and the vibe dark, there are some good cocktails at a fair price to be had.
39/F, The Continent Hotel, 413 Sukhumvit Rd. 02-867-7000. Open daily 5pm-2am.
This beer bar offers 30th-floor views of Sukhumvit. Along with a free and easy party atmosphere, Brewski offers an international selection of beers, with choices ranging from American craft beers to Belgian classics. There's also a decent selection of ciders (try the Zeffer Crisp Green Apple Cider from New Zealand) and Thai-style bar munchies like sai krok Isaan (Thai-style pork sausages with fresh chili, ginger, and peanuts).
30/F, Radisson Blu Plaza, 486 Sukhumvit Soi 27, 02-302-3333. Open daily 5pm-1am.
Yen Akat is getting livelier by the minute. Here you get to enjoy big trees and low-rise building views. The bar maintains a connection with the greenery through a glass wall, so you don't feel trapped in a boxy room like most cocktail bars. The drinks are tasty and easy to down, which goes hand-in-hand with the easy-going vibe this sports bar.
4/F 15 Yen Akat Rd., 083-437-3515. Open daily 5pm-midnight.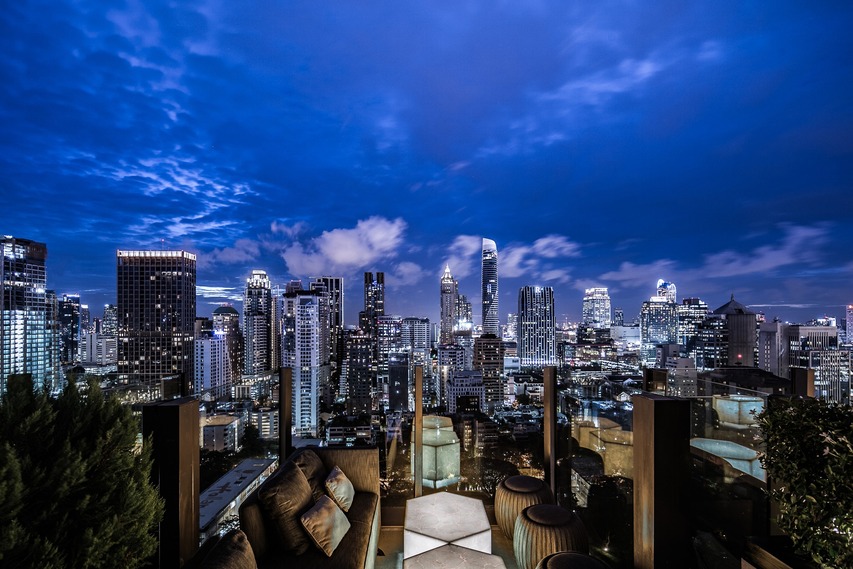 Over at the grill at this rooftop bar, they cook up some amazing beef from Australia's Darling Downs. Char takes up the top two stories of Hotel Indigo, with a stylish dining room downstairs and the rooftop bar up above to benefit from those amazing views across Bangkok's greenery.
​​​​​​26/F, Hotel Indigo, 81 Wireless Rd. 02-207-4999. Open Mon-Sat 6-10:30pm.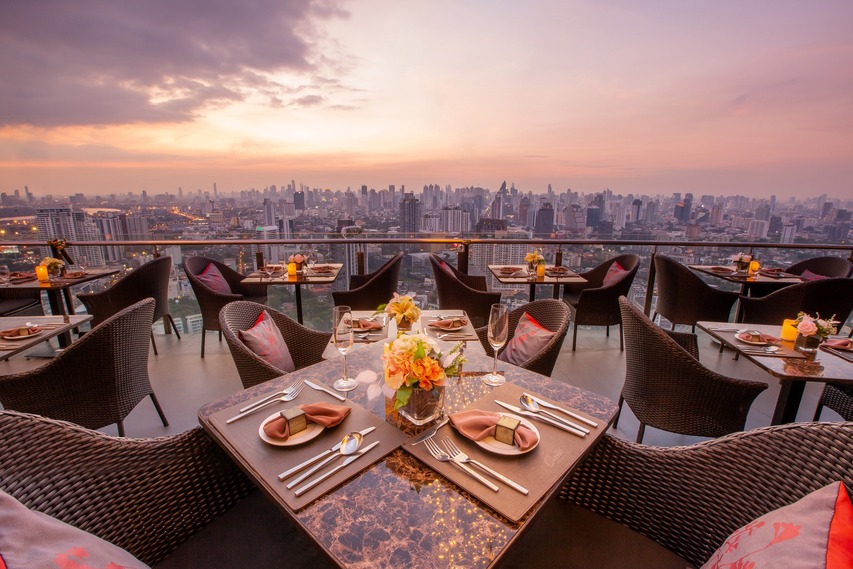 When you think of rooftop bars, you probably think of the downtown CBD, but don't forget there's a good one in Phrakanong. Head up to the 46th floor and catch the sunset far from the early 20s English teachers on Tinder dates at W District. Here you'll find a chilled-out vibe and dishes with happy hour promotions most days.
46-47/F, Le Luk Condominium, 1595/500 Sukhumvit Rd., 081-916-4270. Open daily 5:30pm-midnight.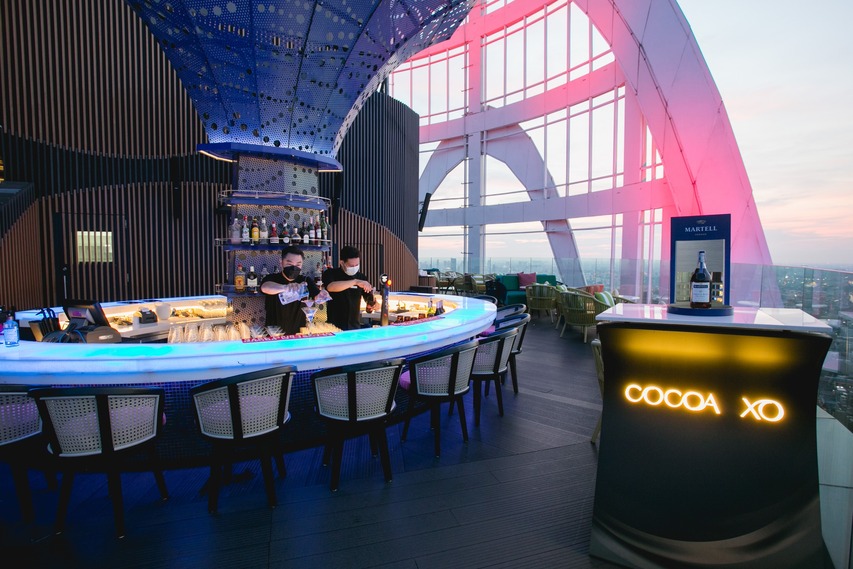 This new cognac bar comes with an all-you-can-eat chocolate buffet in the sky. Located a floor below Cru Champagne and above Red Sky, you could spend an evening here just moving up and down the stairs hopping between the three skyhigh rooftop bars. The seating areas are placed by the edge and go around almost in a circle, so you'll be able to take in the view and the breeze from anywhere you sit.
57/F, Centara Grand & Bangkok Convention Centre, 999/99 Rama 1 Rd., 02-100-6255. Open daily 4pm-1am.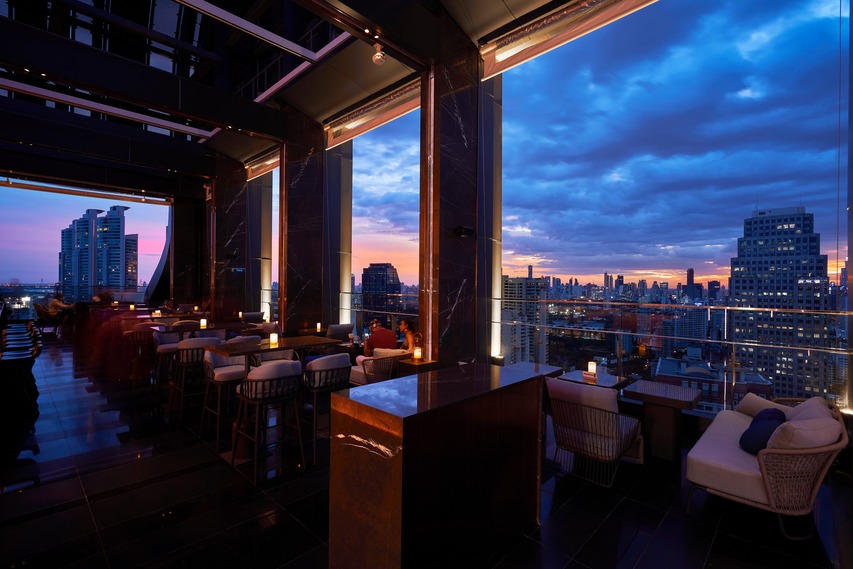 Carlton Hotel's rooftop bar sits on the 34rd floor above on Sukhumvit Road where you can sit back and escape the unusually long Asoke intersection traffic light down below while taking in the view. They offer happy hours every day from 5-6:30pm and the menu is two-pages long for buy-one-get-one from cocktail to wine to beer.
34/F, Carlton Hotel Bangkok Sukhumvit 491 Sukhumvit Rd., 02-090-7888. Open daily 5pm-midnight.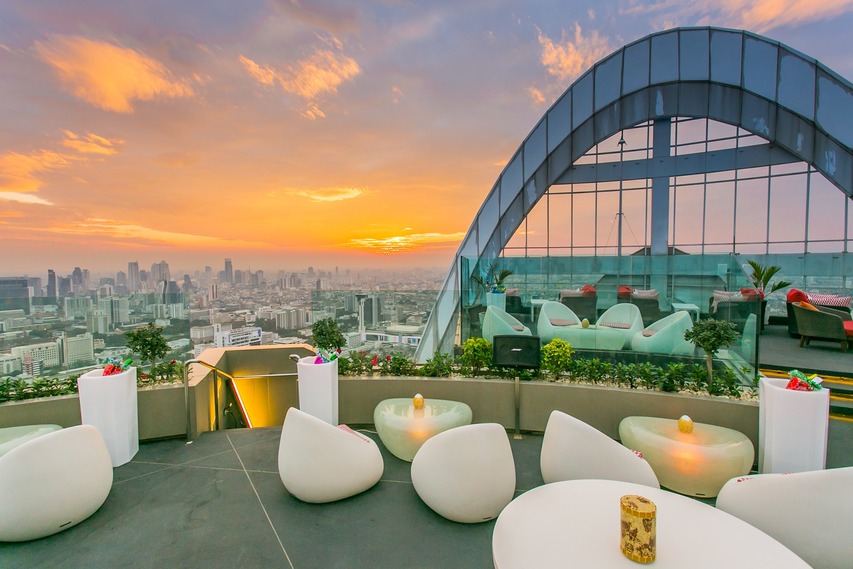 The bar is located on what used to be a helicopter landing pad on top of the five-star hotel Centara Grand at CentralWorld. Access Cru from a little elevator at Red Sky, which drops you right on top of the hotel, where you get a stunning, 59th-floor, 360-degree view of Bangkok. The drinks list is all about Champagne, so come prepared to order a bottle of G.H. Mumm Cordon Rouge Brut.
59/F, Centara Grand & Bangkok Convention Centre at CentralWorld, 999/99 Rama 1 Rd., 02-100-1234. Open daily 5pm-1am.
The Swanky EmQuartier dedicates some fifth-floor, mall-top space to a venue that's part tapas bar, part tiki bar, and wholly committed to its "downtown beach club" theme. Instagram-ready nooks litter the huge, tropical-plant and pink-flamingo festooned area.
5/F, The EmQuartier, 693, 695 Sukhumvit Rd., 063-816-6969. Open daily 5pm-midnight.
This rooftop bar sits on the 9th floor above the craze of Sukhumvit Soi 11 and offers a 360-degree view. They offer a longer happy hour promotion than usual (four hours instead of the usual two), and drinks vary depending on the day.
9/F, Le Fenix Hotel 33/33 Sukhumvit Soi 11, 063-901-1006. Open daily 6pm-2am.
A rooftop bar with the added bonus of being right by Thonglor, this place is our favorite diversion for out-of-town friends when they start mumbling "skybar." Cocktails don't come quite at street-level prices, but you do get a stunning view of downtown Sukhumvit, coupled with an upbeat crowd of tourists.
​​​​​​45/F, Marriott Hotel Sukhumvit, 2 Sukhumvit Soi 57, 02-797-0000. Open daily 5pm-2am.
Paradise Lost brings tropical vibes to a district sorely lacking good nightlife venues. Recalling 1960s Miami, the lower floor is completely awash in candy pink and dotted with lush green plants. We recommend grabbing one of the circular, sunset-facing booths or daybeds to enjoy a refreshing cocktail.
25/F, Siam@Siam Design Hotel, 865 Rama 1 Rd., 02-217-3000. Open daily 5pm-1am.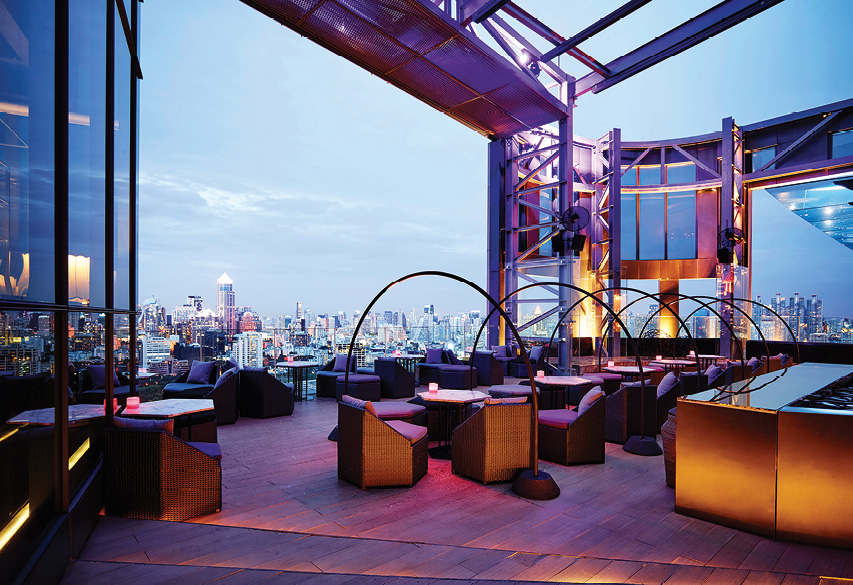 This rooftop serves up one of Bangkok's most stunning sunset scenes—looking straight over Lumphini Park and onto the gleaming skyscrapers of Ploen Chit. Maybe that's why it's one of the few spots that attracts a local crowd, one that likes to knock back Champagne and smoke cigars while reposed on the almost-too-comfy scarlet daybeds. Oh, and they give out enough complimentary cashews and olives to make you say, "screw dinner."
29/F, So Sofitel Hotel, 2 North Sathorn Rd., 02-624-0000. Open daily 5pm–midnight.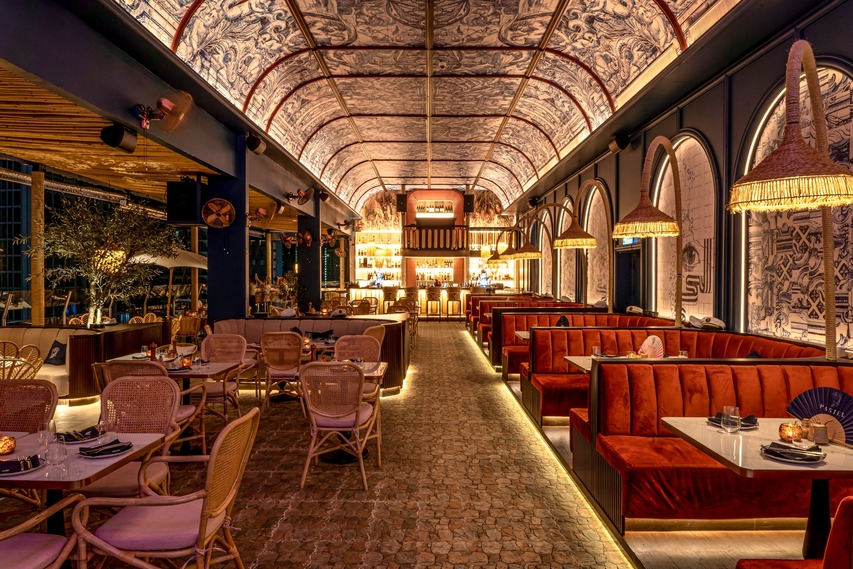 Sukhumvit Soi 11 welcomes another rooftop bar on the 22nd floor serving both city view and Mediterranean food. It also comes with a live band most nights plus some entertainment like live percussion shows and many shots to pass around.
22/F, Aira Hotel, 14 Sukhumvit Soi 11, 095-703-5679. Open daily 5pm-1am.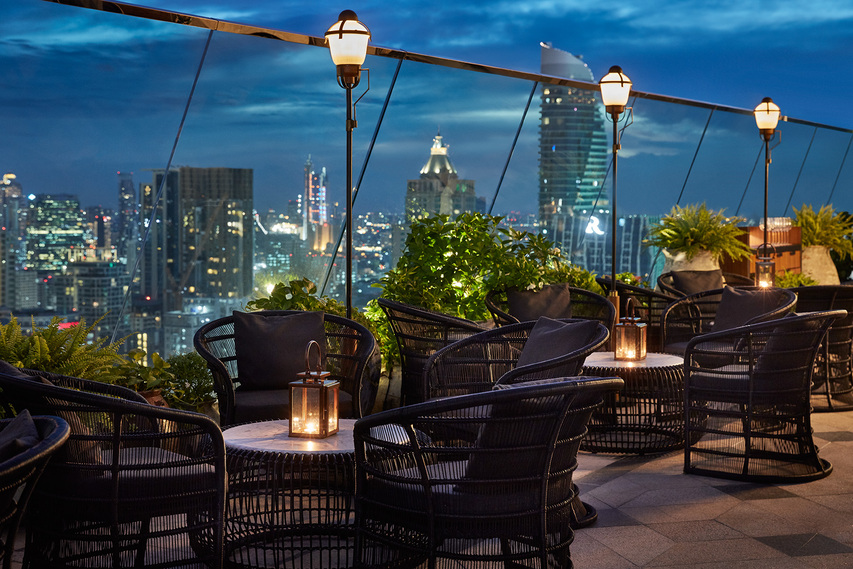 We love Penthouse for one simple reason: They don't rip you off. They recently launched a new cocktail menu inspired by celebrities around the world like John Lennon or Coco Chanel. It also helps when the view's this stunning, plus the brand—the Park Hyatt—just sounds good.
34-36/F, Park Hyatt, 88 Wireless Rd., 02-011-7480. Open daily noon-3pm, 5:30pm-2am.
The 55th-floor view from Centara's rooftop puts this bar in the same league as other high flyers, like Vertigo at the Banyan Tree. Al fresco dining and drinking takes place under a swooping, red-lit arch, while chef Christian Ham's seasonal menus spotlight classic, rich steak dishes. Don't miss the truffle-infused wagyu beef tenderloin Rossini—a menu staple and proven crowd pleaser.
55/F, Centara Grand at CentralWorld, 999/99 Rama 1 Rd., 02-100-6255. Open daily 6-11:30pm.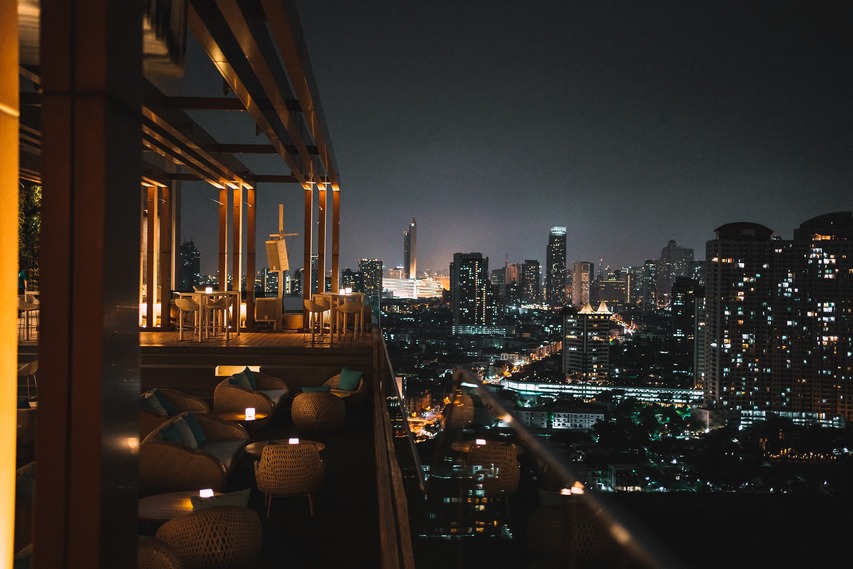 Seen replaced its predecessor Attitude last year, bringing some Portuguese flair to the riverside courtesy of celeb chef Olivier Da Costa. Now, those same sweeping views over the Chao Phraya River combined with a stunningly lavish design, funky music, playful cocktails, and friendly service for a relaxed but special feel.
26/F, Avani Riverside, 257 Charoen Nakhon Rd., 02-431-9492. Open daily 11am-1am.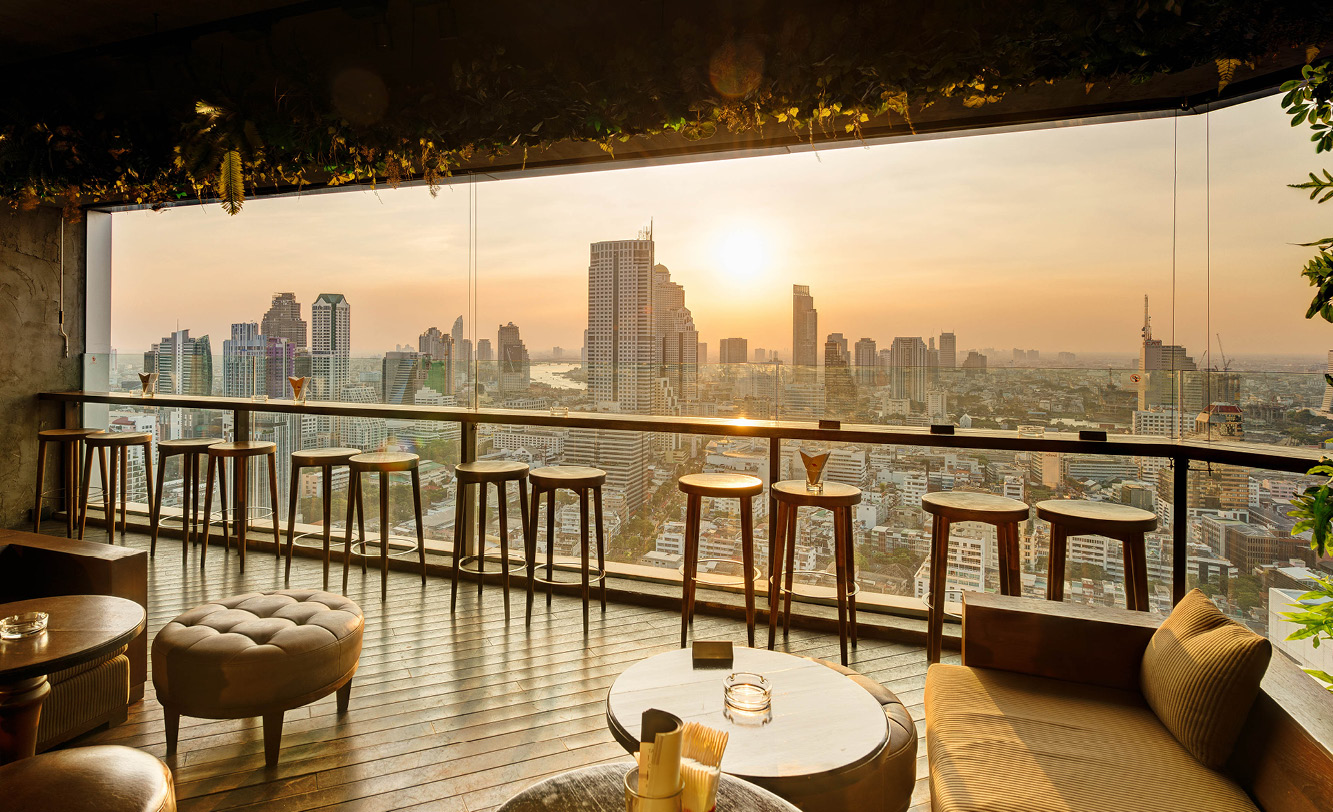 Perched 37 floors above Silom with river views to boot, this wine bistro combines well-executed French comfort food, chargrilled Aussie steaks and a long, long wine list into one sleek yet affordable package. The charcuterie and cheese platters also come highly recommended—just be sure to book well ahead for a spot on the terrace.
37/F, Pullman Bangkok Hotel G, 188 Silom Rd., 096-860-7990. Open daily 5pm-midnight.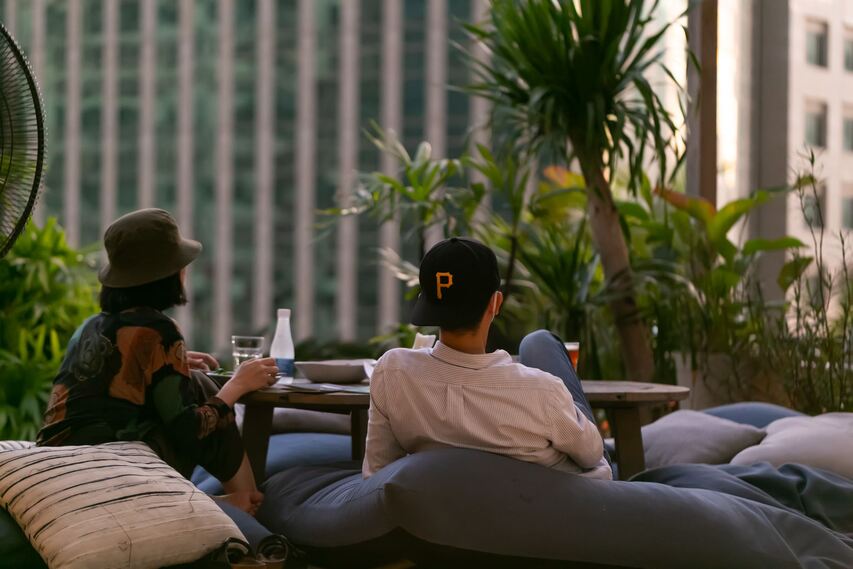 This vast complex of restaurants and bars whips out refreshing tropical cocktails amidst the airy view of Phloen Chit's neighborhood. Order the grilled pineapple iced tea (with double-roasted chili and cinnamon syrup) or go with its original twist on classic spirit-forward drinks like the Black Pearl Old Fashioned instead. The venue also boasts amazing musical acts on a regular basis.
5/F, Central Embassy, Phloen Chit Rd., 02-160-5631. Open daily 11am-midnight.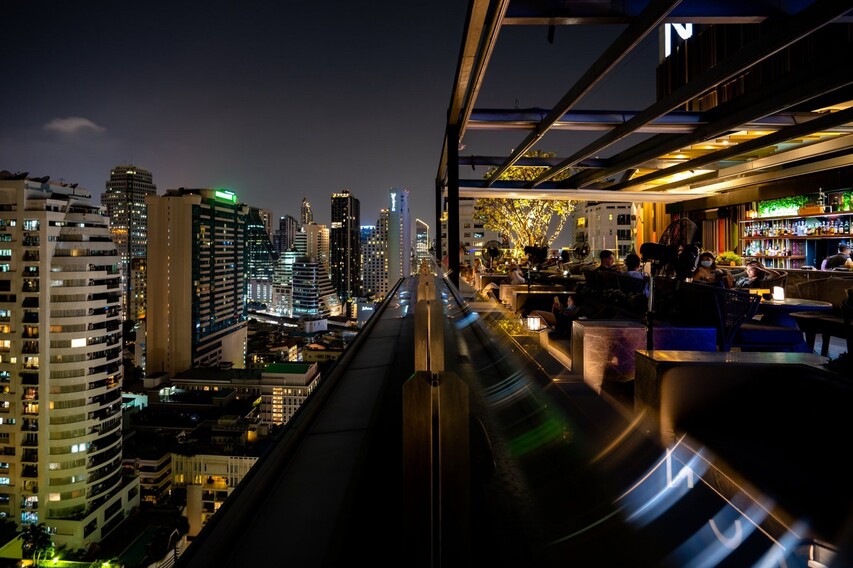 Maybe the most chilled out—and definitely the best value—rooftop bar in the city, this is the kind of place we wish could remain a secret. Here you can expect legitimately affordable cocktails on a rooftop that are actually good, plus a low-key house soundtrack and room to breathe.
26/F, Novotel Bangkok, 19/9 Sukhumvit Soi 20, 02-009-4999. Open daily 5pm-1am.
This rooftop cocktail lounge takes you back to the jazz age. The two-story space sports prohibition era-inspired decor, featuring lots of dark woods and Art Deco touches. A balcony on the 24th floor lets you take in 180-degree views of Bangkok's business district, while an alfresco rooftop offers a more leisurely atmosphere.
24-25/F, Hotel Muse Bangkok Langsuan, 55/555 Lang Suan Rd., 02-630-4000. Open daily 6pm-1am.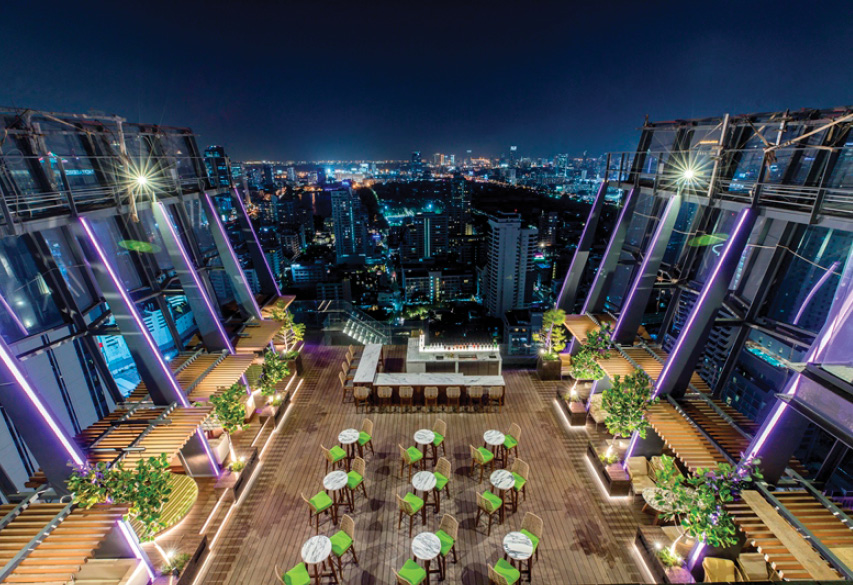 Spread over three levels and 280 sqm, Spectrum can accommodate almost 300 people. The inviting indoor living room comes with a sky blue velvet carpet, a glowing gold fretwork ceiling, a black marble bar and Thai artwork. Their drink promotion of two-hour free-flow house wine for B999 is a steal.
29-31/F, Hyatt Regency Bangkok Sukhumvit, 1 Sukhumvit Soi 13, 02-098-1234. Open daily 5:30pm-1am.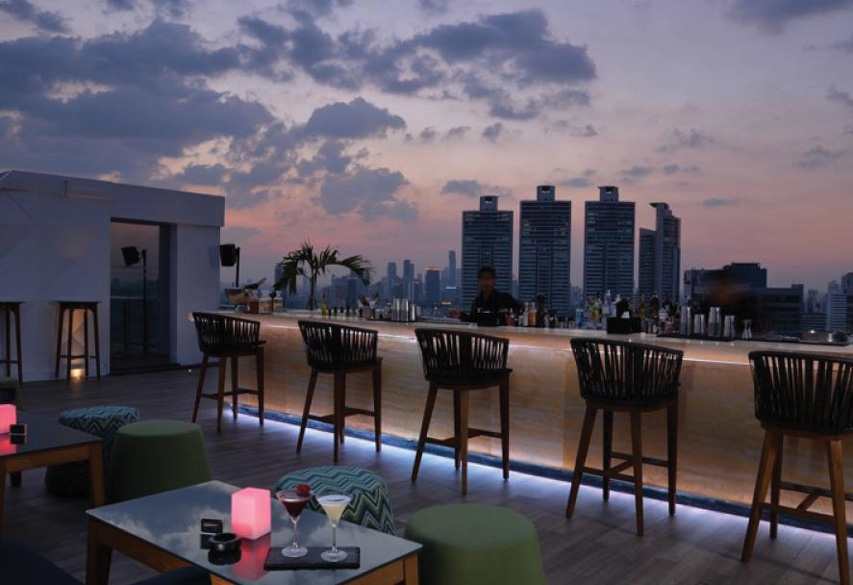 Decked out with LED lights, Vanilla Sky gives off a fancy sky bar atmosphere but remains easy-going. Gin and tonics take a starring role in the cocktail menu, with some unusual flavors in the mix—think peppermint and passionfruit or chestnut and chamomile. While here, be sure to visit sister bar
Mojjo
, which serves rum-heavy drinks amid a Cuban theme a few floors below.
35/F, SkyView Hotel, 12, Sukhumvit Soi 24, 02-011-1111. Open daily 6pm-1:30am.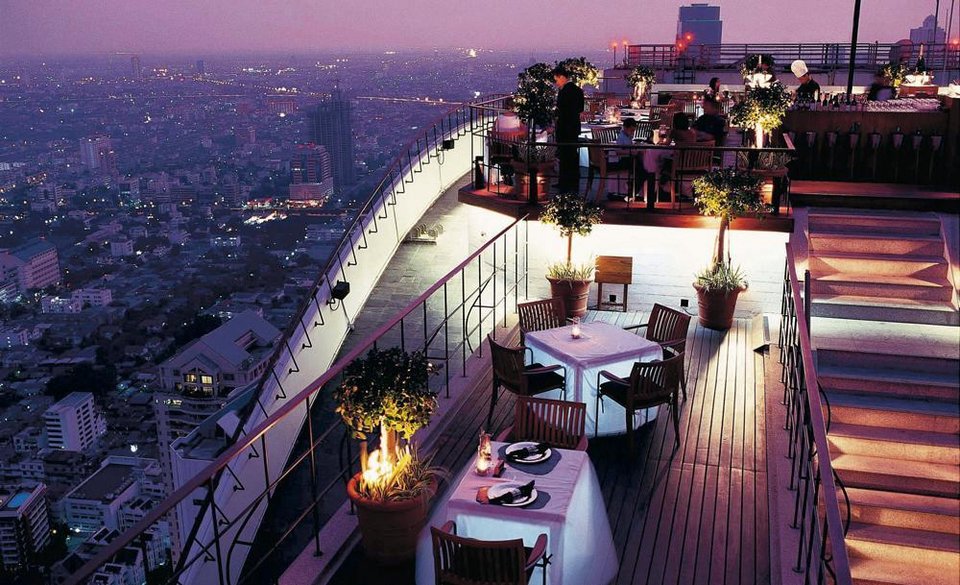 Legendary for its heart-stopping 61-story views of the scattered city lights, Moon Bar was one of the first rooftop places in town and it's still hard to beat the vertiginous 360-degree views offered up by this small al fresco bar atop the Banyan Tree Hotel. If you can stomach the feeling that you're at a tourist trap (and the accompanying prices), the views are indeed spectacular.
61/F, The Banyan Tree, 21/100 Sathorn Rd., 02-679-1200. Open daily 5pm-1am.

You'll feel like you're entering the secret garden as you ascend the creaky wooden staircase that leads to this rustic rooftop bar. Through a maze of hanging plants, flower tube chandeliers, exposed brick walls, fairy lights, and wooden ladders, you'll be met with international dishes and Garden of Eden-themed cocktails.
Rooftop/F, Oneday Wallflowers, 37-39-41 Soi Nana, 094-661-7997. Open Thu-Sun 6pm-midnight.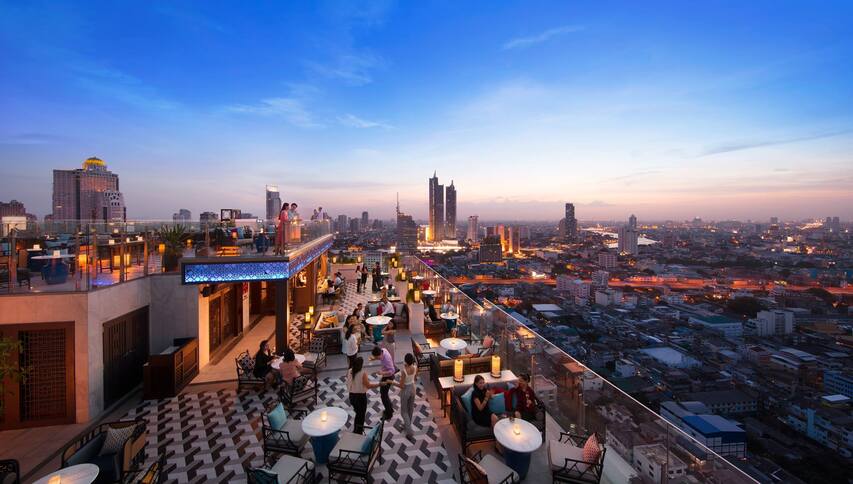 Sip on botanical cocktails at this Shanghainese-inspired spot whilst taking in the Silom-Sathorn skyline. Drinks come in stunning colors, like the fresh green Sweet Little Jade—blended with Midori, kiwi, lime, vodka, and prosecco—the Deep Purple Shanghai, and The City Upon the Sea, which gains its hue from butterfly pea.
32/F, Marriott Hotel The Surawongse, 262 Surawong Rd., 02-088-5666. Open daily 5pm-midnight.
One of the lesser talked about sky lounges in Sathorn, an area absolutely rammed with rooftop bars, pull up a seat at Zoom Sky Bar on the 40th floor of the JC Kevin Hotel and watch the bustling Narathiwas road below and enjoy buy-one-get-one happy hour promotions between 5:30-7:30pm daily on all cocktails from B370—meaning you end up paying B185 per glass for the likes of apple martinis, cosmos, Singapore slings, margaritas and about 17 more options.
40/F, JC Kevin Sathorn Bangkok Hotel, 36 Naradhiwas Rajanagarindra Rd., 02-210-9000. Open daily 5:30pm-midnight.
---
BK BAD Awards 2023 is available as a free booklet inserted in BK Magazine issue number 826 (Mar 31) and an online version here.