---
Gone are the days when you could rock up to a Bangkok run 30 minutes before the flag came down. With the country's top runs selling out in a matter of days, Lumphini Park at 6am has never looked livelier. Runs are becoming ever more extreme with 100km trails, 24-hour races and other ultra-endurance events designed to push the mind and body to its limits. We spoke to some of Bangkok's most dedicated runners to seek out Thailand's top races and resources.
Sasie Smittipatana
As the first Thai person to join the "Seven Continents Club," Sasie Smittipatana is such an accomplished runner that she's completed marathons on all seven continents and the North Pole.
What do you love about running?
It's a way to be free. When I am in the wild, I am at one with nature. I also like the social aspect of running—running with friends keeps me motivated.
How long does a beginner need to train for a marathon?
It depends on your fitness level, as well as your mentality. I gave myself about four months of consistent training before running my first marathon. I believe in incremental improvement and slowly building up to the full distance.
Do you have a race day preparation ritual?
I get up and meditate on race day, to mentally prepare myself before the run. I drink lots of water. I go over the running route in my head visually.

What's the hardest part of a marathon?
Usually at 25km when I am just over the halfway point and starting to lose motivation. Seeing other runners slow down can be contagious—I sometimes start to doubt myself.

What advice would you give to any new runner?
It is important to take it slow and have fun. I still don't run with a watch and I'm not too crazy about pacing or forcing myself—I focus more on feeling "good" on the run. Think of every step as an improvement.
What do you eat on race day?
Usually one banana, one piece of bread, and half an energy gel before the start.
What's your favorite race ?
The Comrades. Period. It's called the greatest human race and it will humble you. Twenty-thousand people run it each year, and about 40 percent DNF [did not finish] the year I ran. The toughest part is they have super strict cut offs—they only give you 12 hours to complete the 90km distance. It is held in South Africa from Durban to Pietermaritzburg or reverse.
---
Nam Porntharuk
Nam started running at the age of 20 to help combat stress and improve her physique. She is now a very active member of Thailand's running community, organizing the Pong Yaeng Trail (PYT) and The Navigator Thailand Race while putting at least two Iron-distance triathlon races and a 100km trail run under her belt each year.
What do you love about running?

The simplicity.

How long does a beginner need to train for a marathon?
I would say one should progress from shorter distance races at their own pace before registering for a marathon. To be able to "race" well, one needs a lot of experience but nowadays quite an alarming number of runners "walk" a marathon just to cover the distance in seven hours and get a finisher T-shirt.
Do you have a race day preparation ritual?

I would say it's more of a routine—I like it to sound more scientific and functional rather than superstitious. I don't eat before I run, so I would normally just get up, drink a big glass of water and try to go to the bathroom. I usually prepare all the race garments and gear the night before.
What's the hardest part of a marathon?

Most people would say the last 10km but for me, getting out of bed and to the start area at the right time is what I find tough—races that start at an ungodly hour like 3am are my worst fear!
What advice would you give to any new runner?
Running is for life not just for a marathon, so progress slowly and enjoy the process of training and racing at shorter distances first. The marathon distance is a bit of a fad these days—every new runner just wants to "finish" a marathon. Rushing to run a marathon when you are not ready could have dire consequences, like injuries.
What's your favorite race?
I prefer trail races these days; they're just much more enjoyable. Ultra-Trail Mount Fuji (UTMF) is my number one at the moment, closely followed by the Courmayeur-Champex-Chamonix (CCC).
---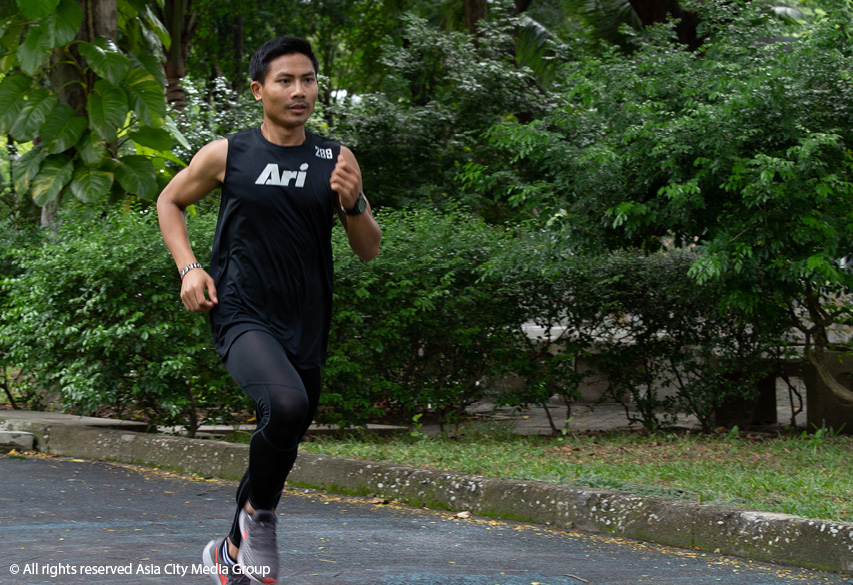 Adirek Soonsai
Tunt is the manager of Ari Running Concept Store and his fascination with running culture led him to spend a year in Kenya learning from the world's best.
What do you love about running?
It's the easiest kind of exercise—there's no age, gender or location restrictions, just one pair of shoes and you are ready to go.

How long does a beginner need to train for a marathon?
At least two years, depending on your age, gender, weight and current fitness level. Generally, those over 30 years old respond better to endurance running.

What's the hardest part of a marathon?
It's the training that's tough but if you get it right and stick to your plan, the marathon will be comfortable.

What advice would you give to any new runner?
Set small goals and go step by step.

What do you eat on race day?
A simple breakfast of bread and black coffee and perhaps an energy gel.

What's your favorite race?
Buriram Marathon 2017 was my favorite. The weather was great and there was a lot of cheering from the sides which helps to drive me on.
---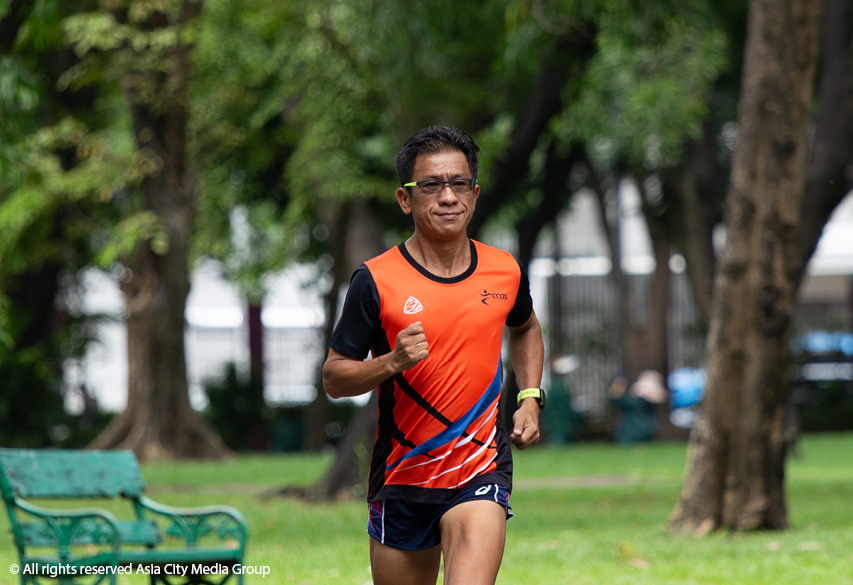 Sathavorn "DIN" "Chanpongsri""
Din is a 54-year-old national running coach and former national running athlete, who completed his first mini marathon aged 10. He has since won numerous gold medals and awards, as well as two silver medals from ASEAN University Games Malaysia, a bronze medal at the 13th SEA games in Thailand, and a 2014 award of honor for his part in developing runners through coaching.
How long does a beginner need to train for a marathon?
It depends on your background. If we are talking about a beginner with no fitness background at all, I would say it will take at least three years to get to a marathon "safely."
Do you have a race day preparation ritual?
How you prepare on the race day is not as important as how you prepare far ahead—a customized training schedule and plenty of practice is the key.

What's the hardest part of a marathon?
Preparing my mind to withstand hardships and failures.

What advice would you give to any new runner?
Be patient. There are way too many new runners nowadays who rush to run fast or far, aiming for a half or mini marathon or to win a race. These things cause them to go crazily hard on their training, which is dangerous, tiring, and they miss out on the joy of making progress. My advice is to be slow and consistent, you will get there when it's the right time.
What do you eat on race day?
If it's a mini or half marathon, just a banana or one piece of bread an hour before the race is fine. If it's a full marathon, I'll wake up four hours before the race and have a light high-carb meal, like boiled rice and egg. I also avoid heavy meals that are hard to digest like meats or high-fat foods.

What's your favorite race?
Every race means so much. Races help to promote exercise for the public—things like this mean the most to me.

---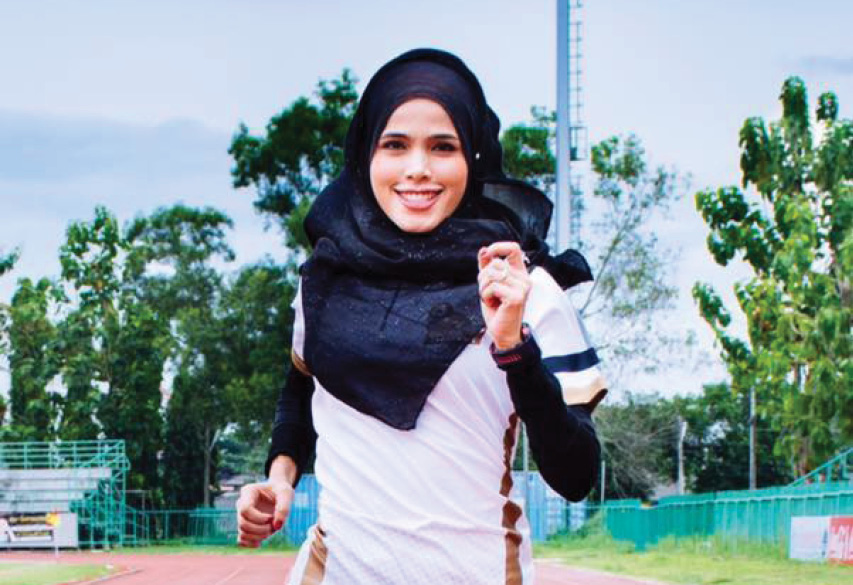 Thida Sonjaroen
Thida Sonjaroen is one of Thailand's most recognized runners, having completed over 40 marathons. Her biggest running accomplishments include completing the Ocean to Ocean 140km ultra-run and a first place finish in the 2011 Suanpruek 10-hour ultra-marathon.
What do you love about running?
I love how running makes me feel—strong and healthy both physically and mentally.

How long does a beginner need to train for a marathon?
I would give yourself a year. Six months to learn about running and become comfortable with it and then another four to six months building up the miles and training.
Do you have a race day preparation ritual?
I get to the race early and then after warming up, I pray for five minutes. This gives me the strength to keep running until I finish.

What's the hardest part of a marathon?
The last 10km is the toughest. It requires mental strength, patience and belief.

What advice would you give to any new runner?
Whatever your distance, run with your heart and soul. Eat well and understand the importance of rest and recovery. When running, make sure you drink every two kilometers.

What do you eat on race day?
I eat dates, wholewheat bread or a banana around three to four hours before the race. Then I sip water until the race and eat some dates or power gels to keep me going during, especially in the longer runs.
What's your favorite race?
Chombueng Marathon will always have a place in my heart as it was my first. It was an unforgettable experience.

*Jack Thomas is the founder and CEO of BASE, voted Asia's Gym of the Year in the Fitness Best Awards 2018.
---
Team Spirit
Find motivation in Bangkok's running communities.
Hash it out
The Bangkok Monday Hash Harriers kicked off back in '77 and they've met every Monday since to run the footpaths of outer Bangkok. In true Harrier tradition, runs are followed by social beer consumption. Entry is B150-200, inclusive of beer. Get on board at
www.bangkokmondayhhh.com
.
A community obsessed
If you're looking for running buddies, hit up the friendly Bangkok Runners group, whose members are always happy to get newcomers started—after all, runners love talking about running. Once you've proved your colors by attending some meetup events (www.meetup.com/Bangkok-Runners) you'll be permitted into the private Facebook group (see
goo.gl/FUEa7U
).
Find your happy pace
Sathavorn Running Club is a Thai running community spreading the message of running for health and happiness over competition. Run by Sathavorn "Din" Chanpongsri (See page 8), a passionate Thai running legend with SEA Games bronze medal, this inclusive group boasts over 35,000 members on Facebook.
www.fb.com/SathavornRunningClub
To Lumphini and beyond
With regular meetups in Lumphini Park, the Ari Running Club is all about sharing expertise and experience. Their team regularly hits the country's big races so newcomers have the chance to set a race goal and build up to it.
www.fb.com/TeamAriRunningClub
---
GET COACHED
Vinnie from IronGuides.com
Vinnie Santana is one of Bangkok's most seasoned triathlon coaches, with over 12 years of coaching experience and both online and offline training programs. His regular meetups for swim, track and bike have helped many people either complete their first triathlon or improve their time and race efficiency. More information at
www.ironguides.net

Sandro Sket from Run4Speed
Sandro Sket is the founder of Run4Speed and an experienced runner and coach, offering support for distances from 400 meters up to the full marathon. Run4Speed has programs for all budgets, from standardized online packages up to personalized coaching. Find out more and get a free training template at
www.run4speed.com
Gregor Rasp
Gregor Rasp is a highly-regarded Bangkok-based coach, specializing in running and trails. Rasp's science-backed approach covers more than just running. He also coaches on sleep, nutrition, balancing stress and full body strength to help you run anything from 10km to the longest ultra-run out there. Contact gregor.rasp@gmail.com or
www.fb.com/gregor.rasp
---
SHOP TILL YOU DROP
ARI RUNNING CONCEPT STORE
This store breaks down how you run using a treadmill and video footage to recommend the best running shoe. Slick and sexy gear is coupled with science for the complete approach.
www.fb.com/arirunningclub


REV RUNNR
Rev Runnr is a multi-brand running store with nationwide locations and options for all runners from beginners to advanced.
www.fb.com/revrunnr
RUN 2 PARADISE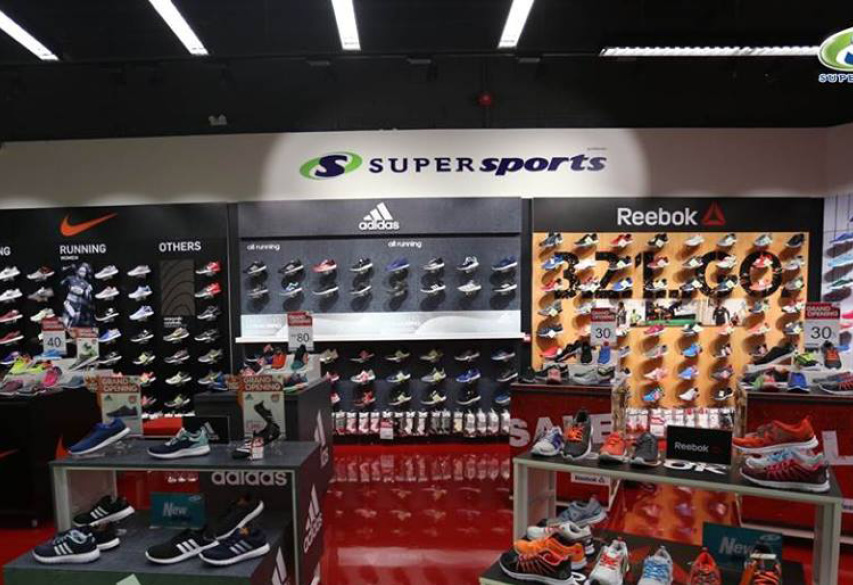 SUPERSPORTS

One of Thailand's most recognized sports stores, Supersport has a large array of running shoes available at their many branches across the country.
www.supersports.co.th
---
Kick Off Your Healthiest Year Ever

BK Magazine's Better You, your guide to Bangkok's hottest workout trends, best gyms, healthy-eating shops and restaurants, and coolest workout gear, as well as top wellness retreats and beauty clinics you can trust, is out now. Download your copy here.