THAILAND ROAD RUNS

RIVER KWAI HALF MARATHON
One of Thailand's oldest and most iconic races. Expect an uphill first half before turning around for an easier finish. Sign up for quarter (B600) or half-marathon (B800) at
www.amazingfield.net
.
Sep 9
, 5:30am. River Kwai Village, Sai Yok, Kanchanburi.

BANGKOK MARATHON
What it lacks in beauty, it makes up for in size. Perfect if you want something close to home and don't mind an early start. Oh, and they famously miscalculated their half marathon by an additional 7km, so train for the unexpected. Marathon: US$65/non-Thais, B1,000/Thai nationals at
www.bkkmarathon.com
.
Nov 18
, midnight. Sanam Chai Rd., Bangkok.

RELENTLESS RUN
The epic Relentless Run (B2,400) spans 24-hours. There are also 12- (B1,500) and 6-hour (B1,000) options or you can break the 24-hour race up with teams of 2-4 (B8,000). Proceeds go to Relentless, a charity that works with vulnerable and trafficked children and HIV prevention. See
www.gorelentless.org
for more info.
Nov 24–25, noon. Krasang, Buriram.

AYUTHAYA MARATHON
If you're going to run 42km, you might as well go on a historical and cultural tour through a World Heritage site while you're at it!
www.goodsportsthailand.com
.
Dec 9
, 4am. Ayutthaya Historical Park.

OCEAN TO OCEAN
Mankind thrives on epic feats and this 140km sunrise-to-sunset race from the Pacific to the Indian Ocean ticks that box. Needless to say, this should not be underestimated. B2,000/single, B4,000/team at
www.runningthailand.net
.
Dec 9
, 6am. Ranong-Lang Suan.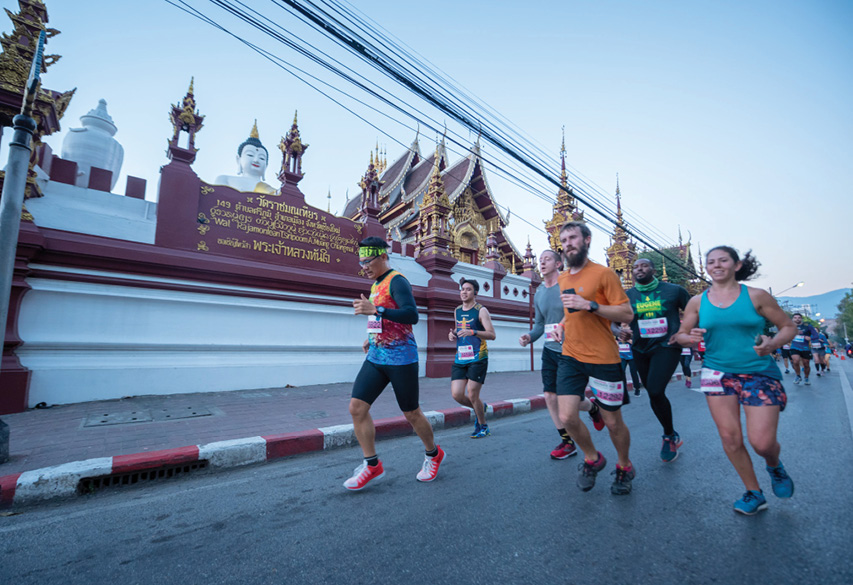 Credit: www.chiangmaimarathon.com

CHIANG MAI MARATHON
If you're looking for a cooler climate then partake in the north's biggest run. Boasting the most foreign entrants of any marathon in Thailand, you'll get a bonus tour of Chiang Mai's cultural, historical and natural hotspots. Fear not, the course doesn't venture up into the mountains. Marathon, B1,200 at
www.chiangmaimarathon.com
.
Dec 23
, 4am. The Tha Phae Gate, Chiang Mai.

CHOMBUENG MARATHON
Founded in 1985 with 100 people and a B20 entry fee, this marathon is now one of Thailand's classic runs and is famed for its Saturday night pre-race party. We recommend an early night if you're aiming for a personal best. Watch out for next year's registration here (B800) at
www.chombuengmarathon.com
.
Jan 20
, 2019. Muban Chombueng Rajabhat University, Chombueng.

KHON KAEN INTERNATIONAL MARATHON
One of the northeast's biggest runs, attracting top local and international athletes. Half marathon and fun run distances also available. Apply here at
www.khonkaenmarathon.com
Jan 27
, 2019, 4:15am. Khon Kaen University.

SUANPRUEK 10-HOUR ULTRA-MARATHON
As the name suggests, this is a race of endurance, not distance. The rules are simple—once that 10-hour timer starts, run as far as you can. 2019 dates TBA, watch this space:
goo.gl/C3U6GE
May 2019
(date TBA). Bangkok. B1,200.
LAGUNA PHUKET MARATHON
"Run Paradise" is Phuket's biggest running event. The fresh air and scenery offers a refreshing change from the smog of Bangkok. Early bird marathon prices: US$90/overseas, B1,600/expats, B1,250/Thai nationals at
www.phuketmarathon.com
.
Jun 8-9
, 2019. Laguna Phuket, Srisoonthorn Road, Phuket.

SUKHOTHAI MARATHON
That last 10km is bound to be a little easier when you're surrounded by the incredible monuments of Thailand's first kingdom. Dates TBA at
www.race.runlah.com
.
Jun 2019
(date TBA), Sukhothai Historical Park.
---

THAILAND TRAIL RUNS

THE NORTH FACE (TNF) 100
If you're tired of road running, perhaps it's time to hit the trails. With an adventurous and hilly route through the natural beauty of Amphoe Pakchong near Khao Yai, this race mixes adventure with local culture on runs ranging from 15km (B1,200) to 100km (B2,900). See www.thenorthfacethailand.com.
Feb 2019 (date TBA). Amphoe Pakchong, NakhonRatchasima.
Credit: www.fb.com/LuangPhayao

LUANG PAYAO MOUNTAIN RUN
Head north for this spectacular 55 km trail through the mountainous and picturesque Phayao province, near Chiang Rai. For those not quite ready for the full 55km (B3,200), there's a 33km (B2,500) option. Look for updates here at
www.fb.com/LuangPhayao
.
Jul 2019
(date TBA). Doi Luang, Phayao.
---

REGIONAL RUNNING EVENTS

ANGKOR WAT HALF MARATHON
A unique opportunity to run through one of the most spectacular heritage sites in the world. As the sun comes up over Angkor Wat, the runners set off on their 3 (US$40), 10 (US$60) or 21 (US$66) km runs that double up as cultural tours of the world's largest religious monument. Register at https://www.sbbhosted.com/registration/index/87
Dec 2. Angkor Wat, Siem Reap, Cambodia.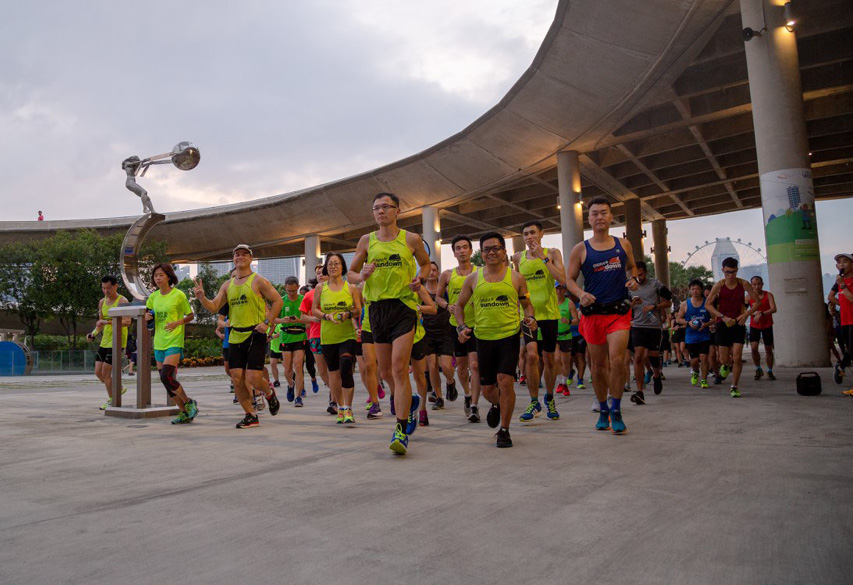 Credtit: www.sundownmarathon.com
SINGAPORE SUNDOWN MARATHON
In an assumed attempt to escape Singapore's brutal humidity and heat, the Singapore Sundown Marathon kicks off as the sun sets. With the tagline "Sleep Can Wait", this run represents Asia's biggest nighttime marathon (SG$100), hosting over 30,000 runners. www.sundownmarathon.com.
May 2019 (date TBA). F1 Pit Building, Singapore.

MOUNT KINABALU INTERNATIONAL CLIMBATHON
This high-altitude 26km race was born in 1987, inspired by the routes that mountain rescuers used to bring down injured climbers. Expect rugged terrain, thin air and incredible views of Mount Kinabalu. See here for updates: www.climbathon.my.
Oct 2019 (date TBA). Kota Kinabalu, Sabah, Malaysia

RINJANI 100
More of a journey than a race, this 100 km run (US$100) with its 12 hour cut off is not for the faint-hearted. If you're not quite ready, you can still enjoy striking views of unspoiled nature across rocky mountains and rice fields with the 27km (US$40), 36 km (US$50) or 60 km (US$70) options. See www.rinjani100.com for updates.
May 2019 (date TBA). Mount Rinjani National Park, Lombok, Indonesia.