To celebrate Chinese New Year, 13 galleries of Lower Silom and Charoenkrung Road will host a gallery-hopping night on Fri, Feb 20.
Participating venues include Bridge, who'll be throwing a party to mark the end of their Threshold 2 group exhibition, and Soy Sauce Factory, who'll host the opening party for Japanese artist Lee Asano's solo show. The latter is currently also showing off German-Thai photographer Benya Hegenbarth's new fashion and portrait photographs, under the title Encounters, documenting moments with people who've made an immediate emotional impact on him.
Artha Gallery will host the opening of Vietnamese artist Luong Trung's Street Feelings exhibition exploring changes to Hanoi, Vietnam, and its art scene over past years.
Atta Gallery, meanwhile, will host a talk from the gallery's director Atty Tantivit dubbed Complete Your Art-Filled Lifestyle by Adding Wearable Art to Your Style! (from 7pm).
Over in Surasak, Jam will be the site of a pop-up exhibition by Swiss artist Jean Morisod. Other participating venues include Artery Post-Modern Gallery, Modern Gallery, Number1 Gallery, Kathmandu Photo Gallery, Serindia Gallery, Thavibu Gallery and Speedy Grandma.
All galleries are expected to stay open till at least 11pm, with more special talks, previews and discounts planned. See details at www.fb.com/galleryhoppingbkk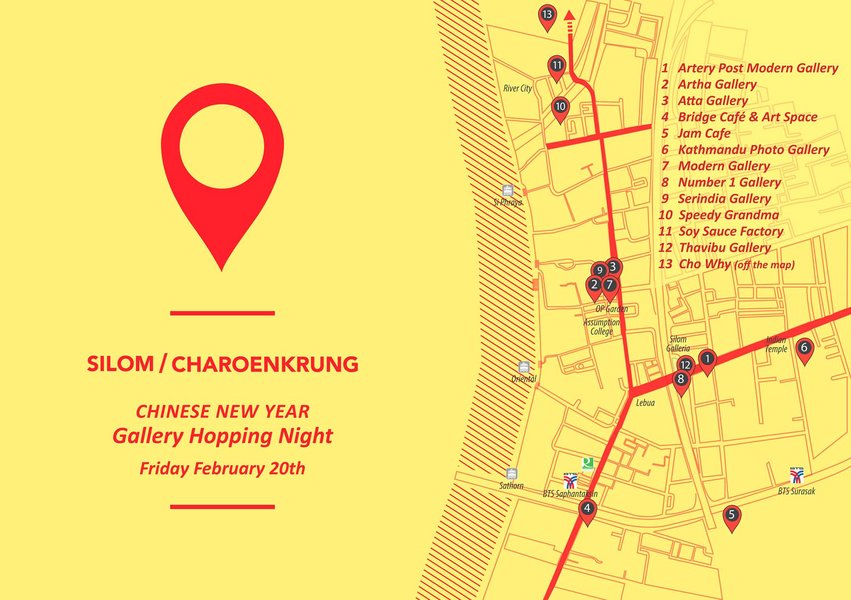 ---