Nestled in the old Talad Noi neighborhood, this straightforward but stylish bar does just what you'd hope for: live soul and funk bands, and stiff drinks. It's the twists that make it most memorable, though, like the bar stools hewed from industrial clutter found in the neighborhood. Counted among the partners are Tul and Pump from the rock band Apartment Khunpa, Romain Dupuy, a former art director at Bed Supperclub, as well as Thomas Menard (see Soy Sauce Factory, below).
Romain Dupuy, Soulbar
Why Talad Noi?
I dreamed of living here for 13 years. I just love the smell of engine oil, the look of the scrapped engines, the retro feel of the old Chinese houses and the proximity to the river. It all made sense. My vision was for a small space, like a neighborhood joint.
What was the renovation process like?
The place was in good condition, so it wasn't as hard as some other shop-houses in the neighborhood. We chose the place for its spirit and soul, so we kept existing elements like the floor, the stairs, the counter. The interior design was simple: we wanted the spirit of old joints in London or Paris. I wanted to include a bit of the community in our bar. I called my old friend and a great artist, Joe Ruangsak, to work on early sketches based on engine parts. We went around the district buying metal by the ton, and finally came up with some original furniture designs.
What are the positives of renovating an old place?
The pride of being in the Old Town and operating a "real" daily live bar, as there aren't any until almost Phra Athtit.
How do the neighbors take it?
At first the locals were afraid of a bar; they thought of Phra Athit or Khao San, and didn't want it to happen. But after proposing the project to the leaders of the community, the contact was good and friendly. We have quite a few local regulars, from Yaowarat, Talad Noi and Bangrak. They all say that it's about time a bar finally opened, here. We send a lot of our guests to local eateries, and in turn they help us get customers. I hope more people are encouraged to create small and sincere restaurants or bars around Talad Noi or Chinatown. There are plenty of spaces, and the investment is low—people need to act fast before the big promoters destroy the heart of the city for the wrong reasons.
---
Finance specialist-turned-interior designer Thomas Menard is becoming quite the player down on Charoenkrung. After setting up the experimental art space
Speedy Grandma
(Charoenkrung Soi 28) with Lee Anantawat in 2013, he opened this "proper" gallery-slash-nightlife venue last year, set in an actual old soy sauce factory. Downstairs operates like a bar, pouring drinks at decent prices in a stylishly pared-back environment. Head upstairs to see exhibitions, often held in collaboration with photography agency Most, which represents many big names from around the region. Among a slew of new projects, Menard also harbors big plans for when the TCDC moves into Charoenkrung's famous Grand Postal Building in a couple of years' time.
Thomas Menard, Soy Sauce Factory/Speedy Grandma
Why Charoenkrung?
For me the Old Town is the center of the city. It's close to Silom, Hua Lamphong, the riverside. My parents are antique dealers; it just makes sense. It's a gamble that the area is going to take off, but you come here to be a part of something different. In Thonglor, you can spend a lot of money on a place and in the first year things will be buzzing, you'll make a lot of that back, but it's hard to make it last. Here, rent and renovations can be cheaper, you can charge B200 for cocktails, not B300, but you have to be in it for the long haul. I have my team and we did all the renovations ourselves. Soy Sauce took about four months, but it's very minimalist. The most expensive thing was adding air-con.
Do you think the area will take off?
I have people every day asking me to help them find a place. And I like to help if it will bring something constructive to the area. There are still these misconceptions: "Oh, it's so dirty, it's not Sukhumvit, there are no carparks." But that's changing.
Explain what you're doing at Soy Sauce Factory?
It's changed a bit since the start. It's now less focused on the photo studio aspect. Our restaurant is also not happening at the moment. We should have a new exciting dining concept later in the year. Primarily, I want Soy Sauce to be a photography gallery. Upstairs will be devoted to exhibitions from established artists only, while downstairs, once a month, there'll be shows from street artists. I collect a lot of works; I want people to think of Soy Sauce as one of Bangkok's big art dealers.
---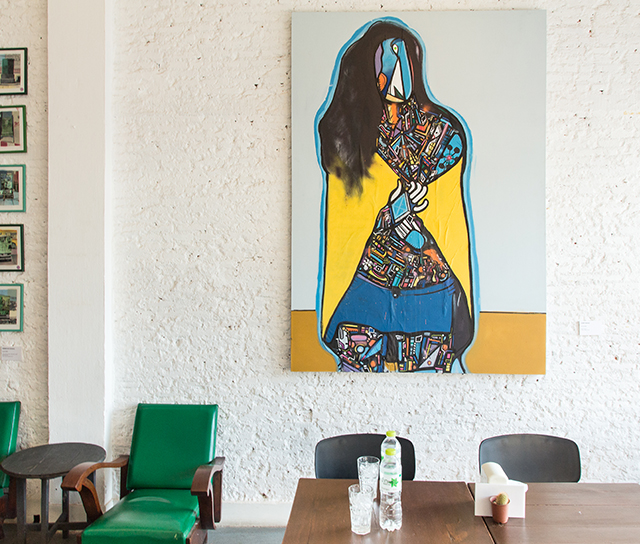 This four-story cafe-slash-art space sits at the foot of the iconic abandoned skyscraper, Sathorn Unique, right by BTS Saphan Taksin. Its group and solo exhibitions have featured a mix of both established and new locally-based artists. The tastefully decorated front-ofhouse (whitewashed brick walls, filament bulbs, blond wood) is a prime spot for breakfast, while there's also a charming rooftop that just about manages a river view. It's run by a small group of creative types with diverse backgrounds in PR through to videography.

Bongkoch Chansri, Bridge
How did you find the place?
When I used to work in Silom, I would park nearby and look up at the building and dream of doing something with it. We eventually saw that it was up for rent and moved in a few weeks later. Inside was a little creepy, with all these remnants of past uses, and cryptic drawings on the walls. The renovations were fairly painless—labor intensive, but painless—especially as we have a friend who's an interior designer. It took about three months to strip the place and paint it up. We love the tall ceilings you don't find so many small art spaces with such tall ceilings.
What are the benefits of setting up shop on Charoenkrung?
We get a lot of tourist traffic from hotels in the area. Other than minor issues with the hostel next door when we were renovating, the neighborhood's been really welcoming. We keep things quiet after 10pm, except on party nights and exhibition openings. It's in the interests of all local businesses to have a thriving art scene.
What's next?
We're looking at introducing some guest curators, including working closely with universities to give more art students an opportunity to be seen. We'd love to showcase more young Thai artists.