---
Photo by Panita Thiraphapong
Je Jin Cockle Soi Texas
This seafood snacks and beer stall has been in the middle of Soi Texas for over 35 years. Pa Jin sells soft-boiled cockles and mussels at B100 for portions that are good for two. The secret is the freshness of the shellfish, which come from a farm in Petchaburi province, and the three special sauces: the sour and spicy sauce is the most popular among locals, while some might find the ancient-style sweet and sour "mix sauce" with crushed peanuts easier to handle. There's also a sweet sauce available for wimps. Singha, Heineken and Leo beers are available at B80-120 and can go down to B70 depending on who serves you.
Soi Phadungdao, Yaowarat Rd., 081-795-1839. Open daily Mon-Sat 6.30pm-1am, Sun 5pm-1am
Photo by Panita Thiraphapong
Jae Aun Bua Loy Nam Khing
One of the most popular desserts in Chinatown is the Chinese-style bua loy nam khing (dumplings with ginger tea). Running for over twenty years, Jae Aun is one place you can rely on. Pair the top-selling sesame dumplings with either ginger tea or sweetened milk (both B35). They also do taro dumplings (B45) and tofu pudding (B15). Order the assorted dumplings (B50 with ginger tea and B60 with sweetened milk) to try both in one go.
Yaowarat Rd., 081-860-1053, 081-612-5700. Open Tue- Sun 7-11.30pm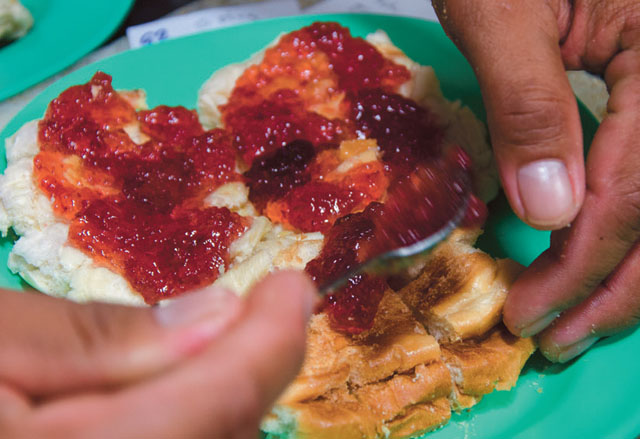 Photo by Panita Thiraphapong
Tasty Toast Yaowarat
You will be lured to this stall by the sweet aroma of buttered toast. There are three styles on offer: crispy, steamed bun, and crispy on the outside but soft inside. You can choose to top your toast with sangkaya (Thai egg custard), chocolate, peanut butter, sweet chili paste, condensed milk, pineapple and strawberry jam (all B18). The stall also sells hot milk, coffee and tea.
Across from Jae Auan Rad Naa and Bank of Ayudhya, Yaowarat Rd., 087-598-0888, 08-1492-5131. Open Tue-Sun
6:30pm -midnight
Photo by Panita Thiraphapong
Seafood Soi Texas
At the beginning of Soi Phadung Dao, locally known as Soi Texas, there are two popular seafood places facing each other across the street. T&K Seafood is on the right hand side when looking into the soi while R&L Seafood is the one on the left. We have tried both and their taste, freshness of seafood ingredients and prices are not much different. You can enjoy ample grilled prawns, crabs and scallops and end up paying less than B1,000 for two people. Our recommendations are the steamed sea bass in lime juice (B350) and spicy tom yum kung (B150) at T&K restaurant; and amberjack in pandanus leaf (B250) and spicy seafood tom yum soup (B150) at R&L.
Soi Phadung Dao, Yaowarat Rd. Open daily, 6pm-1am
Guay Jub Uan Pochana
Asking for the way to "the cinema" will lead you to this guay jub (rice noodles with crispy pork and pork entrails soup) stall. Located just in front of the last old-style cinema in Yaowarat, Guay Jub Uan Pochana is easy to spot. You might have to queue up to get a seat and you might have to share a table with strangers ranging from university students to hisos but Nai Lek's guay jub is worth the hassle. The highlights have to be the delicious crispy pork (B60) and the strong peppery kick of the soup.
In front of Chinatown Rama, Yaowarat Rd., 02-224-3450, 08-1611-6920. Open Tue-Sun 6pm-12:30am
Khanom Bueang Nai Tas
This small stall probably wouldn't grab your attention if it wasn't for the long queue out front. Khanom Bueang Nai Tas is one of a few places that still sell old-style kanom bueang (Thai crepe)—the shell is made from a combination of mung bean flour and rice flour, the spread from whole egg. Your can opt for sweet (sweet egg yolk floss, white sesame and dried persimmon) or savory (cashew nut, seasoned minced shrimp and coriander) at B15 each.
On the corner of Yaowarat Soi 11, Yaowarat Rd., 098-389-9988, 098-689-9919. Open daily 7pm-1am
Gaeng Garee Nai Yong
Not far from Khanom Bueang Nai Tas is this khao gaeng (rice with curry) stall with a few tables and big pots of curries, as well as other stir-fried food on display. For more than 70 years now, Gaeng Garee Nai Yong has been renowned for its creamy, wellspiced curry with rice, which starts at B40 with the option of beef or pork. Add a boiled egg and some gun chiang (Chinese pork sausage) for an extra B25.
On the corner of Yaowarat Soi 11, Yaowarat Rd., 02-221-9908. Open daily 3pm-2am