With restrictions gradually lifting, there is light at the end of the tunnel for those suffering from the effects of Covid-19 closures. However, we're not out of the shadows yet. Many of Bangkok's most vulnerable have been left with reduced or no income over the past six weeks, without access to much needed supplies like food, masks and hand sanitizer. If you have time or funds on your hands, here's how you can share the love with your local community.

VOLUNTEER
This grassroots organization sprung up to collect donations and deliver care packages and meals to the most vulnerable in Bangkok and across 17 Thai provinces during the Covid-19 crisis. You can register to volunteer on their website, after which you'll be invited into a Line group where you can respond to requests to help out with deliveries and packing. You can also nominate a person or community who may be in need of care packages, or someone who may require help from volunteers during this time. Read more about their work in our interview with founder Natalie "Bin" Narkprasert here.
To make a monetary donation instead, you can find details on the crowdfunding page. Each B1,000 donation equates to eight care packages for seniors. Companies can also donate large supplies of essentials like masks, hand sanitizer, soap, rice and canned food.
A coalition between SATI Foundation, Scholars of Sustenance, and Urban Studies Lab, with support from Bangkok 1899 and the Thai Health Volunteers Foundation, this relief effort distributes essentials like masks, soaps, hand sanitizers, and basic foodstuffs to the most vulnerable groups in Bangkok. You can donate masks, hand gels, sanitation equipment, protective gear (gloves, face shields, suits), detergents, cloth bags and food supplies including canned foods, rice, fruit, eggs, raw ingredients by coordinating with Na Cafe at Bangkok 1899 (134 Nakhon Sawan Rd., 090-040-3335), where the packages are put together. Prefer to donate? Head to their Social Giver page. Every B300 donated equates to a package consisting of sanitation items and food supplies for a family of four people.
---
DONATE
This well-established, Bangkok-based foundation provides children in need across the country with educational opportunities and basic health services. At present, they are distributing masks and hand sanitizer to communities in need. By making a donation of just B20/day (or B600/month) you can sponsor an underprivileged child. Alternatively, you can just make a one-off donation via the website. 9 Chalermprakiat Rd., Rama 9 Soi 8, 02-747-2600
Another long-running foundation supporting communities in need, this charity provides foster homes, education and supplies to children and elderly citizens in Bangkok. You can donate money and essential everyday items using the details provided on their website. 1596 Rama IV Rd., 02-249-3553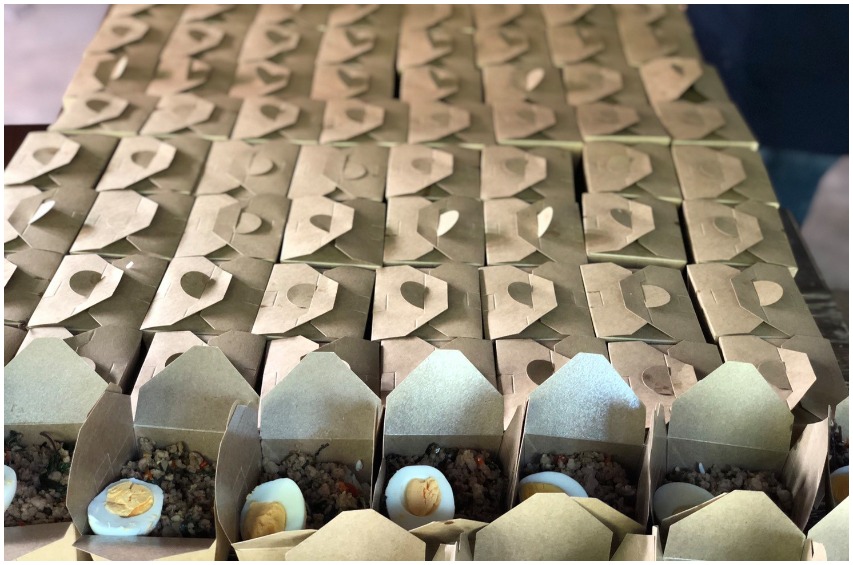 Credit: 100 Mahaseth Facebook
Haoma's "No One Hungry" and 100 Mahaseth's "100 Smile Meals" joint campaign sees the restaurants collect donations, which are used to cook meals for those who are suffering from loss of housing or income due to Covid-19.
Pay It Forward
A number of food vendors across the city have begun participating in the trending #PayItForward movement by allowing customers to purchase food coupons, which can then be claimed as meals by others, thus supporting the vendors and those in need. You can look out for these coupons at youe local street food stalls or even print off a copy for local vendors to use. You can find the document here (link courtesy of Richard Barrow in Thailand).
---
SUPPORT LOCAL BUSINESSES
Credit: Bo.lan
Source local
Farmers and small businesses are suffering greatly due to closures and dips in demand, which is why you should source your groceries locally. You can order fresh fruit and veggies from Bo.lan (from B800 for a CSA Box), Delish Foods and more, or visit your local wet market instead of going to the big-name supermarkets.
Buy vouchers
Take advantage of food voucher campaigns like the ones rolled out by Foodie Collection, (80/20, Il Fumo, La Dotta and 1919) and La Bottega di Luca. Not only do these provide much-needed revenue to get restaurants through this downtime, they also give you a cheap ticket to some of the city's best food once the crisis is over! Don't forget to support your favorite bars, too. Asia Today and Teens of Thailand, Black Cabin and Tropic City are all running awesome buy now, drink later deals.
Eat cookies
Community Cookies is an initiative that supports local, small-scale farmers, while donating all profits to Haoma and 100 Mahaseth's free meals campaign, mentioned above—one cookie equals one meal! Boxes of six are priced at B330. Order in advance (before Thursday 6pm each week) by contacting Lily on Line or WhatsApp (081-402-6664).
Order directly
Order food delivery directly with the restaurant via phone, Line or Lineman. It may require a little more effort but it's the only way they will receive the full payment for your order. Instead of stockpiling booze at the big-name supermarkets, consider ordering from local delivery services.