You'll know by now that tons of top Bangkok restaurants are open for delivery during the Covid-19 closures, but how about when you want to try cooking at home? While you could order from the big-name supermarkets, these fresh grocery delivery services support local businesses and farmers—plus, their produce is awesome.
Barefood Bangkok

This one's for all the vegan cheese-lovers out there. Barefood's array of plant-based "cheese" includes pure cashew raw nut cheese (B220), roasted cashew nut cheese (B250), truffle nut cheese (B250), chilli-flavored raw vegan nut cheese (B250), mixed herbs cashew nut cheese (B250) and more. They also sell raw cashew nuts (B60/100g) and home-brewed kombucha (B90).
How to order: Call 098-924-6995 or visit their Facebook page for more information. Also available via Foodpanda.
In a bid to support local farmers during the Covid-19 crisis, this Michelin-starred restaurant has begun delivering CSA (community-sourced agriculture) packages. These include groceries like fish sauce, palm sugar, fresh coconut cream, curry paste and shrimp paste, as well as fresh organic veggies, proteins of the day and eggs. They'll even send you some suggested recipes for cooking at home. The Starter Box is priced at B800, while the Bo.lan Essential Box is B1,600 and includes staple Thai ingredients with a long shelf life.
How to order: Orders can be placed between 2-5:30pm. Call 02-260-2962 or message them on Line @bolanoffice. Visit Bo.lan's Facebook page or website for more information.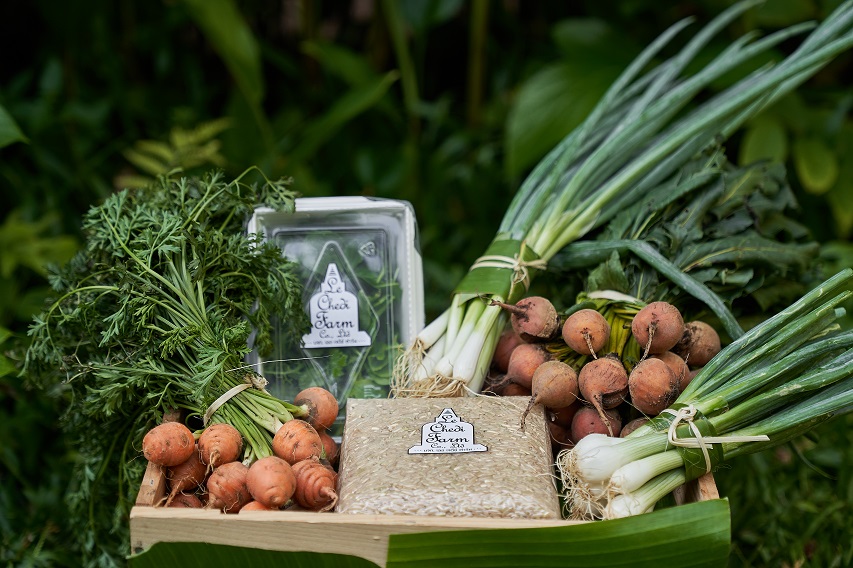 If clean eating is your game, then hit up this organic farm in Nakhon Pathom for fresh, organic vegetables and rice. For B490, you can get a box packed with baby beetroot (25 pieces), Parisian carrots (25 pieces), Koshigaya onions (10 pieces), baby white onions (10 pieces), mesclun salad mix (100g) and organic brown rice (1kg). Delivery is available daily between 11am and 8pm and is free within the Sathorn, Silom, Bangrak, Klong Toey, Pathumwan and Wattana areas. An additional B100 will be added for delivery to other areas within Bangkok.
How to order: Call 087-608-8976 or shoot them a message via Line @edsbangkok. Visit their Facebook page for more information.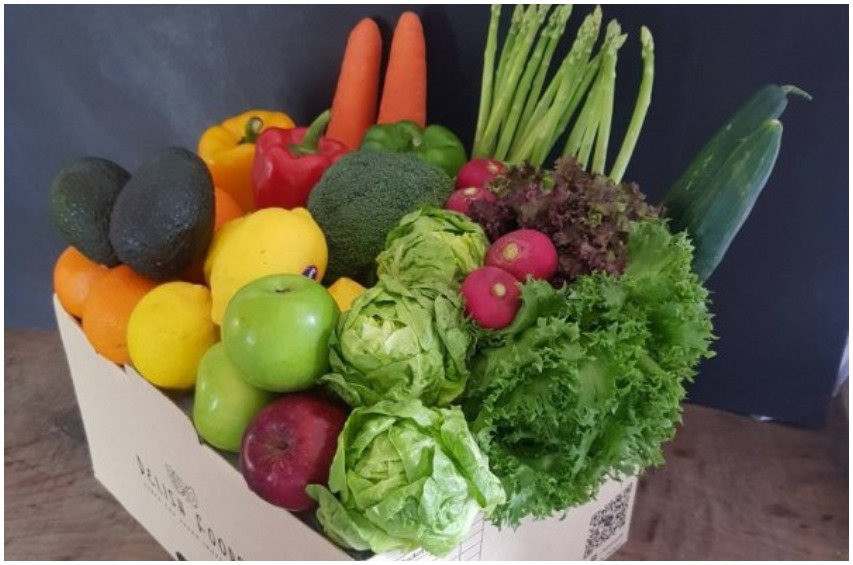 Stock up on fresh local vegetables, herbs and fruits, from wild rocket (B29/100g) and organic green oak (B55/250g pack) to asparagus (B40/250g), cherry tomatoes (B25/200g) and root vegetables like heirloom baby carrots (B75/250g). Here, you can also get your hands on fresh chilies; red, yellow and green bell peppers (all B25/piece); and fruits, ranging from green and red seedless grapes (B399/pack) to green and orange melons (B240/piece), avocados (B75/piece) and more.
How to order: Minimum order B1,000. Call 02-723-0969 or message them via Line @delishfoods. Visit their website for more information and product availability.

Chef-turned-butcher Joe Sloane is famed for selling ethical, locally-sourced pork, beef, and poultry. Stock up on bratwurst (B299), Cumberland sausages (B299) and even Haggis (B340) and blood pudding (B150). For your next backyard barbeque, the Thai Angus rib eye (B395) and pork chops (B450/kg) have you covered, while the pastrami (B290), pistachio mortadella (B180), Chiang Rai goat cheese (B395) and truffle brie (B240) are ideal for making an antipasto platter.
How to order: Call 02-398-2294/5 or 02-398-2201. Visit their website and Facebook page for more information. Also available via Lineman and Lalamove.

If you've been to The Commons Thonglor, you've more than likely drooled over this deli. It is a haven of top-shelf cheese, from camembert (B145) to black truffle gouda (B235) and 24-month-aged mimolette (from B185). These are joined by cold cuts, which are best enjoyed in sets like the Meat Lover (prosciutto di Parma, rond d'auvergne, Milano salami, and spicy salami; B490) and the Spanish Platter (jamon serrano, spicy chorizo, and manchego; B390). Kombucha (B120) and fresh stevia-sweetened fruit juices (all B160) are also available, alongside various grains, spices, sauces and nut butters.
How to order: Call 094-526-4416 or visit their Facebook page for more information. Also available via Foodpanda.

Credit: Vivin Grocery
This place has got your cheese and wine nights covered with its huge line up of homemade cheeses (from B130 for feta) and bottles (from B1,390 for Enate Spanish Tempranillo). It is also one of the go-to places for charcuterie meats (B280), dried duck breast (B195), duck liver pate (B195), pancetta (B160) and more. If you're looking for a lunch set, the Apero Box starts at B340 and includes Vivin cheese, saucisse, terrine, rillette, mousse, magret dried duck and homestyle chutney. Veggies can opt for the cheese-centric version (B460) and the organic vegetable set (B650), featuring fresh produce from Chiang Mai. They also sell Thai chocolate (B90 for Sharbar 70 percent).
How to order: Call 02-392-5662 or visit their website and Facebook page for more information. Also available via Foodpanda and Lineman.
---