Now that restaurants are slowly reopening their doors, you can forget about delivery or cooking at home for a moment and engage with the real world again. Those taking extra precautions might prefer to dine al fresco, and Bangkok has plenty of places to scratch that itch. Check out these outdoor spots perfect for social distancing.
Image courtesy of Appia
The beloved Italian restaurant has opened its doors with some new changes to show off. The recently renovated patio has been made over with creamy yellow hues and bright greenery, capturing the al fresco essence of a true Roman trattoria. The homestyle cooking by chef Paolo Vitaletti is at its best in house favorites like eggplant parmigiana, fresh cavatelli with lamb ragu, and their famous porchetta.
20/4 Sukhumvit Soi 31, 02-261-2056. Open daily 11am-8pm.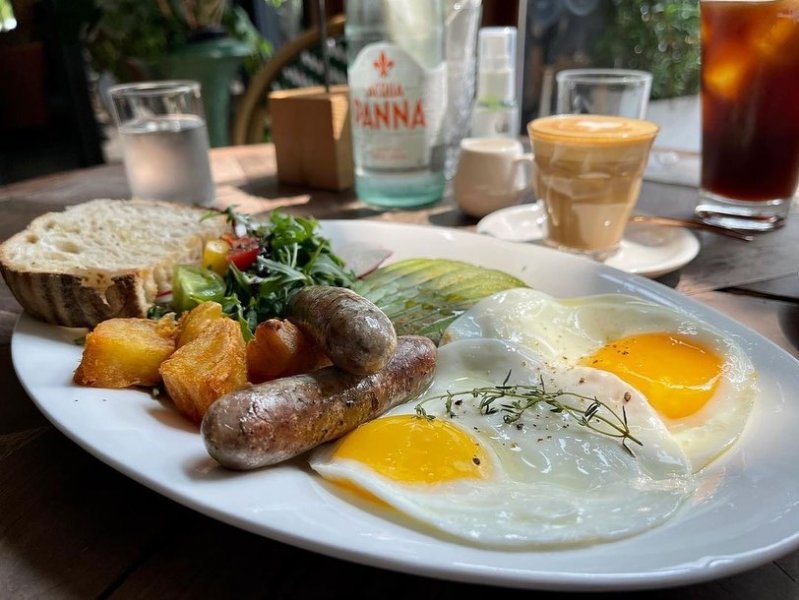 Image courtesy of Caffe Olives
The deli offshoot of
L'Oliva
is open for those who seek breakfast, dessert, a dose of caffeine, or just a change of scenery. The rustic cafe's bright exterior overlooks the restaurant next door and their massive green gardens in the back. Enjoy a quiet morning with one of their handmade cannolis or fruit-laced cakes from the kiosk inside.
4 Napha Sap Soi 2 (Sukhumvit Soi 36), 061-613-9588. Open daily 9am-5:30pm.
Get your taco fix at Cholos' light-speckled patio by their buzzing food truck stationed at Bangkapi Mansion on Sukhumvit Soi 12. Here you can get their signature beef birria or keto quesadillas, made with griddle cheese in place of the tortilla. They open as early as 10am, too, And let's be real: it's never too early for tacos.
Bangkapi Mansion, 89 Sukhumvit Soi 12, 081-831-6277. Open daily 10am-7:30pm.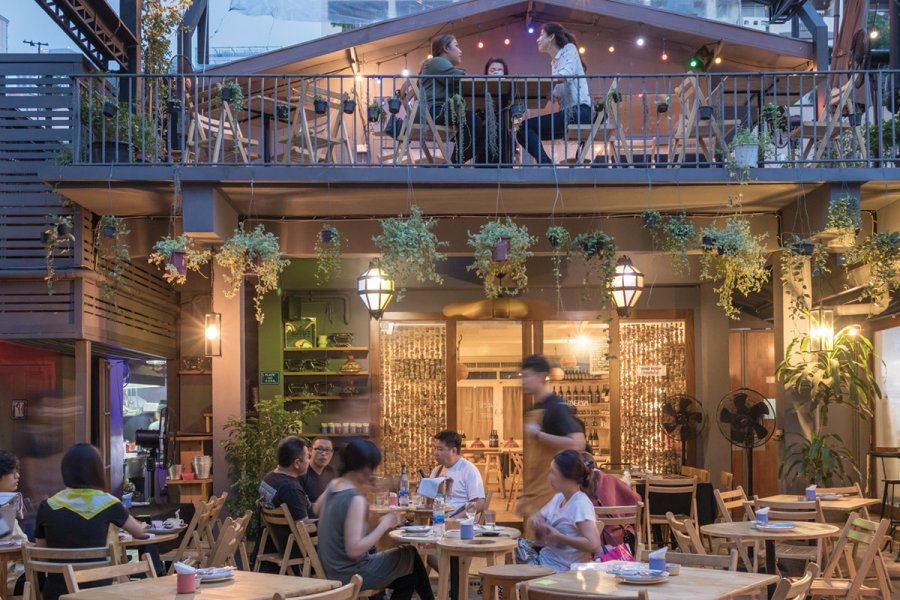 This restaurant-slash-grocer has opened its expansive courtyard for lunch and early dinner. That means you can once again peruse their delectable imported cheese, cold cuts, and fresh seafood and skim their ever-changing chalkboards specials. All the favorites are still here, like the mussels with fries and the couscous royale.
490 Soi Phai Singto, Ratchadaphisek Rd., 099-131-2226. Open daily 9am-8pm.
Image: Jack's Bar
There's nothing more outdoorsy than Jack's Bar, the riverside-shanty institution hidden behind the Shangri-La hotel. The outdoor drinking den is of an old-school variety—flexing plastic chairs and classic Thai stir-fries—and couldn't be more appropriate for today's interesting times. There's no air-con and it's rickety, but we wouldn't want it any other way.
62/1 Soi Wat Suan Phlu, 089-138-1922. Open daily 11am-8pm.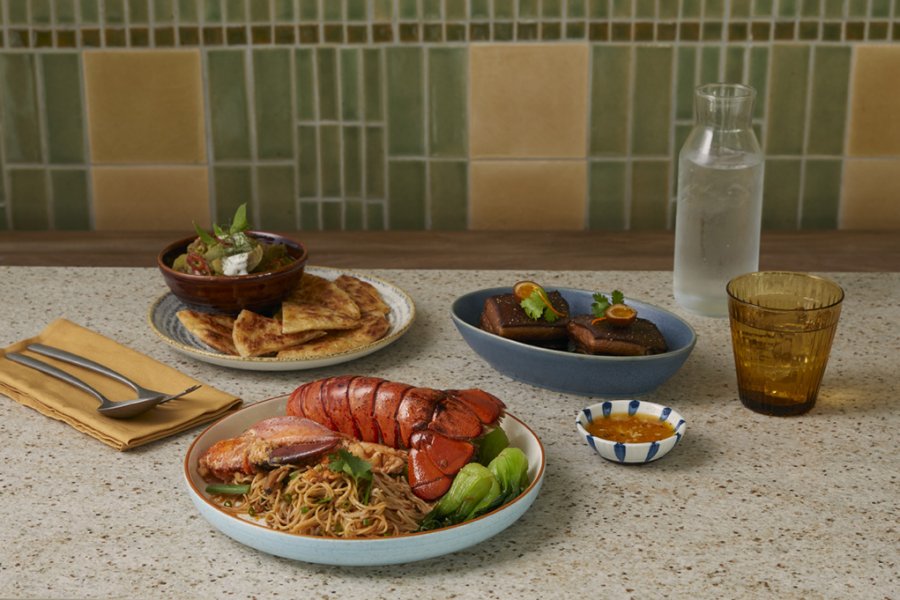 Image courtesy of Jam Jam Chinatown
If Chinatown is on your to-do list, pop on over to Jam Jam at the Asai hotel for a coffee break, or make it your work-from-home spot on their airy-yet-covered outdoor patio. If you're thinking, "not another hotel restaurant," think again. Jam Jam was developed by Paolo Vitaletti and Jarrett Wrisley (
Appia
,
Peppina
), and the tight, Chinatown-referencing menu they devised puts a twist on local and international flavors.
Asai Hotel, 531 Charoenkrung Rd., 02-220-8999. Open daily 10am-8pm.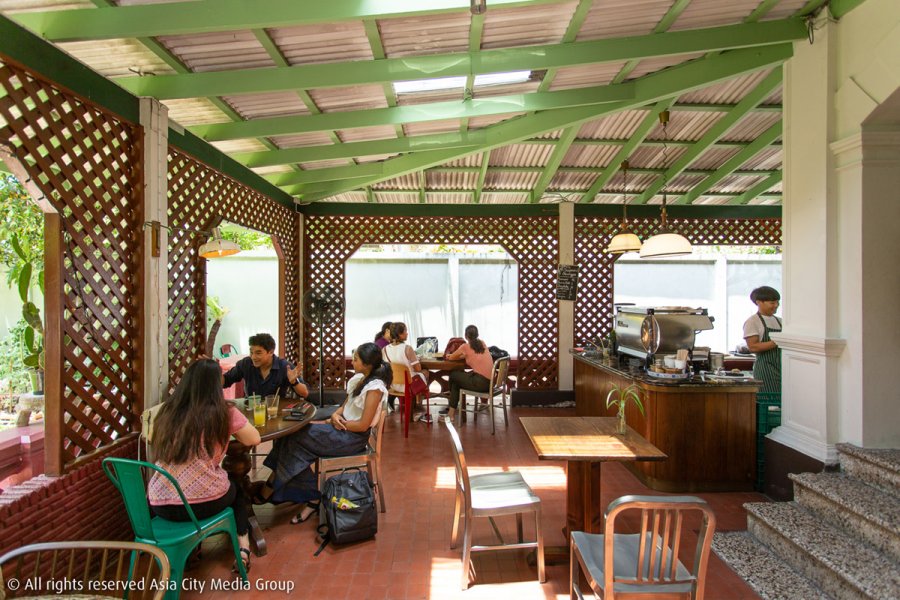 Na Cafe, the restaurant situated at
Bangkok 1899
, the non-profit arts and culture center, has been acting as a collaborative space that uses food and drinks as a catalyst to create social impact. The Peruvian head chef behind the kitchen is now back with his South American dishes like ceviche and saltado that we believe are some of the tastiest around and can be enjoyed in the lush backyard at the expansive grounds. Reservations must be made to dine in.
134 Nakhon Sawan Rd., 089-164-4454, Open daily 11am-7pm.
Image courtesy of Four Seasons, Riva del Fiume
The Four Seasons' river-facing Italian restaurant is a warm ode to the picturesque restaurants that line Lake Como, brought to life by design specialist Avroko (
Lennon's
,
Penthouse
). Primely positioned along the Chao Phraya, it's the perfect setting for lunch with a view over housemade pastas, a selection of crudos, and top-of-the-line beef tagliata.
Four Seasons Bangkok, 300/1 Charoenkrung Rd., 02-032-0888. Open daily 11:30am-2:30pm, 5-8pm.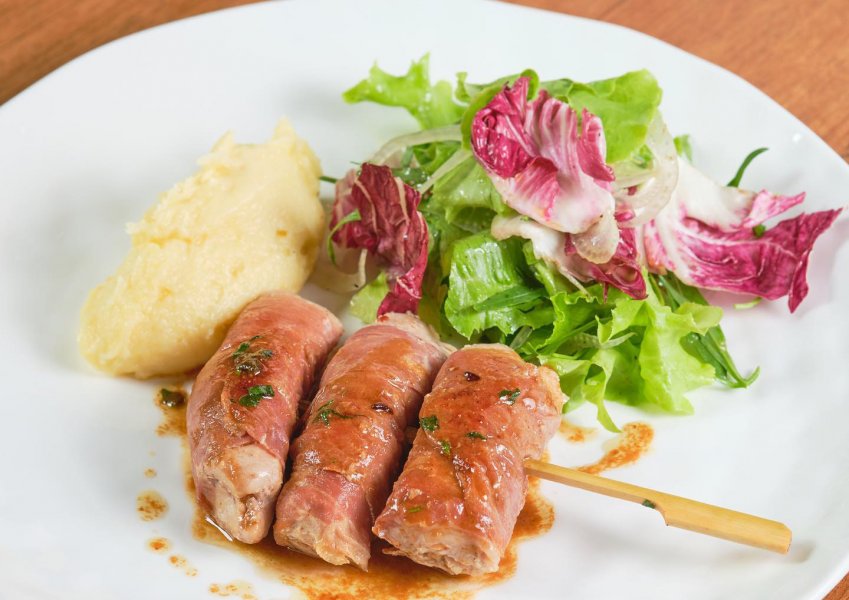 Image courtesy of Via Emilia
Recently opened (then closed and now open again), Via Emilia is the latest Italian spot to hit the city. Taking over Sensi's spacious house (it's the brainchild of former Sensi chef Stefano Merlo and Andrea Bernadi, ex-GM of
Il Bolognese
), Via Emilia centers its menu around the Emilia Romagna region of Italy. Products like parmigiano reggiano, balsamic vinegar from Modena and prosciutto di Parma, all staples from the region, appear in classics that range from risotto with Italian sausage to a traditional passatelli pasta in brodo (a simple egg, breadcrumb, and flour pasta in broth). All can be enjoyed outdoors. Pets are also welcome.
1040 Naradhiwas Soi 17, Yaek 5, 02-676-4466. Open daily 11:30am-8pm.