All Six to Twelve X Enroute
Situated in Lad Krabang, this cafe is bike lovers' meeting venue with an industrial look from the alloy roof, metal pipes, dangling light bulbs and large window panel—all of which creates natural light that helps you take good pictures. The food menu focuses on comfort food with some twists. Highlights include truffle fries (B180)—topped with truffle oil and Reggiano cheese—avocado egg toast (B180) served with sunflower sprouts and parma ham, and black squid ink spaghetti carbonara nam (sour pork sausage) for B180.
1533 Lad Krabang Soi 8, 063-480-8888. Open daily 8-12am
Exclusively for Citi credit card members: :
Get 10% discount on food only when spending THB 1,000 or more /sales slip Today – 31 Dec 19
Located within Ari's Craftsman Hotel, Baby Bar looks chic and playful with deep pink fire station-like doors, glowing orb lighting on fixed bronze arms, and curved bars that slash with contrasting vertical and horizontal lines. During the day, you can sip on a Bubble Matcha Latte (B115), but head there in the evening for tasty cocktails like the Baby shower (gin, lychee liqueur, Midori, lime, egg white, pineapple and flower blossom, B250). Food options include light snacks like fried gyoza with kani miso dip (B180) to the larger lobster salsa (B580).
1/F, Craftsman Hotel, Paholyothin Soi 11, 02-279-7299. Open daily 8am-11pm. BTS Ari
Exclusively for Citi credit card members: :
Get 10% discount on food only Today – 31 Dec 19
The burgeoning Pacamara coffee empire has teamed up with beloved German camera brand, Leica, to take over a tree-lined venue perched on EmQuartier's mezzanine with a dark and metallic decor that'll make your daily snaps look clean and classy. The food and drink menus are packed with camera-friendly creations like the Spicy Green Tea (B160), iced green tea is spruced up with spicy mango syrup and dried chili, and the Floral & Peach Cold Brew (B180), which combines cherry blossom jelly and soda in one glass and cold brew coffee in another. There's also an opportunity for you to shop for some of the world's best cameras since it's found within a full-blown Leica store.
M/F EmQuartier, Sukhumvit Rd. Open daily 10am-10pm. BTS Phrom Phong
Exclusively for Citi credit card members: :
Get 12% discount on food and non-alcoholic beverages when spending THB 800 or more /sales slip Today – 31 Dec 19
Amid a veritable jungle of dangling greenery with fresh blooms, greyscale photos and dark wood furniture, the cafe serves a line of bite-sized Thai treats with authentic flavors. Opt for kanom gluay (steamed banana cake, B15/piece) and kanom pra pai (rainbow-colored chewy flour balls filled with smooth bean curd, B80) that come in a woven basket, or opt for the refreshing coconut pudding (B120) made with butterfly peas water and topped with young coconut flesh.
342/3 Phayathai Rd, Ratchathewi, 099-246-6954. Open Wed-Fri noon-5pm; Sat-Sun noon-6pm. BTS Ratchathewi
Exclusively for Citi credit card members: :
Get 10% discount when spending THB 500 or more /sales slip Today – 15 Nov 19
This cafe is probably one of the most artistic-feeling venues in all of Bangkok right now considering it occupies the ground floor of the newly renovated neo-Renaissance mansion that used to serve as the residence of Silpa Bhirasri, AKA Corrado Feroci, the father of modern art in Thailand. The coffee menu is as impressive as the beautiful setting. Slow bar staples like pourover and Aeropress (B150 each) spotlight single-origin beans. To go beyond your regular latte (B110), try the "lemongrass latte" (B135), which blends the roastery's Artisan Blend (Indonesia, Laos and Brazil) with a touch of lemongrass and star anise.
G/F Silpa Bhirasri's House, 153 Ratchawithi Rd., 086-688-5442. Open daily 9am-6pm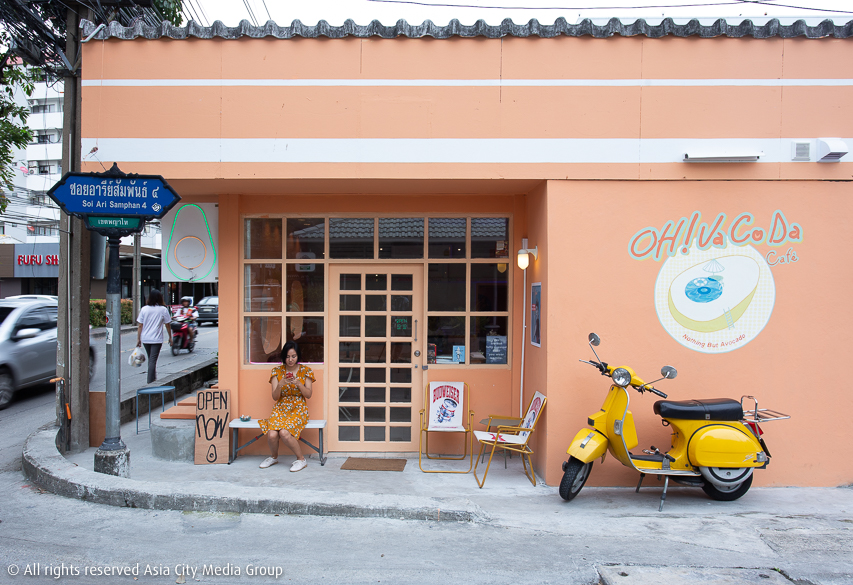 This bistro takes you back to the retro '70s era with peach-colored walls contrasted by a bright yellow Vespa parked at the front, an avocado-shaped neon sign, and vintage-looking posters. The food menu is all about simple dishes with avocado surprises, like the pad kaprao with a side of deep-fried avocado encrusted in golden batter (B190) or the avocado-bacon pancake topped with a big, fluffy, cloud-like egg (B235). Be sure to check out the dessert selection, which sees colorful concoctions like the avocado cheesecake ice-cream sundae (B175) and chocolate bundt cake drenched in a thick avocado and dark cocoa powder ganache (B155).
1/1 Ari Samphan Soi 4, 090-986-4779. Open Thu-Sun 10am-10pm; Mon10am-10pm; Tue 10am-10pm. BTS Ari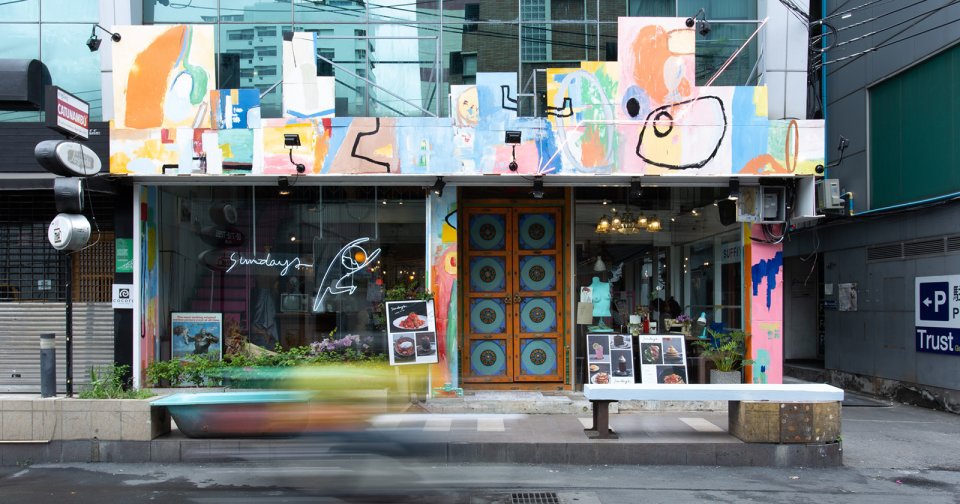 Set just off the main Thonglor thoroughfare, Sundays Cafe is impossible to miss since its exterior is covered in bright, abstract paint splatters. Inside is also jumbled with a Dada-ist mess of antiques, trinkets and portraits, but our favorite photo spot is the shocking pink staircase that'll add a unique vibe to your pictures. For food, try the East-meets-West nam prik narok kao goong (B290), in which angel hair pasta is topped with chili and doused in shrimp roe.
44/9-10 Thonglor Soi 13, 061-928-2664. Open Mon-Thu 11am-10pm; Fri-Sun10am-11pm. BTS Thong Lo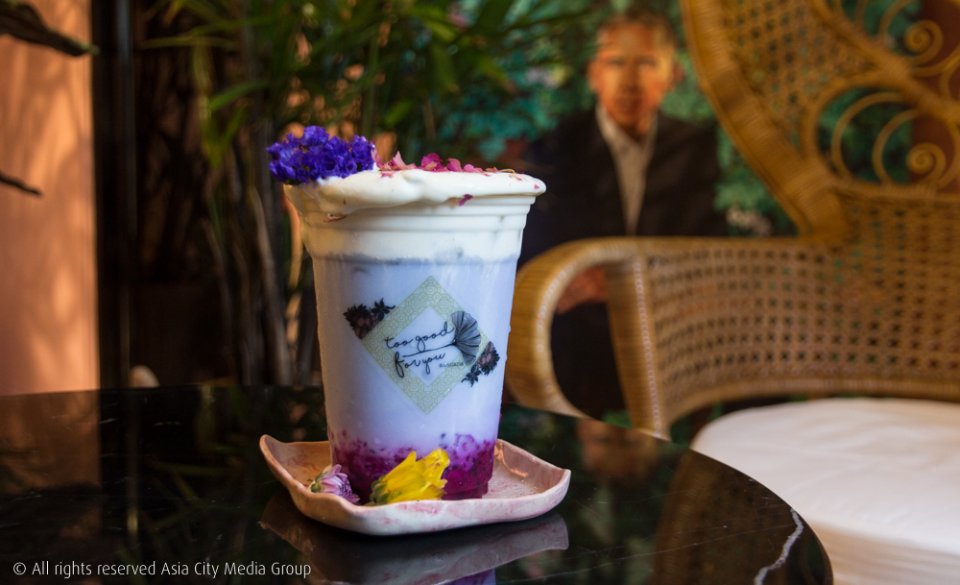 Tucked inside the top floor of the Mukda building, this cafe looks straight out of Pinterest with its pink-walled space crawling with plantlife. In another room, the neon glow of a sign reads "Too Good For You", which already proving a hit on social media. To match the setting, the coffee and tea concoctions come teeming with flowers, like the almost-too-beautiful-to-drink Matchalicious (B135), which sits atop layers of green tea and red bean paste, topped off with a colorful array of petals.
9/F Mukda, Sathorn Rd. Open Tue-Sun 9am-6pm. BTS Chong Nonsi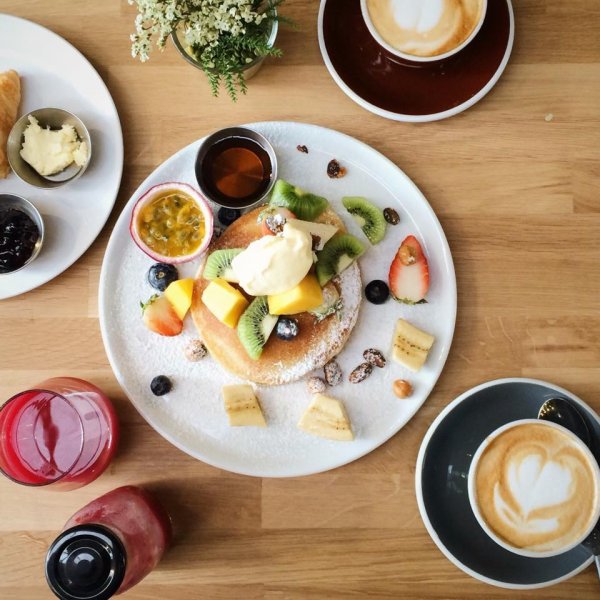 Operated by the same team behind much-loved American restaurant Shuffle, this all-day diner keeps the focus on New American cuisine. The highlight here is the set-menus for breakfast, which come rammed with all kinds of breakfast goodies, like the Have a Good Day (pancakes with butter, crispy bacon, seasonal fruit and a croissant) and the Good Morning Thonglor (eggs, sausage, bacon sauteed potatoes, seasonal fruit, a basket of bread and croissant). The best part? it's all B180.
2/F, Seenspace mall, Thonglor Soi 13, 02-185-2798. Open daily 10am-10pm
Exclusively for Citi credit card members: :
Get 25% discount on breakfast set menu from 10.00 – 11.30 am and get 10% discount on food only Today – 30 Nov 19
Aside from the eye-catching combo of curves, pastel pink and midnight blue, and an interior dotted with cacti, plush velvet banquettes and an elegant grey granite counter, this bakeshop is also a great hangout spot to sample quality French pastries made with imported ingredients. Get a selfie or two in before ordering the plain butter croissant (B75), which is the real deal thanks to butter and flour imported from France. For something a little more snazzy, try the Viennese coffee cake (B155) or peach tart (with a filling made using African-imported peaches, B105). For drinks, you can't miss with the Elder Garden Fizz (B125).
238/2 Nang Linchi Rd., 062-624-615. Open Tue-Sun 9am-7pm
---
This native ad was created by Asia City Studio. We use storytelling to help brands of all sizes influence and connect with people who matter. Visit us online: studio.asia-city.com

Sponsored by: