There's never been a better time to lead a plant-based lifestyle in Bangkok. More and more
vegan-friendly restaurants
are opening while meat substitutes appear on menus citywide. Now you can have your pick of excellent plant-based ice cream, too. From tangy fruit sorbets to decadent, cacao-packed ice cream, here are some of the best.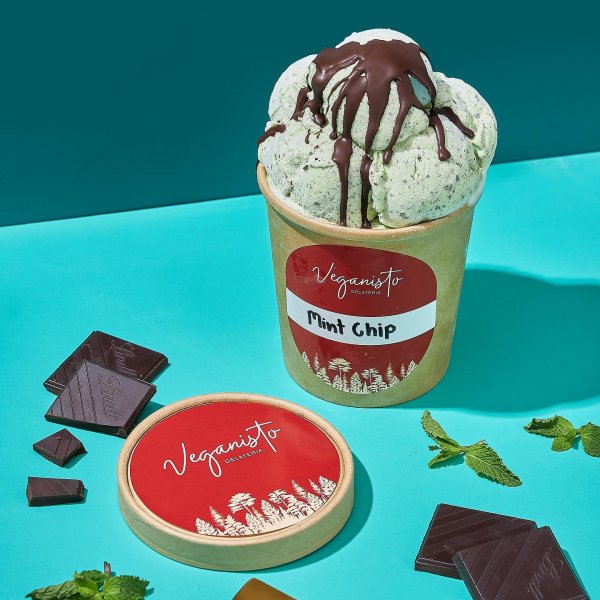 Image: Veganisto via Facebook
With coconut milk as a base, Veganisto's plant-based ice cream promises fewer calories and less cholesterol than your average scoop. There are several decadent flavors, such as the signature lemon cheese pie, strawberry fresh cream, tiramisu, and cookies and cream (B100/cup; B360/pint), including some gluten-free options like mint chip (B100/cup; B360/pint). If you're pining for some nostalgia, try the vanilla pecan Horlicks for a throwback taste of the childhood favorite malt drink (B120/cup; B380/pint).
Available for nationwide delivery via Line @veganisto and Robinhood.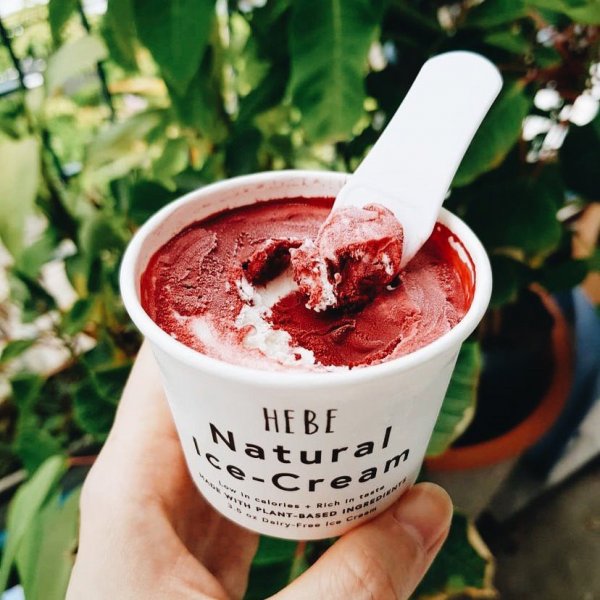 Image: Hebe Plant Bar via Facebook
Named after the goddess of youth in Greek mythology and located within Broccoli Revolution's home base on Sukhumvit Road, Hebe offers dairy-free ice cream made from all-natural ingredients. Think organic almond milk, strawberries churned into sorbet, or hojicha tea with brown sugar and organic rice milk. Try the not-to-be-missed Red Velvet Lust, which is made with vegan cream cheese, Belgian chocolate, and beetroot, or the Heavenly Sea Salt with almond praline, caramel swirls, and sea salt (B95/cup; B350/pint for all).
Hebe Plant Bar (at Broccoli Revolution), 99 Sukhumvit Rd., 061-040-2616. Open daily 11:00am-7:30pm. Available for pick-up or delivery via Grab, Lineman, Foodpanda, and Robinhood.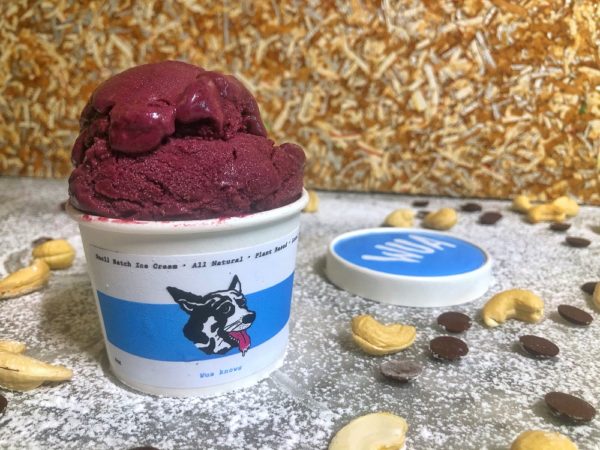 Image: Wua via Facebook
Jam Cafe owner Dhyan Ho has turned to plant-based ice cream to keep the wheels spinning with bars closed. Named after his late dog Wua ("cow")—and featuring a stamp of his dearly departed four-legged companion on every cup—his new vegan-friendly ice cream comes in flavors that rotate weekly. Those might include the popular chocolate fudge brownie, salted caramel, the umami-rich white sesame white miso, and tangy mulberry and salacca (B90/cup; B340/pint). Ho also sells vegan, gluten-free dark chocolate fudge brownies (B70/piece; B240/4 pieces), made with artisanal chocolate from Shabar.
Image: Coco Blendz via Facebook
This coconut-based ice cream is vegan, gluten-free, made with organic ingredients, and free of refined sugars. The flavors represent the whole spectrum, from bright and tangy to rich and decadent. Think Magic Mango; the light-green, aromatic Pleasing Pandan; Passionate Summer, made with coconut, passionfruit, and orange; and richer flavors like Crazy Cacao, made with organic 80 percent dark chocolate, and Chai Thai, made with Thai tea leaves (B79/cup; B360/6 cups).
Image: Alt Creamery via Facebook
This vegan-friendly ice cream is made using organic coconut sugar, with six core flavors and keto-friendly options to be available soon. Get your caffeine fix with Rocky Roast, a coffee ice cream with dark chocolate chips that's made from white sesame milk, or powder-blue Velvet Sky, made with butterfly pea flower, pandan, coconut cream, and coconut chunks (B89/cup for all flavors). Stay tuned for more unique flavors, like kulfi (North India ice cream), made from almond and sunflower seed milk infused with cardamom.
Available for delivery via Instagram or Line @alt.creamery, 097-292-0234. Open daily 10am-7pm.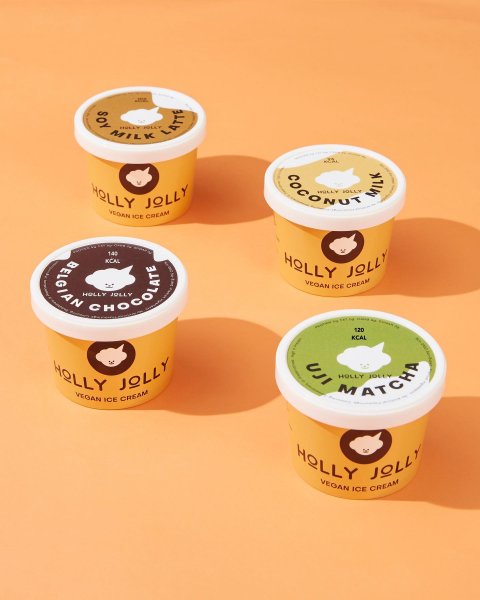 Image: Holly Jolly via Facebook
Holly Jolly uses non-GMO soy milk as the base for its ice cream and adds soy protein isolate to the party to give it greater nutritional value. (They say theirs is lower in sugar and calories than your average scoop, too.) From bittersweet uji matcha and soy milk latte to yuzu colada and the unique acai berry and kale sorbet, there are a number of fun flavors to try (B95/cup for all).
Available for pick-up at Vistro or delivery via Robinhood or Line @hollyjollyicecream, 098-935-8585.
Image: Kad Kokoa via Facebook
Sathorn's bean-to-bar chocolate makers are now serving pints of rich, delightful ice cream using some of the products they put in their chocolate bars—and they are all plant-based. There are three original flavors: Chiang Mai vanilla bean ice cream, the Prachuap Khiri Khan cacao juice sorbet, and their best-selling Chantaburi single origin cacao chocolate sorbet (B390/pint; B999/3 pints). Order some sourdough chocolate cookies (B140/piece) to Frankenstein your own ice cream sandwich at home.
Available for delivery via Line @kadkokoa or kadkokoa.co, 083-684-3921.