Including a dim sum cafe in Chinatown, a hip Laotian bar-restaurant and a sky-high Indian restaurant.

All-conquering Korean fried chicken specialist Chir Chir (pronounced chi-ruh chi-ruh) has arrived in Bangkok. The Seoul-born chain, which counts over 100 restaurants from China to Singapore, is known for its adventurous take on chimaek, in other words Korea's love of pairing chicken and beer. The star fried chicken is available in varieties like "crispy," "garlicky" and "spicy" varieties.
CentralWorld, Ratchadamri Rd. See full details here.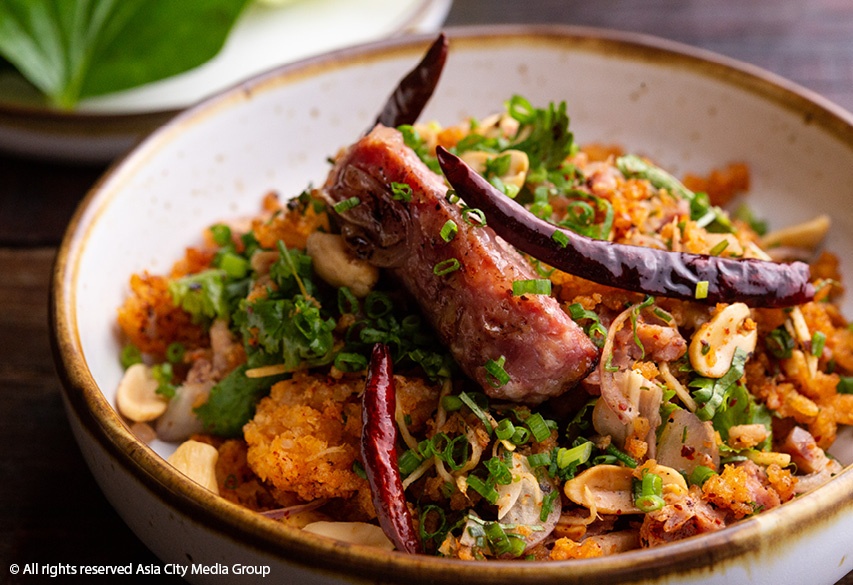 Laotian spices waft around the noir-industrial dining room of Sanya Souvanna Phouma (Bed Supperclub, Maggie Choo's, Sing Sing and Cactus) and fellow Laotian business partner Saya Na Champassak's latest venture. Taking the space of breezy brunch cafe Luka Moto at night time, Funky Lam provides much more of a party vibe to go with food that's not afraid of real-deal, bold flavors—pla ra [fermented fish] included. The refreshing feu kra dook seen soup offers roasted bone marrow and broth with sliced raw wagyu beef, pho herbs and loads of onions. Larb ped is a zingy, herbal minced duck salad. It all begs for a sharp, punchy cocktail like the "Lazy Sour."
Thonglor Soi 11. See full details here.

When is a dessert cafe more than a dessert cafe? Celebrating hard-to-find Thai treats, Kanom Chan's specialities include the delicious krong krang, caramelized crisps in coconut cream; and tong muan sod, rolled waffle made from tapioca, coconut milk and black sesame. A little too sweet for your tastes? They also serve mains like yum nam kao tod, a spicy salad with curried rice croquettes, fermented pork, ginger and peanuts; and pad Thai with river prawn.
Phra Sumen Rd. See full details here.

The team behind Sukhumvit steakhouse Meat Bar 31 has headed to Chinatown for a new tea and coffee shop serving Chinese treats at genuinely local prices. Adapted from signature Yaowarat staples, the fare here focuses on Chinese-influenced snacks that are perfectly matched with coffee or tea: crispy yet creamy egg lava buns and savory shumai, small boiled dumpling stuffed with pork and Chinese chive. For something heavier, the Chinese breakfast set comprises home-cooked congee and various side dishes like boiled peanuts, gun chiang (Chinese sausage), dried shredded pork and sweet radish. Also try their mala fried chicken—rich and numbing.
Yaowarat Rd.
See full details here.
Ditch the street eats and head up to the 16th floor for Nabah Grill & Sky Lounge. New from the owner of the Bawarchi Indian chain, this elegant Mughal-style dining hall also carries a touch of North Africa in the form of billowing fabric ceilings and lamps and rugs strewn throughout. The menu, too, spans Indian and Mediterranean influences, but the former provides most of the highlights, wheher a comforting rogan josh (tender lamb stew) or saag paneer (cubed cheese in smooth spinach sauce) that's asking to be dipped into with some garlic naan bread.
Solitaire Hotel, Sukhumvit Soi 11. See full details here.

Chef Francesco Lenzi, the mastermind behind Top Tables mainstay Lenzi Tuscan Kitchen, heads in a casual bistro direction with Nonna Nella by Lenzi. Here, amid a bustling deli atmosphere, Lenzi draws on the recipes of his grandmother, Nella, who he credits with teaching him how to cook.Cured meats and cheeses from Lenzi's own family farm in Tuscany feature throughout the menu, as toppings on thin-crust pizza and in dishes like maiale tonnato (roasted pork loin with quail eggs and tuna sauce).
Wireless Rd. See full details here.

Sathorn's latest hotpot restaurant, Ryunabe, hails from the snowy fields of Niseko, Hokkaido, and promises a Cantonese-Japanese bounty of fresh sashimi, prime-cut meat and seafood. This second branch of the restaurant offers both a la carte and all-you-can-eat options, the latter of which is priced slightly higher than usual but rest assured they don't skimp on quality. Choose from MSG-free soups like the classic Chinese dried fish maw and chicken simmered for over 36 hours, the Hokkaido milk base or the Thai-indebted tom yum seafood stew.
Sathorn Soi 10. See full details here.

Chef Andy Yang, whose Thai restaurant Rhong-Tiam won a Michelin star in New York back in 2009, is behind this very exclusive, very swanky chef's table on Sukhumvit Soi 38. Your meal finds chef Andy in full storyteller mode, drawing on knowledge new and old to reinvent familiar curries and other street-food staples. The tersely typed out menu gives little indication of the creative presentation you can expect across eight or 12 courses—the Beef Green Curry is a thick cut of buttery Grade-12 marbling wagyu from Ozaki with an aesthetically pleasing swirl of green sauce, while the Massaman Lamb and Duck Gang Phet are similarly flavorful exercises in deconstruction.
Sukhumvit Soi 38. See full details here.