BANGKOK RESTAURANT
Nonna Nella by Lenzi
Hearty, rustic Italian restaurant gets hearty, rustic spin-off.
Chef Francesco Lenzi, the mastermind behind Top Tables mainstay Lenzi Tuscan Kitchen, heads in a casual bistro direction. Here, amid a bustling deli atmosphere, Lenzi draws on the recipes of his grandmother, Nella, who he credits with teaching him how to cook. Cured meats and cheeses from Lenzi's own family farm in Tuscany feature throughout the menu, as toppings on thin-crust pizza and in dishes like maiale tonnato (roasted pork loin with quail eggs and tuna sauce).
This review took place in November 2018 and is based on a visit to the restaurant without the restaurant's knowledge. For more on BK's review policy, click here.
---
Visit Nonna Nella on a weeknight and you'll find a familiar scene of office workers guzzling wine and chowing down on pizza and pasta surrounded by decorative wine barrels, inspirational quotes and graffiti murals. Chef Francesco Lenzi's follow-up to Lenzi Tuscan Kitchen does away with the starched tablecloths and upscale Italian moodiness of his fine-dining institution, but there's no trading down with the food. This is hearty, wholesome Italian fare that goes toe-to-toe with the best in town.
When it comes to produce, Lenzi has a backstory few can match, sourcing cured meats and cheeses from his generations-old family farm in Tuscany. These star in cold-cut platters (from B450) and the likes of the salsiccia salad (B480), a mound of fresh rocket, Parmigiano-Reggiano, tomato and juicy sausage that excels in sheer simplicity.
Arguably the main draw is the pizza (from B280), whose light 72-hour fermented dough results in a chewy crust with just the right amount of charring and no hint of sogginess. Here, basic is best, with the lip-smacking Napoletana topping (tomato, mozzarella, anchovies and capers, B280) allowing the wood-fired smokiness of the base to shine through.
When it comes to pasta, the tagliatelle al cinghiale (B520) hits all the right notes with its rich, meaty wild boar ragu sauce and al dente ribbons of perfection. The arista di maiale (pork loin scallopini, B500), with its sharp caper and lemon sauce, is exceptional—we just wish the thin slither of pork were, oh, about three times the size.
With acoustics that verge on ear-splitting, lighting seemingly designed more for Instagram shots than mood, and tables squeezed tightly together, Nonna Nella's open dining room is a better fit for after-work gatherings than for first dates. However, there's enough charm that we wouldn't be surprised to see it follow the expansion route of a certain other Bangkok pizza player. From behind the U-shaped bar that snakes its way around the room, you can watch the kitchen team energetically doing their thing. On our last visit, Lenzi himself joined the eager-to-please waitstaff in working the tables, offering recommendations and doling out the occasional sample.
Even if Nonna Nella isn't particularly cheap (a meal for two can easily top B3,000), it still feels like good value for money. Throw in a solid four pages of Italian wines (from B320/glass) and easy-to-drink cocktails (including a mean Aperol Spritz, B280), and Bangkok has a welcome contender for no-nonsense Italian dining.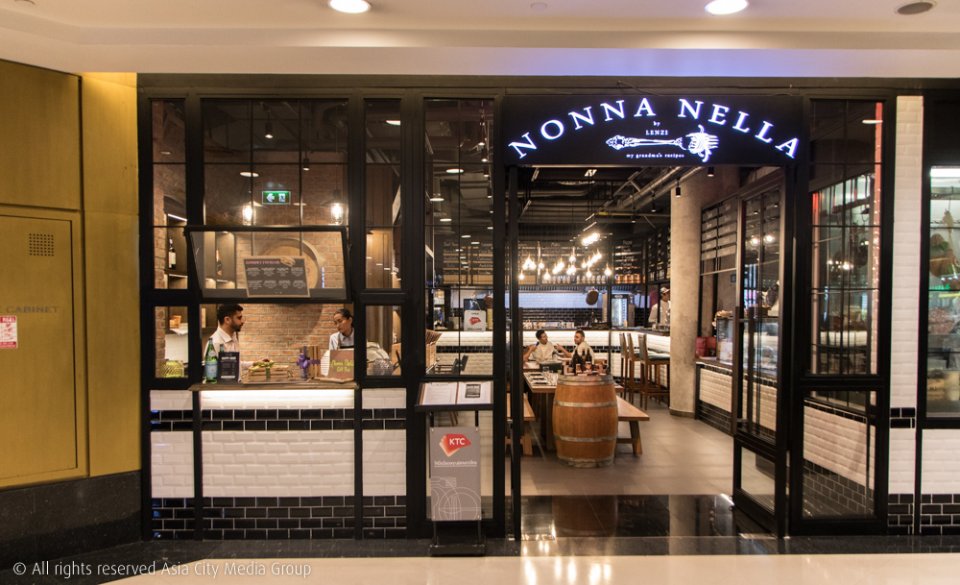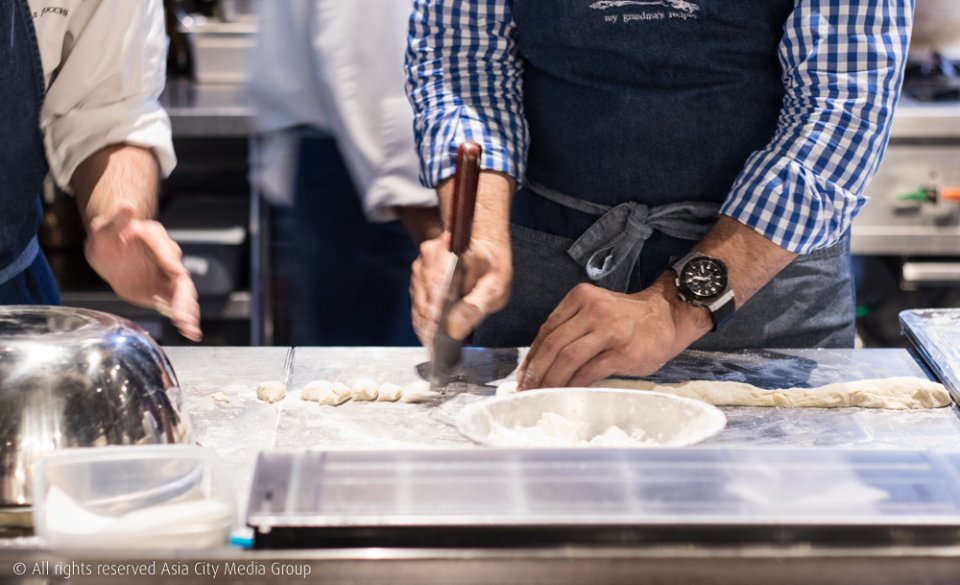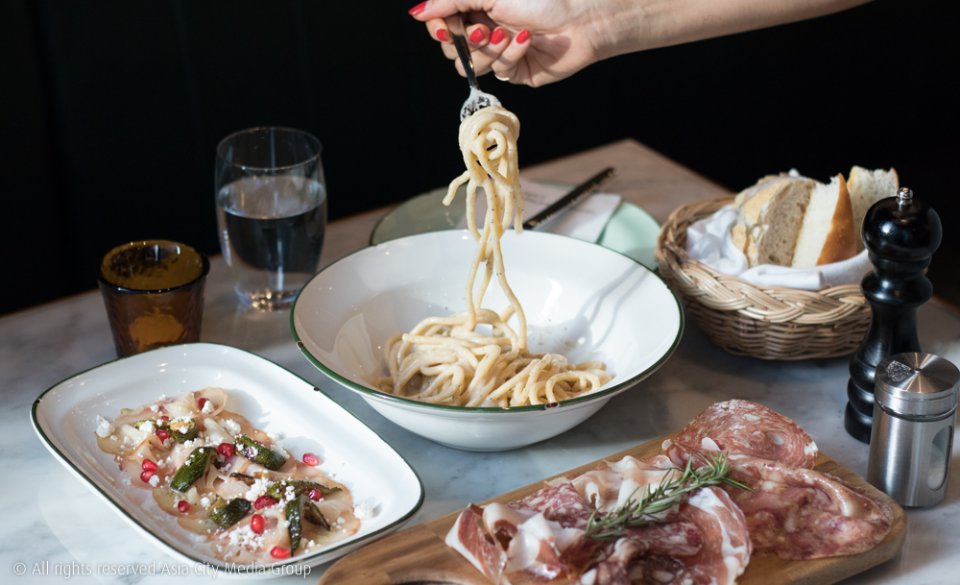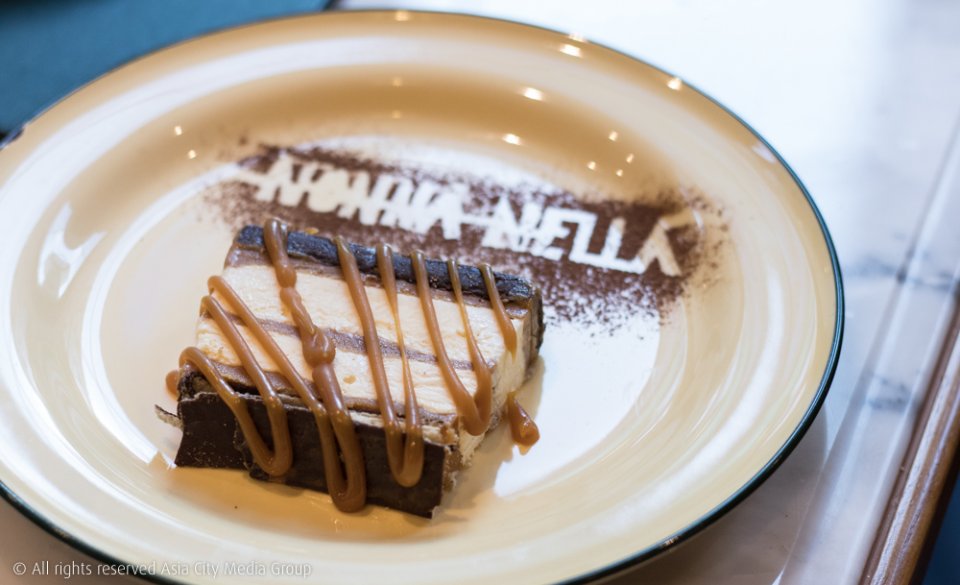 Venue Details
Address:
Nonna Nella by Lenzi, 1/F, CRC Tower, All Seasons Place, 87/2 Wireless Rd., Bangkok, Thailand
Phone:
02-038-2184
Website:
www.nonna-nella.com
Area:
Phloen Chit
Cuisine:
Italian
Price Range:
BB -

BBB

Open since:
May, 2018
Opening hours:

daily

10:30am-9pm

Report a correction