Satisfy your mind, body and wallet at the same time.


This food arm of Bangkok's Absolute wellness empire (also known for their yoga and Pilates studios) specializes in healthy food that also tastes delicious. With a mission of offering healthy food that also tastes yummy, the kitchen team developed a bunch of low-calorie recipes that they say are high in nutrients while free of chemicals, trans fats, artificial coloring and refined sugars, ranging from the superfood-heavy entrées to guilt-free desserts.
The Commons, Thonglor Soi 17, 091-872-0885. Open Mon-Thu 9am-9pm; Fri-Sun 9am-10pm
Exclusively for Citi credit card members:
Get 10% discount on superfood salad and non-alcoholic beverages Today – 31 Dec 18

With its abundant natural light and jungle of ferns, this modern vegan restaurant stands out from its backpacker-oriented peers. Salads range from the big and hearty (sweet potato, chickpeas, avocado, quinoa, brown rice and chili sauce) to the light and refined (green vegetables, nuts and grains with hummus pesto sauce). Dishes like the broccoli quinoa burger with taro fries provide a little bit of sin, too.
899 Sukhumvit Soi 49, 095-251-9799. Open Mon-Fri 9am-10pm; Sat-Sun 7am-10pm. BTS Thong Lo
Exclusively for Citi credit card members:
Get 10% discount on food only when spending THB 500 or more /sales slip
Today – 31 Dec 18

Ratchaburi's hip organic melon farm, Coro Field, has branched out by opening a restaurant in Bangkok. Coro Harvest's menu centers on fruits sourced from the farm, namely melon, purple sweet potato, tomatoes and salad greens. Heavy-hitters include the melon katsuo (fresh melon with dried fish flakes and balsamic vinegar, B45) and Holland cherry tomato salad (B145). This is not a clean-food cafe, though. The fried purple sweet potato wedges (B145) are served with three dipping sauces while the Northern-style nam prik orng (tomato dip) comes with roti (B175). Try their well-flavored tomato soy milk smoothie (B115), too.
Coro Harvest, 3/F, Esplanade Ratchada, 99 New Ratchadapisek Rd., 02-660-9341. Open daily 10am-10pm. MRT Thailand Cultural Centre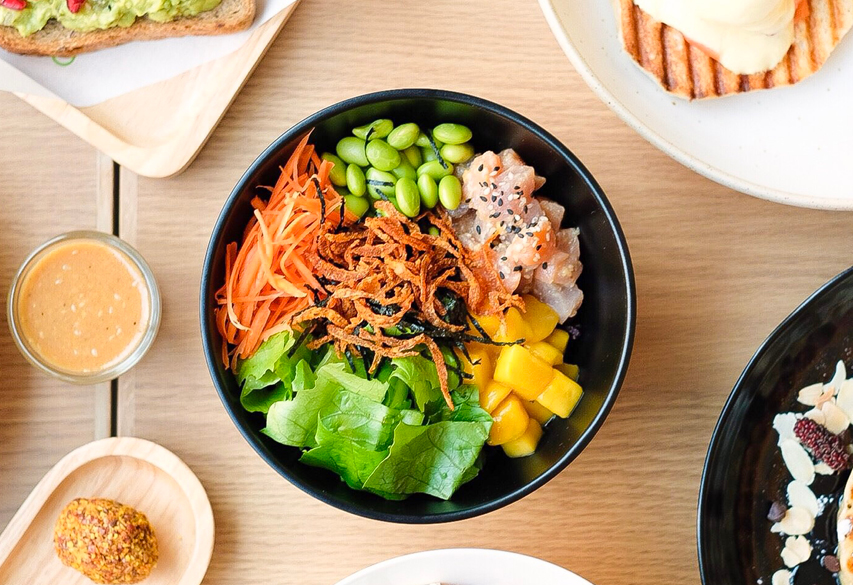 One of a handful of reliable salad chains in Bangkok, Dressed keeps health-conscious eaters coming back thanks to huge portions that don't skimp on the proteins and a high level of flavor in most of the salads. Choose from the menu or go it alone with the DIY salad list. They also dish out a selection of wraps, paninis, pastas and soups.
G/F, Mercury Ville, 540 Phloen Chit Rd., 02-658-6688. Open daily 9am-9:15pm. BTS Chit Lom
2/F, Exchange Tower, 02-258-2280. BTS Asoke
Siam Paragon, 097-245-2462. BTS Siam
See other locations here
Exclusively for Citi credit card members:
Get 10% discount on food only when spending THB 500 or more /sales slip Today – 31 Jan 18

Farmfactory provides fresh salad starting from as early as 10am. The organic veggies are sourced by both locally and from overseas, and are matched with the brand's own range of dressings. Pick from one of the pre-designed choices (from B145), which you can customize, or make your own bowl from scratch (starting B129). Try the Magic Bowl (B165 for regular size) which mixes greens with red onion, pepper, spicy quinoa, sundried tomato, black olives, almond slices, roast chicken and Italian dressing. Fresh cold-pressed juices are also available at B129.
G/F, Sathorn Square, Narathiwat Ratchanakarin Rd., Tel 063-624-9587. Open daily 10am-9pm. BTS Chong Nonsi
Exclusively for Citi credit card members:
Get 15% discount on food and non-alcoholic beverages when spending THB 1,000 or more /sales slip or get 10% discount on food and non-alcoholic beverages when spending THB 300 or more /sales slip Today – 30 Jun 18
This green-tinted diner is possibly the most stylish restaurant in ever-hectic Siam Square. Grassroom matches its preponderance of potted plants with a dedication to locally-sourced ingredients. The Asia-spanning menu emphasizes familiar flavors made with playful tweaks, such as the appetizer of nam prik ong (Northern-style chili dip) with ricotta cheese and crostini bread (B140). Those with larger appetites can order the Grassroom double burger (B295) with its Thai-style minced pork and salted fish patties, while the herb salad moo hong (B200) comes with Phuket-style braised kurobuta pork.
Siam Square Soi 2, Rama 1 Rd., 062-178-7899. Open Mon-Thu 11:30am-9:30pm; Fri-Sun 11am-10pm. BTS Siam
Exclusively for Citi credit card members:
Get 10% discount on food only when spending THB 800 or more /sales slip Today – 31 May 18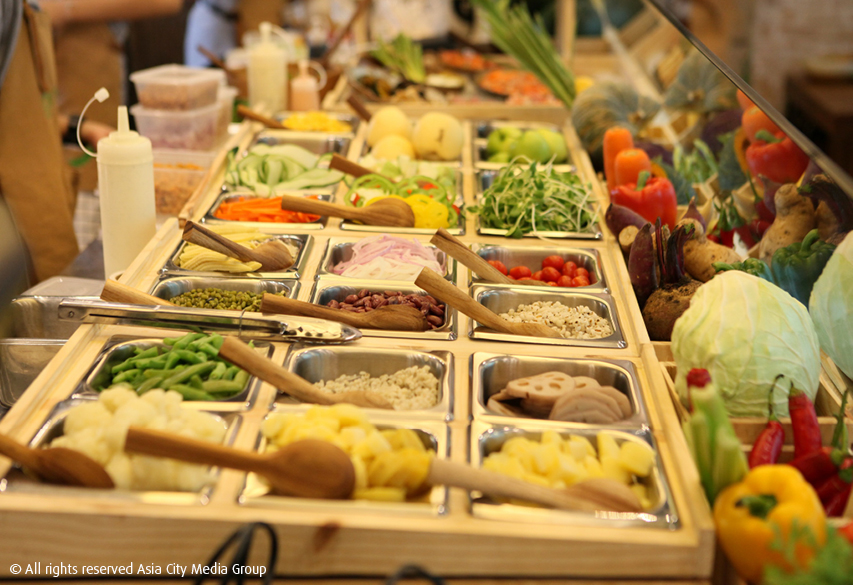 Hay bales, farm boxes and crates of fresh fruit greet guests at this charming veggie and seafood-focused health cafe. Their fusion-style menu includes dishes like the miang khum salad (savory leaf wraps), pomelo shrimp with tamarind sauce, pumpkin holy basil soup with homemade bread and spicy Thai mackerel black spaghetti. Healthy drinks include cold-pressed juices and smoothies which you can customize yourself.
2/F, AIA Capital Center, Ratchadaphisek Rd., 098-832-4590. Open Mon-Fri 11am-9pm; Sat-Sun 11am-8pm. MRT Thailand Cultural Centre
This restaurant specializes in poke, a Hawaiian raw fish salad, which is a big deal in New York and the US West Coast right now. Poke bowls see raw fish salad perched atop Japanese rice, kind of like a sushi rice bowl. Here, they offer their own signature options to suit Thai tastes, like "Bangkok Dangerous" (barramundi, cucumber, guava, Asian pear, fried whitebait, fried shallots and Thai seafood sauce, from B119) and "The Classic" (salmon, mango, pomelo, avocado, fried shallots, spicy mayo and house-special shoyu, from B159). You can also build your own bowl. To complete the American health-conscious trend, they also offer acai (from B199) and pitaya (from B129) smoothie bowls and cold-pressed juices (B90).
B1/F, Interchange, Sukhumvit Rd., 092-691-3901. Open Mon-Fri 11am-7pm; Sat 11:30am-3pm
Health-conscious cafe Seven is located next to coworking spot Good Space and right beneath Rocket Station yoga studio, meaning you can work up a sweat and then quench your thirst with drinks like their blindingly pink Asian Remedy smoothie (B95)—a combination of dragon fruit and coconut water—or the Yogi's Favorite (B110), which features mango, passionfruit and mint. Their menu is small but focused on healthy and energy-boosting dishes like the cheesy toast (B100) served with sunflower sprouts—a grilled cheese you don't have to feel guilty about. They serve coffee and tea, with dairy milk alternatives available, while there are plenty of bites to appeal to the vegetarian crowd.
Soi Phahon Yothin 18/1 Yaek 2, Open TK. 081-901-8622. BTS Mo Chit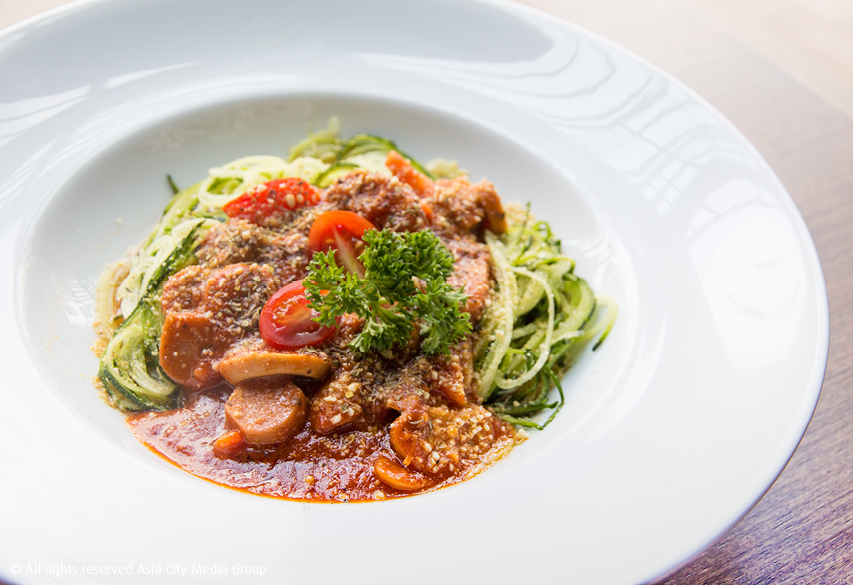 Originally founded to help promote veganism and vegan diets in Bangkok, Veganerie has taken off in recent year expanding to three locations. It was one of the first establishments in Bangkok to make people perceive vegan food and desserts can be just as tasty as their non-vegan counterparts—a boon to both vegans and those with allergies to animal products. Its staple dishes go well beyond salads. Offerings include zucchini pasta with tomato sauce and vegan sausage, a "pulled pork" burger made with mushrooms and "chicken" massaman curry served with air-fried roti. Veganerie's signature desserts hit the spot, too, like the cashew nut plant-based cheese pies and waffles as well as smoothies.
Veganerie Concept, 35/2 Soi Methi Niwet, Sukhumvit Rd., 02-258-8489. Open daily 10am-10pm. BTS Phrom Phong
Veganerie Soul, G/F, North Zone, Siam Paragon, 02-129-4755. BTS Siam
Veganerie Cafe, 4/F, Mercury Ville, 02-252-2120. BTS Chidlom
Exclusively for Citi credit card members:
Get 10% discount on food and non-alcoholic beverages when spending THB 1,500 or more /sales slip Today – 30 Jun 18
Sponsored by: