The trendy dessert shop is always on top of it when it comes to sweets, so it's no surprise their banana chocolate freakshake (B145) is leading this list. The chocolate drink is not for someone on a diet as it comes fully loaded with brownies, assorted fruits, whipped cream, cotton candy and a healthy drizzle of chocolate syrup.
The Promenade, Raminthra Rd., 081-449-4220
This brand new store in CentralWorld is the first Godiva location in Thailand and their milkshakes (B230) are currently their leading menu item. These so-called "Chocolixirs" come in five rich variations. While they aren't the most innovative milkshakes in the game they definitely deliver on the promise of chocolate, and are definitely repesentative of the brand as a whole.
2/F, Central World, 999/9 Rama 1 Rd.
This all-American-via-China diner does NY-style steaks and burgers, as well shakes. They keep things simple with classic diner flavors like vanilla and chocolate (B95), but you can step things up by adding booze. Recommendations include chocolate with creme de cacao or vanilla with triple sec (B120), but the sky is the limit here.
2/F, Park 22, Sukhumvit Soi 22, 094-482-4769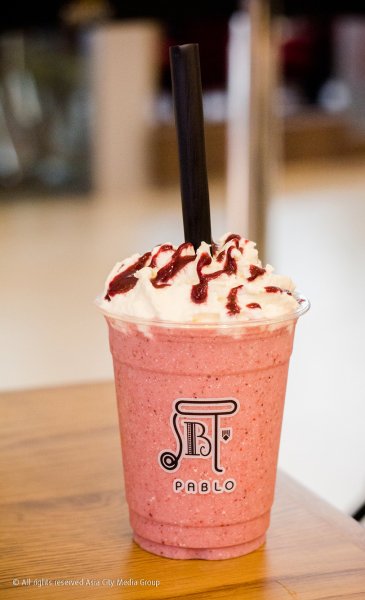 Osaka's much-hyped cheese tart chain has also brought its signature milkshakes (B150) to Bangkok. Their lineup of shakes includes mango, berry, matcha, chocolate and a classic flavor which mimics the taste of the tarts they're so well-known for. Each shake is rich and cheesy—and they don't look half bad either.
G/F, Siam Paragon, Rama 1 Rd.
This casual dining spot serves Italian comfort food, but we'd consider skipping straight to the nutella chocolate milkshake (B150), a layered treat that begins with a heavy drizzle of the ever-popular hazelnut spread beneath a scoop of chocolate ice cream with a semi-sweet chocolate and milk mix poured on top. You might have to use your spoon to truly enjoy this concoction but it's totally worth it. Matcha and strawberry flavors are also available.
35/5 Krung Thonburi Rd., 092-962-2279
These milkshakes really deliver on flavor. Unlike other spots, this Singaporean chain uses only soft serve and milk in their shakes (starting B69), which means no ice diluting the taste. This makes each of their creative and colorful drinks a complete ice cream dream. You can customize with all manner of toppings (sprinkles, marshmallows, etc) or make things more interesting with their Bailey's shake (B119).
G/F, Siam Paragon, Rama 1 Rd., 02-610-7599
This was one of the first to bring freakshakes to Bangkok. They have four versions of this crazy drink (starting B270) with our favorite being the chocolate malt cookie (B290). The shakes are thick and are only for those who can hold their sugar.
Habito Community Mall, T77, Sukhumvit Soi 77 (Onnut)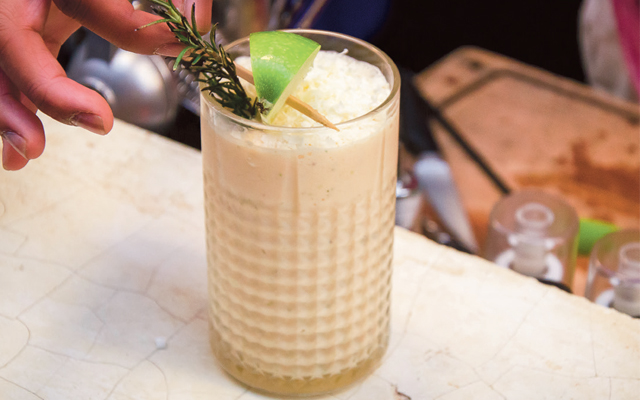 This tiny bar down in Phra Athit divides opinion with its haughty service, but its cocktails and burgers remain some of the best in town. Mixologist Karn Liangsrisuk also adds his masterful touches to milkshakes, in which he makes use of rare, fresh and infused ingredients. You can add a spirit to the Monkey Blenny (vanilla ice-cream, sundried banana, orange juice, milk, marmalade and black peppercorn, B80) or Frost Orangery (vanilla ice-cream, elder flower syrup, orange juice, milk, cracker, marmalade, passion fruit and topped with crispy durian, B80) options for an extra B270, choosing yourself or leaving it up to Karn. He can also customize a shake based on your chosen poison (B350-450).
112 Phra Athit Rd. 081-406-3773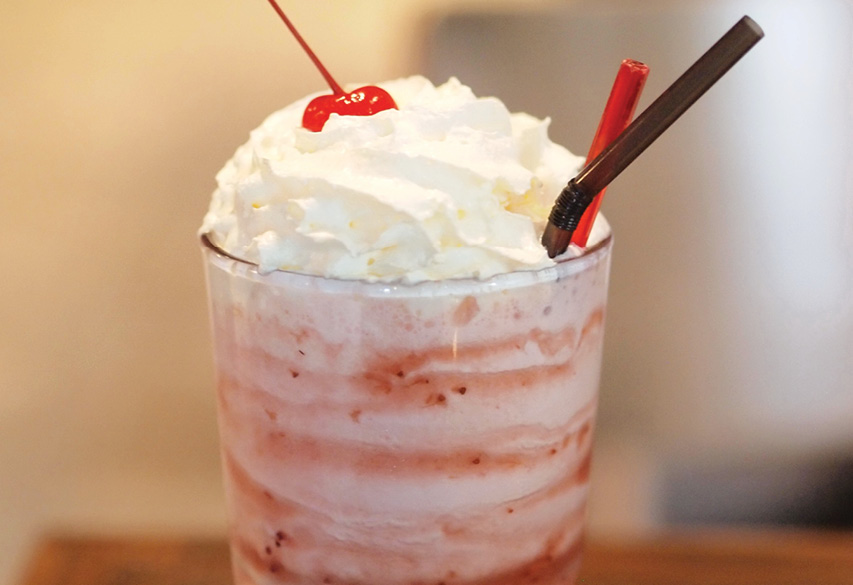 This American fast food chain is a haven for night owls with cravings for burgers, ribs and shakes. The spot is open 24-7 and while the regular shakes are great, we personally love their four adult options. The "spiked" shakes (B250) are refreshing and tasty with a solid kick of flavor. The chocolate option comes with Kahlua and chocolate liquer, while the coconut version comes with Malibu rum and vanilla ice cream.
G/F, Pullman Bangkok Hotel G, 188 Silom Rd., 02-238-1991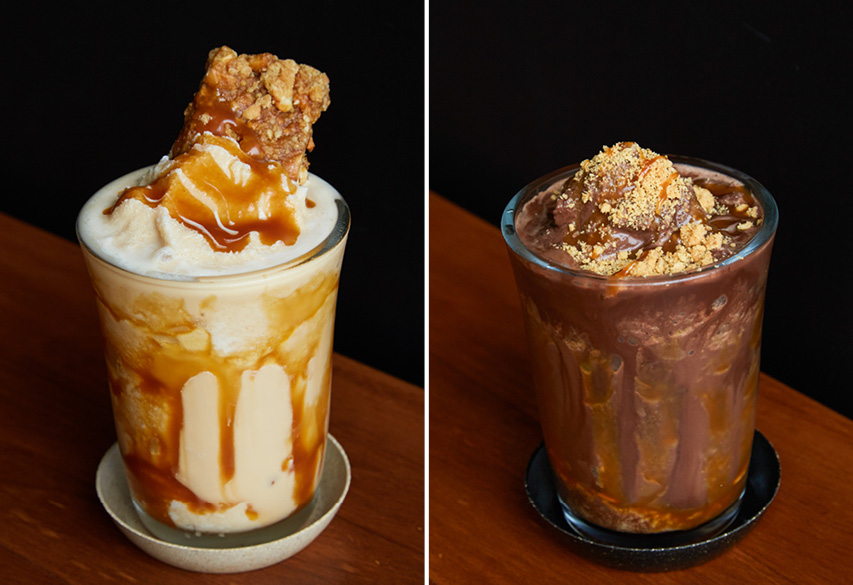 Bangkok's favorite coffee roaster is known for their lattes, but it's time we gave their other drinks some attention. Their new "Death By" series (B165 each) are full loaded milkshakes with tons of flavor. Death By Caramel comes with vanilla ice cream and tons of caramel syrup, while Death By Chocolate takes cocoa to a new level with double the chocolate, in ice cream and syrup forms.
3/F, Siam Discovery, Rama 1 Rd. BTS Siam
These so-called "Explosion" drinks (starting B185) look like something out of a child's dream. The chocolate milkshake (pictured above) is served in a tall mason jar and topped with ice cream, whipped cream, a waffle cone and a giant tuft of cotton candy.
308 Thonglor Soi 10, 084-777-7322